Even though curly hair has a lot of personality and life to them, it gets quiet when it comes to styling such hair into intricate updos, elaborate braids, and perky ponytails. And for moms, it's ever more challenging to get their girl's curls to behave in the regular routine.
You have to look for curly hair hairstyles that not just look gorgeous on your little ones but also keep their hair in place all day long, every day.To achieve your ultimate goal, you have to get a bit more creative. There are so many cute curly hairstyles to master that won't take too much of effort on your part when it comes to styling.
Just a few steps to follow perfectly, it only takes some hair ties and bobby pins to make these hairstyles do the talking. You can opt to go with some basic styles, such as a messy bun or a topknot, or you may like to give it a revamp with some texture, volume, and thickness.
What Options Do You Have For Curly Hair Hairstyles?
Yes, you do have a lot of options to try with your girl's naturally curly hair. You just need to figure out which of these hairstyles is going to look best on her and on what occasion. Here we have a list of top 15 hairstyles that you may want to try out this year. Let's have a look.
1. Messy Topknot
Topknots and buns always make a perfect choice for curly hair types. The one we have here allows you to ensure that her springy curls impart personality into her updo.
Such traceless hair rings can be helpful in keeping the hair bun secure and still have a messy look to it. Allow a few tendrils to tumble out for completing a perfect look.
2. Corset French Braids
Braided hairstyles look gorgeous on little girls with curly hair and you can't get it better than this beautiful look here. The hairstyle involves some French braids on either side on top of pulled-back low Mohawk ponytail.
Once you have these styling elements ready, it's all about wrapping the braids under while securing it to have a perfectly finished look.
3. Relaxed Ponytail
Ponytails can look gorgeous on curly long hair, only if you know the art of pulling them off to perfection. Sleek, ultra-high ponytails and the low messy ones have become more of a trend of late.
But if you want to go for this mid-range reliable ponytail, it will work just fine on your girl's curly hair. In fact, it would do a better job than anything else. The body and volume from those curls add a whole lot of personality to this hairstyle.
4. Low French Braided Ponytail
Another hairstyle with the element of some French braids, this one goes a long way in giving your girl a perfect all-day look. It is easy and it is elegant. The combination of French braided curly hair and a wrapped low ponytail makes for a perfect style.
5. Half Lob Hairstyle
Which variation of the Long Bob hairstyle have you always loved? You might have experienced only the Lob hairstyles achieved on long and straight hair. But a half lob hairstyle makes a perfect variation for girls with curly and long hair.
This one requires some taming as you will have to shorten the locks and form them into a beautiful lob-length hairdo. You can allow her to rest all her hair on a single side so that she enjoys somewhat of an Old Hollywood vibe.
6. Half Bun For Short Locks
If your girl's locks are naturally curly but she doesn't have much length to her hair, you must be worried about styling her hair. Finding a perfect hairstyle for her must have been the biggest issue for you.
So, if you believe you can't do much with her short and curly hair, you are probably not using a variety of hair accessories to pull off perfect hairstyles for her. Try this half-bun hairstyle, for example. This twisted bun is pretty simple and allows you to keep her short locks out of her face with no fuss at all.
7. Low Side-Swept Ponytail
source: pinterest
Ponytails are simple but curly ponytails can look stylish. Want to add some extra elements of style to your girl's hair? Try this low ponytail style with a side sweep. The hairstyle is just perfect for your little princess and you must have seen it in the popular animation 'Frozen' as well.
The best thing you'd love about the curly hair of your little girl is that you're free to have some fun while styling it up. Even simple things done to it can have a huge impact.
Use bobby pins to secure the hairstyle you'll love the deceivingly intricate looks you'll be able to achieve at the end of the day. It's one of the quick and easy hairstyles for girls as well because it won't take more than a few seconds to achieve its to perfection.
8. Inside-Out Ponytail Updo
source: pinterest
It is quite a fun updo that is pretty easy to achieve. If you have always wanted to try out some amazing updos with your little girl's hair, this is a perfect choice for sure.
The hairdo starts with a 3-ponytail stack one above the other and looks gorgeous when secured into a beautiful style. Give it some folds and pin it up later and you have a gorgeous look for your girl ready to flaunt.
9. Bow Bun
source: pinterest
Have you ever tried to come up with a bow bun hairstyle for your girl's curly locks? Hair bows have a unique and stylish impact on any type of hair and it really looks gorgeous. A bow bun is mostly preferred on curly locks because it looks quite floppy on the straight hair.
So, for curly ringlets of your little girl, nothing can do a better job than this beautiful bow bun. It looks adorable and fun, and she is definitely going to enjoy a unique shape formed right on top of her head.
10. Voluminous Folded Updo
Another cool updo on the list, this volume-packed hairstyle is definitely going to work wonders for your little one. While style her locks into this beautiful hairstyle, you'll be artfully folding sections of her hair into perfectly easy hairstyles that would work on all occasions.
The hair is also kept all the way up and will stay away from her face. So, she's going to grab all the attention not only for her beautiful hairstyle but also for her pretty looks as well.
11. Braided Bangs In a Stacked Bob
Bob hairstyles are usually considered the go to choice for girls with naturally straight locks, but it shouldn't be like that. If you take stacked bob, for example, it works perfectly fine with naturally curly locks as well.
However, if you do not want to stick to the typical stacked option, and want to change things a little bit, you should add some braids to her hair. For keeping it out of her eyes and to make sure that you add a unique element of style to her locks, you should braid the bangs.
Create loose French braids and make sure that it only includes locks from side that is closest to her face, rather than from either side of braid. Pin the braided locks underneath her hair and make sure it's invisible and secured to perfection.
12. Fishtail Halo
source: pinterest
When looking for the best curly hair hairstyles, you never run out of options. You just have to make an extensive search and find out something that can further accentuate the natural curls of your little girl.
Spice it up and take those regular curls to the next level with this beautiful fishtail halo. Grab a small hair section from behind the bangs and start creating a beautiful fishtail braid with it. Swoop it around her head and eventually pin those braided hair to back of her head. Repeat the same on other side if needed.
13. Faux Bob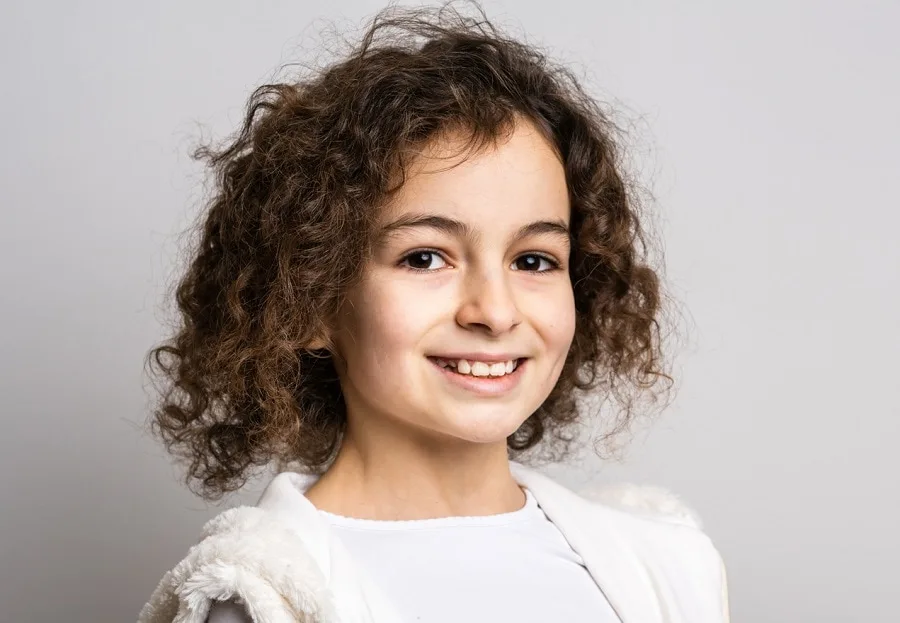 You may have heard of the Faux Hawk hairstyles for boys, but this one is a different take of a similar hairstyle for girls. Curly bob haircuts look awesome and you can make it look even better with this Faux Bob look.
For feigning short hair while making sure you don't have to go for shears, the faux bob is going to do a perfect job for your little girl. The look is just perfect for the girls who have layers to their hair. In fact, it works the best for girls with shorter layers added to their hair.
14. Half-Up Twisted Pompadour Hairstyle
source: pinterest
Pompadour is not just for the boys. Yes, you have to admit that. The hairstyle looks as gorgeous on little girls as well. However, you have to style it a bit differently of course. This half-up twisted pomp, for example, is going to make a perfect statement for your little girl.
It uses some bobby pins and is secured in 3 different sections. The top section is kept quite voluminous in order to reflect that pompadour style. Then there is that middle section where the curly hair is flanked with some tight twists towards the sides. Eventually, there are bottom curls to complete a perfect look.
15. Pin-Up Wavy Bangs
source: pinterest
Long and loose curls can be styled in so many amazing ways that will be unique to your little girl. It's your creativity as to how you can pull off a perfect style for her. Take some inspiration from this, kind of, classic look that boasts of pin-up wavy bangs at the front and looks as gorgeous as it can ever get.
The frontal puff resembles a pompadour but can't really be classified as that particular hairstyle. The frontal bangs are simply twisted to create more sassy boost to her naturally curly hair. All you have to do is to simply wrap up that section of hair around the finger before pinning it down underneath.
Let your girl flaunt this beautiful style with those naturally wavy and open locks on all side. It will make a great statement if she can bring them all to a side over the shoulder. It really looks gorgeous.
So, whenever you are on the hunt for curly hair hairstyles, you don't have to worry because you are never short of options. From classic to funky and from long to short, you have all sorts of hairstyles to try out with your little girl's naturally curly hair.
It's just the matter of finding a perfect look for her and deciding which hairstyle she is going to wear when. If you are able to do that, your girl will look more adorable than ever no matter where she is and what kind of event she is attending.