Are you looking for a hairstyle that combines classic charm with a fresh twist for your boy? Look no further than the trendy world of curtain haircuts for boys.
Whether you prefer a center part or a side part, the curtain hairstyle offers the best of both worlds, giving you a stylish and versatile look that's perfect for boys like you.
Get ready to rock the curtain hairstyle and turn heads with your effortlessly cool vibes. It's time to step up your style game and embrace the curtain haircut revolution!
Curtain Haircut Variations For A Fresh Look
If you are looking for options to give a unique touch to the typical curtain hairstyle, here we have some cool ideas for you to consider. Let's check out these options.
1. Classic Curtain Cut
The classic curtain cut is a timeless and popular hairstyle for boys. With this style, the hair is evenly cut and left longer on top, creating a curtain-like effect when parted in the middle.
The longer strands elegantly frame the face, adding a touch of sophistication to the overall look. The classic curtain cut suits boys of all ages and hair types, providing a versatile and effortlessly stylish option.
2. Undercut Curtain Combo
The undercut curtain combo combines the trendy undercut style with the classic curtain haircut. The sides and back of the head are shaved or cut very short, while the hair on top is left longer and styled into a curtain effect.
This unique combination creates a striking contrast, with the longer top section beautifully framing the face. The undercut curtain combo offers a bold and fashionable look that is sure to make a statement.
3. Messy Curtain Hair
The messy curtain hair style is all about embracing a natural and relaxed look. This low-maintenance hairstyle features longer hair that is loosely parted in the middle and allowed to fall naturally on either side of the face.
The aim is to create an effortless and carefree appearance with a touch of tousled texture. Boys can achieve the messy curtain hair look by using a texturizing product or lightly tousling the hair with their fingers.
4. Layered Curtain Cut
The layered haircut for boys adds depth and dimension to the traditional curtain hairstyle. By incorporating layers into the hair, the curtain effect is enhanced, creating movement and texture.
The layers are strategically cut to allow the hair to fall naturally in cascading curtains, framing the face beautifully. This style works well for boys with different hair lengths and textures, allowing them to achieve a personalized and unique look.
5. Sleek Curtain Hairstyle
The sleek curtain hairstyle offers a polished and sophisticated appearance. This style requires precise styling to achieve a clean center part and sleek, straight strands that elegantly fall on either side of the face.
To create this look, boys can use a fine-toothed comb and a styling product with a high hold to ensure the hair remains sleek and in place throughout the day. The sleek curtain hairstyle is perfect for formal occasions or when boys want to achieve a more refined and mature look.
6. Tapered Curtain Haircut
The tapered curtain haircut combines the curtain style with a tapered or faded effect on the sides and back. The hair gradually transitions from longer lengths on top to shorter lengths on the sides and back, emphasizing the curtain effect.
This versatile haircut suits boys of all ages and provides a trendy and fashionable option. The tapered curtain haircut offers a sleek and well-groomed appearance while maintaining the unique curtain look.
7. Curly Curtain Hairstyle
Boys with curly hair can embrace their natural texture with the curly curtain hairstyle. This style celebrates the curls by allowing them to cascade on either side of the face, creating a curtain-like effect.
To enhance the curls, boys can use a curl-enhancing product or diffuser when drying their hair. The curly curtain hairstyle exudes a playful and charismatic look, showcasing the natural beauty of curly hair.
8. Blonde Curtain Hair
Blonde curtain hair adds a touch of lightness and brightness to the hairstyle. Whether naturally blonde or achieved through hair coloring, this style showcases the curtain effect with a beautiful blonde shade.
The light color enhances the depth and dimension of the hairstyle, creating a stylish and attention-grabbing look for boys. Blonde curtain hair offers a classic and sophisticated appearance, perfect for boys who want to stand out with their hair color.
9. Short Curtain Haircut
The short curtain haircut offers a fresh and modern take on the classic style. With shorter hair on top, the curtain effect is achieved with a slight part, and the hair is styled to fall on either side.
This haircut is perfect for boys who prefer a more manageable length while still embracing the trendy and versatile curtain look. The short curtain haircut provides a clean and youthful appearance, making it a popular choice among boys of all ages.
10. Long Curtain Hair
Boys with longer hair can embrace the long curtain hairstyle for a charming and trendy look. With the hair grown out to a longer length, the curtain effect is accentuated, creating a striking and fashionable appearance.
This hairstyle allows for various styling options, such as tying the hair back or leaving it loose, adding versatility and personality to the overall style. The long curtain hair exudes a confident and stylish vibe, perfect for boys who want to make a statement with their locks.
11. Wavy Curtain Hair
For boys with wavy hair, the wavy curtain hairstyle offers a charming and textured look. The natural waves are accentuated, creating a soft and relaxed curtain effect.
This hairstyle embraces the natural texture of wavy hair and allows it to flow freely on either side of the face. The wavy curtain hair exudes a casual and carefree vibe, perfect for boys who want a laid-back yet stylish appearance.
12. Brunette Curtain Hairstyle
Brunette curtain hair showcases the curtain effect with a rich and luscious brown shade. This hairstyle adds depth and warmth to the look, enhancing the natural beauty of boys' hair.
Whether naturally brunette or achieved through hair coloring, this style offers a classic and sophisticated appearance. The brunette curtain hairstyle provides a timeless and elegant look that suits boys of all ages.
13. Side-Swept Curtain Hair
The side-swept curtain hair adds a twist to the classic curtain hairstyle. Instead of a center part, the hair is styled with a side part, sweeping the longer strands to one side of the face.
This variation creates a fresh and asymmetrical look, adding a touch of modernity and flair to boys' appearances. The side-swept curtain hair exudes a contemporary and stylish vibe, perfect for boys who want to add a unique touch to their haircut.
14. Center Parted Curtain With Disconnected Sides
A typical curtain hairstyle with almost shaved sides and back, this hairstyle boasts a disconnected look on the sides and the back. The hair on top is parted in the center and falls over nicely to either side. It makes a perfectly formal look overall.
15. Curtain With Low Undercut
This hairstyle is all about length on top that is parted nicely in the center and made to fall over to the sides. The sides have a disconnected undercut style but it is given too low on the sides.
16. Voluminous Side Parted Hairstyle With Fade
This voluminous hairstyle boasts a part that's tilted slightly towards a side and a fringe falling over on the other. The faded sides make a statement and lend a unique touch to this look.
17. Messy Curtain Hairstyle
This is a typical curtain look that's given a unique touch by giving it a messy look.
18. Classic Curtains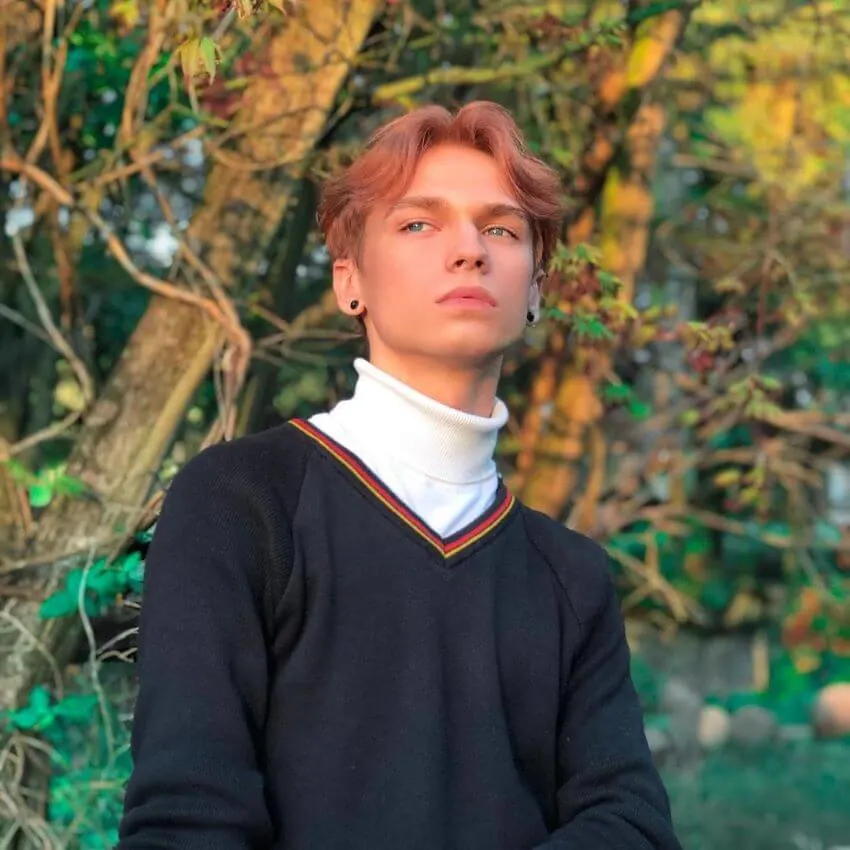 One of the best classic curtain hairstyles around, this hairdo boasts of some length and a cool center part. Add some color to the mix and you have a perfect look.
19. Curtain Haircut With Low Fade
This beautiful hairstyle is complemented by a low fade and looks gorgeous.
20. Center Parted With Metallic Color
This beautiful look is about long center parted fringes and the metallic color shade looks stunning.
21. Long Curtain Hair With Casual Part
This beautiful look is achieved by growing the hair longer and keeping the part casual.
22. Slightly Wavy Hair With Casual Center Part
The center part is not too obvious like a clear or hard part while the naturally wavy look of the hair makes it feel great.
23. Nice Silky Curtain
This beautiful hairstyle looks cool on long grown, silky hair types.
24. Side Parted Haircut With Fade
This beautiful side-parted look is gorgeous and feels great with a side fade.
25. Long Grown Casual Curtain
This cool look is achieved with long-grown hair all over. The beautiful hairstyle looks great on brown hair and is actually achieved by creating a casual side part and making the front go curving down the side. The way it sits over the ears is just amazing.
You can come up with as many beautiful implementations of the curtain hairstyles as you like. It all depends on your creativity and your sense for style. One important decision you have to make is whether you would like to go with a center part or a side part. Besides, how long you want it to be on top is also an important decision on your part to determine what type of curtain haircut look you want to achieve. If you want to keep things simple, just pick one of the coolest looks above and flaunt your style.