There are many school haircuts for boys available today and one key feature that is there in all of them is that they can be easily classified as low maintenance haircuts. Obviously, that's the primary feature you are looking for.
And you'd also want something that can be achieved easily when your kids is getting late for school and you don't want him to miss his school van. At the same time, you must go with something practical that looks cool on your kid and gives him a clean-cut look for the school.
So, follow the dress codes and give your kids a perfect school boys haircut from the list that we have compiled for you below. Let's have a look.
Best Low Maintenance Toddler Boy Haircuts This Year
Let's explore some of the top options you can try with your kid's hair this year and beyond.
Crew Cut
 Crew cut has always been popular for hairstyles that could be achieved in a jiffy. And, when you have the thinnest time windows in the morning to get your kids ready for school, you can't really find a better alternative than a crew cut to give your boy a perfect style. The hairstyle doesn't really need any styling whatsoever unless you've chosen otherwise.
One of shortest haircuts for boys, the hairdo would work just fine with any dress code. For a perfect look, get his hair trimmed to only a couple of inches in length. Make sure that the hair on the sides and the back are faded using clippers as well.
Just run your fingers through his hair every morning, and apply some styling gel if you want to, and a perfect hairstyle would be ready.
Side Parted Hairstyle
 A side part can be incorporated into a variety of different hairstyles and it is recommended for almost 99% of hairstyles we have today. It is a clean and cool look which really makes for a perfect style for school going boys.
No matter what type of hair your kids have, you can give them a perfect hairstyle with a side parted look. In fact, if you can go with a hard part, that would be even better as it will make your kid look standout.
This is one of the best school boys haircuts that can be achieved with 2-4 inches hair. Do some clipping on the sides for achieving a fade haircut look. Eventually, just part it on a side and style the way you like.
For creating more dramatic hairstyles, you should style his hair using some pomade. It will also give him a neat and clean look perfect for school.
Undercut
Undercut has a reputation for being trendy and it is a perfect hairstyle option that works in a variety of environments including schools. No matter how strict the dress code is, the undercut hairstyle will definitely manage to sneak into it somewhere.
Just like the option above, undercuts also give you the flexibility in styling. You can achieve whatever look you like while keeping the sides trimmed too short and tight to the skin.
For achieving a perfect look, it is a good idea to leave 2-4 inches length on top while the sides must be buzzed using clipper #1 through #4 settings whichever you'd prefer. The clipper selection, primarily, depends on the length you have on top.
Quiff Hairstyle With A Tapered Undercut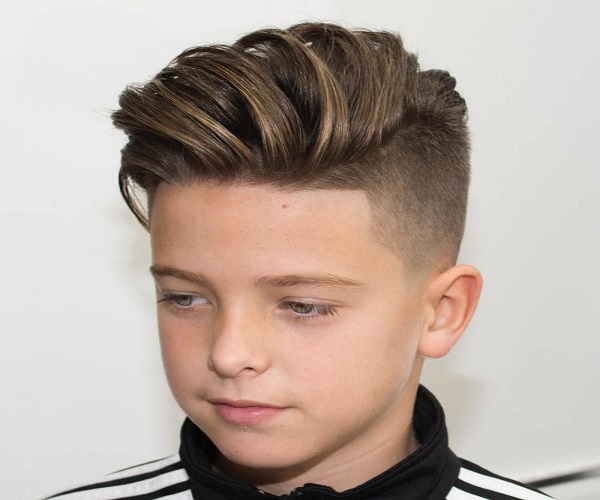 Quiff hairstyles have always been popular among school going boys and they are considered among the coolest looks to achieve with medium length hair. It's pretty organized and it has sort of a combed over look to it.
If you want to take that one step further, style it with an undercut. It would be easy to achieve and cool to look at. Above all, it will work for your kid no matter what their face shape may be.
Fury Slicked Back Hairstyle
If you have watched the popular movie "Fury", you must remember the legendary haircut Brad Pitt wore in that role.
The hairstyle is pretty simple as it requires you to slick the top back and get the sides tapered short. It really makes for a wonderful style.
Angular Fringe And Disconnected Fade
Another pretty organized look that makes one of the best school haircuts for boys, this hairstyle will definitely amp up your kids' personality. And, it won't look too impractical either.
The angular fringe that we have here looks quite exciting and young and it will look really amazing if you can work in some hard lines on either side. It will definitely create a gorgeous school hairstyle for boys.
Brushed Up Side Quiff
 Even though you need quick and easy hairstyles for your kid's morning routine, this quiff might take some time to get it right.
However, the final look that you'd be able to achieve is definitely worth it. You can finish off the look by brushing his hair to a side and giving it an additional twist.
Ivy League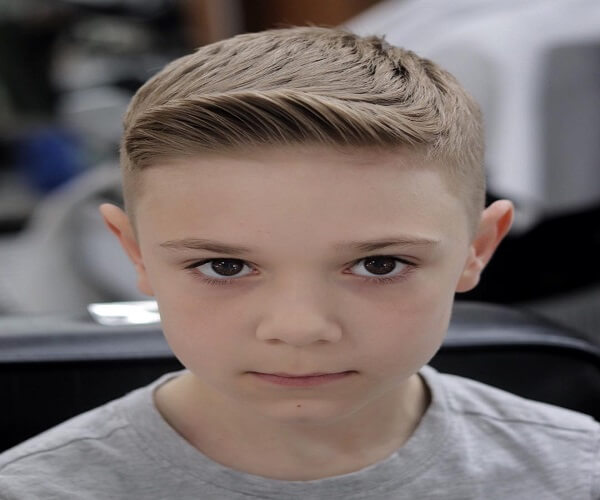 If your kid loves to feel the classic vibe, you can't get him a better hairstyle than this Ivy League haircut.
The hairstyle works even better if your kid is going to attend some formal event. Apply some product and do a bit of combing to get him a perfect hairstyle that he can really brag about.
Scissor Haircut With A Disconnected Hair Design
 It is another cool variation of a typical hairstyle that makes for a wonderful hairdo at the end of the day. Even if your kid has messy hair, that doesn't really matter and it means that you can make it work on the dreaded mornings for school.
Give him a typical scissor haircut and then get one-off trim on the sides to make it look disconnected from the top. It will work for him even in the regular routine.
Caesar Hairstyle
A homonym of the style above, this one is a bit different. One thing that is great about Caesar hairstyles is that you don't need to do much of maintenance if you choose to go with this option.
If your kid's hair is curly and you can wash it off once every week, at least, the hairstyle will work just fine. So, what do you make of such a wonderful low maintenance hairstyle.
If you have been looking for the best simple hairstyle for school that you can give to your little boy, you can definitely choose to go with one of the hairstyles listed above.
These low maintenance toddler boy haircuts are not too hard to achieve and they can make for a unique and stylish look at the same time as well. Your kid will love whatever look you give him and it's definitely going to be in peace with his school's code. So, make your pick now!