Whenever the new session at school starts, kids get into that race of finding themselves the best and the most stylish hairstyles for school. And when it comes to girls hairstyles, there are lots of amazing options to choose from. One look that, literally, stands out among the rest is back to school hairstyles. There can be so many different ways to style your hair in braids and you ought to pick the best ones for your little girl.
Back To School Braided Hairstyles – Top 15 Picks
The hairstyles that we have on the list below have some sort of braided element to them. You can find the braids in everything from buns and updos to ponytails. See which hairstyles for girls would be best suited for your little one and make your choice accordingly.
Checkered Braids
It's often hard to style natural black hair. Rather than using different styling products which may end up damaging the curls of your little girl, it's a better a choice to form cool criss-cross braids out of her hair. It's a protective style which can be achieved by sectioning off different parts of her hair which run diagonally across her head and end up into a nice high ponytail from those kinky twists.
Inside-Out Side Braid
A side French-braided look is not just intricate, it works best for school hairstyles for girls too. The hairdo can best be achieved with slightly curly, long hair. No matter what grade your girl is studying in she'd pull this look off in style. A major decision you have to make, however, is that how tight or messy you would want her hair to be styled. You have to come up to a decision before you actually start achieving the braided hairstyle because they both can be achieved with a slightly different process.
Fishtail Braided Updo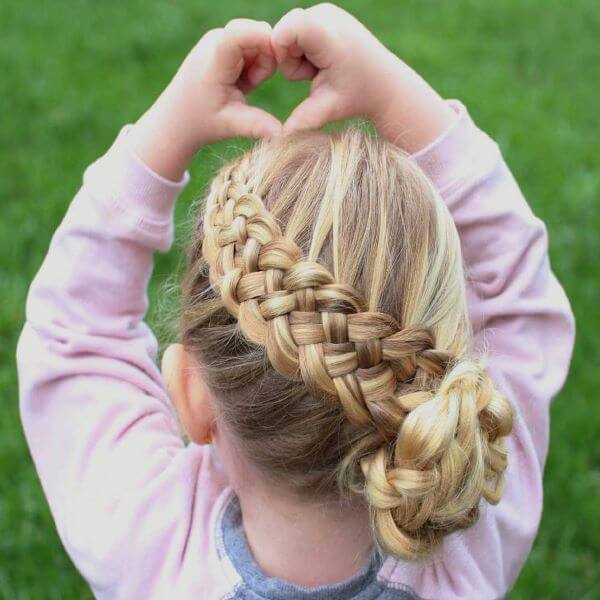 If you are looking for the quick and easy hairstyles for girls, this beautiful tucked fishtail braided look is your thing for sure. You can replicate the cute hairdo in a variety of different ways but most popular of the lot requires you to divide her hair into a couple of big sections. After that you need to go crossing and blending those small pieces grabbed from each section with one another. The final look would be gorgeous and you'd love it for sure.
4-Strand Braided Hairstyle
This 4-strand braid is quite elegant and would look amazing on your girl if she has the luxury of long hair. The best thing about it is that you can achieve the style quickly and without much of hassle. Just separate her hair into 4 main strands and start by crossing the first one over the second, and then taking it under the third before you finally take it over the fourth strand. Keep braiding her hair in this pattern till you reach the end.
Ponytail With Flower Braid
Another hairstyle that would look awesome on long hair, this one would do the job perfectly for those school dance performances. The hairstyle is pretty easy to achieve as well. You just need to part it into a couple of sections and then braid top half before rolling it down into a nice flower design. Eventually, secure the look with a sleek high ponytail. That's it, your girl is ready for her day at school.
Braided Headband
Source:Instagram
When in search of back to school braided hairstyles, this look is worth taking into consideration. The hairstyle is pretty simple but looks great on medium hair. You'd hardly find a back to school hairstyle today that looks complete without this braided headband. This awesome look can be achieved with fishtail braids.
Double Crown Braid
Source:Instagram
When you have shoulder-length hair, styling it may be a major concern for you. And, the same stands true even when you are styling it on behalf of your little girl. However, the double crown braid is just a practical choice for her shorter locks. A beautiful hair clip can be added to make everything look beautiful and put together.
Double Circular Braid With Side Ponytail
It's a beautiful layered updo that makes a perfect alternative to a double French braid. Keep in mind that the previous style can be updated with these circular braids too. Put her loose hair into a curly or sleek ponytail. Add a cool, tender bow for a unique style element.
Half Up and Half Down Braided Hairstyle
Source:Instagram
Are you getting crazy about your girl's hair along her hairline? Small rubber bands would become a secret weapon for you. Hide her pesky strands simply by moisturizing the mixed hair as well as incorporating it into her silken braids. The half up and half down braided hairstyle can also make a good choice for her kinky curls. It really makes one of the best hairstyles for school.
Ladder Braids
Ladder braided ponytail is quite a unique hairstyle and there aren't many alternatives that look as good as this one. What's best about this hairstyle is that it can be taken to a chic level that you can wear on special occasions even something like red carpets. This braided hairstyle adds a bit of visual thickness to her long and medium hair. That is why it has become a go-to choice among girls with long hair.
Simple Side Braided Ponytail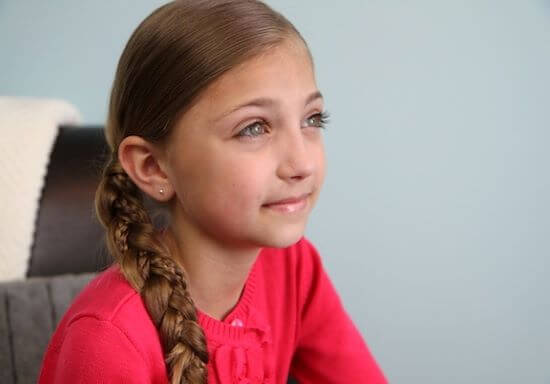 Side braids and ponytails are a couple of major trends in high school right now. The school hairstyle of your teen can be given further lift by securing the ponytail using her own strands. She'll just have to wrap a hair strand around her ponytail's base to achieve an even better and polished look.
4-Strand Ribbon Braid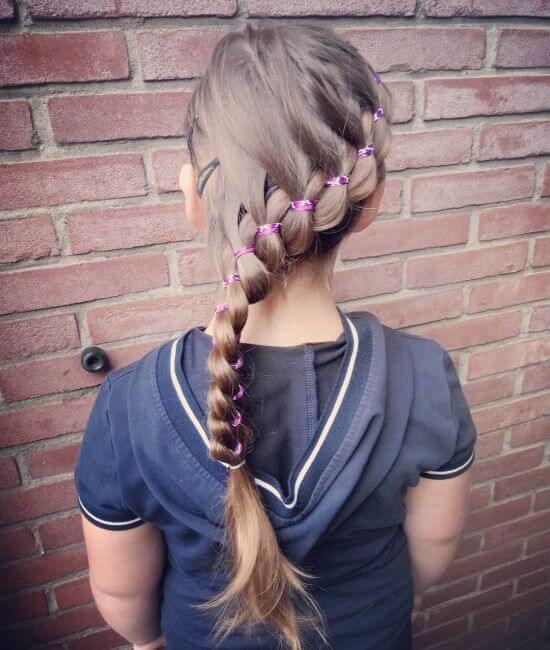 When your girl has straight, long and silky hair, it becomes a whole lot simpler to rock an ultra-glam school hairstyle for her. This beautiful 4-strand ribbon braid isn't any exception. For achieving a sweet braided hairstyle, use same pattern for weaving the ribbon just like you do for a typical 4-strand braid listed above.
Lace Braided Hair Bun
If you are interested in some low maintenance hairstyles for girls, this bun-inspired updo hairstyle will complement the straight locks of your young one rather nicely. Grab a sock or a bun maker for achieving maximum volume within just five minutes or so. As you can dress the bun up or down, it's an ideal choice for school performances.
Dutch Side Braided Hairstyle
It can be a lot simple to imitate a Dutch side braided look. However, it does not take away anything from this beautiful age-appropriate hairstyle. Kids with thick and long hair would always appreciate this low-key and sleek look. Take a small flower and pin it up right above your girl's ear to create an amazing Rapunzel effect.
French Braided Hair Bun
Updo hairstyles make a perfect choice for the thick locks and this one doesn't lag behind either. Start it with a beautiful French braid created upside down. Create a nice high ponytail and twist the remaining hair around the base of her ponytail for creating a bun style. Use a simple and stylish ribbon to tie it around and it will look even better. Whether your girl likes a sporty look or not, ribbons make a wonderful accent when it comes to cute hairstyles for school.
Girls always want a cool and organized look to flaunt at school while making sure that they do not end up breaching the school code either. And, nothing can help them achieve this goal better than the back to school hairstyles. There are plenty of amazing options available and you just need to make the right picks for yourself. The hairstyles listed above are the latest, trendy looks and you should definitely give them a try. They'll surely give your girl a gorgeous look for school.