Choosing the best hairstyles for your little girl can be more of a hassle, particularly, when you are in search of a specific type of hairstyle. That can't be any truer for easy updos as there are so many of them and you can get as creative as you like to experiment with the look. From braided hairstyles to crown variations, there can be all sorts of unique hairstyles you can achieve for your little girl, but would they be all that easy? That's a big question mark! Well, you don't really need to worry at all because we have listed some of the best updo hairstyles for girls that your little one can flaunt on any special occasion. She will look gorgeous and you won't either have to spend hours styling her hair too. Let's check out the collection we have for you.
Easy Updo With Crown And Beautiful Wavy Fringes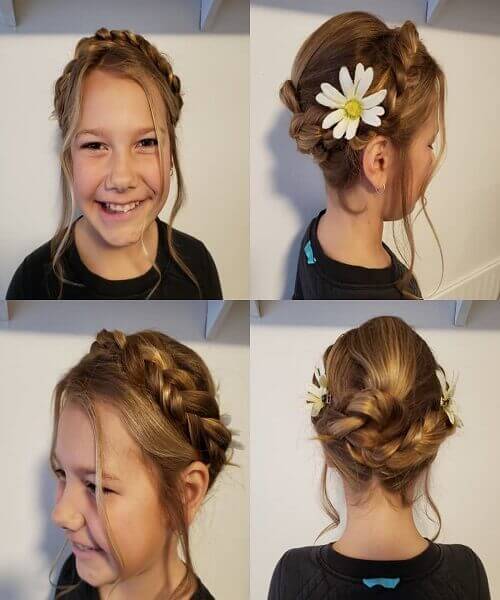 Source: Karendunlophairstylist
This beautiful and easy updo hairstyle is more about a casual look than creating something more sophisticated and chic for parties and formal events. The hairstyle boasts of side combed hair at the front while there is a braided crown that swirls around her head mid way through. It forms a unique bun shape at the back and a few strands falling out here and there would create a perfectly cool and amazing vibe overall. The frontal fringes add to the casual hairstyle making it look even better. And, obviously, it doesn't require you to put in a whole-hearted effort either to achieve this beautiful hairstyle for your little angle.
Wavy Combed Back Hairstyle With Bun
This cool, naturally wavy hairstyle is what your girl is going to love on her next school function or a formal event you two have to attend. The hairstyle can be achieved in a couple of different ways. You can either leave the back open and wavy while combing it backwards from the front and securing with a braided bun at the crown or you can go with a low updo secured with a nice hair accessory. Make sure that you leave her hair all naturally wavy and loose so that it creates a perfect vibe overall. The hairstyle is surely going to impress everyone who is around.
French Braid With Classic Hair Bun
Another cool updo hairstyle for girls that would require least possible effort to achieve it, this one actually boasts of a thick and loose French Braid created at the front. The braid actually goes at an angle all the way to the back where it gets thinner and becomes part of a classic hair bun. The hairstyle speaks volumes about its classy looks and makes a perfect choice for special occasions. Your girl is definitely going to love it.
Easy Updo With Typical Bun And Braid
Another simple look that makes one of the best easy updos out there, this one actually brings all the hair on top and the back right to the crown before securing it into a cool hair bun. It's more of a doughnut bun which is surrounded by a cool braid. The hairstyle is quite different and unique and it has its own cool vibes to deliver. A perfect hairstyle for any day, it won't take more than a few minutes to achieve this hairstyle to perfection.
Combed Back Hairstyle With Braid And Bun
This is another unique take at the beautiful updo hairstyles. The hairdo boasts of some length which is all combed back and kept slightly loose before creating a cool French Braid starting at the front and going all the way to the crown area. A messy and unruly doughnut bun is created at the crown with the help of hair coming from all the sides and it's given a bit of elevated look making it stylish and beautiful. It really looks great in the overall scheme of things.
Combed Back Hairstyle With Low Bun
This really is a cute look that can be achieved with long and voluminous hair only. So, if your little girl has that type of beautiful locks, you can style her hair into this beautiful hairdo. Just comb it all the way back and keep it all slightly loose and naturally wavy. Twist the layers on the side and secure it into a low hair bun at the nape of the neck towards the other side. Make the twisting strands to swirl around the hair bun and secure it into a beautiful hairstyle overall.
Side Swept Twisting Hairstyle With Low Bun
Another cool variation of the hairstyle given above, this one features more of an organized and nicely combed look as compared to the one above. A tinge of color can be added to the mix to make sure that she looks as adorable as ever. A short frontal fringe can make it look even better while a glimmering hair band can complete a perfect style overall. The bun is kept loose and it is blended perfectly with the twisting layers coming from the side.
Doughnut Bun With Vibrant Hair Bow
Taking a typical doughnut hair bun to the next level, this beautiful updo can be achieved without putting in too much of effort. It's a regular hairstyle among the top easy updos and it brings hair from all sides of the head to the crown area where it is secured into a bun. A chic style element is added to the overall hairstyle with the help of that hair bow that is quite elegant and vibrant. It really makes the hairstyle look ever more stylish and amazing.
Chic Side Swept Updo
Nothing can get as chic and plush as this one as far as stylish updos are concerned. The hairstyle is more formal than anything else and it looks gorgeous with its pretty organized look overall. Comb it tight towards a side and secure it with the help of a styling product while achieving natural texture at the same time. Bring the hair from the back and the sides to the crown area where a voluminous and thick hair bun is created to pull off a perfect style. A chic hair accessory can be added in front of the hair bun to complete a wonderful overall look. This hairstyle might take a little more effort than the ones described above because of that clean and tidy touch it has to it.
So, what do you make of these easy updos then? Do you think any of these is good enough for your little girl to style? Do you think any of these can make her regular routine hairdo? Well, that's your decision and you should put deep thought into it, together with your girl, before you can come up with a perfect hairstyle for her. Happy styling!