The best school hairstyles for girls keep changing with the trends and every year we have lots of new cute hairstyles for school easy that can be styled within a few minutes. You don't always have to put in any extra effort and rush through your morning routine just to get a few extra minutes to style her hair into something gorgeous. So, if you have a pretty tight schedule in the morning, and your girl always runs late from school, we'd advise that you try some of these beautiful hairstyles we have listed here and make your girl look perfect.
Top Cute Hairstyles For School Easy
Combining cuteness with ease of styling, here we have brought you the best hairstyles for girls that won't require you to put in a whole lot of effort. From pixies to high ponytails to a variety of braids, we have everything on the list for you. So, let's explore!
Pixie Hairstyle With Headband
Your girl may have long beautiful hair and you might find her complaining all the time about the long locks. Why not give her a chop this time and style her hair into a longer pixie style? Regardless of the length she's got, tying some ribbon will add further flair to her hairstyle and you can always find something matching her dress to amp up the look even further.
Double Dutch Braided Hairdo
This adorable braided hairstyle will make your girl ready for the school pretty quickly. Also commonly known as reverse French Braid, the hairstyle won't leave you in too much of trouble for achieving a perfect look. It's up to you whether you want to braid it down right throughout or you would like to secure it at nape of her neck. Either way, it is going to make a unique statement.
Mini Braids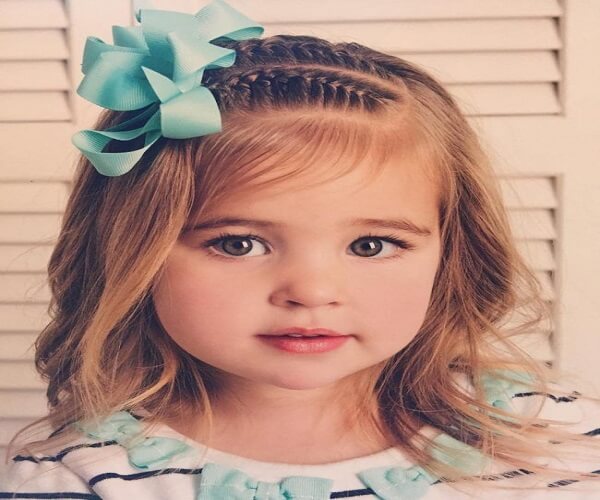 Planning to give a bit of oomph to your little girl's hair? Why don't you go with those beautiful mini braids parting it all in the center? The braids can be created by pulling frontal hair out and getting it into shape.
Side Parted Low Ponytail
If you are looking for something simple that still looks quite sophisticated, you just need a bit of lift in frontal section while you can combine it with a beautiful side part to achieve a wonderful style The ponytail will look gorgeous and there is nothing hard in pulling off this look.
Low Braided Ponytail
If you want organization, nothing can beat this low braided ponytail. In fact, it's not too hard to achieve either. To pull off a perfect style, grab some gel and a hair brush, and just begin braiding. It won't take more than a few seconds before you could have a wonderful hairstyle ready for your little girl that she can flaunt at her school.
Top Knot
If you want to give her an on-the-go look, this is the hairstyle you should look forward to. Just imagine how much time it would take to pull off a perfect top knot. Nevertheless, it is going to give your little girl a wonderful and sophisticated look. The updo will also keep the hair from falling over her face. It would be pretty organized and it would look really cool as well.
Wrapped Pigtails
Pigtails have always been among the best cute hairstyles for school easy because they don't take too much of your time and can be give that super sleek look as well. Want something a bit different, try out this wrapped pigtails style with your little girl's hair. It will look sleek and stylish.
Buns & Bows
Hair buns always make a cute hairstyle for little girls and you can always double those buns to make for something even more special. The trendy hairstyle can be given somewhat of a trendy look if you can add some stain ribbons to the back of the buns and form beautiful bows in matching colors. The hairstyle will look chick and elegant and it will have its own unique vibes as well.
High Ponytail With Statement Hair Bow
To keep it simple, unique and elegant, you can always go with a high ponytail style which always creates a sleek and elegant look. But what actually makes a statement is that big beautiful bow on top that secures the style and draws all eyes towards your girl's head. You can even add a fine braid to the ponytail for an added push of style.
Long Braids
Pigtails can be a go-to choice for those lazy days and they also look amazing at the same time as well. But what do you think of braids? Braiding her hair is equally easy and it will create more of a refined look as well. Add further touch of style and elegance to the hairdo by using hair elastics in gold.
Half Up Braids
For times when you do not have enough energy to make a full commitment, you can try something like half up braids. Just braid a couple of hair pieces on either side of the part and secure both of them together. It's easy and it really looks sweet.
Center Detail
Girls often want to go with ponytail hairstyles, especially, when it comes to dressing up for school. But do you really have to style it into that boring ponytail all the time? Not necessarily! You can always add some fun and flair to this otherwise classic style with a twisting wire going through the hair on top right in the center. It will really look gorgeous.
Milkmaid Braids
This is a wonderful princess-worthy hairdo that will make your girl's day anytime. Divide her hair in a couple of sections, braid, and wrap it around the head to form a beautiful halo shape. If you want to ensure that it doesn't look too regal – as she'll be wearing it to school – you can always pull some strands out from the front.
Messed Up Fishtail Braid
It doesn't, literally, mean a messed up look. Rather, you can give her braided look an upgrade by styling her hair into this beautiful mermaid-inspired hairstyle. It's not all out messy, as mentioned earlier, but it's slightly out of place to add a unique touch to it.
Wide Headband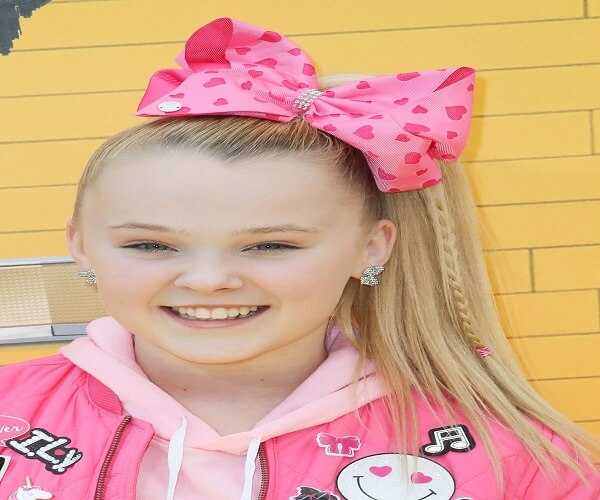 If you haven't been great at pulling off beautiful French braided hairstyles, you can try out this simple, sleek and elegant hairstyle. Just comb it all the way back and leave it all open before adding a beautiful headband on top. It will just look gorgeous and the school officials won't object to it either.
So, how do you like these cute hairstyles for school easy? There is no extra effort that you might have to put in and most of these hairstyles can be achieved within a few minutes every morning. You just need to be careful about your choice as not all the hairstyles would fit every girl. So, make sure that you understand what type of hair your girl has, what sort of facial features she has got, and only then make a pick for her. She'll impress everyone at school for sure.