If your little one is crazy about style and fashion, you must be looking anxiously for kids hair style for him all the time.
To your surprise, there are many options that you can choose from and you will be never short of versatile options to try. All you have to make sure is that you should go for a hairstyle that is a true reflection of their personality.
Whether they want to try something classic or a new trending hairstyle, you are definitely going to find a perfect hairstyle for them. In fact, here we have a few amazing options listed for you.
Coolest kids hair style This Year
Kids really take their style seriously nowadays and you have to be careful when making choices on their behalf.
So, why settle for something ordinary when you really have the best little boy haircut options available to you. Let's run you through the coolest hairstyles you can try out this year and beyond.
Short And Messy Hairstyle
For messy hairstyles, you do not really need to have longish hair. Here we have an awesome example of short hairstyles that would make a perfect choice for your little one.
This spiky and tousled cut works best for all the hair types, especially the thick hair. This classic haircut requires you to keep it same length everywhere on top while going slightly shorter on the sides.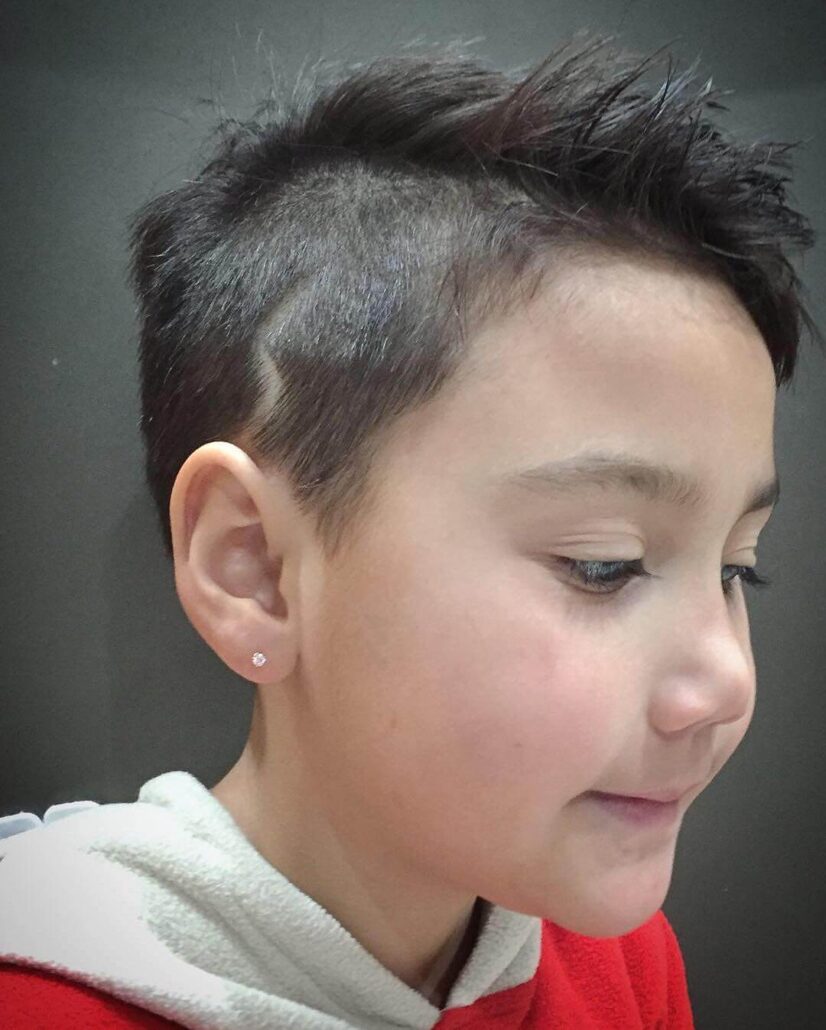 Use a quality styling product and you will have a perfectly textured, messy look which is both edgy and adorable. If you are looking quick and easy hairstyles, nothing can be as simple as this haircut.
Long Top With Short Sides
Well, the title is quite generic for this one. It's really one of the most famous looks to achieve among boy haircuts.
The hairstyle actually boasts of a fade haircut on sides with thick and medium-length hair up top. The longer locks on top are swept nicely to a side. Nevertheless, the hairstyle is quite trendy and versatile.
There is natural texture at the top which balances out the shorter hair on the sides and gives your little man a perfectly modern appearance. The hairstyle works perfectly for all occasions and you don't have to worry about any pick and choose stuff here.
Furthermore, you can style the hairdo in a typical comb over, slick back, quiff, and faux hawk style as well. The choice is yours.
Apply some matte pomade, medium-hold gel, or light hair styling cream for brushing the hair of your kid and making sure that the style stays intact throughout the day.
The hairstyle works best for the straight hair and you can never go wrong if you choose this style and haircut for your little guy.
Gentleman's Side Part
Among all the toddler hairstyles available today for formal occasions, this particular one is a perfect classic which doesn't take you too much of time in styling.
You can achieve this adorable hairstyle at home as well. It requires only few inches in length up top and a high fade haircut on the sides.
For styling purposes, you need to apply some high-shine gel or pomade which offers medium-to-strong hold. Just apply your chosen product on his hair and comb over from a side.
This hairdo is quite stylish and your little boy can even wear it on the weddings. In fact, it's casual and fashionable enough to be work at preschool day too.
Ivy League Crew Cut Style With Spiked Front
You must have heard of Ivy league hairstyles before as well. They're a popular choice among men and kids alike. The chic toddler hairstyles are easy to achieve and maintain.
They can be mastered with a little practice only. The hard part as well as the spiky front can be styled easily as well.
Simply ask the barber to give your kid an undercut or high taper fade on sides along with shaved part. The hair on top is cut short too with only 2-3 inches left behind. However, the fringe is left a little longer.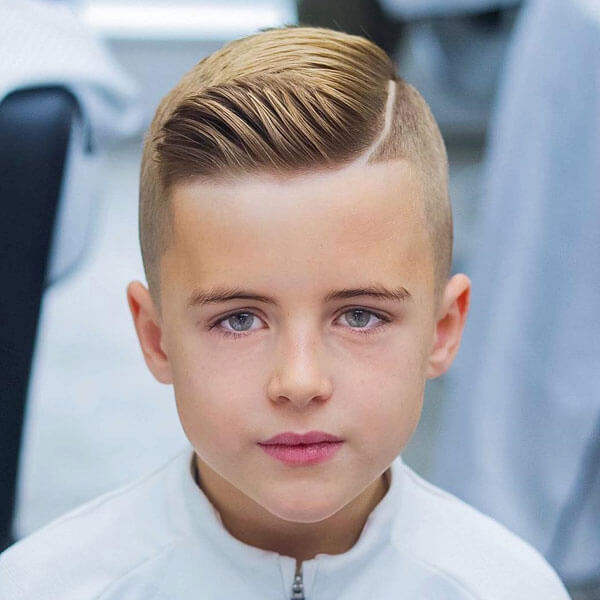 Use a quality styling product, and comb it over along his natural part. You can spike the bangs or simply sweep them to a side.
This beautiful combination of a comb over and Ivy League crew cut would impart perfect balance of casual and formal style while the spiky front would make a bold statement.
Faux Hawk And Undercut
You can find various hairstyles for little boys that work equally well for both thin and thick hair. This beautiful faux hawk hairstyle is also among the lot.
The pair of Faux Hawk and undercut has become more of a trend for toddler boys, particularly those in the age group of 1-3 years.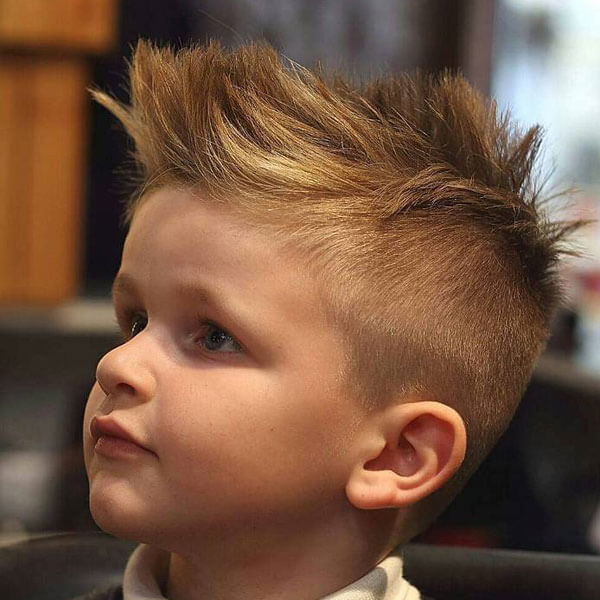 There is 3-4 inches length kept on top to allow for some messy texture which offers some height to the haircut as well.
The sides are either tapered or given an undercut to highlight its styling while making the hairdo standout. For kids with cowlick which can't be tamed, it's a perfect choice as it can hide that effectively.
Comb Over Fade Haircut With Hard Part
It's a timeless look which works just fine for thick, straight and fine locks. One of the classic kids hair style , this one is just perfect for both school and party time.
With faded sides and the back, the hairdo will keep the little man cool and looking stylish throughout the summer months.
The hair on top is kept a little longer and it's perfectly offset with that hard part which is shaved straight in. Apply a bit of gel, pomade, cream or wax to keep his brushed over hairdo in place throughout the day.
It can be parted flat to achieve a sleek look or you can keep it slightly combed over to achieve more flow and volume.
Faux Hawk With Fade
Kids with long beautiful hair might want to be expressive about the edgy, bold style they've always wanted to flaunt at a young age. For them, this Faux Hawk look with a fade haircut is just a perfect choice.
The hairstyle boasts of a high bald fade on sides to have additional contrast with the thick and long hair up top. It's quite a fresh and on-point look.
Style it with some strong hold pomade to keep his medium-to-long hair perfectly styled in the textured spikes. High skin fade on the sides creates that illusion of height even further. The sides have shaved stripes which balance off the spiky styling rather nicely.
The hairstyle works the best for kids with very thick hair because you may not be able to get those tall spikes with thin hair.
Slicked Back Hairstyle With Undercut
If your kid loves something with a retro touch, this beautiful slicked back look is quite charming and creates a special vibe.
Particularly with that lightning bolt expertly shaven into the sides, you can't ask for anything more flattering in the hair designs.
The undercut hairstyles remain hot favorite among kids and adults all over the world. It really looks cool on babies, toddlers, little guys, and even young men. You can even go with a disconnected undercut which looks exceptional and works with almost all the different hairstyles.
Hair on top is mostly straight and it's trimmed to around 3-6 inches. There is enough length left behind which can be slicked backwards easily.
To be fortunate, it's very easy to learn how you can slick it back. So, that makes slicked back undercuts a top choice among school haircuts for boys.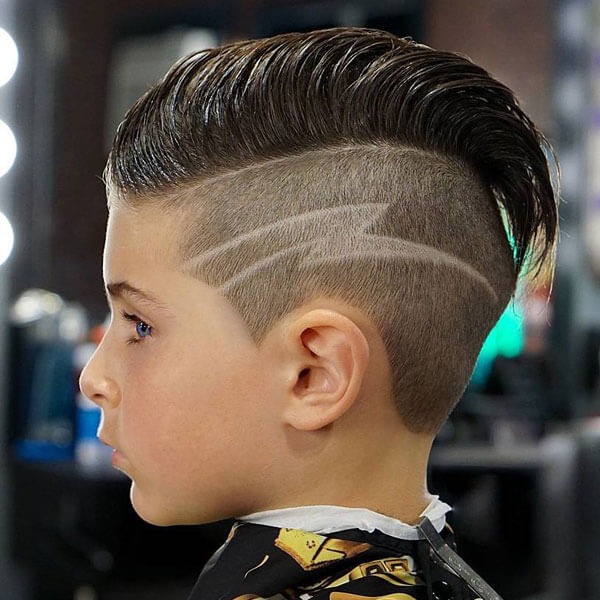 When it comes to styling, you need to apply some strong pomade that adds a bit of shine to his hair and simply run it right throughout his hair. Brush it back with a comb and style his slicked back look in whatever way you like.
For that classic finish, you can always comb it straight back while keeping it flat on top. You can also go for something that looks more voluminous by brushing his hair up and backwards.
It's optional to etch some hair design into his fade and you can replace it with different geometric patterns or symbols as you like.
Long Fringe With Short Sides
Your toddler can always look fashionable and chic if you choose the right modern haircut for him.
Keeping the sides short while allowing the fringe to go long and swept in a way that it hangs nicely over his forehead, your kid will really look cute and stylish in this beautiful hairstyle.
The hairdo works best for straight, thick, and fine hair. For kids having thinner locks, it is recommended that you style it with some quality wax to achieve a fuller and thicker look.
You can also fade the sides short for accentuating the flattering style that you have done on top.
Textured Spikes With Hair Fade
There are lots of amazing styling options available for boys with short-to-medium hair. This beautiful textured and spiky look offers them a fun and exciting style.
There is a high fade with which this spiky haircut is achieved while the hair up top is kept thicker and longer. What's best about this spiky fade haircut is that it's pretty easy to turn it into a Quiff, fohawk, French crop top, or a brushed back look.
In order to make sure that his hair do not clump together, make sure that you do not use a brush or hair gel. Rather, try some wax, matt pomade, or a clay product and work it in using your fingers and hands. Pull it up a little for creating textured spikes which stands tall and straight.
With all these options ready for your little one to style, you just need to make your call now. These kids hair style do not leave much hassles behind and you can achieve them easily at home. Just get your kid a perfect hairstyle and he will 'rock n roll'.