Irish women are among the most attractive in the world and equally cute are the little girls in that part of the world. What's even more attention-grabbing about these people is the unique way in which different Irish hairstyles are done and the cuteness they impart into the young little beauties.
There are plenty of hairstyle options available for all the hair types and you just need to make the right pick for yourself or your little girl.
Finding the perfect hairstyle for your little girl can be difficult, but incorporating elements of Irish tradition can provide some unique options. From braids to curls, these Irish hairstyles will not only make your little girl look adorable, but also teach her a bit about her heritage and culture.
Here are some of the top Irish hairstyles to consider trying on your little girl's hair.
Best Irish Hairstyles For Little Girls
Whether you are planning on some Irish wedding or you just want to take some inspiration from the Celtic hairstyles, there is a variety of options that you can try out for your little girl, or even for yourself. To categorize these hairstyles broadly, you can go with braided hairstyles, ones with flower wreaths, and the medieval hairstyles. Let's explore each of these options in a bit more detail.
1. Braided Hairstyles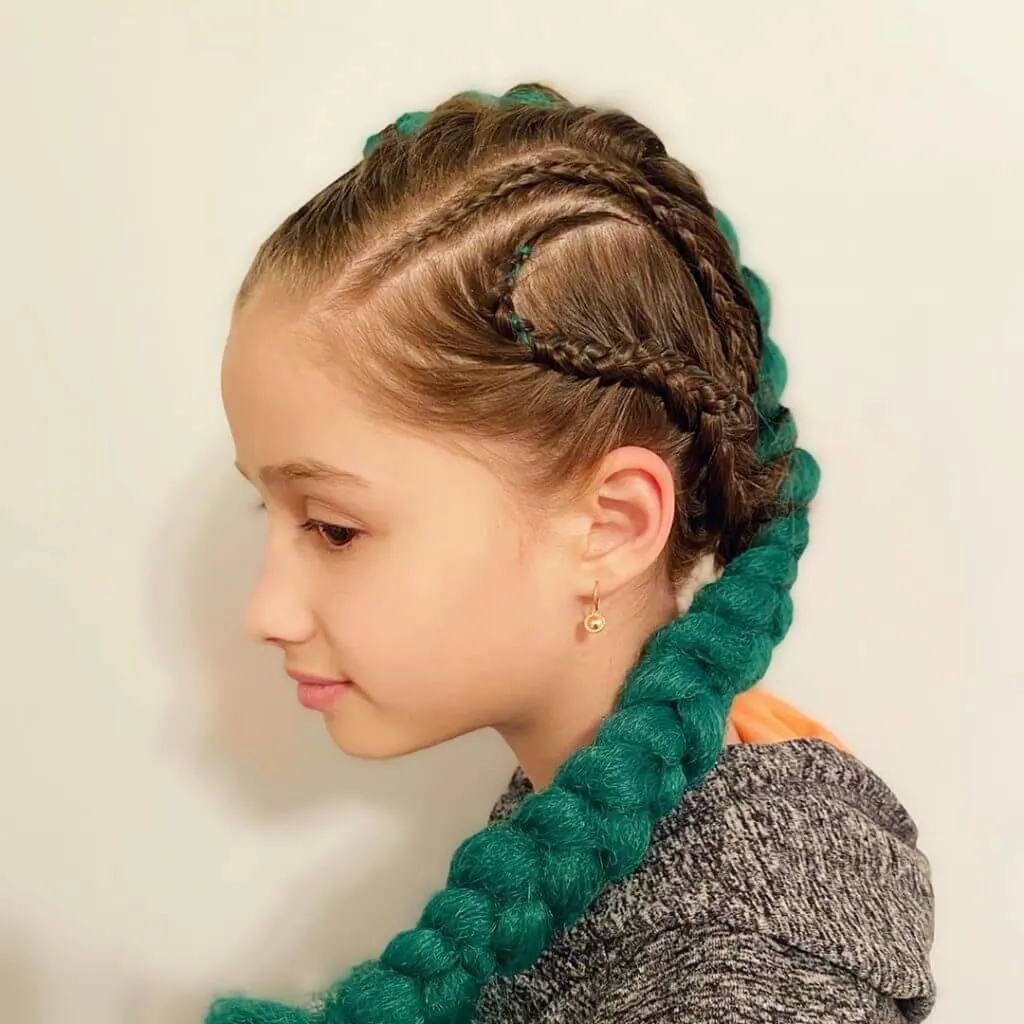 Credit: @elitefacenbodyart / Instagram
If you look into the past, the braided hairstyles have been among the most common types of hair for Irish girls – especially, the brides. These hairstyles for girls usually have a lace and ribbon woven through those braided locks. When it comes to the Irish women, they take braided hair as an ancient symbol of luck and power. For girls with too short hair, you should talk to the stylist and try to incorporate some hair piece that could be woven through the hair to add some volume and achieve a perfect braided style.
2. Flower Wreaths
If you talk about the Irish brides, specifically, they have had a history of wearing that wreath of beautiful wildflowers in the hair instead of some elaborate veil. It really looks and feels amazing and does have a symbolic value as well.
For instance, Lavender is a symbol of devotion and love while the herbs represent the fidelity of the bride to the newly-wedded husband. Replacing those typical veils with flower wreaths is growing in trend as well and it looks even better on beautiful little girls.
You have the option to choose between some statement wreath having large and bold flowers such as daisies and roses or you can go with something fine enough featuring sweet and small wildflowers. If you're not interested in going with full crown, you can get along quite well with something more subtle placing your girl's favorite flowers into the hair.
Remember, however, that keeping those flowers fresh while ensuring that their petals aren't knocked off may turn out to be a bit of issue. It would be a good idea if you can get a wreath that is made from top quality silk flowers. That's particularly a popular option for girls who have some type of allergies.
3. Celtic Knots:
This enchanting Irish hairstyle features loops of hair interwoven into knots, resembling the ancient Celtic symbols. It's a unique and artistic style that's both historical and contemporary.
How to: Take two small sections of hair near the temple, tie them loosely into a knot behind the head. Loop the ends through the knot, and secure them in place with bobby pins.
Suitable for: Ages 8 and up. This hairstyle is an excellent choice for themed events, Renaissance fairs, and weddings.
4. Braided Crown:
The Braided Crown exudes a sense of regality, with a braid that beautifully encircles the head, giving the illusion of a crown.
How to: Start a Dutch braid at one side of the head, gradually adding hair and moving around the head. When you reach the starting point, tuck the end under the braid and pin it.
Suitable for: Ages 5 and up. It's especially suited for weddings, family gatherings, and stage performances.
5. Gaelic Twist:
A sophisticated and sleek Irish hairstyle, the Gaelic Twist is reminiscent of a French twist but with an Irish flair. The hair is gathered and twisted upwards before being secured with pins.
How to: Collect the hair at the nape of the neck, twist it upwards, and pin it in place with hairpins.
Suitable for: Ages 10 and up. Ideal for formal occasions and weddings.
6. Shamrock Braids:
Celebrating the luck of the Irish, Shamrock Braids merge three braids into the shape of a shamrock, a beloved Irish symbol.
How to: Create three equal braids at the back of the head. Bring them together to form a shamrock shape, and secure with hair ties and pins.
Suitable for: Ages 6 and up. This hairstyle is perfect for St. Patrick's Day celebrations and themed events.
7. Ribbon-Interwoven Braids:
The Ribbon-Interwoven Braids incorporate a colorful ribbon woven through traditional braids, adding a festive touch to the Irish hairstyles inspired by Celtic traditions.
How to: Start braiding the hair and simultaneously weave a ribbon through the sections. Secure the end with a hair tie.
Suitable for: Ages 5 and up. This is a fabulous choice for festive occasions, cultural events, or weddings.
8. Half-Up Rosette Buns:
A playful and charming style, Half-Up Rosette Buns use sections of the hair twisted into small buns resembling little roses.
How to: Take small sections of hair, twist them and roll them into the shape of rosettes, and secure with hairpins.
Suitable for: Ages 6 and up. A fun choice for birthday parties and casual gatherings.
9. Trinity Buns:
The Trinity Buns hairstyle draws inspiration from the Celtic trinity knot, featuring three buns in a triangular formation.
How to: Divide the hair into three sections at the back, twist each section into a bun and secure them with hairpins.
Suitable for: Ages 7 and up. It's great for cultural celebrations and themed parties.
10. Fishbone Braids:
Fishbone Braids are tightly interwoven braids that resemble the bones of a fish. This Irish hairstyle is known for its intricacy and elegance.
How to: Divide the hair into two sections, and continuously add small strands from each section to the other, forming a tight braid.
Suitable for: Ages 8 and up. This style is versatile and can be worn to school, outings, or family gatherings.
11. Irish Dancer Curls:
This traditional Irish hairstyle is characterized by bouncy, tight curls, evoking the lively spirit of Irish dances.
How to: Use a small curling iron to create tight curls all over the head. Apply hairspray to keep the curls in place.
Suitable for: Ages 7 and up. This is an excellent choice for dance performances and festive occasions.
12. Spiral Braided Ponytail:
This captivating Irish hairstyle combines the elegance of a French braid with the flair of a ponytail.
How to: French braid down the back of the head in a spiral pattern, and secure into a ponytail.
Suitable for: Ages 7 and up. Ideal for school events, parties, and casual outings.
13. Medieval Hairstyle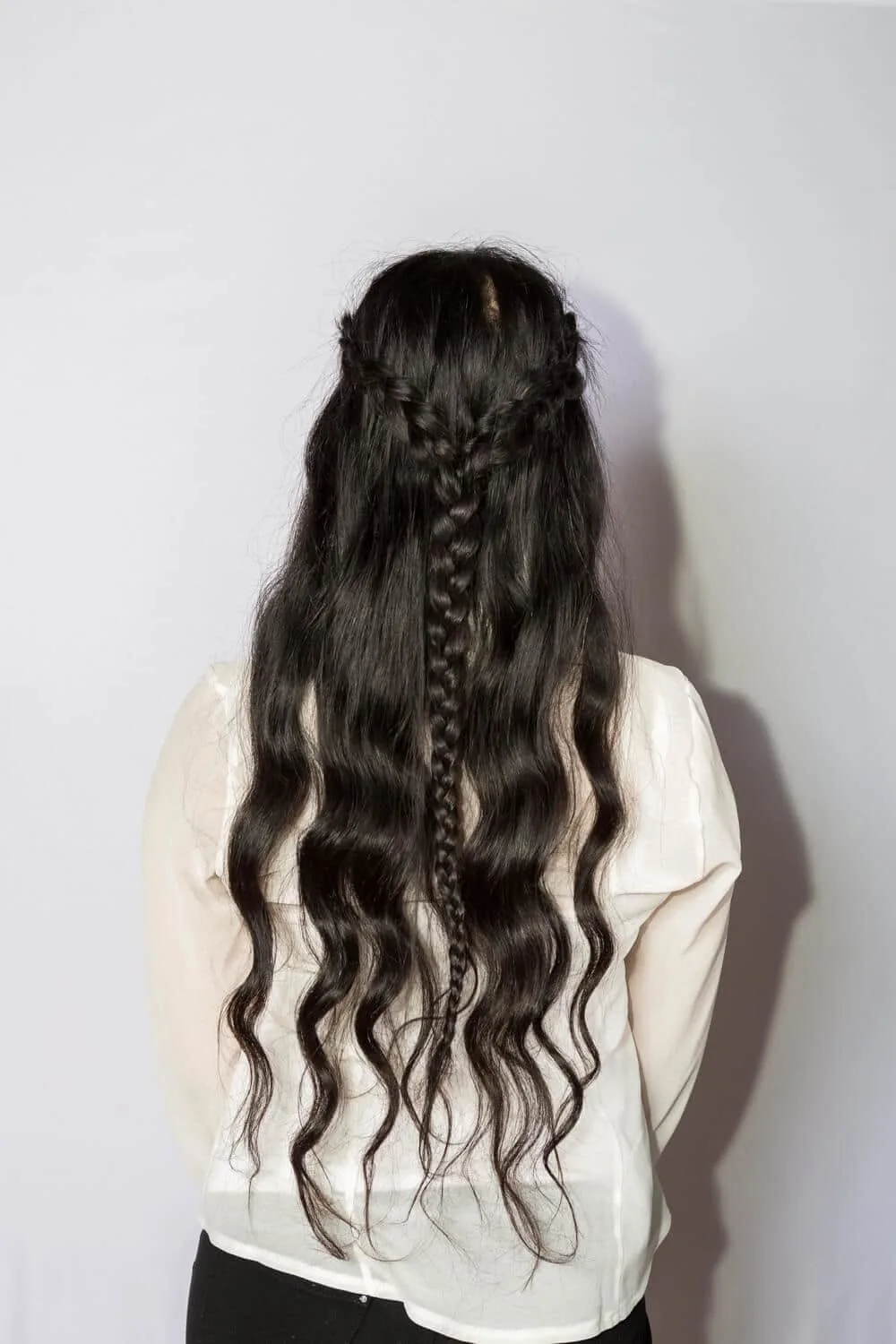 Get all your inspiration from the Medieval hairstyles that are known to have flowing long hair and beautiful, charming hairpieces and headdresses. Another great choice among the Irish hairstyles, these looks make a favorite for many and you could be the next one too. Tuck in some of the flowers you love into the hair and add some Celtic-inspired hair beads to the hairstyles for an even better look. You can also go with Medieval jeweled headpieces or some Celtic circlets to make for an ornate hairstyle.
The Medieval hairstyles really look elegant and romantic and have a unique vibe to offer. For girls with very short hair, talking to a hairstylist and incorporating some hairpiece that could be woven through the hair is always a good choice.
14. Rainbow braids
Credit: @hantzpro / Instagram
15. Shamrock clips with Bow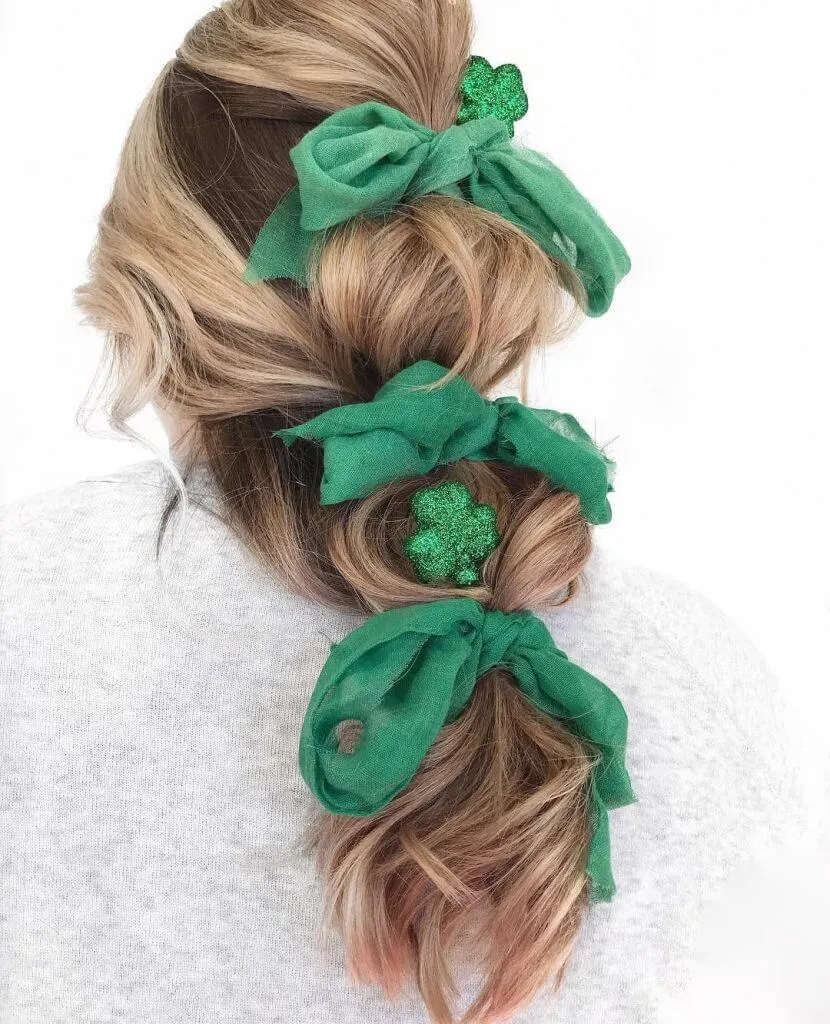 Credit: @adina_pignatare / Instagram
16. Heart Braid with Ribbon
Credit: @deanna.del.toro.hair / Instagram
17. Festive and lucky hairstyle
Credit: @brownhairedbliss / Instagram
Whatever category you choose, you are definitely going to have some of the best Irish hairstyles for yourself or your little girl. Especially, when it comes to the wedding hairstyles, these beautiful hairdos really make a perfect choice. All you need to figure out is what works for you on the day and how you it is going to inspire your overall looks. Make your picks today and get into the Celtic style!