If you're a parent, guardian, or simply someone looking for inspiration on hairstyles for African American black babies, you've come to the right place.
It's a joyous experience to explore different hairstyles that celebrate the unique beauty of these little ones. African American baby girl's hair is versatile and diverse, offering countless options for creativity and self-expression.
From adorable braids to cute puffs and everything in between, we're here to help you discover a world of delightful hairstyles that will make your black baby even more charming.
Things to Consider When Styling Afro Baby Hair
When styling Afro baby hair, consider these key points:
Hair Texture: This can range from tightly coiled to loosely wavy. The chosen hairstyle should suit your baby's unique texture.
For tightly coiled hair, opt for easy-to-maintain styles like afro puffs, twists, or braids to prevent tangling and breakage.
For looser hair, you can explore more options like pigtails, ponytails, and accessorize with headbands or bandanas.
Baby's Age: Some hairstyles are better for older babies. For instance, cornrows might be too tight and uncomfortable for younger babies but suitable for older ones.
Comfort: Above all, ensure the hairstyle doesn't cause any pain or discomfort to your baby. Comfort should always be the top priority.
Cute African Baby Hairstyles
Afro babies often grow a head full of curls and styling it up properly can be quite a challenge. Not anymore, though. Here we have the 10 best baby hairstyles that will give you all the inspiration you need to style your kids' hair uniquely and in the cutest manner possible. Let's check it out!
Headband Puff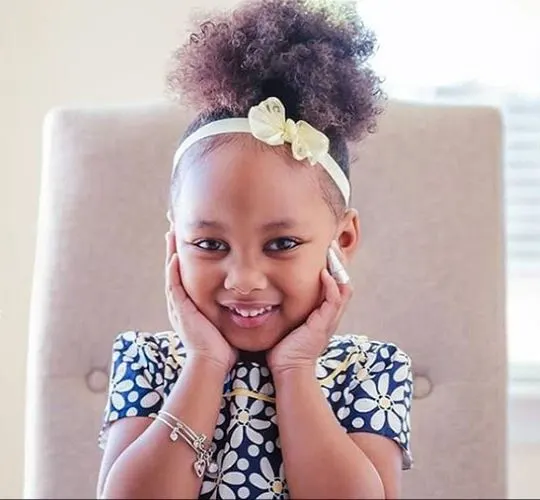 For babies with not so long hair on top to be styled into a typical ponytail, a headband would do a perfect job. Any kind of headband is going to work just fine here and you just need to pull her hair back to form a beautiful puff.
Half-Up and Half-Down Ponytails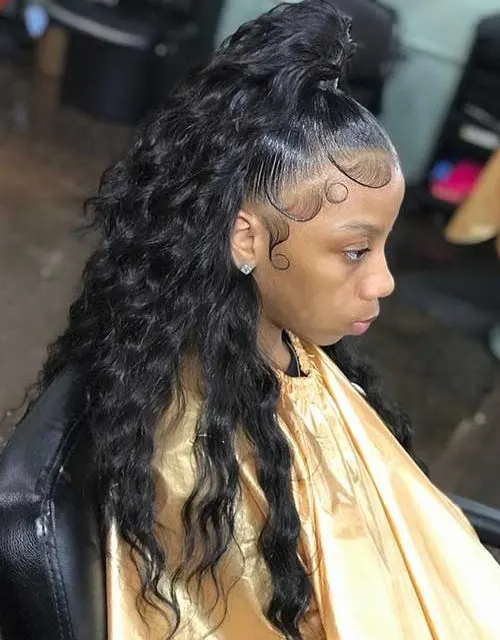 Ponytails can give an exciting new look to girls with curly and kinky hair. And, if your girl has grown it long enough, you can simply split it into a couple of horizontal sections for creating elegant half-up and half-down ponytail. It will really look gorgeous.
Banded Half-Updo
It's a semi-advanced hairstyle that requires small elastics to achieve a perfect look. You will also need a kid-friendly edge control and a sectioning comb for this hairstyle.
After washing her hair off properly and applying all those stylers, create a big part from one of her ears to others. Clip her hair's bottom half in a way that it's kept out of the way and start working through the top half.
Create as many vertical sections as you like and make small ponytails from them which are later pulled vertically into another one. Edge control should be used for smoothing out any flyaways that may exist.
Sleek Baby Fro
This is another cool hairstyle for African babies and gives a sleek look with the help of a simple side part. Just smooth down her hairline in a horizontal fashion and use a baby-safe hair gel or edge control in the process.
Afro Puffs
Afro Puffs, one of the charming hairstyles for African babies, embraces the natural texture of your baby's hair. You create them by twisting or braiding small sections of hair and gathering them into puffs. Bobby pins or hair clips will hold these puffs securely.
Who Should Try This: Babies with medium to tightly coiled hair.
Twists
Twists serve as an elegant African baby hairstyle. You can arrange them in different directions, or twist them into cornrows. This hairstyle's simplicity and elegance make it appealing to many.
Who Should Try This: Babies with coiled hair of any type.
Braids
Braids are a classic and timeless hairstyle for African American babies. They keep the hair neat and comfortable while providing a range of styling options including cornrows, French braids, or Dutch braids.
Who Should Try This: Older babies with any coiled hair type.
Shirley Temple Curls
Shirley Temple curls, a delightful hairstyle for African baby, require a curling iron or hot rollers to create. Ensuring the tools are not too hot for your little one's scalp is paramount.
Who Should Try This: Babies with loose coils or wavy hair.
Pigtails
Pigtails, a versatile hairstyle, serve well for African American babies. They are easy to style and can be worn high, low, or loose.
Who Should Try This: Babies with medium to loose curls.
Head Wraps
Head wraps protect your baby's hair from sun damage and harsh weather. They also add a pop of color to your baby's outfit.
Who Should Try This: Any baby, particularly during outdoor activities.
Headbands
Headbands keep your baby's hair off their face while adding style to their ensemble. They can complement any outfit.
Who Should Try This: Babies with all hair types, especially those with medium to long hair.
Bandanas
Bandanas, similar to headbands, keep your baby's hair off their face. They also add a chic touch to your baby's outfit.
Who Should Try This: Bandanas suit babies with all hair types and are particularly useful for older babies with longer hair.
3-Strand Braids In Protective Style
The Protective styles aren't only for grown-ups because they work really well for kids too.
After using a styler for moisturizing, make several hair sections on the halves of her head before adding standalone three-strand braids. If her ends unravel easily, try to add mini elastics for holding them into place.
Afro Puffs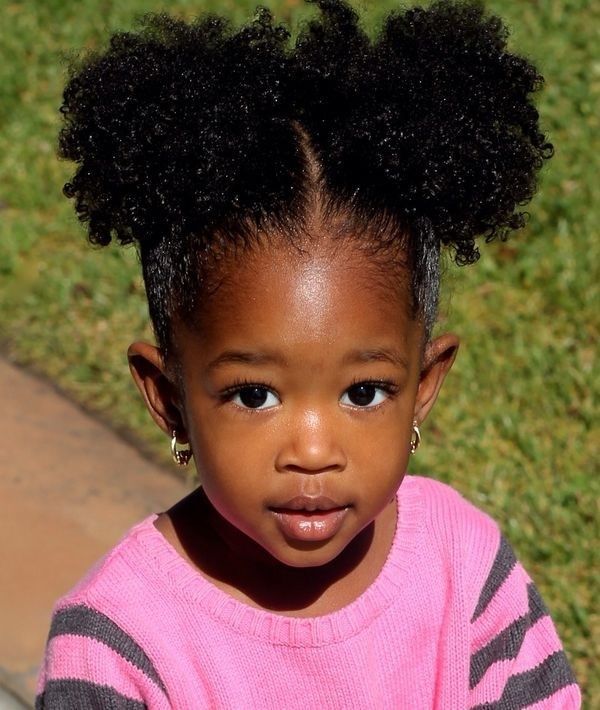 This really is among the best, most adorable looks for a cute black little girl. Those baby Afro puffs are known to produce the vibes of Minnie Mouse for any kid.
You can do it on the day-old hair simply by parting it down through the center and creating high ponytails on either side. Fluff out every ponytail with the help of a pick.
Rainbow Box Braids
When it comes to African baby hairstyles, the cool rainbow box braids are going to make perfect vibes for your girl. Everyone is going to love her hairstyle, especially, if your girl wears it on her first day at school.
Incorporating orange, blue, pink, and green into the braids, really displays a stunning spectrum of colors.
Side Swept Waterfall Cornrows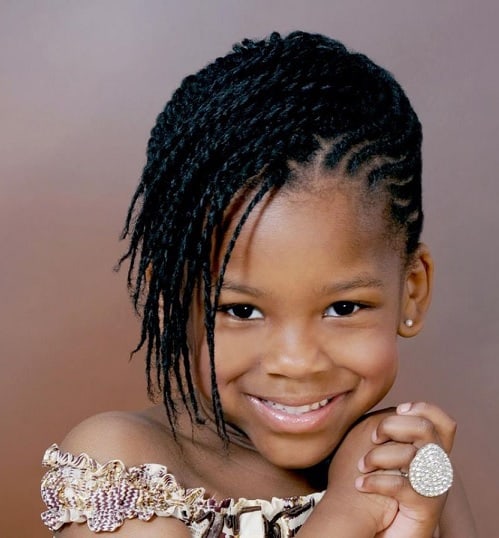 Cornrows have been a go-to hairstyle for African babies lately and this one has a whole different take on it. This one with side-swept waterfall cornrows with beautiful gold cuffs really looks amazing.
The protective style stays longer and will make it a breeze for them to leave the house.
Voluminous Afro
It looks awesome when you let Afro hair flourish with the natural style. The Afro hair is versatile and you can style it in a lot of unique ways.
Fluff out her hair with an Afro pick and add some extra volume for a more than perfect style.
Braided Hair Bun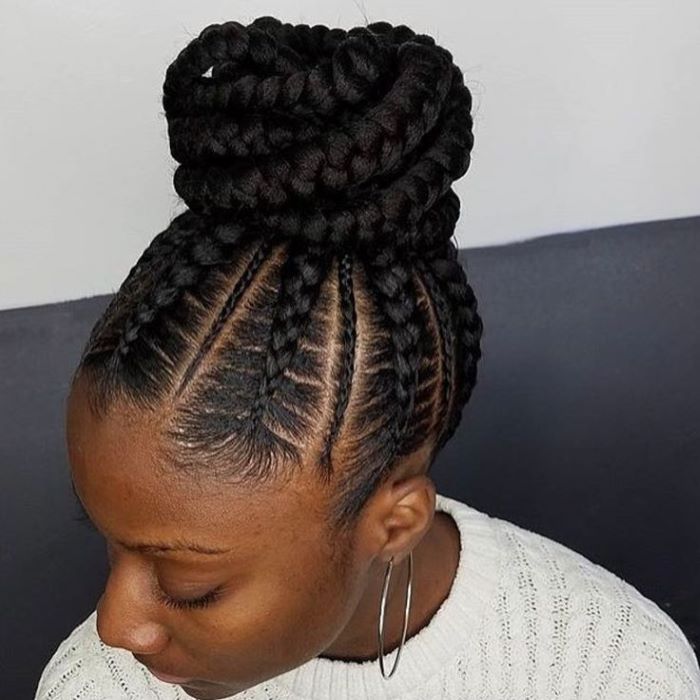 There can be plenty of options when it comes to styling African baby hairstyles and all you need is a bit of inspiration for that. As a mom with a busy routine, you must look into such options as given above and make your life easier as you style your girl's hair.