Afro hair is probably the hardest to style and when you are looking for kids haircuts for this type of hair, you are actually doing one of the hardest jobs in the world.
So, are there any low maintenance haircuts for Afro hair? Can you find afro hairstyles for kids that do not need any intricate styling and can be achieved within the blink of an eye? Probably, yes!
Best Low Maintenance Afro Hairstyles For Kids
You need to think out of the box if you really want to style your kids' hair in a unique manner.
Even though there will be minimal styling needed but there are afro hairstyles that can be classified as the best low maintenance haircuts. Here we have listed the best options you can consider.
Kinky Voluminous Top With Single Twist Braided Side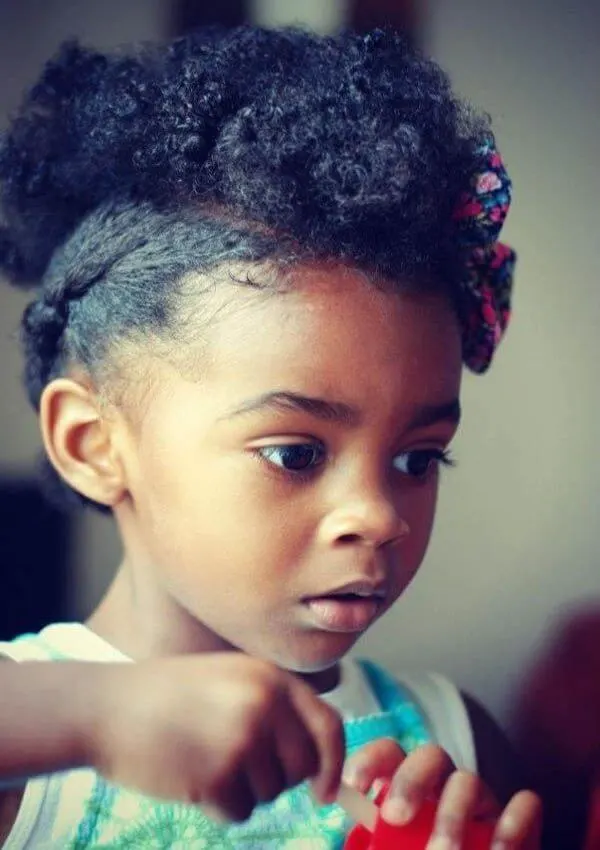 Afro hair tends to be kinky and there is unruly volume on top that you need to take care of.
When it comes to styling it into a haircut that needs least maintenance, why don't you leave the volume on top intact and do some styling on the side? This beautiful look doesn't require some intricate styling and it really gives little afro girls a gorgeous feel.
Kinky Volume With Flower Wreath
Style your little princess on this Christmas with this beautiful low maintenance hairstyle for girls. The afro hairstyle makes amazing vibes and has a lot of style incorporated into it without doing much.
The hairstyle boasts of natural kinky volume on top that is just allowed to grow in all directions before placing that beautiful flower wreath on top. Overall, it creates stunning vibes.
'Fro Out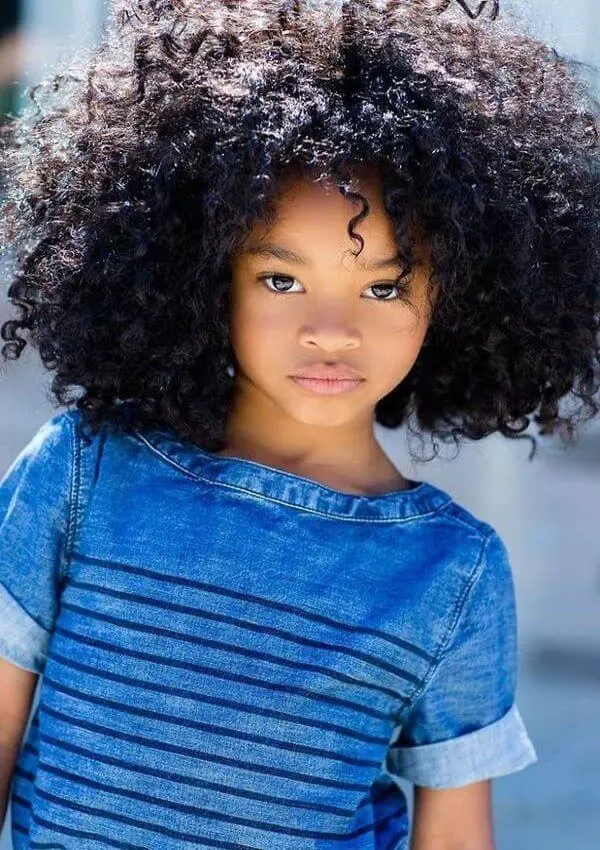 This is a typical blown-out look styled with a new touch of elegance for the Afro hair. This makes one of the best Afro hairstyles for kids this year and it comes with virtually no maintenance required at all.
The hairstyle makes amazing vibes and will let your girl flaunt a unique style of her own. Just let her kinky locks grow out in all directions and allow her to enjoy a nice kinky look with all the carefree vibes to offer.
Beaded Cornrows
Cornrows may need some effort to achieve but it is one hairstyle for girls that you don't even need to refresh for weeks.
Try this one out for your little girl with horizontal cornrows on top and nice pigtails around the crown area that fall over to the sides.
Add some colorful beads to the tips of these cornrows to make it as colorful as her dress is and also bring in a statement accessory clip on top which completes the hairstyle elegantly.
Don't worry; you won't need to do too much maintenance for this beautiful hairstyle.
Cornrows With A Gigantic Bun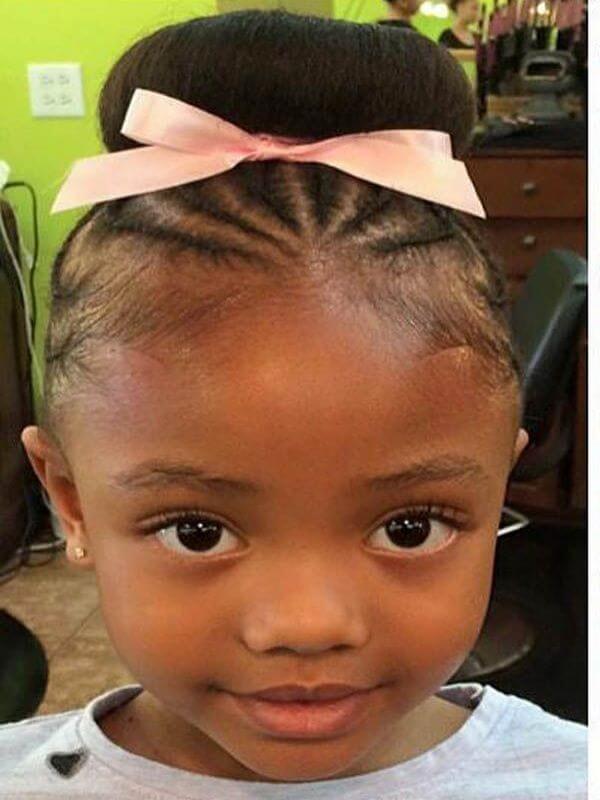 As beautiful as it can ever get, this cool hairstyle for afro girls is all about that statement but that is formed at the crown and steals the show.
The frontal hair is carved into nice and tight cornrows that are parted in the center and go meet the bun at the crown. A beautiful statement bow added to the top makes it look even better.
Flat Rope Twists
This innovative new look is going to make a unique statement for little girls this year and beyond. The hairstyle is all about those beautiful rope braids created out of her kinky hair and it looks just amazing.
Parted in the center, the hair is braided into horizontal rope braids on either side while there is a frontal braid that goes along her forehead and falls over to a side.
A nice bead accessory added to the tip makes it look even better. A perfect style for a casual day, it won't need too much maintenance either.
Ninja Bun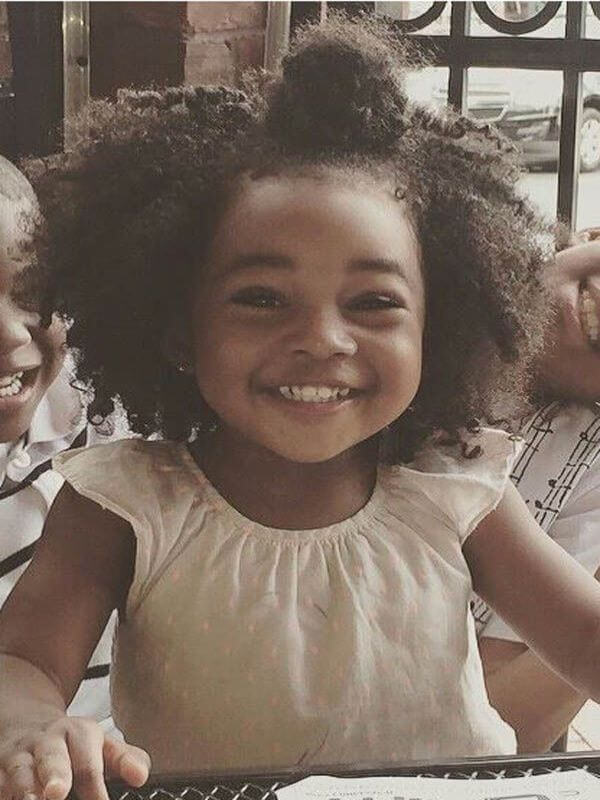 This cool Ninja Bun makes a perfect choice when it comes to black girl hairstyles.
It is all about letting her grow her locks naturally to all sides and then taking the volume in the center on top and forming it into a beautiful hair bun that sits right there. It looks gorgeous on any day and is pretty easy to achieve as well.
Kinky Layers With A Statement Bow Clip
How often do we get to style such beautiful hairdos? This is a perfect hairstyle for little girls that makes an amazing party wear. Just get her a layered haircut while leaving the natural kinky look intact.
Run the fingers through it and let those kinky layers spread out all over the head before securing it with a vibrant, colorful accessory that makes a statement. The way those layers fall over her forehead is just amazing.
These beautiful afro hairstyles for kids make a statement for little girls on any day and they are as special as it can ever get.
You won't need to do much maintenance either and your job will become easier when it comes to styling your kids' hair. Just give them a try!