Are you ready to rock some seriously unique and fabulous afro hairstyles for your kid? We're about to take your little girls hair game to the next level with a dose of style, and confidence.
We've rounded up 30 afro hairstyles that are anything but ordinary. From cute and playful afro puffs to mesmerizing Bantu knots, we've got the creativity flowing.
But wait, there's more! We've got playful pineapple updos, twisted ponytails with ribbon accents, and even finger coils that will make heads turn.
Best Afro Hairstyles For Kids
Afro hairstyles are not only beautiful but also celebrate natural hair textures. For kids with afro-textured hair, there are numerous stylish and versatile options to explore. Here are some afro hairstyles for kids that are sure to make them look adorable and confident.
1. Afro Puffs
Create cute and playful afro puffs by gathering sections of hair into round, fluffy buns on the top or sides of the head. This hairstyle adds volume and showcases the natural beauty of afro-textured hair.
2. Twist Out
Achieve defined and bouncy curls by twisting small sections of damp hair using your fingers or a comb. Allow the hair to dry, then carefully unravel the twists to reveal a gorgeous twist-out hairstyle.
3. Braided Crown
Create a regal and elegant look with a braided crown hairstyle. Braid the hair along the hairline and form a crown-like pattern around the head. This afro hairstyle keeps the hair off the face of your little kid.
4. High Top Fade
Combine a classic fade haircut with an afro by leaving a significant amount of hair at the top, creating a high and rounded shape. This hairstyle is trendy and stylish, perfect for fashion-forward kids.
5. Bantu Knots
Section the hair into small sections and twist each section tightly, coiling it against the scalp to create small knots. Bantu knots result in beautiful spiral-shaped curls when undone.
6. Cornrows
Create intricate and stylish patterns by braiding the hair close to the scalp in straight or curved rows. Cornrows are versatile and can be styled in various ways, such as straight back, zigzag, or even forming a unique design.
7. Frohawk
Combine the boldness of an afro with the edginess of a mohawk by styling the hair in a central strip from the forehead to the nape of the neck. This style allows the afro-textured hair to stand out in a unique and fashionable way.
8. Afro Ponytail
Gather the hair into a high or low ponytail, allowing the afro-textured hair to expand and create a voluminous and eye-catching look. Add colorful hair ties or accessories for an extra touch of fun.
9. Pineapple Updo
Gather the hair at the top of the head into a high ponytail or bun, resembling the shape of a pineapple. This playful and cute hairstyle keeps the hair out of the face while showcasing the beauty of afro-textured hair.
10. Afro Mohawk
Combine the versatility of an afro with the boldness of a mohawk by shaving or trimming the sides of the head, leaving a wide strip of afro-textured hair in the center. This creates a striking and unique hairstyle for kids.
11. Afro Buns
Create multiple buns by dividing the hair into sections and twisting or coiling each section into a bun shape. This hairstyle adds dimension and charm to the afro-textured hair, perfect for everyday wear or special occasions.
12. Finger Coils
Define the natural curls of afro-textured hair by tightly wrapping small sections of damp hair around your finger. This technique creates uniform coils that accentuate the hair's natural texture.
Kinky Voluminous Top With Single Twist Braided Side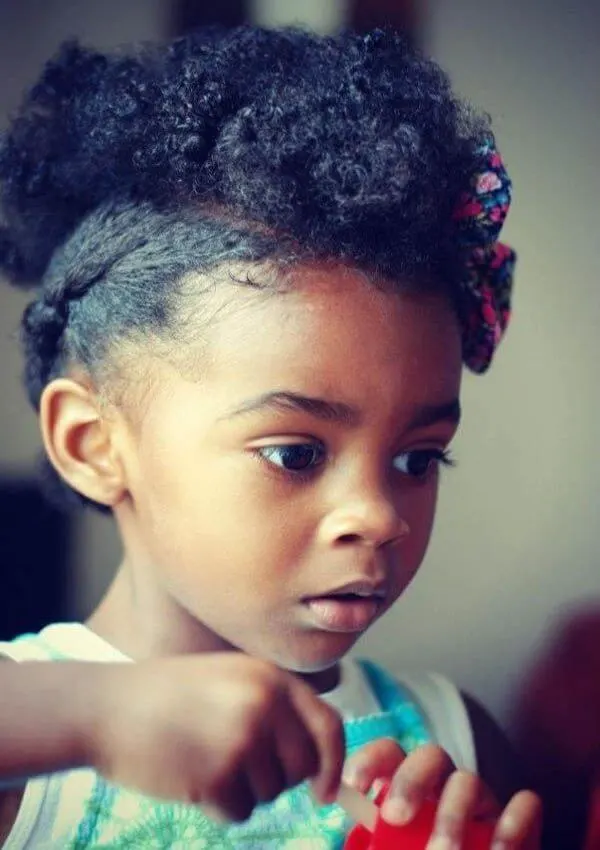 Afro hair tends to be kinky and there is unruly volume on top that you need to take care of.
When it comes to styling it into a haircut that needs least maintenance, why don't you leave the volume on top intact and do some styling on the side? This beautiful look doesn't require some intricate styling and it really gives little afro girls a gorgeous feel.
Kinky Volume With Flower Wreath
Style your little princess on this Christmas with this beautiful low maintenance hairstyle for girls. The afro hairstyle makes amazing vibes and has a lot of style incorporated into it without doing much.
The hairstyle boasts of natural kinky volume on top that is just allowed to grow in all directions before placing that beautiful flower wreath on top. Overall, it creates stunning vibes.
'Fro Out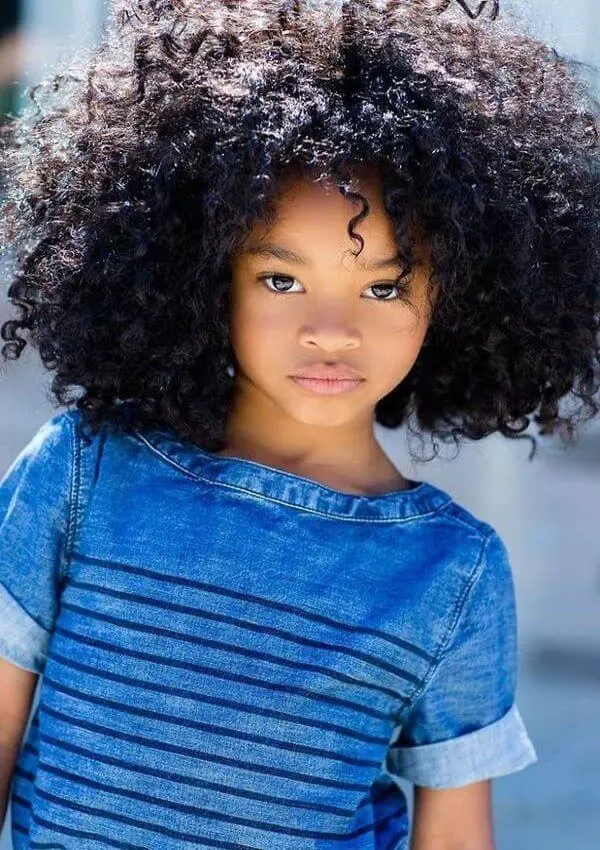 This is a typical blown-out look styled with a new touch of elegance for the Afro hair. This makes one of the best Afro hairstyles for kids this year and it comes with virtually no maintenance required at all.
The hairstyle makes amazing vibes and will let your girl flaunt a unique style of her own. Just let her kinky locks grow out in all directions and allow her to enjoy a nice kinky look with all the carefree vibes to offer.
Beaded Cornrows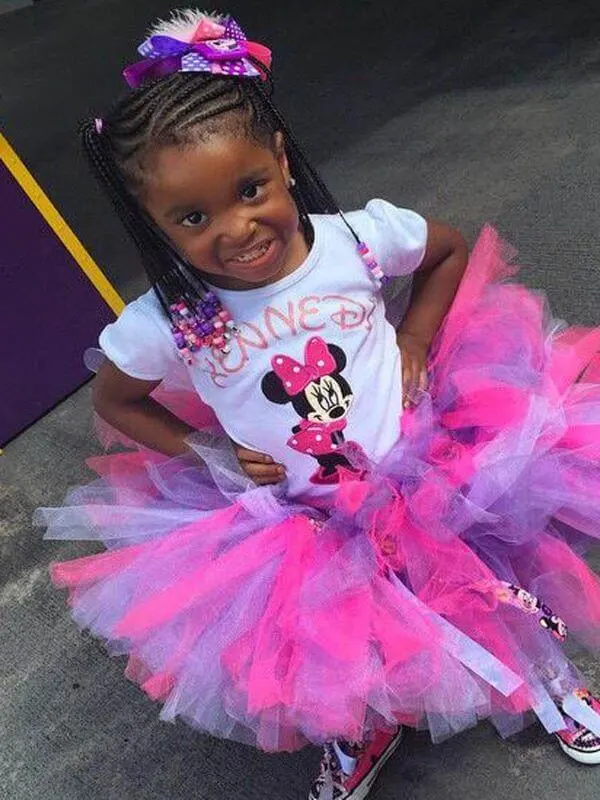 Cornrows may need some effort to achieve but it is one hairstyle for girls that you don't even need to refresh for weeks.
Try this one out for your little girl with horizontal cornrows on top and nice pigtails around the crown area that fall over to the sides.
Add some colorful beads to the tips of these cornrows to make it as colorful as her dress is and also bring in a statement accessory clip on top which completes the hairstyle elegantly.
Don't worry; you won't need to do too much maintenance for this beautiful hairstyle.
Cornrows With A Gigantic Bun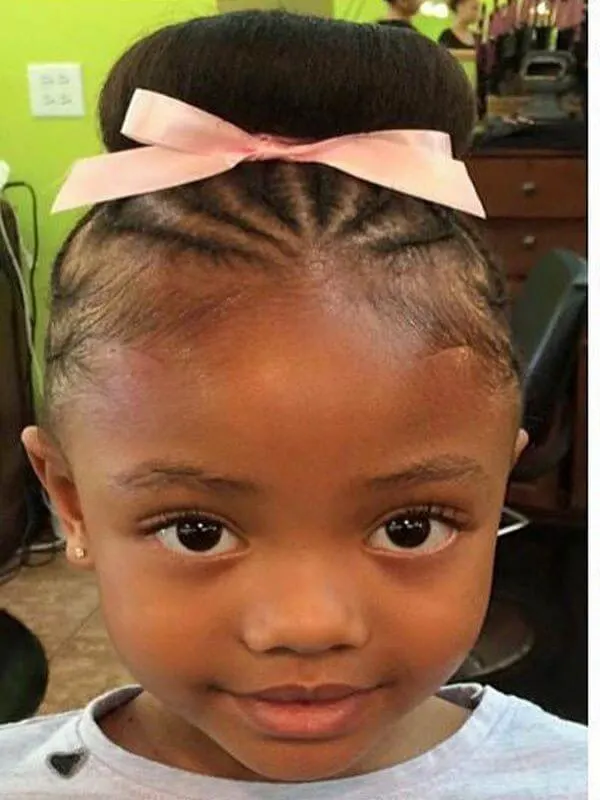 As beautiful as it can ever get, this cool hairstyle for afro girls is all about that statement but that is formed at the crown and steals the show.
The frontal hair is carved into nice and tight cornrows that are parted in the center and go meet the bun at the crown. A beautiful statement bow added to the top makes it look even better.
Flat Rope Twists
This innovative new look is going to make a unique statement for little girls this year and beyond. The hairstyle is all about those beautiful rope braids created out of her kinky hair and it looks just amazing.
Parted in the center, the hair is braided into horizontal rope braids on either side while there is a frontal braid that goes along her forehead and falls over to a side.
A nice bead accessory added to the tip makes it look even better. A perfect style for a casual day, it won't need too much maintenance either.
Ninja Bun
This cool Ninja Bun makes a perfect choice when it comes to black girl hairstyles.
It is all about letting her grow her locks naturally to all sides and then taking the volume in the center on top and forming it into a beautiful hair bun that sits right there. It looks gorgeous on any day and is pretty easy to achieve as well.
Kinky Layers With A Statement Bow Clip
How often do we get to style such beautiful hairdos? This is a perfect hairstyle for little girls that makes an amazing party wear. Just get her a layered haircut while leaving the natural kinky look intact.
Run the fingers through it and let those kinky layers spread out all over the head before securing it with a vibrant, colorful accessory that makes a statement. The way those layers fall over her forehead is just amazing.
These beautiful afro hairstyles for kids make a statement for little girls on any day and they are as special as it can ever get.
You won't need to do much maintenance either and your job will become easier when it comes to styling your kids' hair. Just give them a try!