Are you looking for black little girl hairstyles? Girls always look cute no matter what ethnicities they belong to and what type of beauty features they have.
That can't be any truer than for little black girls that come from Afro-American background. However, as a parent, you always have to take care of how you would like to style your girls for events, school, and parties.
Even in your day to day routine, you'd like them to look their best. And, for that, choosing the best hairstyles for them can turn out to be the key.
Black Little Girl Hairstyles 2023
So, if you have been looking, here we have top 10 black little girl hairstyles that you can opt for in 2023. All the hairstyles listed hair look chic and elegant when worn by the little beauties and they'd definitely cherish the look.
Braided Bob With Frontal Pigtails
Bob hairstyles make one of the best hairstyles for little girls. However, they are usually associated with girls who have fine thin hair and not the thick, dense and curly hair which usually is the case with black girls. Nevertheless, even black girls can sport the look and in a whole new style.
You can simply create thick braids on their curly hair and then form frontal pigtails in the frontal section. It will give her a nice day to day look.
Sectioned Hairstyle With Slicked Bangs
For little girls with very short hair that is still growing, this seems to be the best look to go for. And, it's quite stylish as well.
You have to section off the hair and separate the bangs which then have to be slicked to give a perfectly neat look. Very short pigtails can also be added at each side to make it look even better.
And, you can even add a touch of style to the entire look with colorful ribbon accessories to hold the pigtails into place. It really looks chic and stylish.
Long Braided Hairstyle – Little Black Girl Hairstyle for School
Even though black girls usually have those rugged and kinky locks which, probably, are the toughest to style, you can still grow them long and style them in whatever way you like.
Take this long braided hairstyle, for example. The hair is braided right throughout and those long braids are left open for the little girl.
You can make the braids to go on a particular side and add an expansive bow accessory to accentuate the look further. Your little girl would love it and it really makes for a cool hairstyle that she can wear to school.
Twisted Braids For Kinky Hair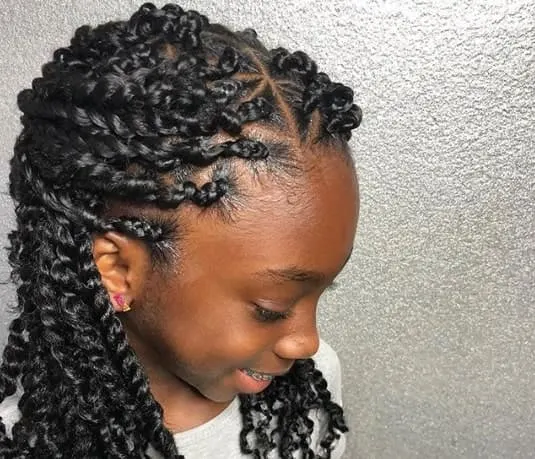 For girls with rugged and kinky locks, this really is a cool look to go with. Another cool look with longer shinier hair, this one really gives kinky locks a whole new perspective.
The look is achieved by parting the top hair at an angle and then creating beautiful twisted braids going around the head and falling over the shoulders to create a perfect vibe.
Your little girl will definitely cherish this beautiful style that is worthy of wearing on exquisite events. It really makes for a clean and cool vibe and is a unique look that you won't see many black little girl hairstyles sporting.
Side Swept Cornrows With Double Ponytail
This is quite a unique look that you would not see many little girls wearing. However, it is trending very quickly and makes for a wonderful overall look. There are nice and tight cornrows at the top and a few layers are made to form a nice puffy look that is swept to a side.
Going towards the back, we have a couple of short ponytails that present a great view as they fall over each other. Other than that, we have crossing and twisting cornrows all around that form a nice pattern to look at.
Cornrows With Thick Braided Pigtails
Another beautiful cornrows style which obviously is a perfect choice for think, dense and curly locks of black girls, this makes for one of the coolest black little girl hairstyles around.
It gives the impression of a nice centre part around which we have cornrows created at different angles. There are thick braided pigtails at either side that start at the front and go all the way to the back making for a wonderful overall look.
Thick Kinky Hair Bun
Hair buns always make for a perfect hairstyle and that's not just the case for girls with beautiful and luscious hair.
Even the black girls with kinky locks can try that as well and it will look equally great on them too. The look is pretty simple to achieve and you do not really need to put in any kind of extra effort.
There is no need for any special styling tools or products, just take all her hair to the top and make it into a beautiful and thick hair bun around the crown. Keep it tight on all sides to achieve the signature look.
Open Volume With A Top Knot
This really is an interesting look that will make her kinky locks speak volumes and add to the personality of your little girl. You may have to straighten her long kinky locks a bit to pull off this beautiful hairstyle.
The hair at the front is pulled together and formed into a nice top knot while there is a slight side part where we have a couple of braided layers of strands with beaded ends on either side around the temple.
All the rest of the hair is left open and swept to the back while some of it falls over the shoulder as well. This is a gorgeous look that really makes for perfect black little girl hairstyles.
Kinky Combed Over Hairstyle
If you are looking for black little girl hairstyles that not just create a perfect vibe but also give an utterly different look which is normally associated to black girl hair, this is the one for you.
This hairstyle, however, requires the use of a straightening tool because you will have to straighten her kinky volume first to achieve this beautiful look.
Keep enough volume on top and comb it all over to a side leaving her ear bare on one side and taking all the hair to the other.
This voluminous look will seem amazing and she will love to flaunt it everywhere. You can even experiment with the look as you have straightened her kinky locks and can shape them in whatever way you like.
Just leave it all open so that the volume and bounce of her hair is kept intact. It still looks rough and rugged to maintain that natural vibe.
Scattered – Black Little Girl Hairstyle Braids
Yet another cool look on the list, this really is one of the best black little girl hairstyles that can add a flair of style to their personality.
Yes, it's a braided look but the braids are scattered all around the head. You can get creative and choose any section of hair anywhere on the head to start braiding it.
The look can be achieved with hair that has some length so that the braids can fall over on all sides, at least, to shoulder length. Add colorful accessories to the tips of the braided lengths to give it a further touch of style, elegance and uniqueness.
The hairstyle will work best for your little girls who have just joined school as it won't just make them look cool but also quite organized as well.
So, how do you like these top 10 black little girl hairstyles for 2023. They are all unique and cute and make for perfect hairstyles for little black girls.
Whether you have a toddler girl, school going girl, or one who is just getting into her teenage, you can find a perfect hairstyle for her on this list for sure. It's just the matter of your preference now as to which hairstyles for girls you'd like to style your girl's hair with and then you can act accordingly.
Whatever you want to go with, make sure it's perfect for your little beauty and that she looks adorable in the chosen hairstyle.