There are plenty of hairstyle options available for black kids and all these hairstyles are tailored specifically for the unique type of hair they have. Yes, these hairstyles are achieved with naturally kinky and rugged locks that, probably, are the hardest to style. However, one hairstyle option that literally stands out among the rest is cornrows for kids. Cornrows, though a bit intricate, always make for a perfect go-to choice among the black kids haircuts. These hairstyles have an amazing sense of organization and they really make a fashion statement. Furthermore, these hairstyles are quite versatile and they can be achieved in all sorts of different shapes and textures. You have to be a bit creative to come up with new ideas to achieve the best cornrows for kids that would grab all eyes to them. However, if you don't have it in you, just look at our list here and you will surely get some amazing ideas that will make your job easier and simplified.
Cornrows Hairstyle With Top Knot And Ponytail
Source: Naturalhairindustry
This beautiful hairstyle is about nicely carved out cornrows with alternating thick and thin layers. The cornrows start at the corners all around the head and is made to join in at the crown where a nice top knot is formed before giving it the shape of a raised ponytail. It really looks amazing.
Cornrows Hairstyle With Kinky Patch
Source: Kiddieskornerhairsalon
This cool look is quite unique and can be achieved with swirling cornrows created all around the head. The hair on top is all kinky in nature and it is made to look like a raised up patch right in the middle. A slight ponytail is created towards the back to make it all work and form an elegant look overall.
Angled Cornrows With Long Braided Strands
Source: Driz_hairstyles
This is a perfect mix of cornrows hairstyle with long braided hair on the sides. The cornrows is created at an angle and it looks just perfect. The long braids are also achieved at that same angle but they fall over to a side. The rolled tips of the braided hair make this hairstyle speak volumes and make a unique fashion statement.
Cornrows With Kinky Grown Out Back
Source: Kiddieskornerhairsalon
What if you want to give your little girl a perfect mix of organization and a casual look? This hairstyle is certainly going to do the job for you. All you have to do is to style it in your desired cornrows style at the front before allowing the hair at the back to stay open and wild. The kinky grown out hair complement the other half to perfection and makes for an amazing outlook. The frontal braided hair is made to fall over to a side as well and it's beaded with colorful accessories to make it look even better.
Cornrows With Braided Bangs And Ponytail
Source: Braids_by_jess31
Another perfectly organized and cool look, this beautiful hairstyle is about nice swirling cornrows going all the way to the back before being made into a braided ponytail. A couple of layers at the front are also allowed to fall over to a side for creating beautiful braided bangs. Add some accessories or beads to the tips and you have a perfect black girls hairstyle ready and waiting.
Wide Cornrows With Tails
Source: Elegant_lioness
Cornrows is one hairstyle that can be achieved in a variety of amazing looks and this one here is a cool variation of the hairdo too. However, it's not so complex and can be achieved in straight lines that go slightly curving towards the back. The rows are almost an inch or so apart from each other to give it a cool and open look. At the back, all these cornrows are formed into nice and thin tails that look just perfect giving your girls a unique sense of style.
7. Cornrows Bob
Source: Braidsbygrace
Bob hairstyles have made quite a buzz over the years and they really are among the most preferred hairstyle choices for little girls. However, you might not have seen many braided bobs out there. Yes, you can achieve cornrows to form a bob hairstyle for black girls which looks quite unique in itself. The hairdo boasts of horizontal layers that aren't stuck tight to the head like conventional cornrows. Rather, they look more like braided hair falling over to a side. The length and shape of the hair is made to resemble a typical bob hairstyle and you won't have to prove to anybody that you're wearing a bob actually. It's a mirror image.
Straight Cornrows With Braided Back And Sides
Source: Lisalovescurlslocs
A perfect cornrows look is created here with the hair on top while it gets a braided look moving towards the sides and the back. The hairstyle looks as cool as ever with beautiful white beads at the tips. In fact, it will look amazing when your girl will sway her head around while playing.
Combed Back Hairstyle With Cornrows And Bun
Source: Charming_and_glamour
Even though cornrows hairstyles are often considered among the black girls hairstyles, everyone else can achieve this look too. This hairstyle, for example, boasts of a nice combed back appearance on the sides while there is a cornrows pattern on top and a cool, unconventional bun towards the back. The hairstyle really creates a superb vibe and is one of the most unique cornrows styles around.
Center Parted Cornrows Hairstyle
Source: Myanahair
This center parted hairstyle looks just perfect for school. All you have to do for achieving this look is to part the hair in the center before beginning to create nice and simple cornrows at an angle. It will go all the way back to form typical, long braided tails that complement the look to perfection. The hairstyle doesn't have any intricate details and works wonders for black girls. You can't really ask for anything better.
Angled Cornrows Hairstyle
Source: Jazzy_braids86
This is another very simple cornrows hairstyle that you may want to give to your little girl. All you have to take care of is the angle at which you will be creating the rows of hair on top. Going towards the back, you can either make it into a simple ponytail or just let it all stay there to sway around. The rows are kept a bit wide apart to give a unique sense of style.
Straight Back Cornrows
Source: Jazzy_braids86
Just as the name suggests, this beautiful hairstyle features layers of hair going all the way back parallel to each other. The hair is braided in very fine and thin layers that make this beautiful hairstyle look just amazing. Wear it with a braided ponytail and the look will surely work wonders for your girls' style.
Side Parted Cornrows
Source: Chichairbraiding
You might not have seen cornrows with such full head of hair. The beautiful hairstyle requires you to part her hair towards a side and then start creating beautiful cornrows. It will all look amazing as it goes all the way to the bottom in the form of beautiful braided strands of hair. Make all the braided hair to stay there at the back and it will give a great feeling of fullness. The hairdo looks amazing.
Cornrows With Braided Bun
Source: Braidsbymo
This beautiful cornrows hairstyle would be a perfect choice for your girl to wear to school. The hairdo boasts of nice and straight rows starting at the front and going all the way to the crown from all parts of the head. That's exactly where it's all joined together to form a beautiful hair bun. The braided bun is, probably, the centerpiece of this hairstyle and it has some amazing vibes to deliver.
Funky Cornrows
Source: Lovelybraidsuk
You'd say cornrows itself is a funky hairstyle then what's the need of specifying that with the word? Well, it's due to the fact that here we don't have those straight and simple cornrows and rather rows are created in different sections of the head all going in different directions. There are horizontal layers at the front that go swirling to the side and eventually end up at the back side. There are a few layers towards a side and a few of them start just where the crown is. Nevertheless, they all join to form a nice hair design overall and it really looks cool.
Swirling Cornrows Design
Source: Naturalhairindustry
When it comes to cornrows for kids, the hairstyle can be made to achieve different designs on top and here we have a cool one. The cornrows is created from one side at the front and it goes swirling around the head towards the back. There are some small layers around this big swirling row and it looks just perfect as a design.
Horizontal Cornrows With Ponytail
Source: Mannexperience
Even though we have it in the name that it's all horizontal, but it's not purely that. In fact, the cornrows start at one side and then angle towards the top where it all becomes horizontal as it goes all the way to the other side. This is quite a unique, yet simple, setting of the cornrows hairstyle and you have the liberty to achieve it any time. The beautiful hairstyle also has a nice braided ponytail at the back which adds an extra element of style to the look.
Center Parted Cornrows With Pigtails
Source: Stylz_by_m
This beautiful center parted look is created to give your little girl a unique and stylish look overall. The cornrows is created just at the corners of the center part and it's all made to curve a bit right from where it starts to where it ends. There is a central layer that goes right through these curves and forms a nice braided pigtail on either side. The hairstyle looks really cool overall.
Cornrows With Raised Side Ponytail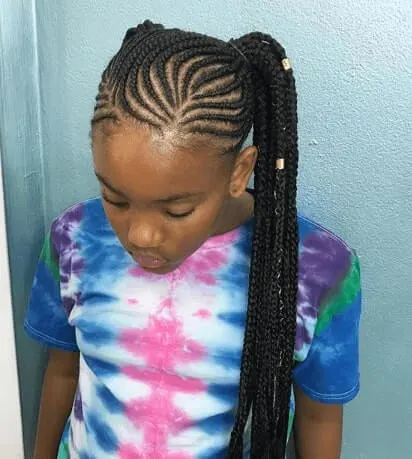 Source: 4Divineroots
Just like any other cornrows hairstyle, this hairdo is all about that unique and beautiful design created on top with cornrows achieved at different angles. Somehow, it all swirls around the head nicely to form a unique look overall and, remember, it all sits well together. The braided hair is then made to join at a side towards the back of the head where it is nicely made into a raised, long ponytail. There are some accessories added to the long tail to accentuate the look further. You can make it to fall over the shoulders and pull off a perfect style.
So, if you have been looking for ideas for cornrows for kids, the ones presented above would make a great starting point. Obviously, you have figure out something special for your little girl and choose a unique cornrows design that would make her look stand out. You can surely do that with all these options listed above. Simply, make your pick and start creating cornrows for your little girl.