One of the most common issues women face is that their hair lack appropriate natural growth and hence they fail to achieve all those stylish looks they always adore. The solution, however, is to simply opt for the best protective styles for natural hair growth and grow your hair long enough to sport whatever hairstyles you like. Protective hairstyles are actually the ones that protect your hair ends and help decrease shedding, tangling, and breakage. These hairstyles tend to hide the hair ends and make sure that they stay detangled at all times.
Best Protective Styles For Natural Hair Growth 2023
You must be wondering which hairstyles for girls qualify for being the protective hairstyles and which of them you can sport in your everyday routine. Here we have listed some of the best protective hairstyles that you must try out this year and see your hair growing like never before.
Cornrows Braids With High Ponytail
Cornrows have always made one of the most organized hairstyles for girls and they make sure that your hair stays tangle-free at all times. For this beautiful look, create cornrows all around the head and bring it all to the crown to form a high ponytail that looks gorgeous.
Side Swept Braids
This is another cool look to flaunt among the protective hairstyles for relaxed hair. It boasts of same braided look as in the hairstyle above but it makes the braids from one side of the head to fall over the other side. Overall, it creates amazing vibes.
Cornrows With Braided Bun And High Ponytail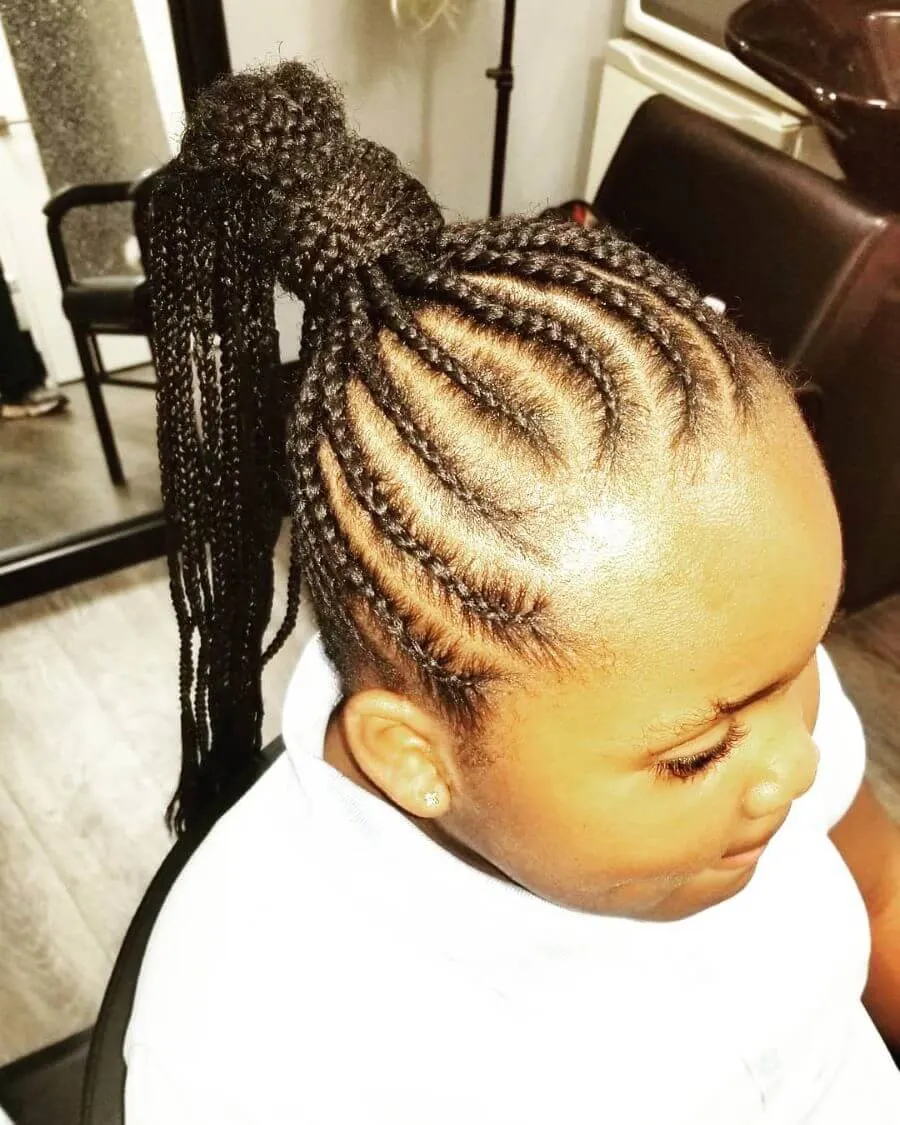 Another cool protective look to flaunt this year, the hairstyle is all about wide cornrows starting at the front and going all the way to the back where it is secured in the form of a wrapped hair bun and then forms a nice, high ponytail.
Kinky Twisted Rolls
If you want to have some freedom with your hair, this beautiful and cool look is perfect for you. Just twist those kinky long layers around and make them go swirling right to the tips. It works to perfection.
Colorful Voluminous Twists
This really is one of the best protective styles for natural hair growth. The hairstyle is pretty much like the one above but it adds a bit of color and makes the voluminous long twists fall over the shoulders.
Center Parted Braided Hairstyle
This cool look is perfect for girls who do not have too long hair and are still trying to achieve some natural hair growth. The hairstyle requires you to part her hair in the center and form nice, braided sections all over the head that fall over on the sides.
Alternating Braided Cornrows
Start braiding those beautiful cornrows at the front and create an alternating pattern with thick and thin braided layers. Take it straight back to the nape of the neck and then allow the braids to set free and fall over the shoulder on one side.
Horizontal Braids With Kinky Braided Pigtails
Kinky hair is always hard to tackle but with this hairstyle you can easily achieve a pretty nice and organized look. The hairstyle is about parting it all in the center and then forming nice, horizontal braids that join towards the back of the head and form low kinky pigtails. It really looks stunning.
Long And Voluminous Thin Braids
Center Parted Hairstyle With Thick Angular Braids
Small Pigtail Buns
Voluminous High Braided Ponytail
There are all sorts of amazing options available when you are looking for the best protective styles for natural hair growth. Just consider some amazing hairstyles listed above and see if you can grow your hair naturally by protecting the ends with one of these gorgeous-looking hairstyles. It is surely going to work out for you.