Hairstyles for girls are aplenty and you just need to figure out the right hairstyles for the right occasion and purpose. Hair growth for relaxed hair has been a serious issue for girls of all ages and it is important that you pick the best protective hairstyles for relaxed hair to promote hair growth. You don't have to worry at all about the stylish looks here because there are many beautiful girls hairstyles out there that would give you the best of both worlds.
Protective Hairstyles For Relaxed Hair That Still Look Stylish
Combining stylish looks and the possibility for proper hair growth in one hairstyle is always considered a hassle. However, here we have listed the best protective hairstyles that you can opt for and get desired results both in terms of style and purpose. Let's have a look.
Angular Braided Cornrows
Cornrows make an obvious choice for relaxed hair but you need to style them in a proper way in order to achieve the desired results. This beautiful hairstyle here is just perfect. Part it in the center, start braiding at an angle, and let the braids leave at the nape of the neck and form long beautiful tails. Leave it all open and it looks gorgeous.
Side Swept Cornrows With Wrapped Ponytail
This is another cool look that you can achieve with beautiful cornrows. Start braiding towards aside and make the braided cornrows from each side come together at the back just where the crown is. Form a nice wrapped ponytail right there for a perfect look and achieve desired results too.
Thin Braided Bob
This is a cool implementation of the typical bob hairstyle and it looks amazing with all those thin braids. Give it a side-parted look and make the braids fall over the shoulders.
Top Knot With Thin Side Braids
You might find achieving such protective hairstyles for relaxed hair a little difficult but once the look is achieved, it creates amazing vibes. The hair on top is left naturally kinky and simply formed into a top knot. Create thin braids low on the sides and those beautiful layers would look just gorgeous.
Twisted Buns and Braids
Here we have another cool look that you could achieve for a protected style. The hairstyle has a few cool elements in it with those twisted little buns at the front and beautiful twisted braids towards the back section. Overall, it makes for a gorgeous look on any day and still serves the purpose of hair growth too.
Center Parted Horizontal Braids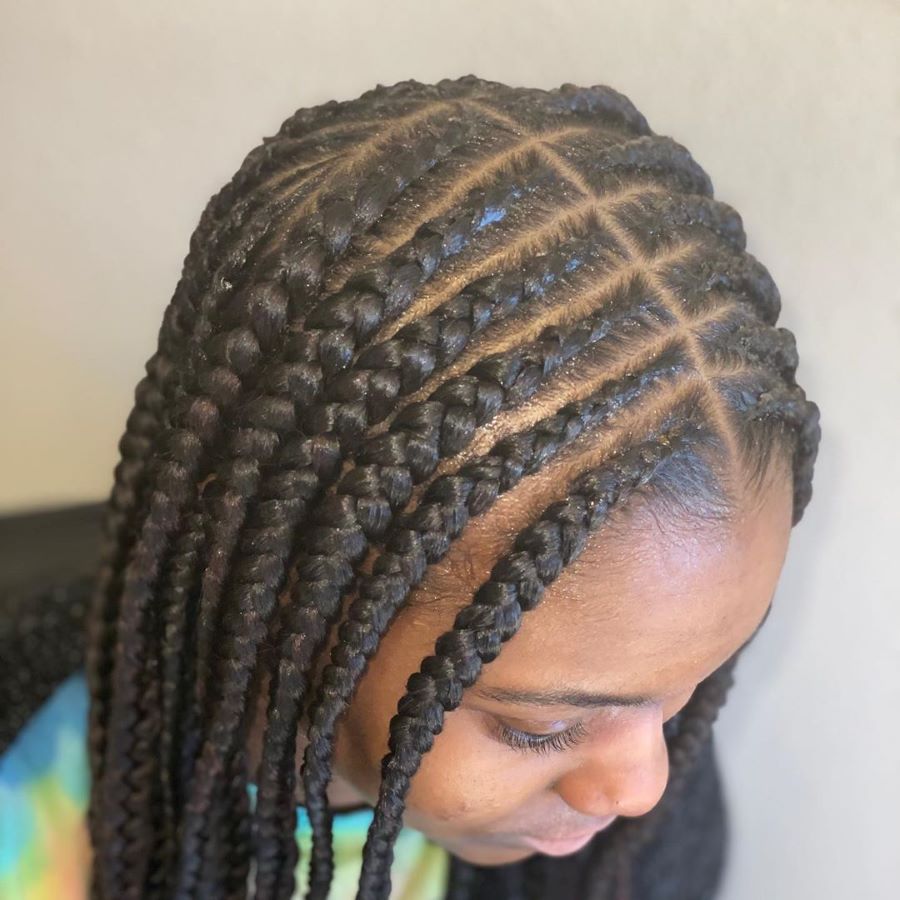 Braided hair with a center part always looks amazing, just like this one here. The hairstyle boasts of nice medium-sized braids created horizontally on each side of the center part. Make them fall over the shoulders and you have a perfect hairstyle to flaunt.
All these protective hairstyles for relaxed hair have some special vibes to create. You can wear them on any occasion and also in your casual daily routine too. They won't be a hassle once you have achieved a perfect look. In addition, they will serve the purpose of natural hair growth to perfection as well. See which of them attracts you the most and go for it!