The time of the year when you start looking at the best navy haircut for your kids is back again. It is quite likely that you might be on the hunt for a low-maintenance haircut for your kid already.
Why not get your kids something inspired by the Marines? Yes, they probably give you the best haircut option, and giving your kids the feeling of being an army man is something great in itself too. But which navy haircut should they choose?
Check out our navy haircut lists to find out.
How To Achieve A Navy Haircut?
A navy haircut, also known as a military-style or crew cut, refers to a specific type of haircut that is commonly associated with the military or naval personnel.
It is characterized by short hair all around the head, often tapered or faded at the sides and back, while leaving a slightly longer length on top. The overall effect is a clean, neat, and low-maintenance hairstyle.
As mentioned earlier, there are a lot of variations of regulation haircuts and, therefore, you should be sticking to the particular look you have decided to achieve.
Nevertheless, the basics remain the same and here we have outlined the steps you need to follow for getting your kid a typical regulation cut.
Remember that when trying to get this haircut all on your own, you should have someone to help you. Overall, it is classified as one of the best low maintenance haircuts and you can do it quite easily.
Use number 3 clipper to start trimming the hair on top.
Next, do some tapering on the sides and leave your kid's skin exposed as much as you would like.
Your simplest option for that is to clip their side hair using number 3 clipper and shorten it up further by gradually moving towards the lower side. Use scissors for that.
Do the finishing touches by shaving off the hair in the lowest section.
Even though you can achieve the hairstyle all on your own, it is still advised that you go with a barber and get a hard taper done. It will look gorgeous if done perfectly.
Top Navy Haircut Options To Consider
So, wondering which regulation haircut variations you can try out and give your kid a unique touch of style? Here we have listed the top few options for you to consider.
They originate from a variety of army haircut styles and have become quite popular over the years. Let's explore!
1. Regulation Cut
When it comes to the most practical and appropriate hairstyle options for kids, one hairstyle that would pop out is a typical regulation cut.
It is one of the best military haircuts which does not require you to follow any strict norms and gives you a lot of room to experiment with your kid's hair and give them something that is just perfect for the summer months.
Just pick the right variation of the haircut and it is definitely going to make your kid's personality pop. You can find quite a few haircut options that are both unique and uniform and still have the versatility to offer that allows the kids to boost their special style.
Primarily, the haircut requires you to trim down the top hair and do some tapering on the sides so that most of the skin is exposed. A regulation cut is not just a practical choice, it works in a variety of different situations as well.
2. Fade Haircut
We have all seen a variety of fade haircut styles over these past years and they really make an essential part of the regulation cut you should be giving your kids this summer. For this beautiful hairstyle, you have to brush it up on top to a side and maintain that slight lift.
The fade goes on the sides and back. Razor or clippers could be used for creating a perfect fade look. The regulation haircut can be maintained easily as well.
3. Regulation Haircut Military Style
There can be quite a lot of different variations to the regulation haircut military style. The top hair could be trimmed first and then brushed up to a side while giving a taper fade to the sides and the back.
As far as the parting goes, a casual part or a hard part both would do fine. It is completely your own preference and you can decide according to what suits your kids best.
4. Hard Part Navy Haircut
This hard-part navy haircut for kids includes a skin fade on both side of the head. Obviously, the idea is not just to have a low maintenance haircut for summer but also to have something that your kid can flaunt anywhere on any day.
5. Regulation Pompadour Navy Haircut
Yes, we all know pompadours as the best classic haircut options around but do they really make an army haircut and the one for the scorching summers? Probably, yes! This variation of the regulation haircut requires you to have some volume on top and it makes them look a bit like pompadour.
So, even though you are not going for the signature style, you still get that same touch and feel of the classic hairstyle. The sides and the back are neatly faded to make it a perfect formal hairdo that your kid can wear to the special events and occasions throughout this summer.
6. Crew Cut
You guessed it right! It is the same typical crew cut style that we have been seeing for ages. But it is also classified as a regulation haircut that takes all its inspiration from the military hairstyle standards.
The hairstyle can really add some definition to the face shape of your kid while the top hair gets the taper and is brushed to a side. The hair on the sides and the back are all trimmed very short to pull off a perfect military cut on any day.
7. Navy Haircut With Side Part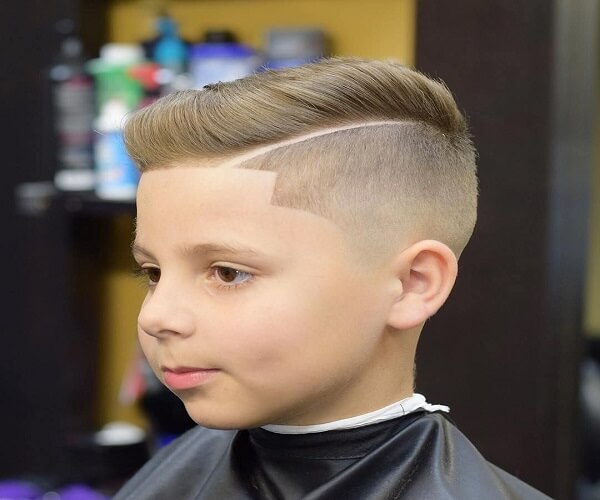 If you want to give your kids more of a businessman-like look, this is a typical hairstyle you would want to try with them. One noticeable feature of this hairdo is the side part.
It requires the hair to be perfectly tamed and makes use of a comb for creating the part. The hair on top is kept a little longer than most typical military hairstyles but it is kept into place with the help of hair spray.
8. High & Tight
Nothing can beat this crew cut variation that makes for one of the best navy haircut options around. The top hair is given a bit of additional height and fullness.
The hair on the back and the sides is blended perfectly into proportions that match your kid's face shape. Remember that you'd need a professional stylist to get this hairstyle done.
9. Medium Length Regulation Haircut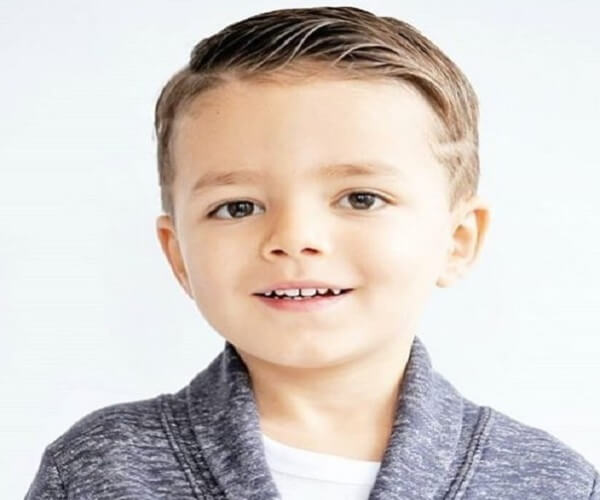 This one is more of an office look that boasts of short-to-medium hair all over. The hairstyle gets a taper fade on the sides and the back while keeping the hair on top short and swept to aside.
The low maintenance haircut has its own unique vibe and doesn't really require you to do anything special.
10. Burr Cut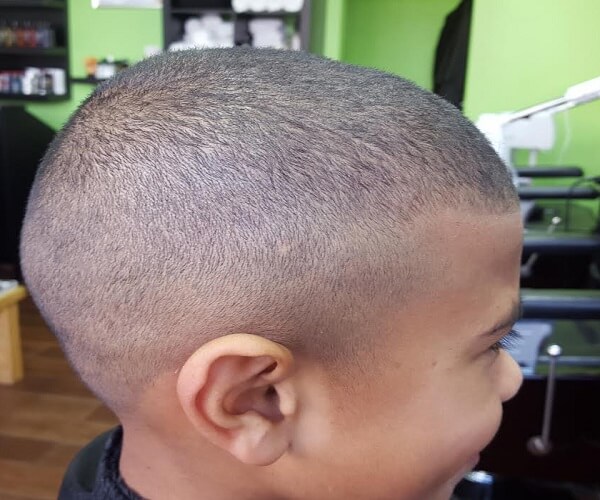 Another cool variation of the regulation cut, this one is more of an induction cut that navy recruits are given when they first join the force. Some call it an induction haircut variation while others call it a Burr cut only.
To achieve this hairdo, the hair is maintained in the same length all over and a perfect style is pulled off with the help of a clipper blade. There is a fade on the sides and it feels more like civilians are wearing the induction cut.
You can style it easily and the maintenance isn't a tough ask either which makes it one of the best and most popular military hairstyles around.
11. Butch Haircut With Faded Sides
This regulation haircut variation requires you to cut the top hair fairly short while it gets even shorter somewhere above the temples and the ears. For achieving this haircut into a perfect style, you won't even need combing.
12. Short Navy Haircut
Here we have this clean and simpler version of the typical army haircut. It requires you to cut the hair really short keeping it only ¼ on an inch in length.
It fades gradually moving further towards the nape and the same applies to the temple area and the sides as well.
13. Short Hair With A Side Part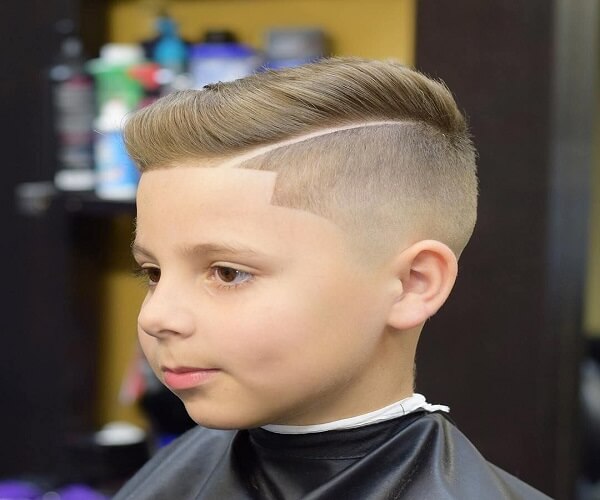 Here we have another regulation haircut variation that you can try with your kid's hair this summer. It can be styled very easily for kids with straight hair.
It requires the hair to be cut really short and then brushed to aside. Style it with some gel or pomade applied to wet hair.
14. Army Haircut With Bald Fade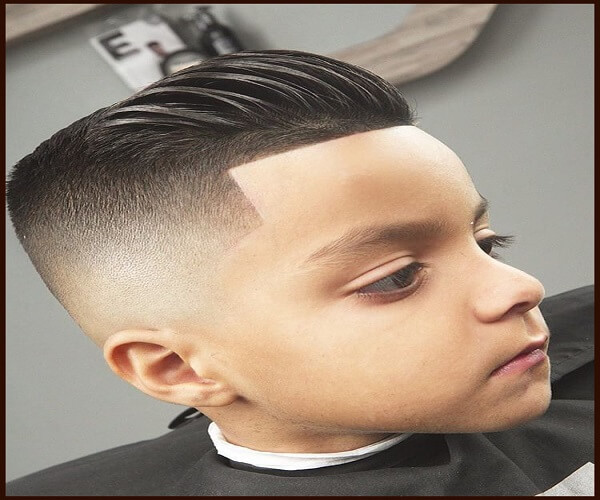 Even though you have certain rules to be followed with the navy haircut styles, you still have enough room to let the hairstyles show your personality off. And this beautiful hairstyle for kids is a perfect example of such hairdos.
This one comes with diagonal parting which really adds definition to the look. With very short hair on top, it can be styled quite easily.
A regulation haircut makes the best navy haircut that fulfills all the necessary military hairstyle standards. In fact, there are a lot of variations of the hairstyle available today that all make for the best low maintenance hairstyles little kids can choose to wear in hot summer months.
And, if you do not have much time to spare for your kids' hairstyling needs, you can definitely go for this beautiful hairstyle or one of its variations listed above. Give it a try now!