Is your baby boy ready for their first haircut? It can be a bittersweet moment, watching your little one's hair go from baby soft to big boy style. But what are the best ideas for a first haircut that will keep your little man looking as cute as ever?
A baby's first haircut is a milestone that many parents look forward to. It signifies the end of the baby stage and the beginning of a new chapter in their child's life.
However, it can also be a nerve-wracking experience, especially for parents who don't know where to start when it comes to styling their baby's hair.
Choosing the perfect first haircut for your baby boy can be a daunting task, but with a little bit of inspiration and guidance, you can make it an enjoyable and memorable experience.
From classic short cuts to modern mohawks, there are plenty of options to choose from. Here are some of the best baby boy first haircut ideas to help you make the right decision.
Charming Baby Boy First Haircut Ideas
So, ready to skim through some of the coolest hairstyles ideas for your baby boy's first haircut? Here we have some amazing new looks that you and your little baby would love to wear when having a haircut for the first time.
Short & Simple Hairstyle Variations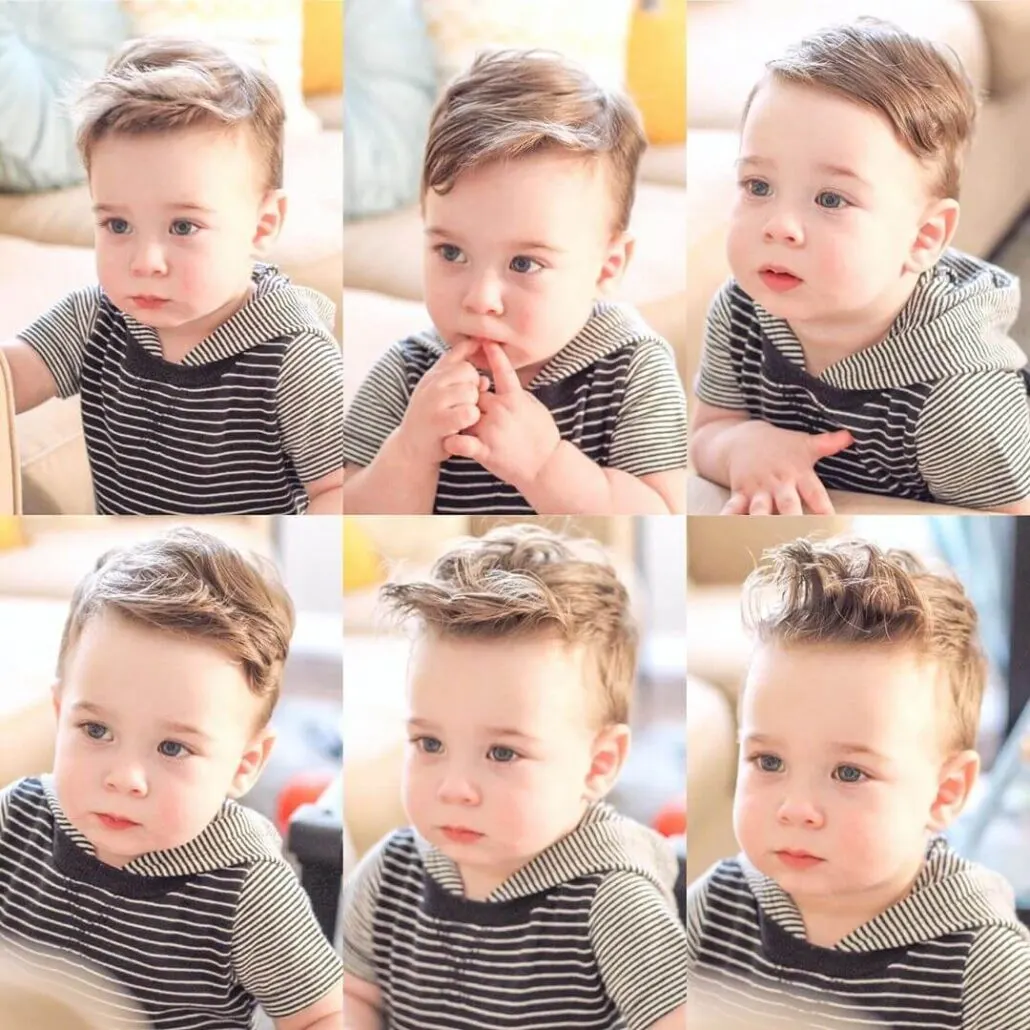 Keeping it short and simple is always the best way to go about it. This certainly gives you the liberty of styling your kid's hair just the way you like. And, all that is as easy as running your fingers through his hair.
Whether you want a perfect side sweep or a casual one, you can do it easily. Even if you want give him a casual and rough vibe, you can create a little mess on top. Just imagine what way you'd like to style his hair, and you can do that fairly easily.
Cute Side-swept Hairstyle
Little baby boys are so cute and adorable, so why shouldn't their hairstyle be? This simple hairdo has a unique aura in itself and it looks cute as the boy himself.
Keep the hair short on top and shorter on the sides, and give it a slightly side-swept look. It will look cool.
Classic Crew Cut
In the Classic Crew Cut photo, you'll see a charming baby boy with a neat and clean haircut. This timeless style is short on the sides and slightly longer on the top. It's not just easy to maintain; it keeps your little one looking sharp and ready for a day out. Not to mention, a baby boy's first haircut like this can be an adorable way to mark the milestone.
The Little Gentleman
Next, there's The Little Gentleman. This photo captures a baby boy donning an elegant side part, which lends a dash of sophistication. It's an excellent first haircut idea for a baby boy that wants to make an impression at gatherings. His locks are trimmed short on the sides, with a tasteful length on top that's brushed neatly to one side. The Little Gentleman haircut is an ideal choice for parents seeking a touch of class for their baby boy's first haircut.
Textured Crop
Moving on to the Textured Crop, this style adds a modern twist. The photo displays a cute baby boy with a little more length on top that's stylishly textured. The sides are trimmed closer to create a fashionable contrast. The Textured Crop is playful and trendy, making it a fabulous first haircut idea for a baby boy who's bound to turn heads.
Curly Top Taper
The Curly Top Taper photo showcases a delightful baby boy with natural curls. This haircut maintains the curls on top while gradually tapering down the sides. It's an exquisite way to highlight natural textures and keep your little one comfortable. Especially if your baby has curly hair, this can be a splendid choice for a baby boy's first haircut.
Faux Hawk
Take a look at the Faux Hawk. This photo presents a spirited baby boy with a hairstyle that is both daring and adorable. The hair is longer in the middle and shorter on the sides, mimicking a mohawk. This is a fun and edgy selection among first haircut ideas for a baby boy. It's perfect for adding a playful flair to your baby boy's first haircut while keeping it manageable.
Casual Side-Swept Hairstyle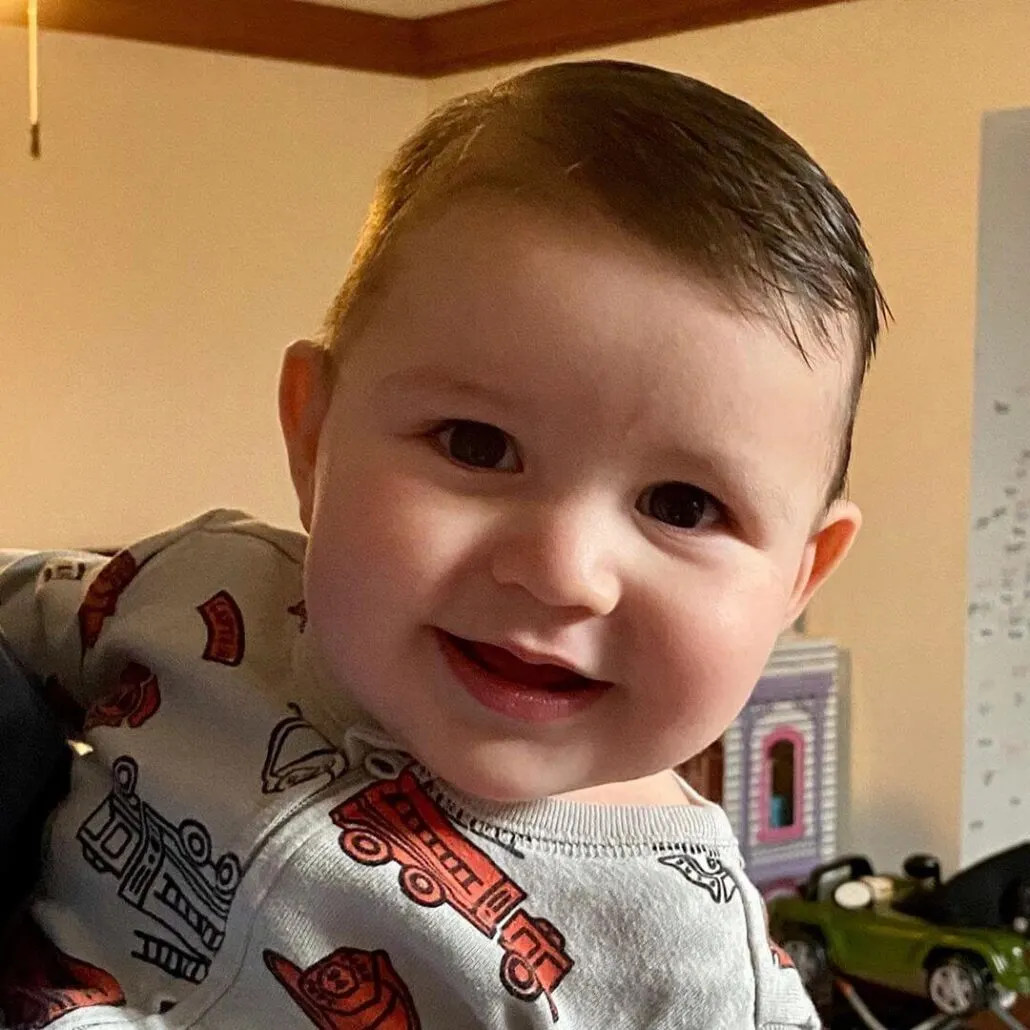 The Casual Side-Swept Hairstyle photo presents a baby boy who looks effortlessly stylish. In this hairstyle, the hair is cut to a medium length and swept casually to one side. It strikes a balance between laid-back and fashionable, making it an ideal choice for everyday wear.
The Casual Side-Swept is versatile and can be dressed up or down depending on the occasion. This hairstyle is a fantastic option for those looking to keep the charm in their baby boy's first haircut while keeping it relaxed and natural.
Short Buzz Cut
Moving on to the Short Buzz Cut, the photo showcases a baby boy with a simple yet striking haircut. The hair is cut very short all over, making it incredibly low-maintenance. This is perfect for active little ones who don't have the patience for longer styles, and it's also a practical option for warmer weather.
The Short Buzz Cut exudes a sense of neatness and order, and it's a timeless choice that never goes out of style. This can be an excellent first haircut idea for a baby boy whose parents prefer minimal fuss.
Casual Spikes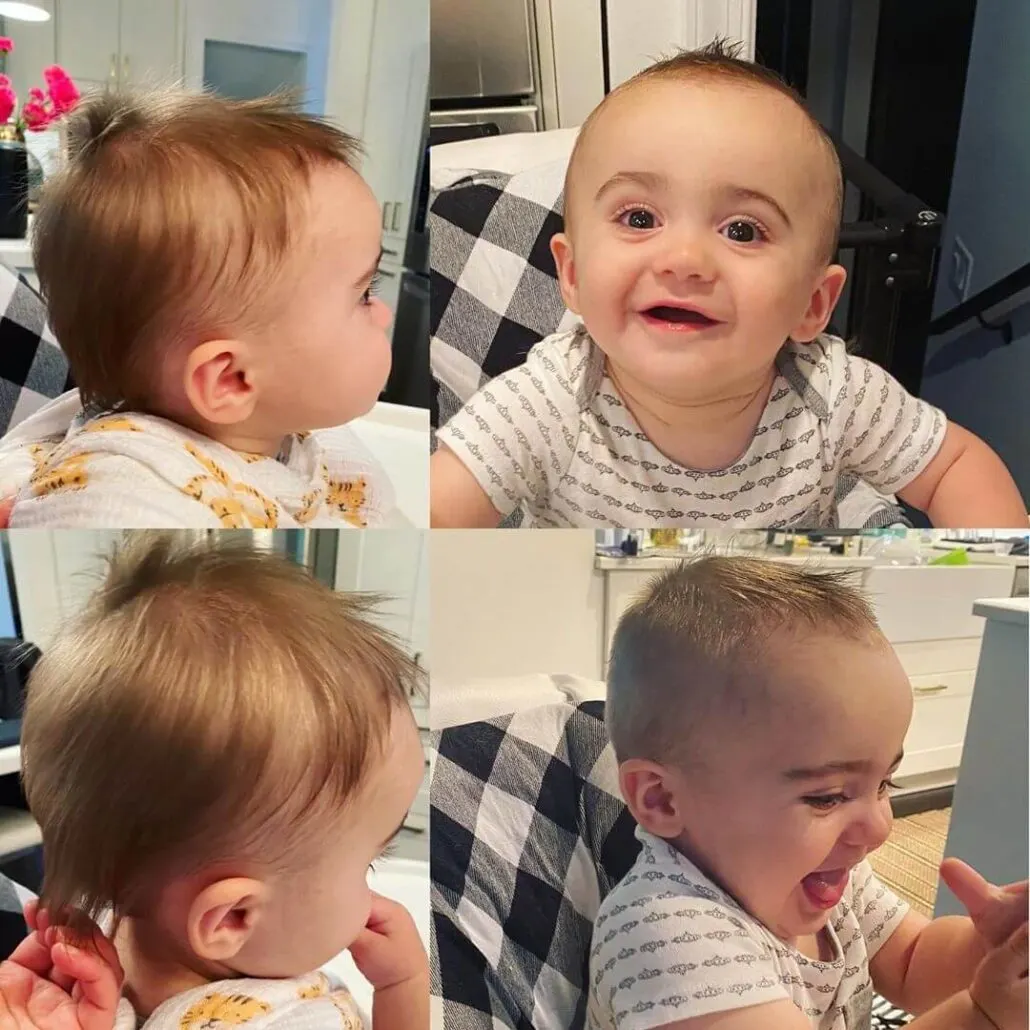 Boys love spikes and so do their parents. So, if your baby's thin hair is growing well, you can give it a casual spiky look.
Make sure that you trim the sides shorter to imitate a faded look and it will be a gorgeous hairstyle for him to flaunt first up.
Side Swept With High Fade
The Side Swept With High Fade photo features a baby boy rocking a modern and edgy haircut. In this style, the hair is kept longer on the top and swept to the side, while the sides are faded high and short.
This creates a striking contrast and adds a contemporary flair to the look. The Side Swept With High Fade is trendy and eye-catching, making it suitable for parents who want their baby boy's first haircut to be a bold fashion statement.
Long Dreadlocks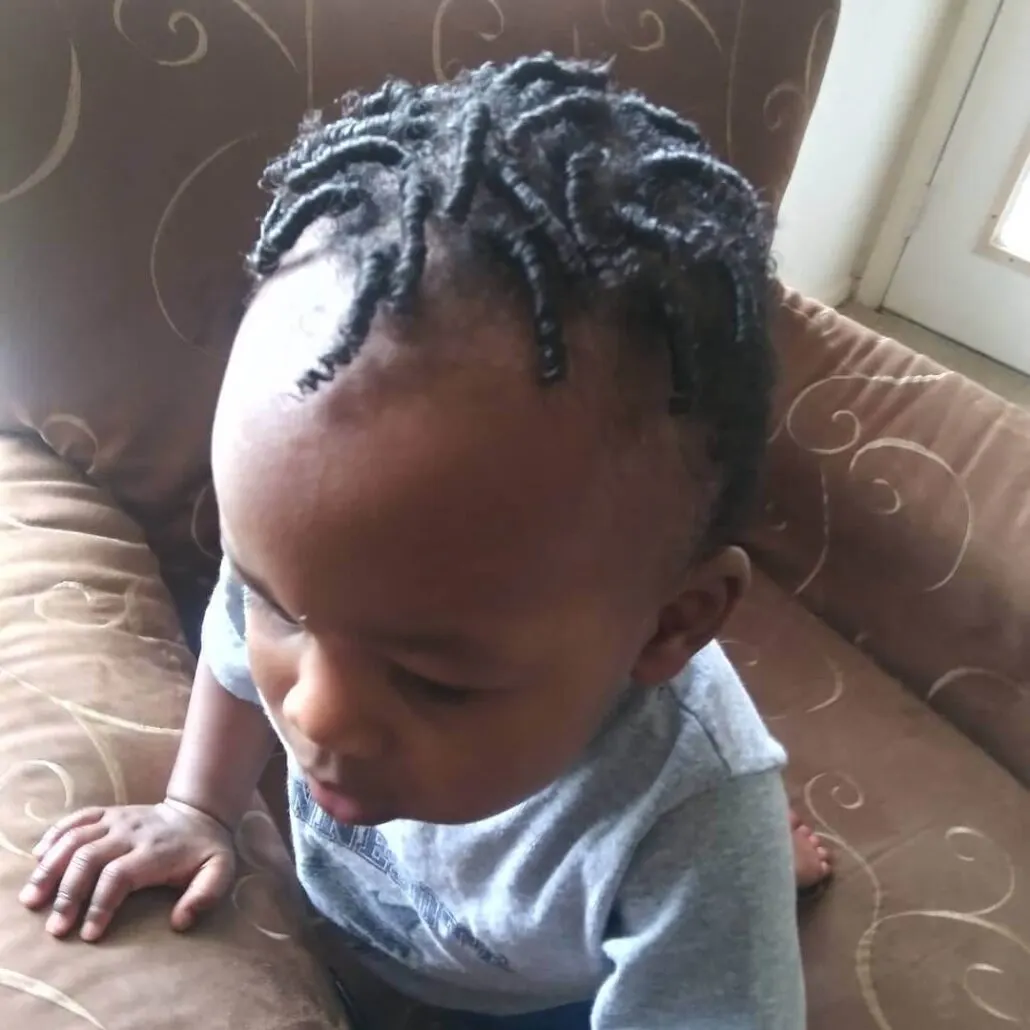 If you are wondering about what first haircut you'd like to give to your black baby boy, dreadlocks make the most obvious choice.
They really look cool too. Just give him typical dreadlocks and keep the length of his hair intact.
Spiky Side-Swept Look
A casual hairstyle for boys always looks amazing and whether it is their first haircut or hundredth, you can go for this stylish look any day.
Have a fade on the sides and leave some length on top. Casually sweep it to a side and maintain that spiky vibe. It looks gorgeous overall.
Spiky Side Slicked Hairstyle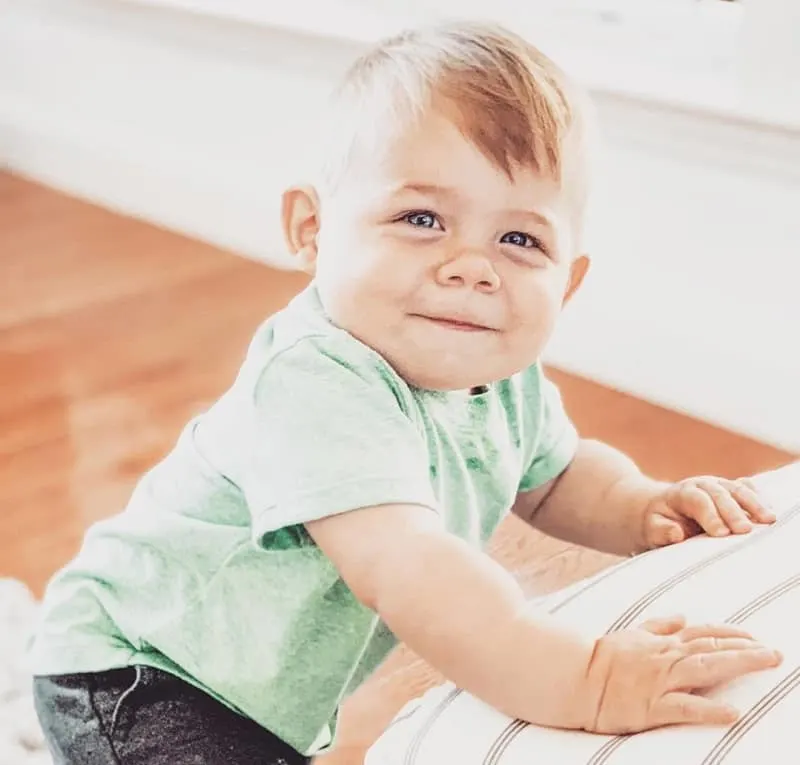 This is a cool look that everyone would love for the very vibe it creates. The hairstyle boasts of casual, spiky side slicked hair that's given somewhat of an edgy appearance. The sides are faded nicely and overall it just looks stunning.
Long Grown Out Curly Hair
For little baby boys with naturally curly and dense hair, this particular look speaks volumes. And, if he has blonde hair that's even better!
Just let it grow out on all sides and let the spirals form everywhere. The natural tangles create gorgeous vibes and everyone is going to love your boy's first haircut for sure.
Yes, baby boy first haircuts are special and you need to make special choices for that too. The hairstyles on the list look gorgeous and make a perfect first haircut for any kid.
See if you like any of these amazing hairstyles for boys and pick one for your kid's special day. So, which of these are you going to try out for your boy's very special first haircut?