Whether you talk about toddler haircuts or baby hair cutting styles, you are never short of options and there are lots of innovative new looks introduced every year. Many don't pay much attention to the haircuts of their kids but, for the conscious types, hairstylists and fashion icons continue giving a different perspective to the old conventional hairstyles. To make sure that your kids have a fresh look all the time, keep experimenting with their hair cutting styles.
Baby Hair Cutting Styles For A Cool Fresh Vibe
Bored of those typical baby hair cutting style images that you find at every other fashion website? Check out these amazing new looks for giving your kid a whole new look.
Messy Fringe With Faded Sides
There are countless ways you could style a baby fringe, but the messy one is certainly the best of the lot. The sides have a nice fade and they look amazing with a slightly grown out fringe that falls over the forehead.
Straight And Stylish
This is a cool look for toddler boys that boasts of a high fade on the sides. The fade haircut looks awesome with straight forward-swept fringe on top.
Casually Side-Swept Hairstyle
This one features straight hair on top that is casually swept to a side. The hair on the sides is faded short.
Bob With Bangs
The baby girl hair cutting styles can't get any better than this. The hairdo boasts a typical bob cut with bangs falling over the forehead to elevate the look.
Side Swept Spikes
Spikes look awesome on little kids and this one is a fresh take at it. The hairdo boasts a typical spiky look with a nice side-swept vibe. The undercut on the sides complements it to perfection.
Cool Mohawk
Mohawk is a cool, stylish look and when styled on thin kids' hair it looks even better. The sides have a faded touch in this beautiful hairstyle.
Grown Out Mohawk
If you want a casual, grown out touch to your kids' Mohawk look, this one is tailor-made for you. The sides have an undercut to complement the hairstyle.
Low Braided Pigtails With Bangs
Edgy bangs look amazing and when you combine it with braided pigtails achieved low on the sides, it looks just amazing.
Kinky Top Bun
Kinky hair is often not given enough care and styling it is considered the hardest. Well, not anymore! This kinky bun is the way to go for a cool, stylish, and organized look.
Combed Back With Kinky Volume And Braids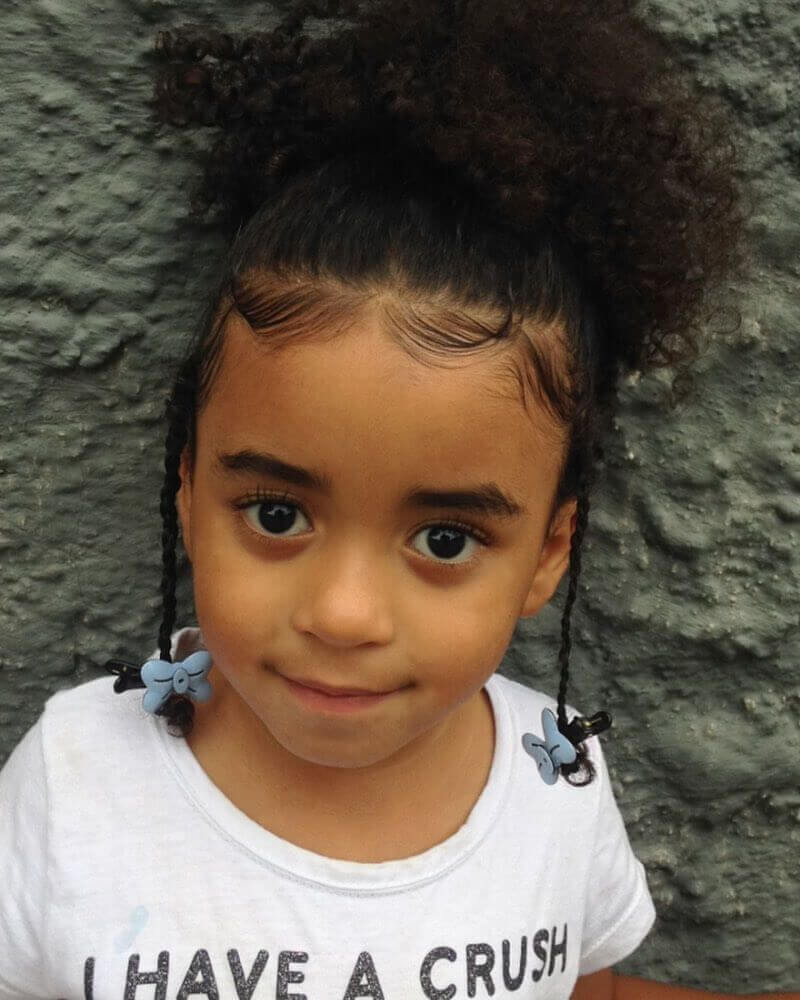 This thin braided hairstyle looks stunning with a combed back look and some kinky volume on top. The hair on top is secured at the crown and the volume is made to fall over on top.
Stylish Braided Design With Short Buns
This stylish braided look is just amazing and it makes a cool vibe on any day. Multiple short kinky buns elevate it to a whole new level.
Center-Parted Hairstyle With Pigtail Buns
For a stylish party look, this beautiful hairstyle makes an ideal choice. The pigtail buns look stylish and elegant while the frontal bangs are combed back and secured with a couple of accessories.
Combed Back With Braided Bangs
This stylish look features braided bangs that go along the side and blends into the ponytail at the back. The hair on top goes at the back as well in a rope braid that meets the ponytail too.
Casual Blonde
This casual blonde look is a simple baby hair cutting style that keeps most of the hair swept forward.
Natural Side Swept Curls
This one boasts heavy grown out curls and forms a nice shoulder-length hairstyle. The curly fringe that falls over the eyes looks amazing. Though messy, this hairstyle has a cool vibe to it.
Side Swept Hairstyle With Undercut
This side swept look is simple and stylish. It's a perfect everyday hairstyle with a formal vibe and doesn't require too much of styling either.
Long Side Swept Hair
This beautiful hairstyle is for girls with straight, long hair. The Barbie girl can wear it all swept to a side and then accessorize it with a cool bow accessory. A perfect style indeed!
Braided Tails
This hairstyle for black girls has a unique vibe to it. The hair on top is braided at different angles, just like cornrows. And, it looks gorgeous with those beautiful braided tails at the back.
Coming up with unique and stylish baby hair cutting ideas is not always the easiest. You have to make sure that you choose the best baby hair cutting style images to give your kids a style that suits their personality and style. Especially, for baby girl hair cutting, it is important that you pick your hairstyles carefully. Girls are choosy and conscious about everything that relates to them, and you can't afford to go wrong with their style. Pick one from the list above and give it a go!