All of us fancy being army personnel in our childhood and it does come with its own charm and a wonderful feeling. And, one great way of doing that is to mimic army hairstyles and give your kids that feel of being part of the army.
There are plenty of variations available when it comes to army hairstyles for kids and you can easily choose from the army haircut styles out there.
There are many options that work perfectly fine for the summer months and your kid would love sporting these stunning looks at the same time as well.
Army Haircut Styles Possible Variations
Even though military haircuts need you to have really short hair, some variations can be tried out to allow room for different short hairstyles. Just make sure whatever you pick flatters on your kids' face shape and hair type.
For instance, you have the option to go with high/low fade on the sides or try an all out undercut. Most of the military fade haircuts are usually buzzed down all the way to the head's skin or #1 guard size is used for cutting the hair.
You also have the option to decide how much length you want to keep on top. Your chosen length for the hair on top decides whether you are going for a buzz cut, regulation cut, burr cut, crew cut, high & tight haircut, or an induction haircut.
Whatever style you choose, however, army hairstyles are really going to look cool on your little one if you are able pick the right haircut and hair length all around.
So, do you have any variations of the hairstyle in mind? Do you know what hairstyle is your kid going to fall in love with?
Top Military Haircuts And Military Hairstyles This Summer
Even though the military haircuts are often short, the soldiers are allowed to unofficially grow their hair longer as they get promoted.
So, you really have a good lot of options available for your kids hairstyles and you can style it the way you like. So, here are a few cool options to try out for your little one this summer.
Induction Cut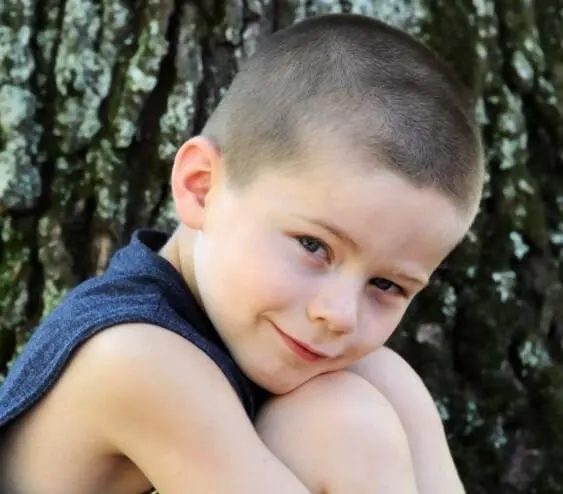 Photo: Bonita R Cheshier/Shutterstock
This is probably the first haircut that a soldier gets when they are commissioned into army. The hairstyle doesn't really require much of styling and it makes for a perfect hairdo for hot summer days as well.
Your kids would love it for sure as they can move freely around without having to fear at all about their hairstyle going bad. It's even less than an inch all around and makes for a unique hairstyle for kids.
Burr Cut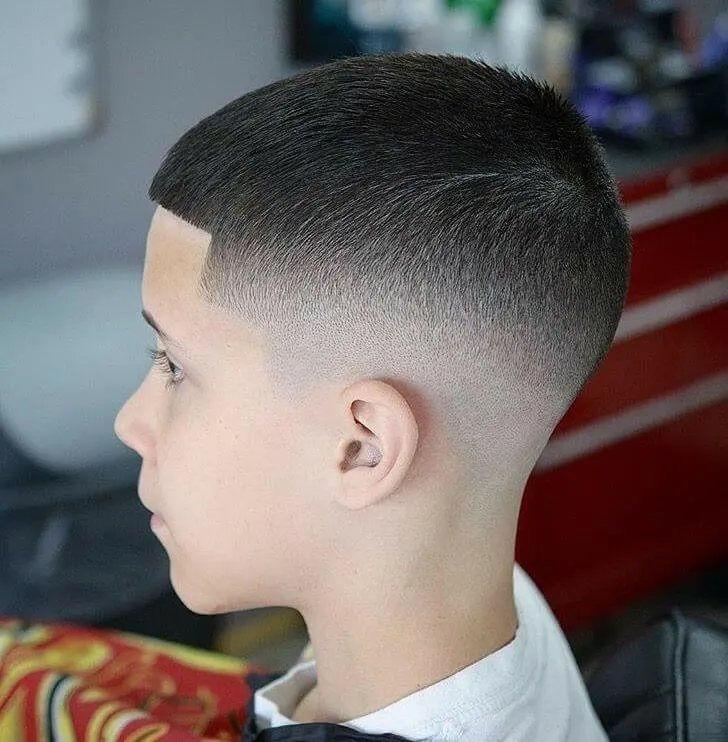 A slightly longish variation of the induction haircut discussed above, a burr cut gives your kids a slightly fuller head of hair.
Remember that you do not really need to clean it up on the edges and it looks great when kept a bit rough on all sides. It really looks cool even with the same length all over.
Regulation Cut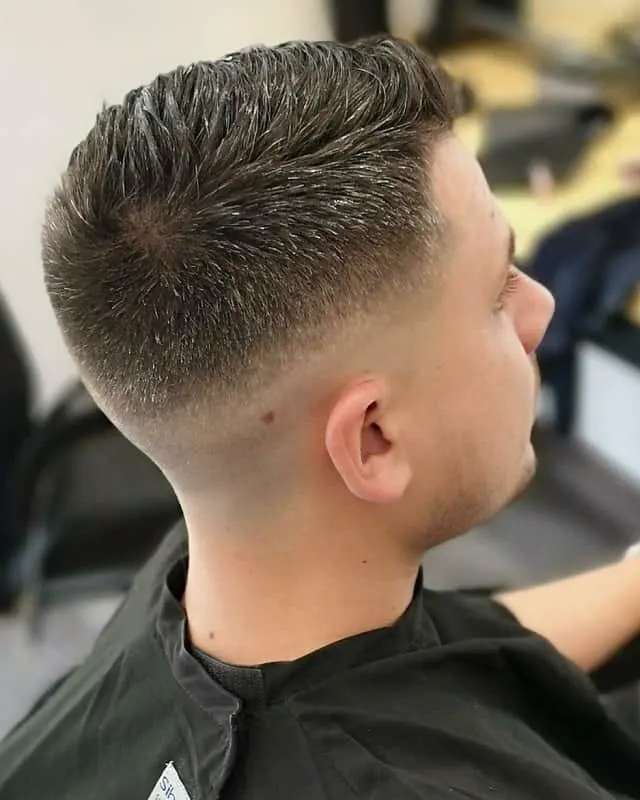 A regulation army haircut for kids is more about a pretty organized side swept look that is kept into place with the help of a styling product. It really looks cool with the natural texture added to it as well.
The style statement is made by the high undercut that goes on the sides. You can even style this beautiful hairstyle with a fade haircut as well if you know exactly how it should be done.
The part on the sides is more of a casual one with no clear line visible. Overall, it's a more formal hairstyle that works fine for your kids on any day and would work for the school as well.
Buzz Cut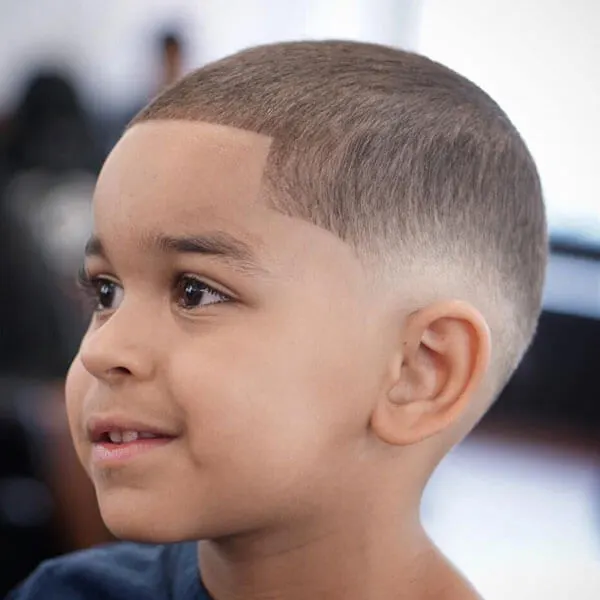 Buzz cut hairstyles have always been a popular choice among kids of all ages and it's not going to be any different here either.
This beautiful hairstyle is going to amp-up the look of your little one this summer and it is definitely going to allow him flaunt a wonderful new look. It's all buzzed up high and tight giving him a unique look overall.
Crew Cut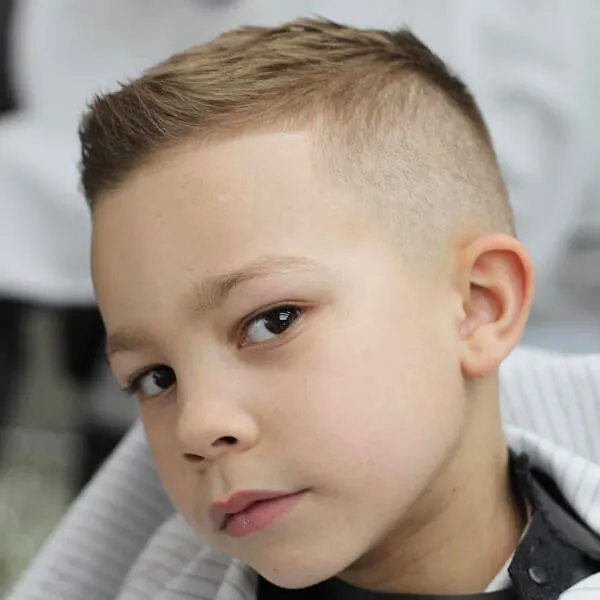 Crew cut hairstyles have been among the most stylish of looks around and they take things a bit further from those typical, same-length hairstyles. Another one among the short hairstyles for summer, a crew cut is more of a stylish take on a typical Buzz, Burr, or induction haircut.
It calls for a high fade on the sides while the hair on top is kept slightly longer. The natural texture is further enhanced with the hair on top and it is all made to look amazing.
Brush Cut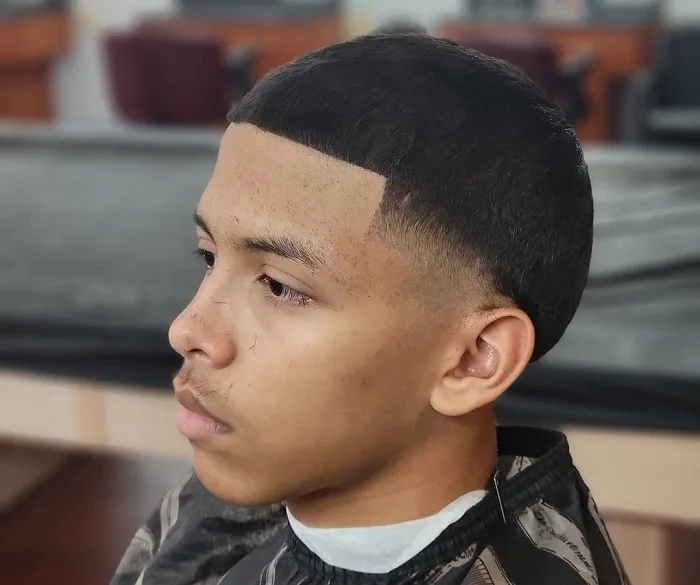 Source: Instagram
One of the best army haircut styles, this beautiful hairdo is more of a replica of the simple hairstyles listed above.
Giving the perception as if it features same length hair all over, the hairstyle differs a bit and creates more of an elevated look in the middle on top. Overall, it resembles a typical Burr cut style but creates its own unique vibes.
High & Tight Haircut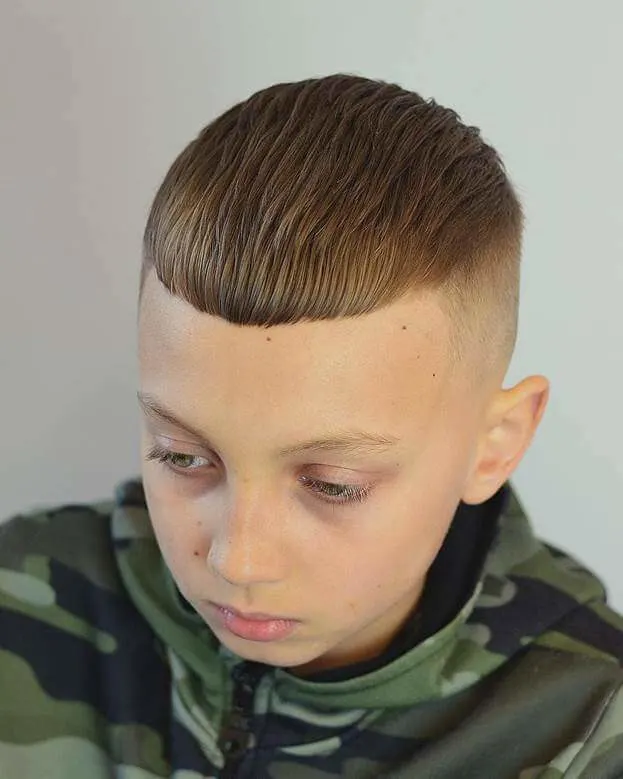 This beautiful hairstyle exploits more of a stylish side of the army hairstyles. The beautiful look can be achieved for kids by going all out on the sides and shaving it all up while leaving a bit of length on top.
It forms more of a center patch on top and looks just gorgeous. The hairstyle doesn't need any maintenance at all.
Military Fade Haircut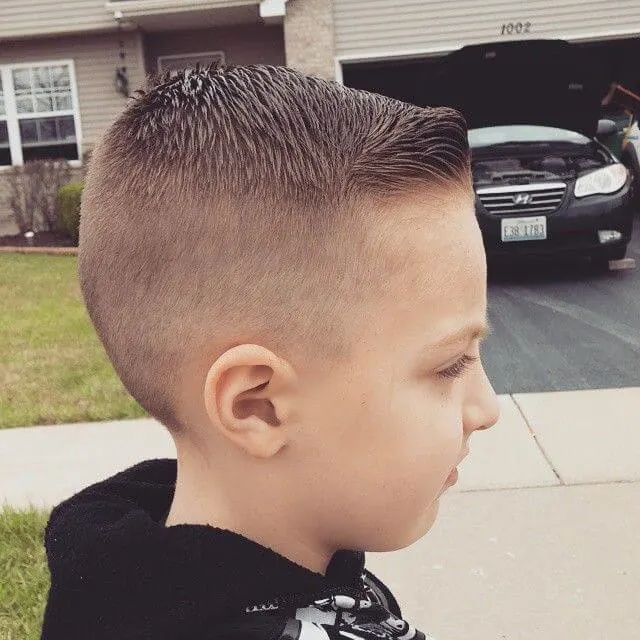 A typical military haircut is all about keeping the hair short all over and not requiring any special styling to be done. This one, however, adds a bit of style to the look by going with a fade on the sides.
It is all short both on top and the sides but the sides are slightly faded away to create a cool look. It qualifies for a wonderful military look and your kid is definitely going to rock this beautiful hairstyle.
High Skin Fade
If you do not want to go with same length all over, you can try out a typical high skin fade haircut which also makes a perfect choice among army hairstyles while keeping things a bit more modern.
Obviously, you will have to keep a bit of volume on top to make sure everything is balanced off nicely.
Low Fade
A fade haircut can be styled in so many different ways only if you consider the positioning of the fade.
For this one, you need to start fading a bit low on the sides while keeping the length on top pretty much intact. You can either style it with a side part or keep a patch on top just like with a high & tight haircut. The choice is yours.
Military Undercut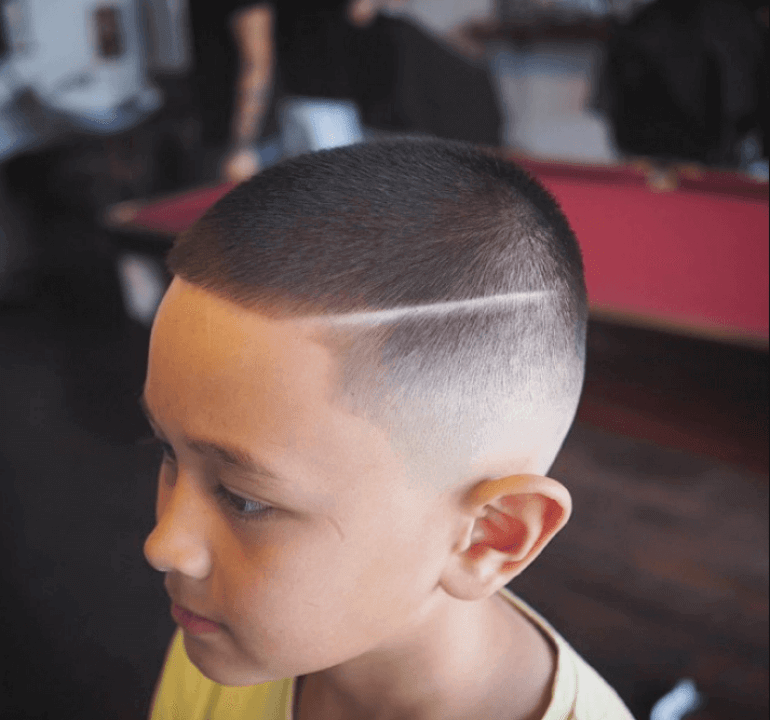 A cool take at the typical undercut hairstyle, this military undercut is definitely going to impart a touch of style into your kids' hair.
High on the sides and the back, the hairstyle imparts a whole new touch to the overall look with the help of short and casual hairstyle on top.
It is all kept short and brought nicely into the center to make for a perfect look overall. Even though it may not work fine with most of the school codes, it still makes a cool, unique vibe for him.
Butch Cut With Fade
The Butch cut hairstyle is relatively short on the top while the sides are faded even shorter. Fading is done above his ears and around the temples to make for a perfectly balanced look. The hairstyle looks really cool even without combing it through.
Army Hairstyle With A Hard Part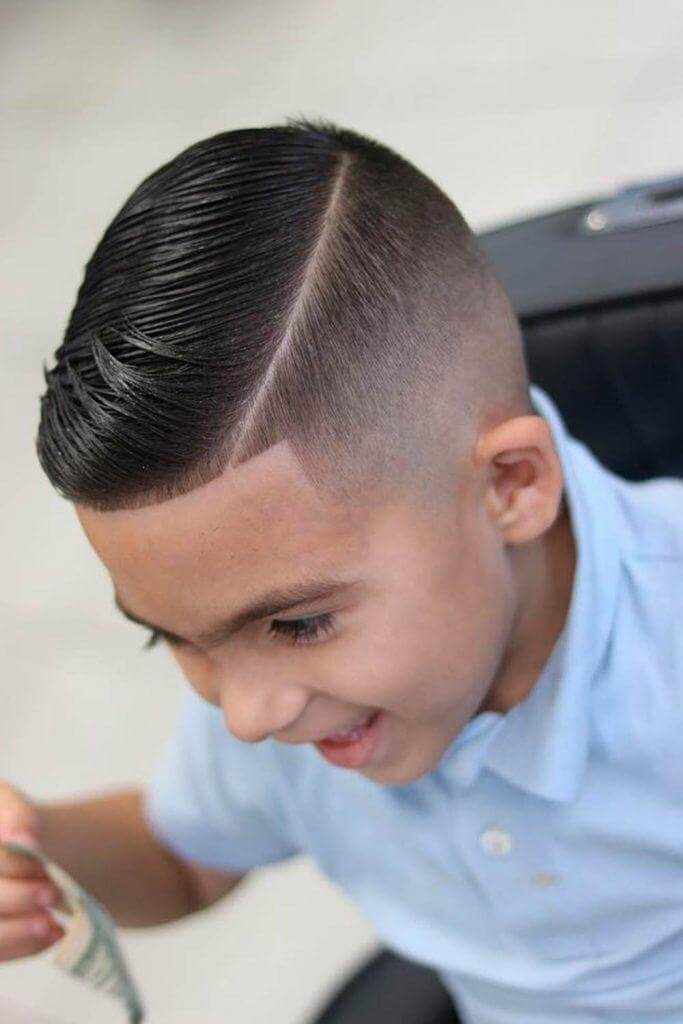 Most of the military hairstyles do not need to follow any rules and you can style them in whatever way you like while keeping it short.
You can always experiment with the look to give your kids a unique personality of their own by making some adjustments here and there.
What about adding a diagonal hard part to have some extra definition to the hairdo? Yes, that would work perfectly on any day.
Retro Army Hairstyle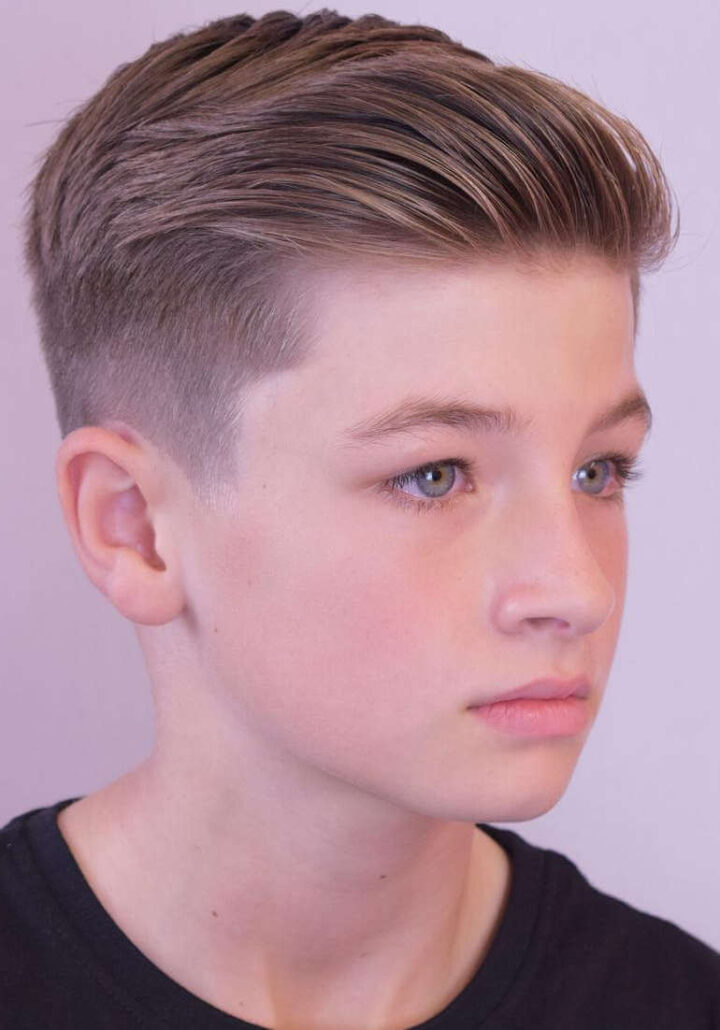 If you want to bring in some retro vibes, you can try this beautiful retro army hairstyles with your kids' hair. To achieve a perfect look, try to lift the quiff up a little and flip it backwards.
The key here is to have a well-placed side part while slicking the top hair to a side. Just make sure that you have to flip back the hair section that's in the front. It will look gorgeous on any day.
Chiseled Army Haircut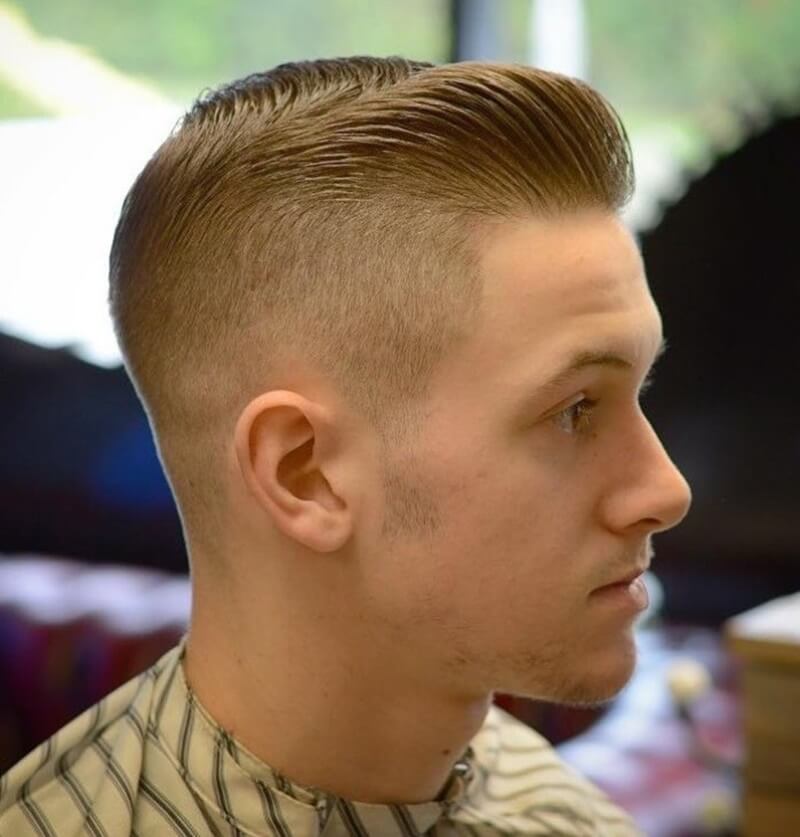 There are a few military hairstyles that have their own charming and historic feel and this beautiful hairdo is one among st them.
Soldiers often love the haircuts which make them feel like from mid-twentieth century. The simple reason is that these hairstyles don't seem to be going out of fashion any time soon.
For this hairdo, you need to go with a medium length on top and a cool chiseled taper fade on the sides. A nice side part is definitely going to compliment the style to perfection.
All these, and many more, army hairstyles options are definitely going to make a perfect choice for your little one's hair this summer. Do you have any idea which army haircut styles are going to look great on your kid's own specific facial features?
The options are endless and you really need to pay close attention to the hairstyle options available to you so that you can come up with something special for your little kid on any day. Start looking now and make a perfect choice!