Deciding on the trendiest twiggy haircuts for your little girl often poses a challenge for moms. While fashions fluctuate, some hairstyles, like the twiggy cut, withstand the test of time, remaining ever-stylish.
Do you recall the timeless hairstyles sported by Twiggy in the 60s and 70s? These twiggy haircuts greatly complemented her striking spider-like lashes and captivating cool blue eyes. Essentially, these iconic haircuts were pixie styles, which have witnessed a steady popularity over the years.
Lesley Hornby, better known as "Twiggy," the celebrated English supermodel, donned these haircuts years ago, creating quite a stir with this chic hairdo.
We've assembled some of the best adaptations of these twiggy haircuts that Twiggy carried with aplomb during her time. You can certainly give these delightful haircuts a shot for your little girl.
Cute Twiggy Hairstyles For Kids
Textured Side Swept Pixie
A typical pixie haircut, this one boasts of medium length hair swept to a side and has natural texture to it.
Styled with light brown hair, the hairstyle features a casual side part that gives it more of a rustic look. As for the cut, get here a typical pixie with slightly edgy look.
Classic Twiggy Pixie Cut:
Give your girl the traditional pixie cut that Twiggy popularized. It's a clean, short haircut that's easy to maintain and always in style.
Pixie with Side Bangs:
Just like Twiggy, add a bit of flair with side-swept bangs. It can add a bit of elegance and softness to the face.
Asymmetrical Pixie Cut:
Bring in some modern influence by making one side a bit longer than the other, resulting in a trendy and chic haircut.
Pixie with Undercut:
In this style, the top hair is kept longer in classic pixie fashion, while the sides and back are trimmed close to the head, creating an 'undercut'. This results in a cool contrast between the voluminous top and the closely-cropped sides.
Overall, the Twiggy-inspired pixie with an undercut can be a great hairstyle choice for your little girl. It's stylish, practical, and unique, making it a haircut that's sure to be remembered.
Long Twiggy Pixie Cut:
For those not ready to fully commit to super short hair, a longer pixie can be a good compromise. It still keeps the spirit of the Twiggy look while providing more length to play with.
Feathered Pixie Cut:
This is a softer variation of the classic Twiggy haircut. The feathered layers add volume and can be particularly flattering on rounder face shapes.
Pixie Bob:
This haircut combines a pixie cut with a bob, resulting in a slightly longer Twiggy-inspired style that's fresh and modern.
Shaggy Twiggy Pixie Cut:
This is a more playful and less structured version of the Twiggy pixie cut. It's great for girls who like a more carefree and easygoing style.
Pixie with Accessories:
A simple pixie cut can be jazzed up with fun hair accessories like colorful headbands or cute hair clips, adding a girly touch to the Twiggy haircut.
Curly Pixie Cut:
If your little girl has naturally curly hair, a curly pixie cut could be a great option. It maintains the simplicity of the Twiggy haircut while celebrating her natural hair texture.
Long Pixie With Casual Texture
A beautiful look that will make your little girl feel more vibrant, the hairstyle features hair a bit on the longer side. The way it curves falling over the forehead really makes a perfect vibe.
The edgy look on the sideburns lifts it up a notch. This low maintenance haircut will make her look awesome for sure.
Long And Textured Pixie
Obviously, the twiggy haircut is all about pulling off a beautiful pixie hairstyle and this one is no different. Achieved with blonde hair types, the hairstyle makes a perfect party hairstyle. It's not that hard to achieve either.
Messy Short Bob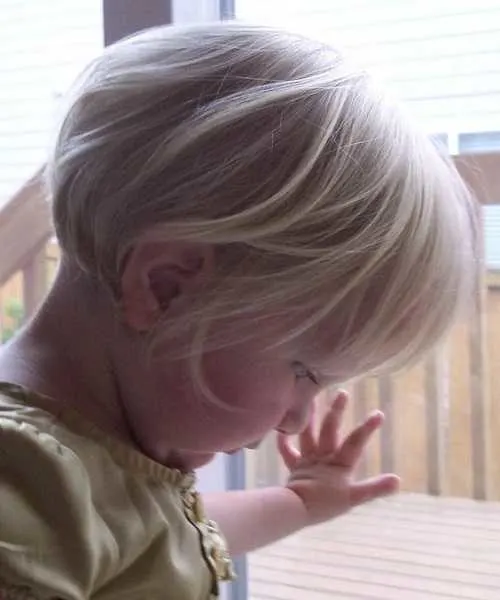 If you want to take the look away from a typical pixie and want to experiment with it a bit, you can definitely go with a cool short bob haircut.
We all know bob hairstyles look amazing on little girls and they really are among the cutest hairstyles. Just keep it a bit messy on top to make it look different.
Curvy Bob Hairstyle
This bob hairstyle variation features a flat side swept top while the frontal fringes are grown long and made to curve around, framing the face perfectly. The hairstyle looks really cool on girls with blonde hair.
Side Swept Party Bob
Another cool hairstyle for girls with light brown hair, this one is a wonderful variation of a Twiggy haircut.
In fact, this hairstyle is perfect to be worn on a party night and it creates a perfect vibe. Accessorize it with a cool accessory and it will look really amazing.
Side Swept Twiggy Haircut With Bold Accessory
The side swept hairstyle is a cool variation of a straight bob hairstyle with edgy tips. There is a parting on top and it's quite unconventional because it goes angling to the back. The bold hair accessory on top really makes a statement and adds a unique touch of style to the haircut.
Bob Hairstyle With Frontal Bangs
A typical bob hairstyle, your girl might have even worn this beautiful look before as well. The hairstyle has voluminous bob hair that curve into her face and look just gorgeous.
The hair on top is styled with frontal bangs and it's left slightly messy on top. Overall, the hairstyle is simple and doesn't really need much styling.
Forward Swept Bob Hairstyle
This bob hairstyle variation makes a perfect twiggy haircut with its unparalleled resemblance with the signature look.
The hairstyle features chin length hair on the sides and the back. The top is swept nicely forward and the bangs make a statement too.
Short Bob With Side Part
This cool short bob hairstyle really makes every little girl shine with its beautiful vibes. The hair is cut short so that it looks a bit denser on top and the casual side part makes a unique statement.
Naturally textured on one side and a bit messy on the other, the hairstyle really beats all other typical hairstyles out there. It's perfect for parties.
There are many twiggy haircut variations that you could try with your girl's hair on any day. The hairstyles have their own unique look and they resemble more to pixie hairstyles.
Call it a twiggy haircut or a pixie or bob haircut, it's actually about styling her hair with shorter lengths. Whichever option you choose to go with, just make sure it looks gorgeous on her.