This year and beyond there will be lots of cute hairstyles for girls that will remain in fashion and will surely make a statement.
However, if you want to pick and choose, you should definitely go with medium bob haircuts as they come with so many variations and are there to stay.
Bob haircuts have always been a popular choice for cute little girls and that's not going to change, at least, for next few years.
And, if you want to keep it all in perspective and well balanced, you should opt for a medium bob rather than anything else. So, here are a few cool variations of the look that you should try out this year.
Casual Medium Bob With Angular Reverse Fringe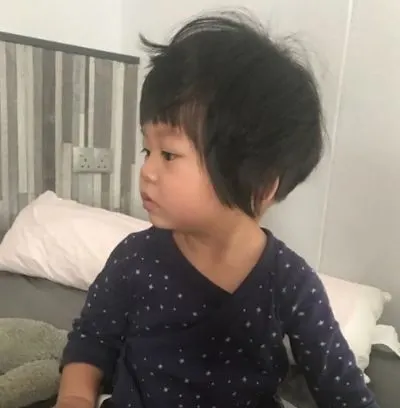 Source: Bobo002
You can call it a medium bob because of the longer inverted fringe that goes towards the ears but actually it's more of a short bob haircut.
The hairstyle boasts of frontal bangs while the length actually goes on the sides where fringes from the front go long and back.
Overall, it's a casual look and doesn't require much of styling except the haircut itself. It gives more of a typical Asian girl look.
Bob Haircut With Side Swept Bangs
Source: Danicameronfoundrysalon
This typical bob hairstyle has more of a casual side swept look to it. The hairstyle boasts of short-to-medium length hair all over and can be a routine hairstyle for your little girl.
She will surely love it and so will you as you won't have to do much of styling again and again throughout the day. Sweep the frontal bangs to a side and you can't ask for a better look.
Medium Bob With Long Frontal Bangs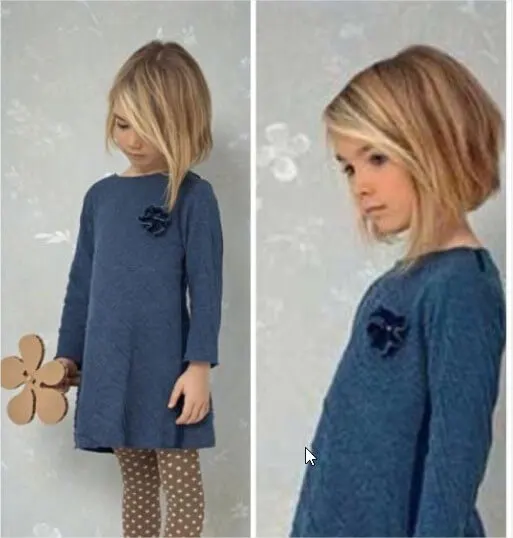 Source: Bobo002
This beautiful bob hairstyle look is all about nicely separated, long frontal bangs. Other than that, it's a typical short-to-medium length bob hairstyle that won't need much of styling on your part.
The hairstyle requires you to simply bring all the top hair forward and grow the bangs long enough that they cover the forehead. A perfect look for a school going girl, it will be at peace with most school codes.
Angular Medium Bob With Frontal Bangs
Source: The_queen_hair_studio
From casual and unruly, to a stylish bob – the picture above gives you a true sense of how you can transform your girls' looks with this beautiful hairstyle.
The hairdo boasts of medium bob that goes as long as shoulder length but is cut at an angle to make it look stylish and elegant.
The frontal bangs run all the way to the forehead and it looks amazing overall. From school to parties, you can make your girl to wear this beautiful look everywhere she goes.
Medium Bob With Wavy Tips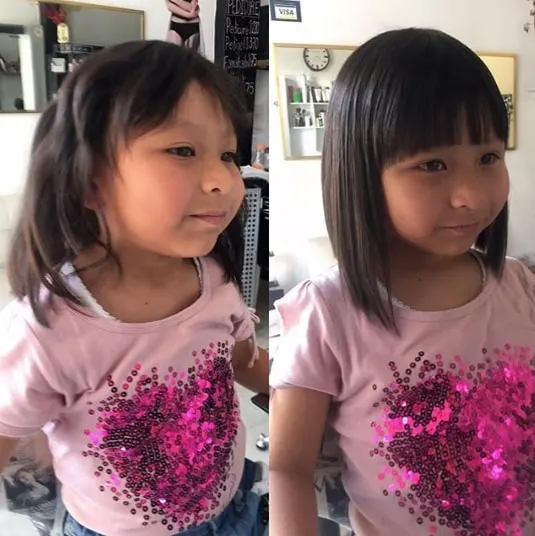 Source: Hollmay
This bob hairstyle makes for a perfect choice for girls with naturally wavy and unruly hair. In fact, you can make her hair to get some organization with the help of this beautiful hairstyle.
You can also use the natural wavy look of her hair to give it a unique sense of style by leaving the tips a bit wavy.
It's a perfect everyday look that won't disappoint you at all and would work on most occasions. Remember, it doesn't need too much of maintenance either.
Wispy Short Bob Haircut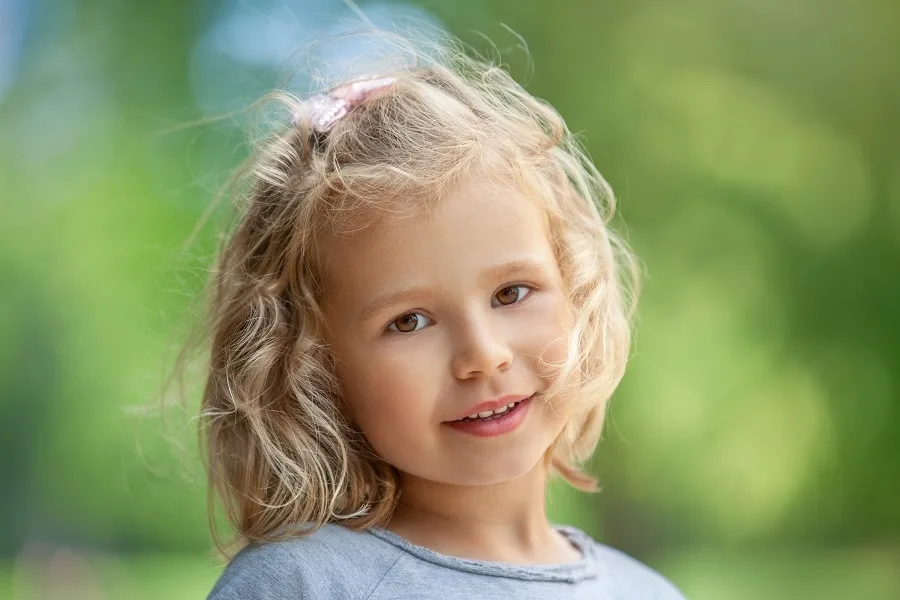 A wispy short bob haircut looks elegant on both little girls and grown-up women. The light wispy strands give movement to your heavy hair. Just below the chin-length is perfect for naturally thick and wavy hair. Pull back her hair at the top and secure it with a hair clip to keep them away from her face.
Chin-length Rounded Bob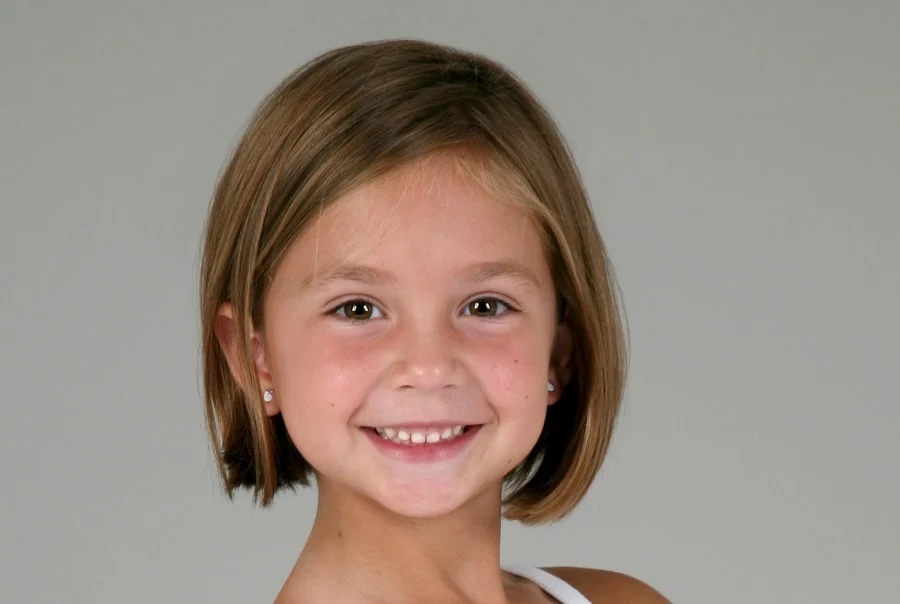 If your little girl has difficulty managing her thick unruly hair, get her a one-length rounded bob haircut. A round bob can suit face structure and prevent hair from weighing down. The face-framing locks highlight her cheeks. You can style a rounded bob even with a wavy or curly hair texture.
Colored Bob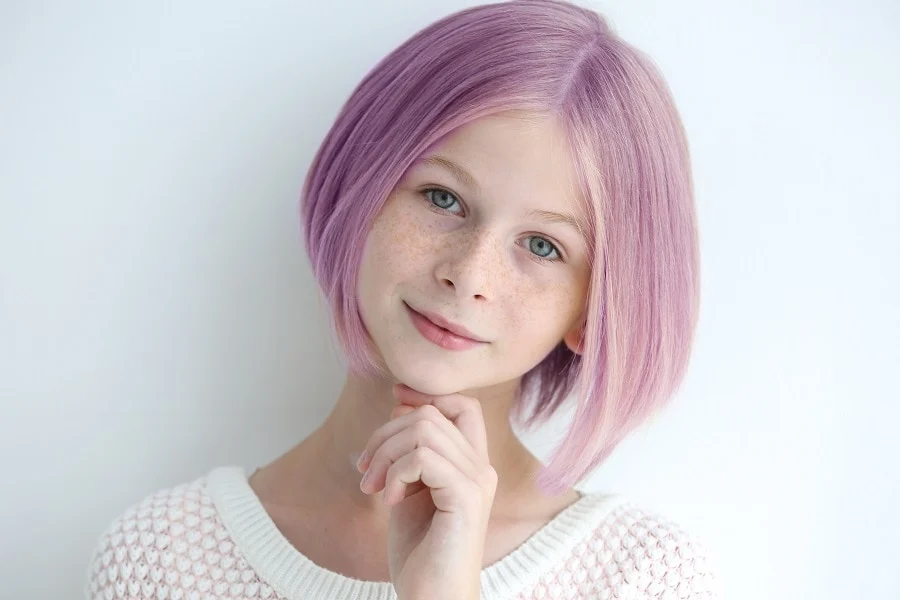 Pastel hair colors are not only for grown-ups. A Medium bob haircut with light colors can look beautiful on your little doll and give her the princess look. Light pink hair adds color to her cheeks, making her cuter.
Blunt Bob With Curtain Bangs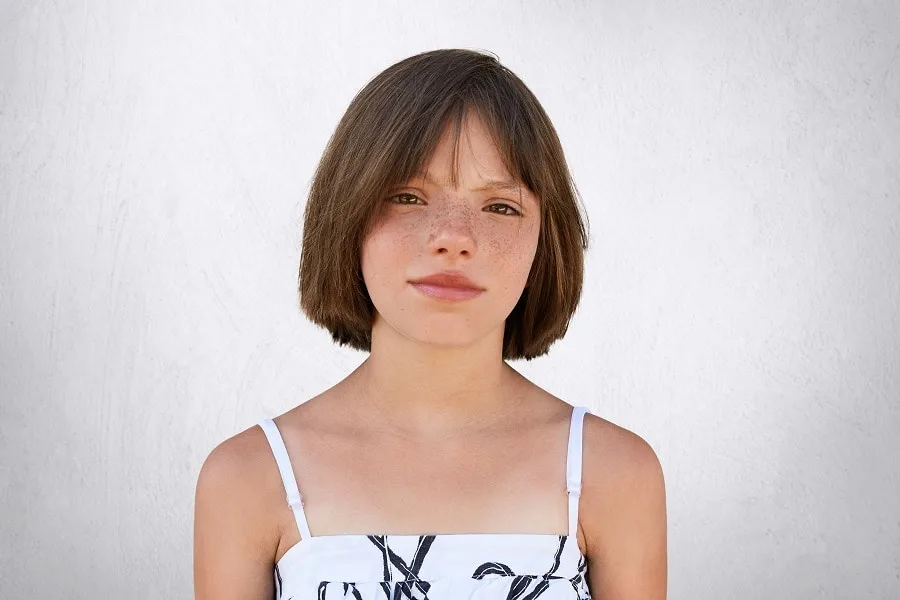 A blunt bob is trendy and of the most preferred bob cut for little girls. Blunt bob appears naturally rounded and neat. You can jazz things up by adding bangs. Long and sharp curtain bangs can dramatically change your look.
Lob With Full Bangs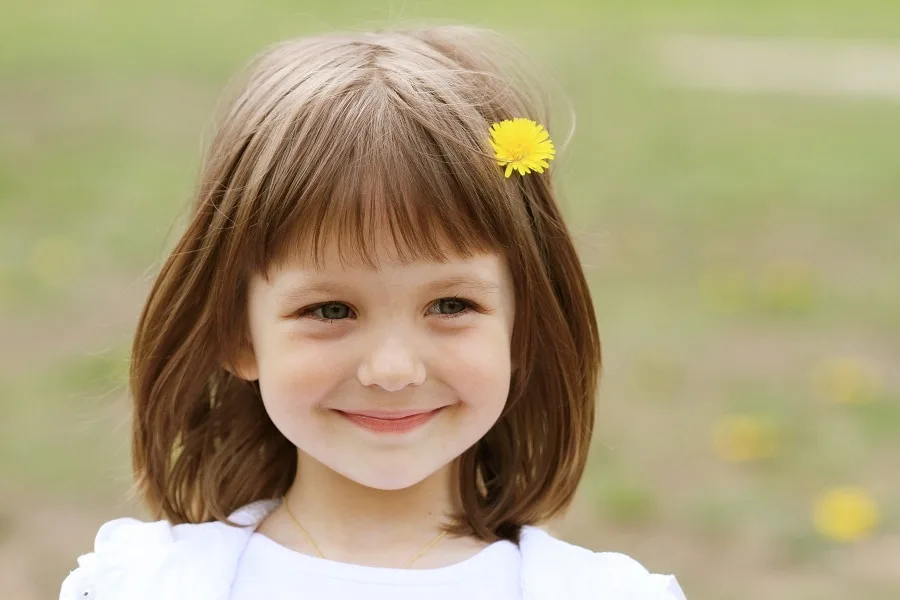 A lob cut is longer than a bob. If your little girl has straight and manageable hair, then you can opt for a lob easily. Create long and deep bangs which cover her forehead, highlighting her eyes. Accessorize with flowers.
Sleek Side-Parted Bob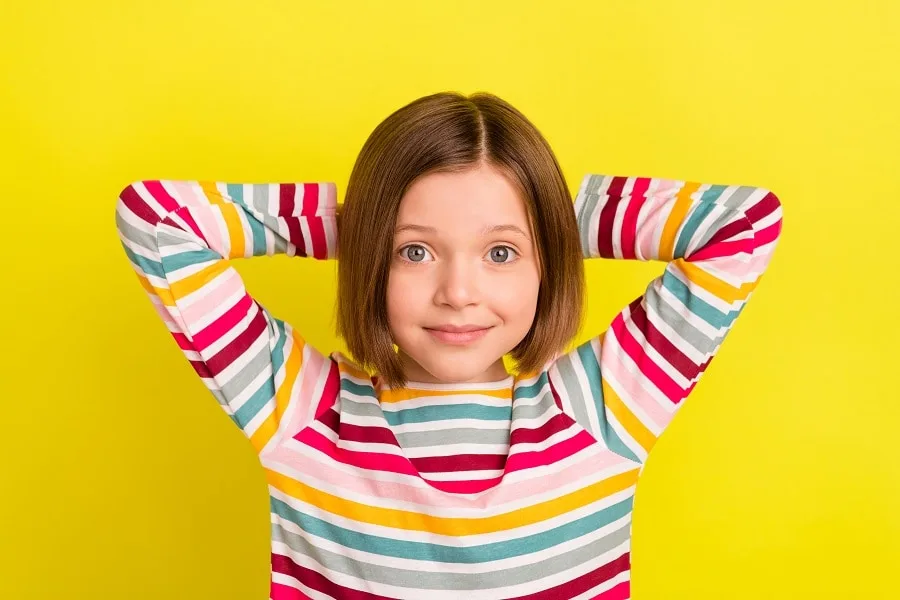 A side-parted bob is easy to style and maintain. Fine hair is ideal for a simple hairstyle as such. Side-part her bob and comb her hair neatly at both sides. You can choose to flick the ends using rollers for a rounded finish. Fine, straight hair gives a sleek finish to the bob.
Helmet Bob Hairstyle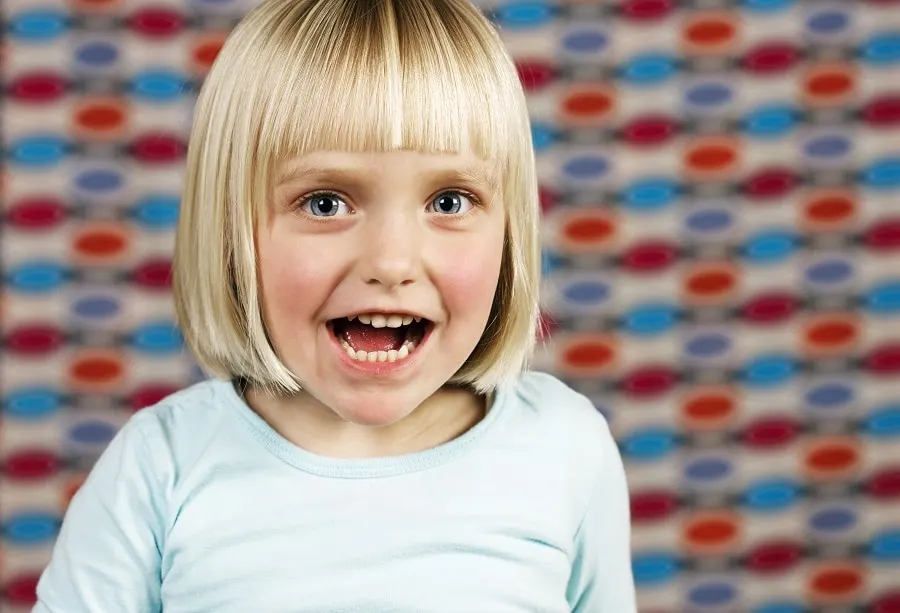 As the name suggests, it looks like your girl is wearing a helmet—a popular and convenient hairstyle for little girls. Stick straight blonde hair with blunt bangs look over the charts cute. From school to parties, your girl can wear it anywhere she goes.
Medium Hair With Side-Swept Fringe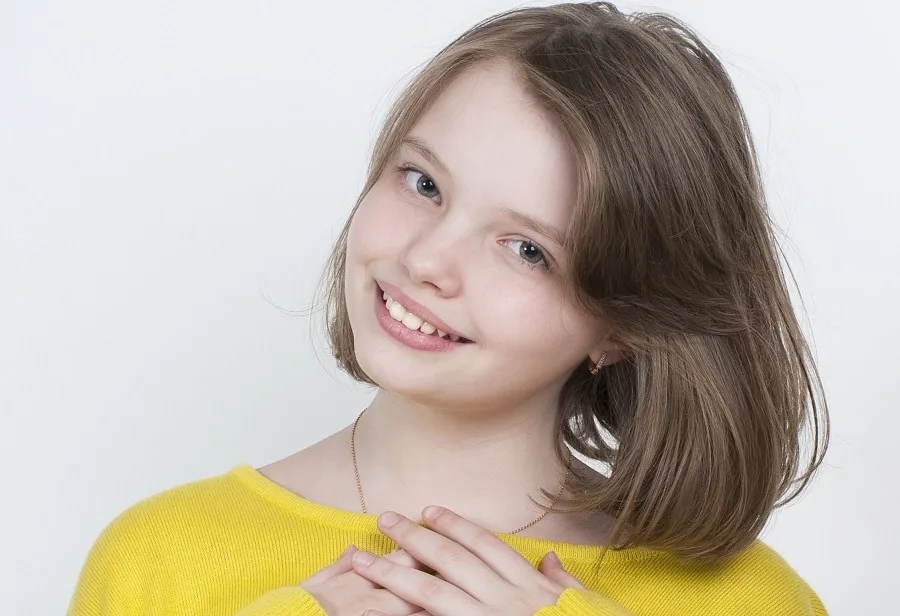 A mid-length choppy hairstyle can be freshened up by adding side-swept fringes. The fringe adds movement to your long hair. Use a volumizing spray to maximize volume and add bounce to your hair. You can add further layers for a more textured finish.
Short Curly Bob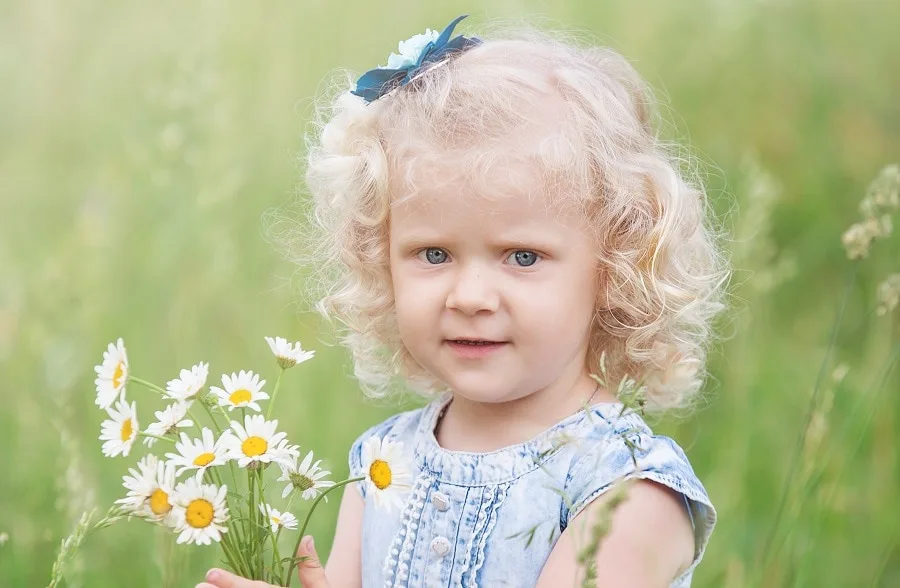 Your little girl's curly hair is self-styling and full of texture. Opt for a Medium bob haircut of just below the chin length. Let her tight curls fall as tendrils around her face and embrace the frizz for a pretty cascade effect. Use some cute hair clips and different accessories to keep the hair from falling on her face.
Angled Bob With Fringe
A shoulder-length bob is convenient and lovable. An angled bob can be styled with both straight and wavy hair. Keep the length of the hair longer at the front and flick the ends inwards to frame her face. The hair at the back is kept shorter. Give a lift using a blow dryer to add thickness and volume to her fine hair.
Short Afro Bob
A short bob can make curly afro hair texture look at its best. Your little girl's defined and tight natural curls are thick and bouncy. Part her hair and add layers to further enhance the bounce and volume. Short Afro bob is low maintenance and needs no further styling.
Center Parted Medium Bob With Blended Fringe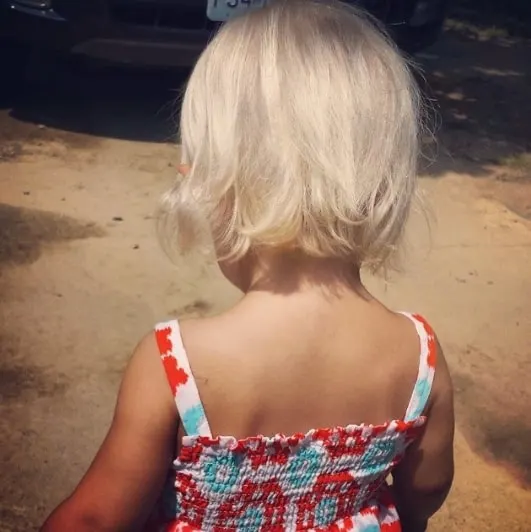 Source: Embschroeder
This is another cool and casual look that every little girl would love to flaunt. The hairstyle takes things a step further from typical bob hairstyles as it is voluminous, stylish, wavy and has all sorts of attributes that can define this hairstyle uniquely.
Achieve the look by parting it all in the center on top and let her grow the fringes enough to blend into the hair on the sides seamlessly to produce a nice, wavy appearance overall. The hairstyle works not only for school but also for casual events as well.
Bob Hairstyle with Rounded Back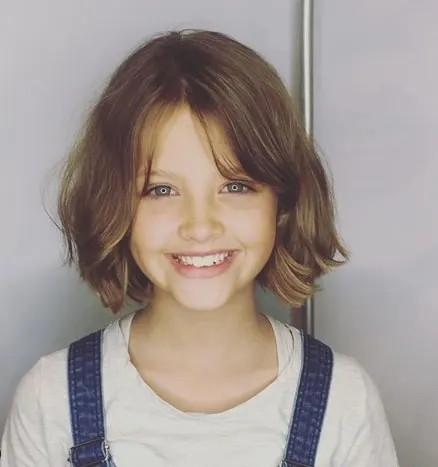 Source: Iv_hairsalon
This cool and casual medium bob haircut is actually about making a statement with its rounded back. The hairstyle is well-defined and pretty organized which makes it a go-to style for formal events and even for school.
Just get the hair cut in a perfect shape and you will be able to keep it looking nice and voluminous at the back.
Styling at the front will be up to you and you can definitely pull off an amazing look time and again. The hairstyle, literally, speaks volumes about itself.
Side Swept Bob With Outward Tips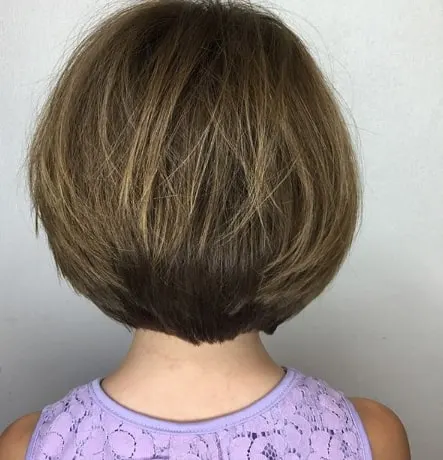 Source: Cool.kids.hair
This medium length bob hairstyle is about creating a unique variation of the conventional hairstyle by making the tips to curve outwards.
This bob hairstyle requires you to keep it to medium length all over, just below the chin and above shoulders, as it achieves a cool look with a side sweep on top.
The fringe is also kept long and it's swept to a side with the rest of the hair to make for a perfectly blended look overall. The hairstyle isn't hard to achieve and really makes for a chic look.
Curvy Bob Hairstyle With Bangs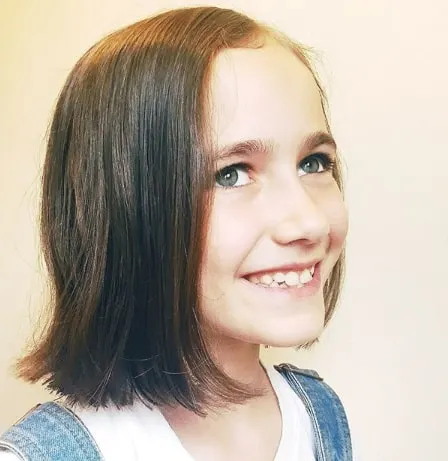 Source: Sassysara
This is another unique and cool look to achieve for all those beautiful girls who want to keep it a bit on the longer side.
The hairstyle is given a curvy look with the tips moving a bit inward. The hair on top is swept to a side half way through while the frontal locks are beautifully swept forward to create nice and edgy bangs.
The forehead is covered with hair all over and it really gives stylish vibes that your girl will be able to flaunt at every event she attends. The hairdo might need a bit of styling on your part.
Red A-Line Bob With Parted Top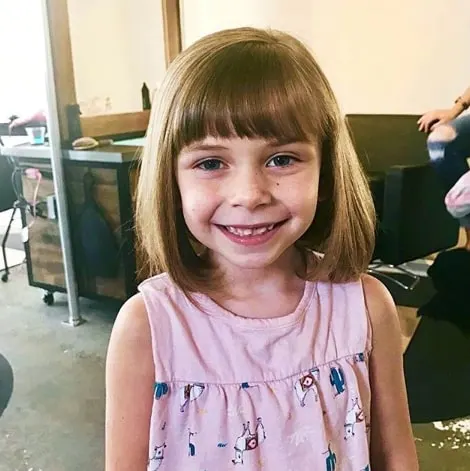 Source: Melissacatherinehair
This A-line bob variation is definitely going to make your little girl look amazing and she will boast a uniquely amazing look to make a style statement everywhere.
The hair is cut in a typical A-line fashion as it covers the face and gives it more of a roundish appearance. On top of the head we have nice, casually parted look which allows the hairstyle to be classified among the best casual hairstyles out there for little girls.
And, if you want yet another style element added to look, dye it all in this beautiful red shade and it will defy all odds to make your girl look stylish, elegant, and unique.
Chin-Length Bob Hairstyle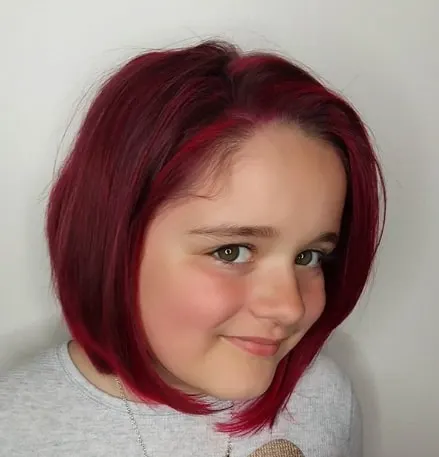 Source: Cool.kids.hair
One of the most popular bob hairstyle variations, this chin-length bob is certainly going to make a statement for years to come.
The hairstyle boasts of gently side swept hair with not-so-evident part on a side. The fringe itself is swept to a side with the rest of the hair and it creates a unique aura overall.
The hairstyle works fine for special occasions and also for her school routine. You an experiment with the look if you like but wearing it as is would definitely allow your girl to make a unique statement.
A-Line Bob Hairstyle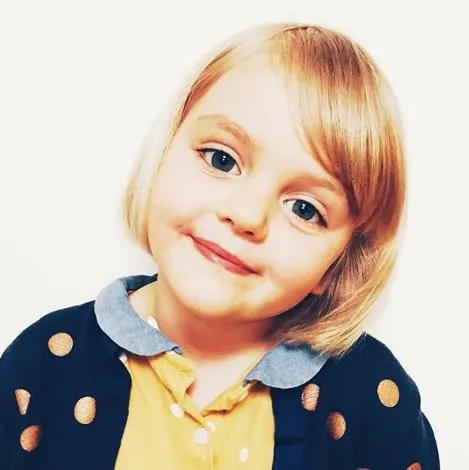 Source: Sassyshearsbyjes
This A-line bob hairstyle gives a unique look courtesy its rounded appearance towards the back. The hairstyle has enough length at the front though, and it reaches below the chin.
Dye it in a nice hair shade and your girl is definitely going to grab all eyes wherever she wears the look. The stylish vibe it creates is second to none and you can surely expect everyone to praise your little girl for her cool and amazing style.
Side Parted Medium Bob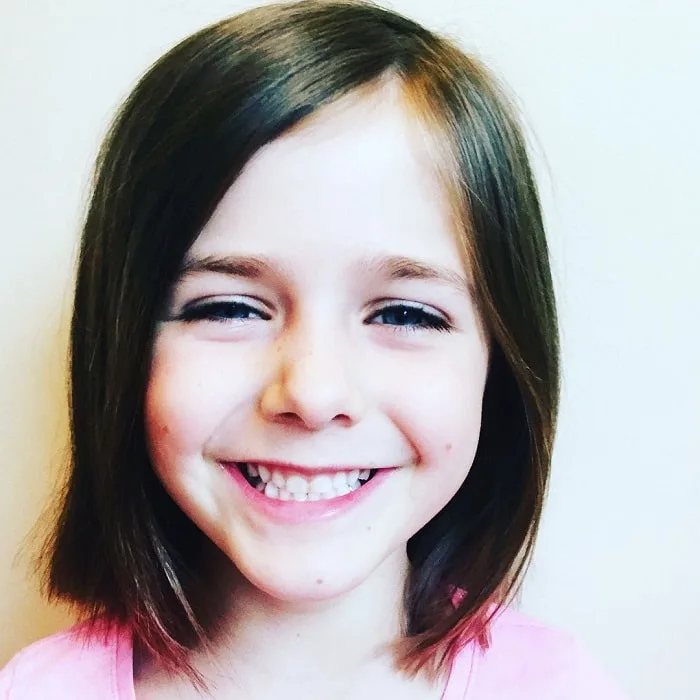 Source: Cool.kids.hair
Girls with naturally fine and thin hair would love flaunting this beautiful medium length bob hairstyle as it is just tailor made for them.
The hairstyle doesn't require too much of time and effort to achieve the look everyday because a simple side part, which is not too evident either, can give the hairstyle a perfect shape which is going to frame her face rather nicely.
So, don't think anymore and give your little girl this beautiful look.
Side Parted A-Line Bob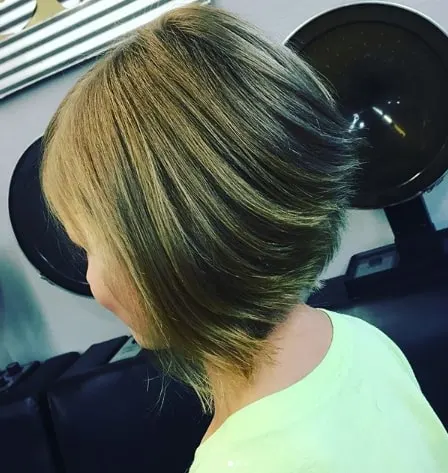 Source: Candiceehair
A perfect side parted hairstyle, this beautiful hairdo qualifies for a typical A-line bob hairstyle where the angle is not too steep going from back to the front.
Yes, it does have that roundish appearance at the back but it surely isn't something that could be evident in the first look.
Style it with a nice side part and you have a perfect look that your little girl would be able to flaunt everywhere she goes. The hairstyle works best for fine and naturally straight hair.
So, if you have been looking for the best medium bob haircuts around that would help your little girl make a unique style statement, you can go with any of the options listed here.
All these beautiful hairstyles are simple yet elegant and they are not too hard to achieve either. All you have to do is to get her a nice haircut every now and then and you're done.
It won't need hours of styling every day before getting her ready for school or a special occasion. So, just go with the one you like and let your girl inspire everyone who looks at her.