As far as naturally frizzy hair is concerned, you may find it a bit harder to deal with the hair type. One advice that you must have heard too often is to tame it after shampooing, flat ironing and finishing it off with some anti-frizz gel. However, the problem here is that when the frizzy hair is forced into straight ones, it's just a matter of a couple of hours before you see yourself with more of a Carrot Top. Nevertheless, there are still some of the coolest low maintenance haircuts for frizzy hair that little girls can try out. From textured ponytails to disheveled chignons, there are all sorts of hairstyles available that can make your girls' frizzy hair look beautiful. Let's check out a few of them.
Textured Wavy Bob Hairstyle
It's a tousled bob that works perfectly for the naturally frizzy hair type. There is some extra texture in the hair, which adds interest and volume to the hairstyle. Obviously, wavy bobs are low-maintenance and they are quite flattering at the same time as well. So, you won't have to spend too much of your time in styling your girl's hair.
Just add some mousse to make it look voluminous and let her damp, clean hair to air dry. After that, wind the sections randomly around a big barrel of the curling iron while using your fingertips to shape those waves perfectly. Spritz some hairspray and it will stay in its place for the entire day.
Classic Afro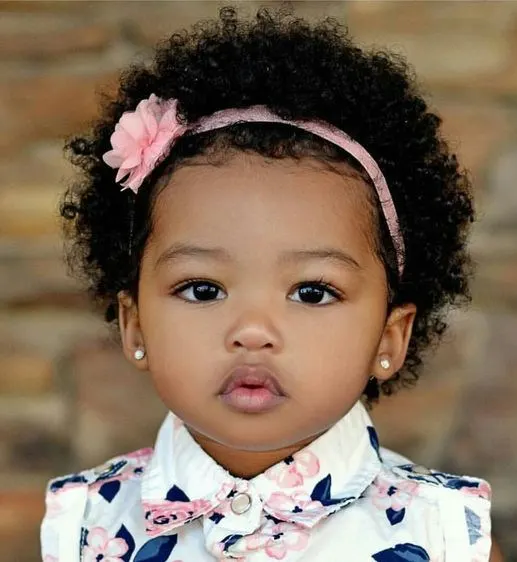 For girls with super thick and kinky hair, this hairstyle is a perfect choice. It doesn't even require you to use any of those hot tools for pulling off a perfect style.
For achieving the look, wash your girl's hair off with some gentle shampoo before conditioning it with some strong treatment. Take some drops of hair oil and rub them between the palms before applying it to her damp hair. Make sure that you apply it from the scalp right to the ends. Use a quality leave-in conditioner to finish it off so that the moisture is sealed into the hair. Now, use fingertips or wide-tooth comb for building desired volume into your girl's hair.
Beehive Updo
This extreme and voluminous updo hairstyle not just accepts frizz but also enhances it further. You can let your girl wear this wonderful hairstyle for imparting a glam look instantly.
To achieve it, mist the roots using dry shampoo so that her hair gets a bit of grip and lift. Use some big hot rollers to set the hair until they get cool. After that, fine-tooth comb should be used for teasing her hair around the crown area. Create a beautiful messy chignon before pinning it all into place. Allow a few strands to hang loose at the front for a beautiful, simple and undone effect.
This beautiful hairstyle looks amazing with frizz given an effortless and windswept touch. Besides the feminine effect which makes this hairstyle stand out, it uses some imperfect and unruly hair that you can use just the way you like.
Obviously, one of the best low maintenance haircuts for frizzy hair, the hairstyle can be achieved with long hair. Work some mousse through your girl's damp hair before letting it to air dry. After that, use a big barrel iron to touch up some strands and then tease the hair with fine-tooth comb around the crown area. After creating desired volume, just rake your girl's hair back into low ponytail before tying it using elastic. Now create a cool fishtail braid with a bit of mess. Eventually, use elastic to tie it together and cut down first elastic for giving it more undone look.
Oversized Bun
Even though this may appear to be quite polished, the frizz in the topknot can be varied depending on the texture of your little girl's hair. Having greater texture is always better. To achieve maximum texture, apply some mousse to the damp hair of your little girl and then allow it to dry in the air. Do a bit of misting with a dry shampoo now and then brush it up into high ponytail just around the crown area. Use hair elastic for tightly securing her ponytail. After that, take 1-inch hair sections, do some backcombing on the ponytail and make it voluminous and soft. Wind the hair to finish it off around her ponytail's base and maintain a cool and nice shape.
So, which of these hairstyles are you going to give to your little girl then? Yes, many of them may need some effort to achieve the look for the first time but once done, you may not have to do much of maintenance for the entire day. They really make the best low maintenance haircuts for frizzy hair that still look stylish and elegant.