Let Your Kids Enjoy School Holidays 2021 By Giving Him A Fresh Haircut
Even though the summer may not be too pleasant due to the scorching heat but it is always great time for kids who get to enjoy vacations with their family. There are a couple of months off from school, at least, and kids love to do everything they can in these vacation months. From hanging out with the entire family to indulging into some unique fun activities, the options are endless for kids to make their time worthwhile. But for school holidays 2020, why not take a whole different approach? Why don't you get your kids a couple of new beautiful kids haircuts that will improve their personality and will impart all the confidence they need before heading to school again after the vacations.
Why Get Your Kid A New Haircut For School Holidays 2021?
Well, school holidays are really exciting times for kids and they really want to make great memories of their summer holidays. It is not just the vacations and family time they love, rather they want to do everything that can help them have a wonderful time and make new memories of their summertime.
Besides, an all-new haircut gives them all the confidence in the world and allows them to spend their summer vacations flaunting their own unique looks and the new hairstyle. It will do a world of good to their personality as well. In fact, it's not just the confidence boost, a new look for the summer vacations earns them praises and everyone falls in love with them all over again.
A couple of haircuts during the summer vacations will also add versatility to your kid's style and will make them ready to surprise everyone when they join the school back again.
So, what else do you want to know in order to get your kids a wonderful new look this holiday season? It's time that you start looking for the options you have and the type of hairstyles you should prefer for your little ones.
Best Kids Haircuts For School Holidays 2021
Here we have done all the hard work for you and formulated this list of some of the best kids haircuts this year. You will love the innovation and style imparted into these wonderful looks and will surely find something special for your little one. Let's start exploring!
Disconnected Pompadour For Blonde Kids
It's a dapper hairstyle that really makes for a wonderful choice for kids who prefer something more formal as far as their hairstyle goes. The hairstyle boasts a classic pompadour and highlights blonde color better than anything else. Styled with a side part and high fade, the hairdo really gives perfect vibes.
Buzz Cut And Tapered Fade
If you are looking forward to a fade haircut this summer, that's going to be the best choice to kill the heat automatically and let your kids make a special style statement. Here we have this easily maintained and simple hairstyle that we all know by the name Buzz Cut. A perfect choice for your little kid, the hairstyle boasts of a slight taper towards the sides and makes things look a bit newish with an all-different buzz cut.
French Crop And Skin Fade
Source: octopus_barbershop
Another beautiful faded look, this one is just tailor-made for your kid if he wants something more unique and different from the rest. The natural texture is maintained while the hair on top is swept forward while the faded sides are there to compliment.
Layered Mohawk
How long have you been hearing the name "Mohawk" when searching for the best hairstyles for kids? It is going to make a perfect choice for your little guys this holiday season. Even though it is a hairstyle for kids who are a bit older, it's definitely going to make your kid look stand out. The layers added to a typical Mohawk actually spice things up a bit and when you have them on your short Mohawk, it's going to look more of an attention-grabber.
Brushed Up Top and Taper-Shaved Sides
If you are looking for something that gives your kid more of a suave look, this brushed up hairstyle is really something classy that is going to make a statement. Featuring more of shaved design towards the side to add some edge, it really looks cool even on the special occasions.
Angular Fringe With Natural Texture
This cool and casual hairstyle takes all its inspiration from the most popular athletic hairdos. The hairstyle with heavy texture belongs to the league of its own. The stylish looks and a bit of extra interest is earned through that contrast of messy top and the fringe at the front.
Brushed Up Hairstyle With Skin Fade
Another cool look to achieve during School Holidays 2020 for kids with blonde hair, this one really is a fun hairdo that works fine for any casual day out. The hairstyle will give your kid a more playful look and is achieved by taking all the hair straight up while creating some texture with the help of a styling product. Brushed up top and skin fade on the sides really make a deadly combo.
Double Disconnected Slicked Back Hairstyle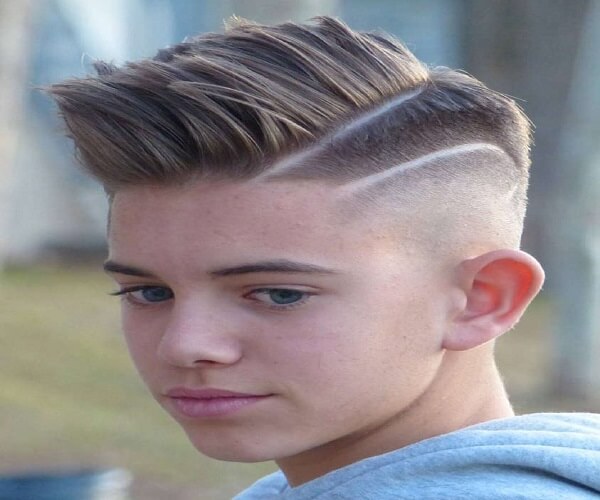 Well, we all have heard of the disconnected hairstyles but have you ever thought about giving your kid this double disconnected look? Probably not! It's quite a slick hairstyle featuring brushed up look on top and there are a couple of shaved lines towards a side. It's a bold and trendy hairstyle that really looks wonderful on little kids.
Side Brushed Layered Haircut
Another beautiful layered haircut on the list, this one creates more of a wavy look on top. You can achieve this hairstyle in both flat top and casual looks and it will look equally awesome. It would be a great choice for kids who love to stay highly active during their summer vacations and it will suit them no matter what their age may be.
Wavy Brushed Up Hairstyle
This hairstyle really makes a perfect choice for boys with naturally wavy and thick hair. Emphasizing the waves more than anything else, this hairstyle really makes for a smart and stylish look that they can continue to wear even when they get back to school after the vacations.
French Crop Hairstyle With Disconnected Sides
Unlimited texture is the key part of any French Crop hairstyle and that's exactly what we have here in this hairstyle as well. It really looks trendy and stylish and will make your kid look their best on any day. A twist has been added to the hairdo with the help of a disconnected look on either side and really feels great. The sharp disconnection looks really stylish and distinctive with a messy top.
Blonde Mohawk Hairstyle With Disconnected Sides
Another disconnected hairstyle with sides having a sharp surgical line to disconnect them from the top, this one looks funkier with a cool Mohawk on top. The hairstyle is undeniably eye-catching and is achieved with blonde hair to make it look even better. The tips have been dyed to make sure they create a perfect contrast with disconnected sides.
Comb Over Hairstyle With Fringe
Comb over hairstyles have always made a statement no matter where and how you choose to wear them. Planning to go with this hairstyle for your kid's summer holidays? You have it absolutely spot on. The hairstyle works both on formal and casual occasions and is pretty simple to achieve as well.
Designer Afro Hairstyle
The hairstyle takes all its inspiration from the urban style and the athletes. It is another shaved design that we have on the list and it helps a lot in accentuating small afros. The hairstyle would look cool even with a little grown out hair on top.
Ivy League Haircut With A Hard Part
Want something classic for your kid this summer? Why don't you try an Ivy League haircut that we all know for years? However, you can give this hairstyle a fresh pop of style by incorporating a beautiful hard part into the look. It will definitely amp up the look.
Disconnected Side Parted Hairstyle With Line Up
Yet another beautiful hairdo that combines both volume and clean looks, this one boasts of double hard parts as well. There is a hard part and a disconnection part on the side that makes the fashion-crazy guys fall in love with this hairstyle. The top is naturally textured and looks amazing in the overall scheme of things.
Side Quiff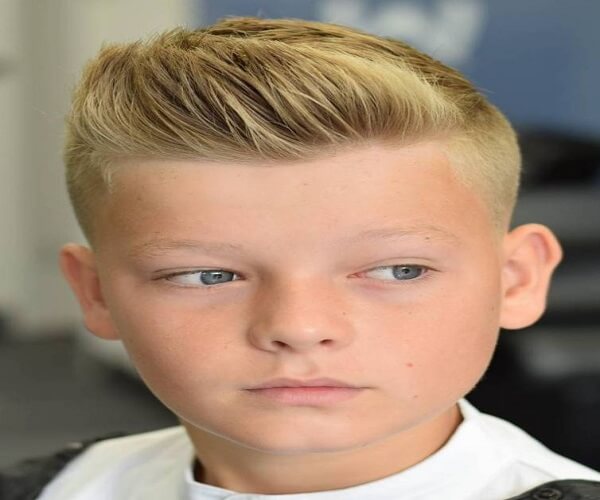 Here we have a hairstyle that would work for kids with all the hair types. However, it makes an ideal choice for anyone who is looking to have that sense of style imparted into their looks but do not want to take things too extreme.
Textured Top With Skin Fade
If you have always loved the clean look presented by skin fade hairstyles, this one is a perfect choice for your kid this summer. The top is kept textured while it's all even on the back and sides. It really looks cool overall.
Disconnected Spiky Haircut
This one is more athletic than anything else on the list and is going to make a perfect hairstyle for your kid in the summer. The spiky look on top which resembles a faux hawk style looks amazing when combined with that curved line shaved onto the sides for imparting that unique flair.
Scissor Haircut
Source: mzzzrowww
This back to school hairstyle gives you traditional vibes if you look at the top while it looks trendier on its sides. There's a disconnected lineup towards the left which brings that asymmetrical twist to the hairdo and makes it look standout.
Pick one of these top hairstyles for school holidays 2020 and give your kids a chance to spend their vacations with a unique new style. Impart a sense of confidence in your kids by choosing the most stylish and elegant hairstyles for them this holiday season. They would definitely love flaunting the new kid's haircuts that you will choose for them. It's definitely going to be a fun experience.