Light brown hair always has a uniquely cool vibe to it and girls with this particular hair color look the cutest. Whether you have naturally brown hair or you have dyed it to your favorite tint, you must be looking for new hairstyle ideas that can give you that added oomph to sport your favorite, stylish look. Fortunately, there are many cool hairstyles for girls that look just awesome on this specific hair color. Let's explore all the options you've got this year.
Top Ideas For Hairstyles For Girls With Light Brown Hair
So, here we have listed some of the coolest looks that you might want to adore with your light brown hair this year. The hairstyles have been hand-vetted and are the latest, trendy looks that will keep you in everyone's eyes year round.
Toasted Waves
This chic and unique look is all about those expansive, beautiful waves that start on top and run through the sides all the way to the bottom. The hairstyle is achieved with a simple center-part while the waves can be achieved with your favorite styling tools if you don't have them naturally.
Milk Chocolate Pixie
If you have always wanted a unique take at your pixie haircuts, you're going to love this one. Go for a nice milk chocolate shade and a typical pixie. Trim the bangs shorter and sweep it nicely to a side for a perfect look.
Long Side Swept Hairstyle
Want to keep it simple? This is the look you'd want to achieve with your brown hair. Just sweep it to a side and left it all open and falling over the shoulders. Make sure that it frames the face nicely.
Straight Light Brown Hair With Highlights
Straight hair looks just awesome in the light brown shade. Just comb it all back and give it a simple twist at the back. It will look even better when highlights are added to the look.
Center-Parted Hairstyle With Wavy Volume On The Sides
This center-parted look is just awesome and looks even better with that gorgeous wavy volume on each side. It's easy to achieve the look and doesn't require too much of effort if you can achieve those waves to perfection. Color highlights really make it look even better.
Wavy Back With Simple Knot
Another simple, yet stylish, look to flaunt this summer, this hairstyle keeps it a bit shorter on all sides. The hair on top is simply combed back while the nice waves are added at the back. A few strands are secured into a simple knot at the back to achieve a chic look.
Light Brown A-Line Bob
What could look better on your light brown hair than a typical A-line bob? A perfectly streamlined bob look is achieved on straight hair and its elevated manifolds with just the perfect color of the hair. Style it with a nice side part and it will look awesome.
Light Brown Hairstyle With Wavy Tips
This cool look is all about achieving those perfect waves at the tips and bringing them all together right there at the back. The hair on top is nicely combed back to achieve a perfect finished look as the light brown highlights take this look to a whole new level.
Light Blonde Ombre With Dark Roots
This gorgeous look is about achieving just the perfect mix of color i.e. light and dark brown. It's darker towards the roots while as you run down towards the tips, it starts getting light blonde ombre. Too elevate it even further, give it a rough wavy look and try to add some volume towards the tips.
Light Mocha Waves With Thin Blonde Highlights
This is a cool and simple look that boasts of thin blonde highlights added to the brown hair. Achieved with a side part and some layers on the sides, the hairstyle looks gorgeous on any day. Just keep it a bit messy and rough towards the tips to achieve that perfect look.
Side-Parted Hairstyle With Light Waves And Highlights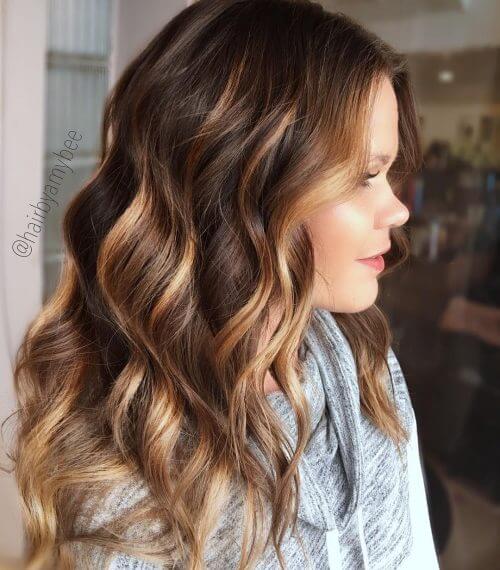 This is yet another cool look to flaunt and it's not too hard to achieve those light waves on the sides either. Just keep the natural volume intact and sweep it all to the sides. The highlights combined with the wavy volume the sides really makes a cool vibe.
Voluminous Asymmetrical Bob
This is a cool take at the Asymmetrical bob that looks even more gorgeous courtesy beautiful light brown hair. The hairstyle is kept slightly messy to add a bit of oomph and to make it a perfect choice for casual days.
Light Brown Wavy And Messy Back
This really is a cool combination of messy and organized look. The hair on the top is nicely parted from a side and given a perfectly carved out look. However, as it moves towards the back, it gets as messy as it could ever be. The messy and wavy look towards the back really makes it look unique and awesome for any day.
Light Chocolate Brown Hair With Wavy Tips
If you have always preferred to keep it to shoulder length, you can give it a lift with some nice and casual waves towards the tips. The hairstyle looks amazing on hair with light chocolate brown hair and can be a perfect choice for both official and casual looks.
Light Brown Babylights
Straight, sleek, and simple! That's probably the best definition of this wonderful look. The hairstyle is achieved on light brown hair by sweeping it all to a side and making the fall over the shoulders. The color complements nicely to the sleek and simple look of it.
Bob With Bangs
This cool bob with bangs achieved on hair with light brown color really creates a perfect Barbie look for your days at the office or at the beach. Yes, the look is just perfect for any occasion and isn't that hard to achieve either. Just get a perfect shoulder-length bob haircut while leaving the frontal bangs intact and you are good to go.
You have all sorts of options available to style your light brown hair and it's all about how creative you can get with your hairstyling. Pick one of the looks from the list above and you have a wonderful hairdo for any day. Many of them don't really need you to put in a lot of effort in styling either. Just decide on the look you want to achieve and it will be easier than ever to get it!