Girls hairstyles are not just about getting the haircut right or achieving the look to perfection at the hands of a professional hairstylist. In fact, the hair color can also make or break your look on any day. If you want to create a stylish vibe, try rose gold hair color. You'll come across lots of amazing hairstyling ideas that will give you an extraordinary feel regardless of the occasion.
Rose Gold Hair Styling Ideas For Girls
Styling your rose gold hair highlights shouldn't really be a big problem as the color already adds a chic vibe to whatever look you want to achieve. Here are some cool rose gold hairstyles you'd like to try out.
Wavy Volume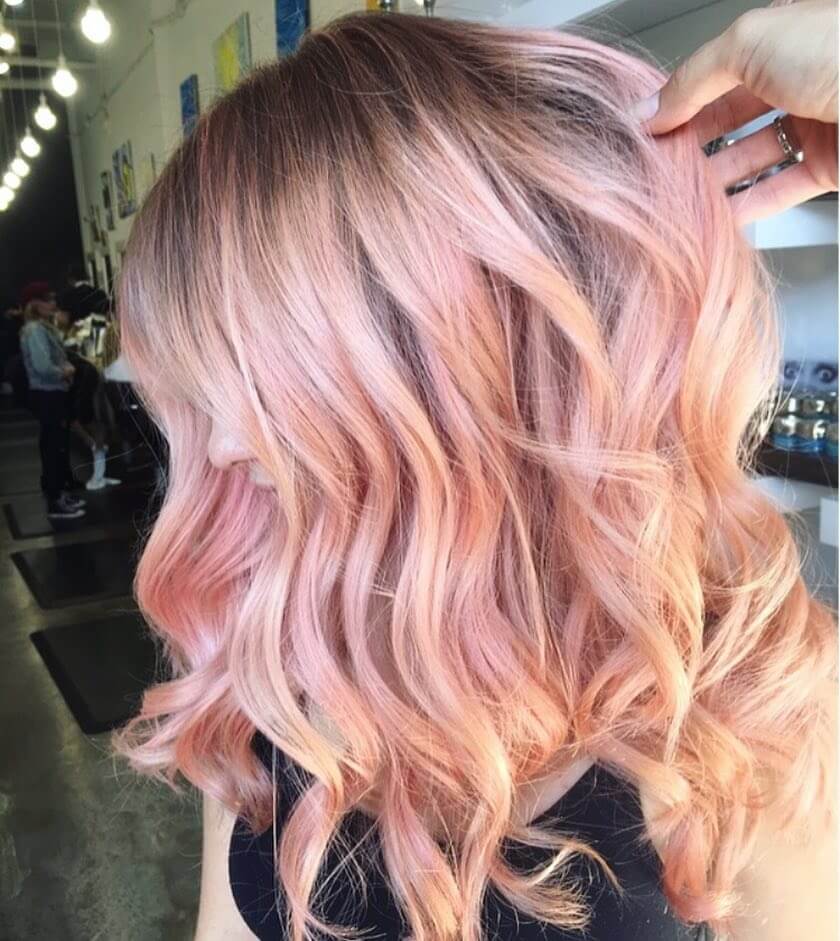 A perfect party look, this beautiful hairstyle is all about those chic and elegant waves created right throughout. The rose gold color elevates the hairdo for sure. The look is achieved with a nice center-part on top.
Short Hairstyle With Bun And Hair Accessory
For a modern day girl with natural rose gold hair, this beautiful look works wonders. It's a short, shoulder-length hairstyle which is combed back at the front and is secured into a chignon bun just around the crown area using a cool hair accessory. Elegant, indeed!
Combed Back Wavy Hairstyle With Bun
Give your natural waves a boost with rose gold hair highlights and achieve this nice, wavy, shoulder-length hairstyle. It's combed back at the front while there's a casual bun just on top of the crown. It looks amazing on a casual day out.
Rose Gold Short Hair With Braids
Your routine look can't be better than with a nice, braided and organized hairstyle. It's center-parted while French-braids are created on each side started at the front.
Combed Back With Wavy Layers
Gorgeous, isn't it! A perfect party look it is with amazing shades of rose gold.
A-Line Bob Haircut
Bob haircuts are always trendy and this cool A-line bob in rose gold looks even better.
Long Combed Back Hairstyle With Waves And Accessory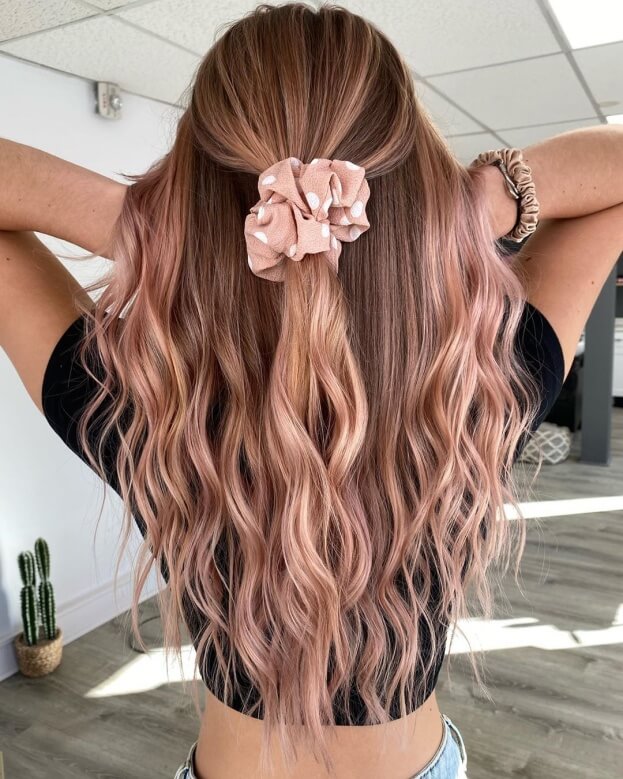 Nothing can get more stylish than long, combed back hair with a wavy look at the back. And, when you achieve that look with rose gold hair, that's even better!
Combed Back Hairstyle With Twisted Braid
This is one of the unique rose gold hairstyles that boasts of an elegant twisted braid at the back. The hairstyle might need some styling effort.
Combed Back With Rope Braid
This cool look is about achieving a wonderful style with edgy tips at the back. The short hairstyle boasts of a rope braid at the back and a tinge of color.
Long Hairstyle With Inherent Crown Braid
This is a cool party look achieved with an inherent crown braid. It looks gorgeous for sure.
Layered Copper Rose Gold Hairstyles
It's a unique edgy look with bangs and a casual part. The color makes all the difference here.
Braided Rose Gold Hairstyle On Brunettes
A nice mix of rose gold and brunettes, this hairstyle is complemented with a cool, short braid at the back. A perfect look, indeed!
Princess Braids
Want a cool, princess look? This hairstyle is the way to go. It's all in those thin braids.
Rose Gold Corkscrew Curls
Corckscrew curls taken to a whole new level, this beautiful hairstyle is all about amazing mix of rose gold and other complementing color shades. An accessory can be added on top to make it even better.
Rose Gold Waterfall
Waterfall braids make a perfect party look even today and this beautiful rose gold hairstyle is the best example of that. The braid is created at an angle as it goes swirling around the head and ends at the nape of the neck. The wavy back complements it even better.
So, which of these beautiful hairstyles would you like to achieve with your rose gold hair? Whether you need something for rose gold short hair or you're interested in rose gold hair highlights, you can find everything on the list above. Make sure you pick your options wisely and go for something that suits well to your personality and the occasion you want to wear it on. One thing is for sure, whatever hairstyle you choose, it will allow you to make a style statement. Get creative and you'll have more amazing ideas ready to style your hair!