Hairstyles define your personality and they are going to make your fashion statement as well. The same stands true for kids even though they do not have too much of sense about fashion sometimes. So, you have to be careful about that and it's you who has to take care of your kids' fashion as they grow up. You may have thought that there is enough variety available for girls hairstyles but you'd be surprised to know some of the coolest boys cut options available for your little gentlemen too. All you have to do is to decide on your preferences and go for the best hairstyle out there accordingly. The options are, literally, endless and you'll surely love a few of them for your little one. Getting curious?
Well, let's not keep you waiting and get straight into the best hairstyle options for your boys this year.
Casual Hairstyle With Wispy Fringe And Mid Fade
Source: Diego_derry
Does your kid love to keep it long on top? A casual wispy fringe is certainly going to make a statement for him when styled with a mid fade on the sides. Just make sure it's thick and dense on top and that the wisp looks crisp and beautiful. Sweep it all to a side casually with fingers so that the natural texture pops out in style. The fade haircut on the sides will definitely balance things out to perfection and you won't really have to worry about an overall casual look.
Short Quiff With Side Part
Source: Kimberlymeadorhair
Quiff hairstyle has always made a statement for little boys but when you don't want to go out for the exact look, you have the alternate option to go with a short quiff. The hairstyle would require you to keep the hair shorter on top and comb it over to a side. A bit of styling product applied to the top will make sure that it's kept into place once achieved. There is a nice side part and a low fade on the sides which complements the style on top and makes for a perfect vibe overall.
Casual Top With Mid Fade
Source: Diego_derry
A beautiful casual hairstyle, this one can be achieved with medium length hair on top that is long enough to shape it into any casual look as you would want. If you can add a bit of color to the top, you'd be able to achieve an even more dramatic look and the style will certainly speak for itself. As far as the sides are concerned, you have a beautiful mid fade that makes it even more stylish overall.
Funky Spikes
Source: Amberstylist26
A boys cut that you would not want to achieve every other day, but this one really is a special hairdo for all those special occasions. Your boy is definitely going to love it and so will everyone else. The hairstyle requires you to keep short-to-medium length hair on top and it is spiked nicely forward. To achieve a perfectly funky outlook, a bit of color is applied at the front and some styling is done on the sides as well. Yes, it's faded on the sides but that is further accentuated with the help of a couple of parallel surgical lines. You can't ask for a better look overall as far as funky hairstyles go.
Stylish Crew Cut
Source: Meloneill
Crew cut has made its name for being one of the best vintage hairstyles for boys but the look is still quite relevant. The hairstyle boasts of short length on top which is given a perfect touch of style by raising it up a bit at the front and sweeping it to a side. The hair behind the raised frontal fringe is swept forward and given a bit of texture with the help of a styling product. This look above boasts of a high fade on the sides as well. Add a tinge of color to the frontal hair and it will pop out rather elegantly. A perfectly stylish look for any special occasion!
Side Swept Hairstyle With A Hard Part
Source: Theoriginalfanatics
This beautiful haircut for boys is rather simple and doesn't really require you to put in a lot of effort. All you have to do is to sweep it all to a side and keep it close to the head. A bit of shiner applied to the top will make sure that it all keeps looking fresh right throughout the day. Just tell your kid to run his fingers through the hair every now and then to maintain the natural texture throughout the day. A hard part on the side looks just amazing. And, that high fade makes for a perfect look overall. As far as the length is concerned, make sure that it is kept to medium length on top so that it sits nicely right there.
Forward Swept Casual Hairstyle With High Fade
Source: Alyciasharaf_hairstylist
Casual hairstyles have a wide range for little boys and you just have to make sure that you go with the one that suits your kid like nothing else. This hairstyle here would look amazing on any day and it doesn't need any styling whatsoever either. You have to keep it to medium length on top and just let it stay the way it is. A messy look is as stylish as it can ever get. However, make sure that you balance it out towards the bottom with a high fade which is disconnected from the top. Shape the frontal locks backwards to make it look even better.
Angling Cornrows With High Fade
Source: Drivenhairinc
Black boys hairstyles are always quite challenging to achieve. In fact, you often have a hard time deciding which hairstyle you would want to give them. Probably, one of the most stylish looks, and the one which is styled too often as well, is cornrows. There are plenty of variations of the hairstyle available and it is completely your choice which of them you would want your kid to sport. This one here boasts of a bit of angling touch on top and it really looks amazing. The sides have a high fade as well which blends in with the organized look on top perfectly. The hairstyle will surely make the day for your kid.
Textured Pompadour
Source: Ericastallings
Pompadour hairstyle has long been popular among the kids and the men alike and that's for a very long time. The hairstyle is still quite a popular choice if you want to go for a hairstyle that maintains perfect balance among the casual and the formal. The hairstyle looks just awesome and can be worn on both casual and formal events. You have that textured look to the frontal hair that is combed back nicely and we have high fade on the sides. Go for a casual part on the side and the hairstyle will really look amazing when looked in the entirety.
Flat Top Side Swept Hairstyle
Source: Jennlynhair
You may have seen many flat top hairstyles for kids with all of them boasting raised-up hair on top. However, this one is a bit different and it requires you to keep it all swept to a side and perfectly flatten it up. The fringe at the front looks amazing with a bit of color added to it. The hair on the sides have a high fade and it really looks amazing and beautiful with the style achieved on top. There is a curved surgical design on the sides as well and it complements the overall look to give it a perfect feel.
Mohawk Spikes With High Fade And Design
Source: Salon10tbay
Mohawks have been among the most popular hairstyles for boys over the years and this beautiful boys cut is a perfect variation of the look. The hairstyle boasts of medium length hair on top and it's nicely spiked up with the help of a bit of styling product. There is a high fade on the sides and which blends with the top hair that is spiked up and makes for a seamless look overall. There is cool surgical design towards the side and the back and it really lifts the entire look making it more stylish than ever.
Short Forward Spikes With Surgical Design
Source: Spableu
One of the best short hairstyles for boys, this hairdo boasts of all short and spiky hair on top which is swept forward while making sure that it stays close to the head. Almost the same length is kept both on top and on the sides. However, the sides get a bit faded going towards the bottom with a curved surgical design midway through just where the fade starts. The hairstyle is quite casual and doesn't require any maintenance whatsoever besides applying a bit of styling product time and again and keeping it all fresh.
Short And Curly Hairstyle With Fade
Source: Sharonmichellehair
This is another cool boys cut that boasts of short and naturally curly hair on top. It's kept close to the head on top and looks pretty cool and organized. Obviously, it is natural curls on top and you do not really have to do any styling whatsoever. Just apply a bit of oil or some glossy product to keep it looking fresh and beautiful. The hair on the sides is faded high on top and it's disconnected from those curly locks on top as well. You can add a bit of surgical design on the sides if you want to but even if you'd like to go without that the hairstyle will still look cool and amazing.
Textured Side Spiked Hairstyle With Fade
Source: Get_in_my_chair
This is quite a unique spiky hairstyle that we don't see too often. The beautiful hairdo looks amazing as it sweeps medium length hair on top more towards a side and raises it upwards to achieve a perfect spiky look. It's more like that centered spike but the only difference here is that it is achieved towards a side. There is some texture added to the frontal locks as they move upwards. The sides have a high fade which gives it more of a uniquely organized look overall.
Side Swept Hairstyle With Extravagant Fringe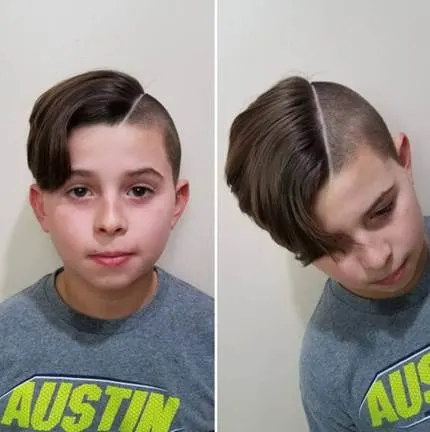 Source: Cutiecrew
This is a cool hairstyle for boys which can be achieved with the type of hair that is not completely straight and it's not even fully curly. Rather, the hairstyle is achieved with the help of beautiful, naturally wavy hair types. You have to make sure that you let your boy grow the top hair long enough that it can be styled with a beautiful naturally curvy fringe. In fact, it looks more like a wisp at the front that falls over to a side around the forehead area. There is also a beautiful angling hard part that defines the long side swept hair from the high undercut fade on the other side. The contrasting lengths balance out the look to make sure that it creates a perfect vibe.
Short And Casual Side Swept Hairstyle
Source: Bebeautybyjess
Casual hairstyles can take any form and shape and this cool hairdo here is just a perfect example of a casual look that is stylish, elegant and unique. The hairstyle looks really beautiful with a few strands coming forward from the point where the casual parting starts at the front while the fringe is swept to a side casually. The natural texture looks amazing as it is achieved by simply running the fingers through. There is a fade on the sides to complement and it really looks stunning. Overall, the hairstyle makes for a casual and stylish look which is second to none and will surely make your kid walk in style.
Spiky Wisp With High Fade
Source: Revolutions_salon
Another beautiful wispy look on the list, this hairstyle is about keeping it all short-to-medium length and the volume that is created towards the front is just stunning. In fact, that's how that wispy look is created and it has its own unique vibe to deliver. The hair is swept forward all the way from the back to the front and it looks more voluminous reaching the front because there is not much of styling product applied and it's kept more natural than anything else. The sides have a high fade and there is a surgical line starting high up the temple area and goes back half way through. Overall, the hairstyle is quite stylish and it really makes a statement.
So, which of the boys cut options listed above would you like to give to your kid? Yes, they are all quite stylish, unique and elegant and that will be rocking right throughout the year. You have to make sure that you understand your boy's face shape, type of his hair and any other significant features that may exist before choosing the hairstyle for him. It will help ensure that your choice is just spot on and your boy really looks cool in it. Make a choice now, and go for it!