Bringing a child into the world is always a special experience, and even something as simple as searching for perfect 6-month-old baby hairstyles can bring immense joy. You find pleasure in completing their routine chores, from changing their diapers to dressing them up like a cute little prince or princess, every moment feels unique.
As they start to grow, you enjoy the process of styling their hair, crafting their own unique style statement. There's a special feeling associated with it, and you find yourself constantly looking for the best options for your baby's hair.
However, you need to be selective in this aspect because there aren't many possibilities to alter the short hair of your 6 month baby.
Despite this, if your choices are spot on, you can create a unique and charming look for your little one.
6 Month Old Baby Hairstyles To Consider This Year
Here we have listed some of the best baby hairstyles that you can try out as your babies grow into toddlers. Just try and pull them out precisely to achieve the desired effect.
1. Naturally Curly Pigtails With Ribbons
Pigtails make one of the obvious choices for baby girl hairstyles as your little one grows enough hair on top to be styled that. Just have a look at this natural and cute look.
You don't need to put in too much of effort for achieving the style. Just apply some styling product and slick it all tight with a center part and form short pigtails on either side of the crown.
The naturally wavy look of the hair should be left intact as that's what adds some character to those pigtails. Style it up with nice and cute bow clips to achieve a wonderful final look.
2. Natural Wavy Hair With A Gigantic Bow Clip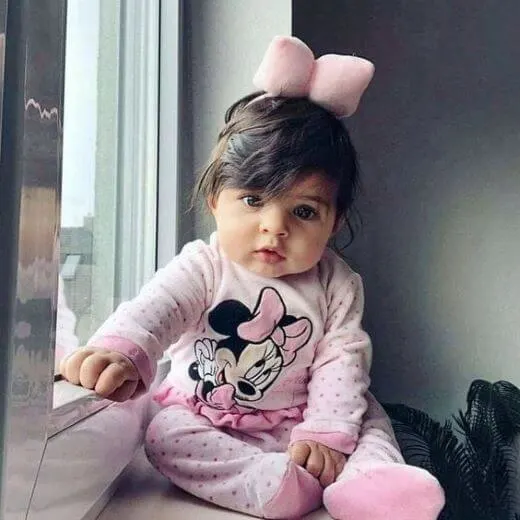 This is a simple and beautiful look that can be easily categorized among the best low maintenance haircuts for kids. In fact, you do not need to do any kind of styling whatsoever with this beautiful hairstyle and just casually sweep it to aside.
The natural layers make a unique statement and you can amp up the look with an expansive bow-shaped accessory added to the crown area.
Overall, it looks gorgeous and creates unique vibes. The hairstyle works best for kids with a slightly chubby appearance.
3. Unruly Red Hair
Once your red-head baby has grown enough length on top, you can style it up with the natural looks. Just give him/her a straight out-of-bed look and they are going to rock the natural style. The hairstyle would look amazing if it has some natural texture to it.
Nevertheless, just make some length fall over the forehead and it will make a statement style for your little one. The unruly, grown out locks look amazing on little kids and you can let them wear it in whatever way they like.
4. Swirling Pigtails For Redheads
Your redheaded girl will look gorgeous in this stunning and cool look. She can wear it to any occasion and it will definitely amplify the cuteness in her natural looks. The hairstyle is not too hard to achieve and only requires a little preparation to achieve it to perfection.
Create a zig-zag part in the center and swipe her hair to a side before grabbing everything on either side of the crown to form swirling pigtails.
Secure it with rubber bands that should be concealed underneath the pigtails themselves. Leaving it slightly unruly towards the bottom can make a unique style statement as well.
5. Casual Top Bun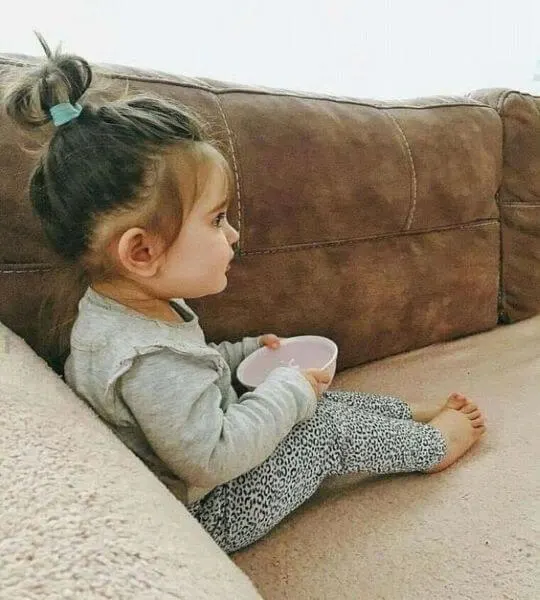 A bun on top is always a cute style for little girls but, when it comes to 6-month-old baby hairstyles, it can make a uniquely cool statement. But what's even more important is the fact that how you are going to achieve this look.
Sure, you will have to bring strands from all the sides on top and form them into a bun in the center, but you can leave some strands at the bottom on either side to create a unique effect. Create a parted look on all sides and let those strands fall right there.
Nevertheless, the statement feature of this look is that beautiful, casual bun on top. Create it a bit lose and secure with the help of a colorful rubber band. It will create gorgeous vibes for sure.
6. Messy Hairstyle With Curling And Twisting Fringe
This is yet another cool and nice look to achieve for little boys. The hairstyle is tailor-made for kids with naturally curly hair and it works great with its natural texture only.
You don't have to do any styling for the most part and just let it all grow wildly in all directions. The curly and messy locks do make a statement and that's what will add to the gorgeous looks of your little kid.
A statement fringe at the front is actually the most unique feature of this hairdo. It is achieved by twisting the frontal locks together and making a curling strand to fall over his forehead right in the center. The hairstyle really has a unique vibe to deliver and it will do the job nicely for your little boy.
7. Delicate Feathered Mohawk
The Delicate Feathered Mohawk is a striking 6-month-old boy hairstyle that showcases your baby's budding personality. This playful look presents the hair styled upwards in a soft, feathered mohawk. To achieve this look, gently brush your baby's hair upwards towards the center of the head, using a baby-safe hair product to create a soft mohawk.
8. Baby Bob With Colorful Headband
The Baby Bob with Colorful Headband is a delightful 6-month-old girl hairstyle. This style features your baby's soft hair in a bob shape, complemented with a vibrant headband. To get this look, simply let your baby's hair naturally fall into a bob, and add a colorful headband to brighten up the style.
9. Side-Swept Wisps With Tiny Bow
The Side-Swept Wisps with Tiny Bow is a simple and sweet 6 month old baby hairstyle. It involves lightly swept hair adorned with a charming little bow. Achieve this style by gently brushing your baby's hair to one side and adding a tiny bow for that adorable touch.
10. Softly Curled Mini Quiff
The Softly Curled Mini Quiff is a delightful 6-month-old boy hairstyle. This look highlights your baby's natural curls in a mini quiff style. To create this look, use a baby comb to coax the front hair upwards into a small quiff, letting the rest of the curls fall naturally.
11. Halo Crown With Small Flowers
The Halo Crown with Small Flowers is an enchanting 6 month old baby hairstyle. This angelic look features a halo crown adorned with miniature flowers. Slip the flower-embellished halo crown onto your baby's head, ensuring it rests comfortably.
12. Gentle Waves With Lace Bonnet
The Gentle Waves with Lace Bonnet is a classic 6-month-old girl hairstyle, showcasing your baby's soft waves beneath an elegant lace bonnet. To style, just let your baby's hair flow naturally into gentle waves, and top with a lace bonnet for a timeless look.
13. Brushed-Back Curls With Starry Clips
The Brushed-Back Curls with Starry Clips is a stellar 6 month old baby hairstyle, presenting your baby's curls brushed back and decorated with twinkling starry clips. Gently brush your baby's curls backward and secure with starry clips for a hairstyle that's out of this world.
14. Soft Textured Afro Puff
The Soft Textured Afro Puff is a proud and adorable 6-month-old boy hairstyle. This style emphasizes the natural texture of your baby's hair in an afro puff. Carefully gather your baby's hair to the top of their head, and secure into a soft afro puff.
15. Mini Side Part With Bunny Bandana
The Mini Side Part with Bunny Bandana is a fun 6 month old baby hairstyle. This style showcases a mini side part and is accessorized with a bunny bandana. Part your baby's hair on one side and add a bunny bandana for a playful touch.
16. Natural Spiky Look With Bandana Bib
The Natural Spiky Look with Bandana Bib is an endearing 6-month-old boy hairstyle. This look features your baby's hair in natural spikes, complemented with a stylish bandana bib. Allow your baby's hair to naturally spike up, and accessorize with a bandana bib for added style.
There is a variety of options available when it comes to 6-month-old baby hairstyles and you can find one that suits your own styling taste and works fine for your kid too.
Just make sure that your baby girl or baby boy has grown enough hair on top that you can style it in whatever way you like. Leaving it unruly and naturally curly is the way to go for most modern looks.