You might have gone through a lot of beautiful toddler hairstyles and some amazing looks that you can try out for your boy or girl. But have you ever found the best infant hairstyles that will add a new charm to their personality? Yes, once they grow ample hair on top, you can experiment with their looks and give them many beautiful hairstyles that will make a statement. Whether you have a cute little boy or a girl, you are no short of options when it comes to hairstyles.
Best Infant Hairstyles for Girls 2023
As far as the infant girl hairstyles are concerned, you have to rely on a variety of accessories and can achieve some cute and charming looks. And, if your girl has grown hair a little, you can even style it in different ways.
Flower Headband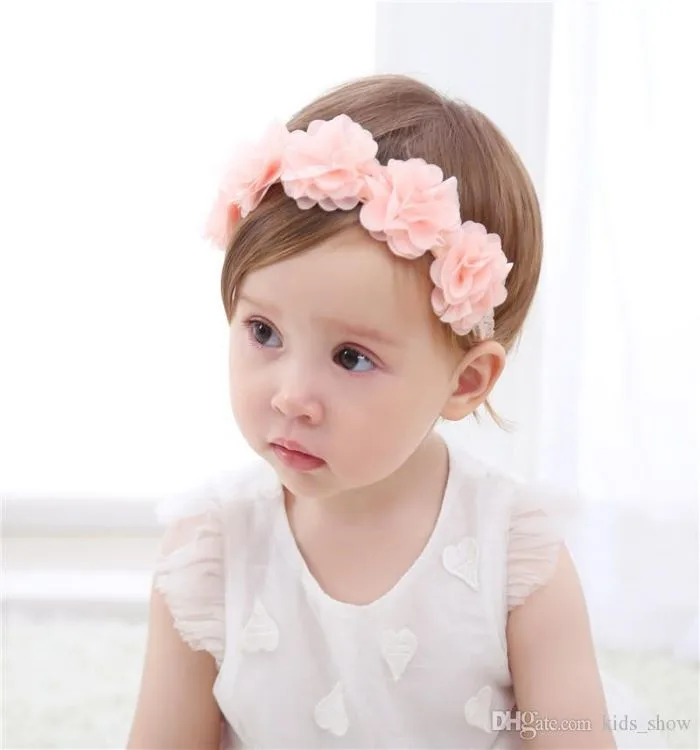 For your little girl hairstyles, it's the simplest of looks that creates classic vibes. Your infant girl will look gorgeous in it for sure no matter if she has a head full of hair or not. Simply use wide-tooth comb for putting her hair in order and cover it up with a fabric headband. You may also create a slight side part and add some simple textile band on top of it. It would be great if your chosen headband is made with hypoallergenic materials. It is recommended to add flower embellishments to the mix as well but they aren't mandatory.
Side-Parted Short Hairstyle With A Bow Pin
It can't be any simpler than this. The gorgeous look can be achieved in a jiffy. You just need to part your girl's hair on a side ensuring that it's kept off the face and secure it with a cool clip accessory. It will make sure both the girl and the mommy stay happy throughout the day.
Braided Updo Hairstyle With a Nice Twist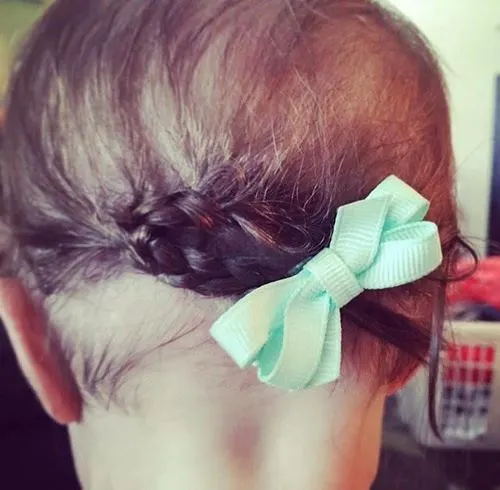 It is almost impossible to include updos and braids in your girl's hair in the first few months. However, as she grows older and has little volume on top, you can always work it through and form small-sized twisted braid. Pit it down low, around her nape area, and use a nice ribbon for that. Your mommy skills will surely be appreciated.
Wide Bow Headband Style
If you are a busy mom, you'd prefer not to go with those complex baby hairstyles. While she's still under 1, you can give her this short and practical look. Just add some big and goofy headbands on top of her soft hair and she'll look gorgeous.
Flat Twist With Two Knots
For infant girls with short hair, this is a perfect hairstyle to go with. Part her nice little locks on a side and make simple high knot using smaller section. Start working from her hairline, and make a French braid diagonally or give it a nice flat twist reaching the same level as that of first knot. Tie it up into another, symmetrical chignon and her gorgeous style will be completed.
Best Infant Hairstyles for Boys
Contrary to the girls, infant boys hairstyles require some stylish mastery to achieve perfect looks with those short tresses. Here we have a few cool options for you to consider.
Business-Like Combovers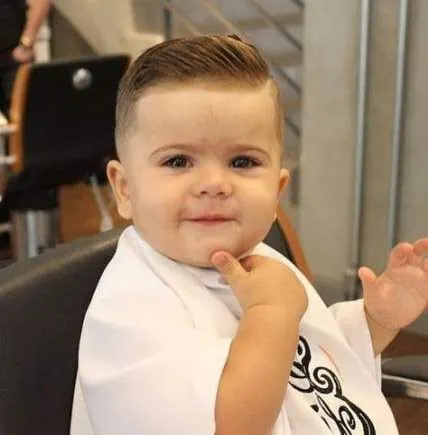 Neat combovers make a great choice if you'd like your little boy to look not-so-naughty. They will have a more sophisticated and formal vibe in this beautiful style. Depending on the hair texture of your boy, you may need some hair gel to achieve the best results.
Naturally Curly
Why don't you let his natural curls stay intact and grow long? This type of hair barely needs any styling to be done. Simply let his hair grow to a manageable length so that he stays comfortable with it. You may also style this look with faded sides. Grown out loose curls really look gorgeous.
Glamorous Fringe
Your baby boy can look glamorous in this beautiful hairstyle. Just let him grow his fringe a little and it will look gorgeous. It won't take too much of effort in styling and can be neatly combed downwards. You may also comb it upwards for a carefree look.
Long Hairstyle
You can't keep a simple, long hairstyle out of any infant hairstyles list. It just doesn't need any effort on your part. Just let him grow his hair, trim it up a little for shape and see how it looks on him.
Baby Mohawk
Mohawks aren't just for the grown-ups. Yes, you can make an infant Mohawk as well if your kid's hair allow for that. Just shave it on the sides while spiking it up on top bringing all the hair into the center.
You can secure the look into place with some hair gel. It will look cool even without styling gel, nevertheless. Keep the Mohawks short in that case.
There are lots of cool options available when it comes to infant hairstyles. Whether you're looking for options to work with your baby boy or baby girl, you can find some amazing options to create a charming new vibe. Just try the looks listed above and see if it works for your little champ.