When you are gearing up for the prom night, you want to look as special as you really are. And, your hairstyle is definitely going to play a huge role in that. You want to make sure that your hairstyle tells the entire story about your personality and you can't afford to go wrong with that. That being the reason, you should go for the most unique and special prom hairstyles for girls and must come up with something special that goes with the overall aura of your personality. Do you think there may not be so many options available for you in that regard? Well, you're completely wrong and here we have demonstrated just a touch of what kind of hairstyles you can have for the prom night.
Prom Hairstyles For Girls
Whether you are a teenage girl or just a little kid ready to wear something special to a prom night, there are plenty of options available when it comes to prom hairstyles for girls. There are all sorts of beautiful hairstyles out there and they'd look amazing on you. Here we have some cool choices for you.
Pinned Back Retro Ringlets
Young girls from the 1950s knew exactly how they could rock those Red Carpet events. The retro hairstyles they used to wear are still relevant even today and they can make your special events even more special for sure. Check out this beautiful ringlets style that looks quite sophisticated and precise and it's undeniably posh at the same time as well. For girls with short hair, coiling those tresses into polished ringlets is, probably, the best option available. Apply some hairspray and pin the bangs back for showcasing the facial features and keeping the hairstyle into place. It will definitely make a unique style statement.
Voluminous, Curly Low Bun
Lately, buns have really turned into a go-to hairstyle when you don't have much time and you want something quick and simple to style your hair with. However, you can easily amplify these hair buns and enhance them in a way that they can be your perfect partners to those fanciest of nights as proms. For instance, this beautiful low bun hairstyle offers lots of romantic and precise curls along with immense texture to make it look glamorous and elegant at the same time. The hairstyle can softened up a bit with the help of some loose strands left around the face.
French Side Braid And Voluminous Curls
A French braid has always served as a stylish and versatile hairdo that can be achieved in all sorts of different styles. This one we have here makes for an alluring and sexy side-swept look that is just tailor made for the prom nights. The braid is done to the side pulling the bangs back and away from her face while the voluminous waves towards the tips make a unique statement as well. Just make sure that you have a large-barrel curling iron to achieve a full and luxurious finish this beautiful hairdo is known for.
Quick Twist
Girls with short and medium length hair can achieve a beautiful hairstyle with this cool and quick twist hairstyle. The updo makes for a chic and sleek look and it guarantees an elegant overall style for your prom night. The hairstyle is not too hard to achieve either as you have to comb it back on top and bring it all to the nape of the neck before securing it with a twist. Add a beautiful hair accessory to the mix and you can't ask for anything better.
French Braid Bun
For a sleek and stylish look that you have always wanted for your prom night, this beautiful French braid bun will make a perfect choice. The hairstyle is quick and easy to achieve and it won't let you down when it comes to making a style statement on your big night. It is quite simple to achieve as well with an angled side part on top and naturally textured hair parted and swept to each side. The French braided bun is created towards a side somewhere around the nape area and it is secured with the help of typical hair accessories. It's a neat and plush look that would make eyes turn towards you for sure.
Prom Hairstyles for Curly Hair
Curly hair makes for the most iconic hairstyles and they really are among the top hair choices for prom nights. Some girls even try to induce artificial curls to their hair to make sure that they end up with perfect looking hairstyles for prom. If you want the best prom hairstyles for curly hair, look below and you have the best pick of 5.
Curly & Braided Half-Up Hairstyle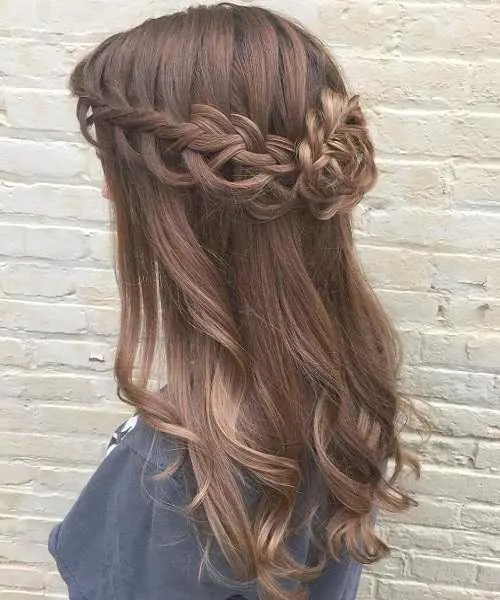 When you aren't really sure whether you should wear the hair down or up on a prom night, this beautiful hairdo would make an ideal choice. It's half-up and half-down that's complemented with a beautiful fishtail braid. The braids are used as the head-bands themselves and they really make a unique statement with this cool little hairdo. The hairstyle gives more of an angelic look and forms sort of a halo on top making it the best hairstyle around for achieving that perfect fairy princess style. That's exactly what you'd want for a gorgeous hairstyle on your prom night.
All Down, Curly Hairstyle With Side Braid
Planning to show off your killer earrings in style? The best thing you could do would be to show off only one of them by choosing this one-sided cool braided hairstyle. It will do a wonderful job by revealing and hiding your face all at once. Pushing hair over to one side turns out to be quite sophisticated and sexy as far as your styling goes, and it will also bring out your playful side for the events as special as prom nights.
Curls & Braids
One of the best and most stylish hairstyles to go for, this one reminds you of the fact that nothing can really work better for you than those classic combos of braids and curls. This elegant and beautiful hairstyle really makes the best of prom hairstyles for curly hair. Achieve a braided look on naturally curly hair or curl it first and then go for a braid if you don't have the luxury of naturally curly hair. Pull off a wonderful fishtail braid to have more romantic and relaxed vibe.
Braided Hairstyle With Messy Ponytail
Prom nights are not always about creating those chic and unique vibes achieved with a more organized hairstyles. Instead, even a messy hairstyle would do the job nicely as well. And, when a hair bun won't do it for you, it's best that you go with messy ponytails. The hairstyle features a nice and cool fishtail braid that is pulled slightly apart. And, after pulling it back into a cool ponytail with medium height, use a strand for wrapping around its base and hiding that hair band. Use fingers to slightly pull out the braids for achieving more relaxed boho vibe. You'll achieve a perfectly romantic look that would work perfectly with almost any dress you'd want to wear to your prom night.
Pinned Curls
When you want to style your hair for the prom night, you won't always want to go with something that is long and messy. In fact, with a bit of creativity, you can pull off a perfectly organized hairstyle as well. This beautiful hairstyle here reminds you that the prom would be a perfect time for pinning your curls down and showing them off in a unique style of your own. For achieving this gorgeous pinned hairstyle for curly hair, split it all horizontally and form three different sections towards the back side. Now, pull the sides back and secure these three sections using elastic while pushing the hair on top forward for creating some volume. Try to finish it off pinning the curls together and hiding those elastics. You have a perfect prom night look ready to flaunt.
Prom Hairstyles for Thin Hair
Thin hair are not always the easiest to style but they still make some of the best prom hairstyles and you can wear them to any event you like. Obviously, when styling prom hairstyles for thin hair, the biggest challenge you have to face is to keep it intact and you want to go for a hairdo that doesn't have any such requirements or one that can be kept in its place without much ado. So, here we have listed a few best options for you to consider and you'd surely be able make your event wonderful with a stylish look given by these.
Messy Bun
When you plan to wear statement makeup to the prom night, it is best for you to think about a simple hairdo that can balance off your entire look. And, obviously, when you have thin hair to deal with, that's another major consideration you should be thinking about. Messy buns make a cool choice in both these situations and they can really look glamorous when you pair them with smoky eyes and those bold lips. The best part is that it's a low maintenance haircut with a messy vibe to it. So, even if it gets out of place a little bit, you don't have to worry at all because the hairstyle itself claims to be messy.
Low Ponytail
Fine hair with a naturally wavy vibe to it always looks amazing with simple hairstyles. Even if you are styling for a prom night, you don't really have to shy away from such hairdos because there are many simple yet elegant looks that you can achieve. Think of this one, for example! Low ponytails would look surprisingly amazing and they make the best hairstyles for those with long, fine, and beautiful locks. For achieving a more exciting vibe, you should go for something sleek and straight on top while making the pony feel more full and wavy.
Half Bun Hairstyle
Prom hairstyles don't always have to feel intricate in order for them to look stunning and beautiful. Even the simplest of half bun hairstyles would look amazing and stylish when you wear them with long beautiful and thin locks. Just make sure that it looks more romantic and relaxed to create a perfect vibe for the prom night.
Crown Braid
Yet another braids hairstyle on the list. This one boasts of some special vibes created by the braided crown. In fact, it's more of a center parted hairstyle achieved with fine and thin hair that is secured into place with the help of a braided headband referred to as a crown braid. You don't really have to be a Queen to wear this beautiful crown to the prom night. Just practice a bit with braids and you will look amazing in this royal hairstyle.
Straight & Sleek
There are many beautiful prom hairstyles that are simple than anything else. So, if you have the luxury of long, thin, and beautiful hair, wearing it sleek & straight is definitely going to turn some heads towards you. That's particularly so when the hair is filled with shine and volume. A sharp part in the center is also going to make it look bold and eye-catching.
So, no matter what type of hair you have, you really have a wide variety available to choose from. Whether you want the best prom hairstyles for curly hair or you are looking for some amazing options in prom hairstyles for thin hair, you have a plenty of them available. Just decide which of these prom hairstyles for girls would suit you better than the rest and go for it.