Hairstyles for girls can always be experimented with. Sometimes you can change the cut itself while on other occasions you might want to give it a tinge of color. If you have been exploring your options, see how cool purple hair look if you make the right hairstyle choice for them. Whether it is just purple hair highlights or you want to style something with light purple hair, you can always achieve a unique look for yourself simply by making the right choice of the hairstyle.
Purple Hair Style Options You Must Consider This Year
The options never end when it comes to purple hairstyle ideas. Here we have listed some of the coolest looks you might want to achieve on any day.
Purple Ombre Ringlets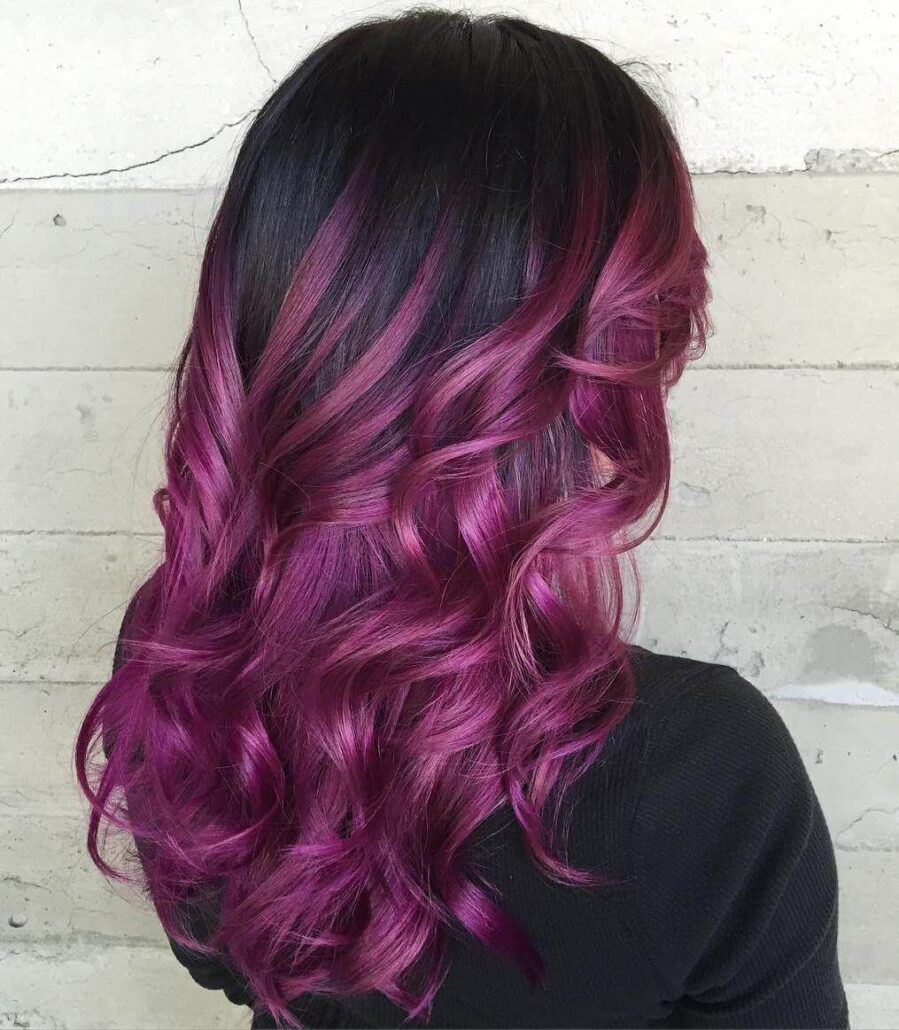 Ringlets always make a cool unique look and they create an even better vibe when you try them with the purple colored hair. A nice combed back look on top and then wavy, messy ringlets around the sides and the back. A gorgeous look indeed!
Pink & Purple Streaks
Purple color itself is something unique and you can make it look even different by trying this cool hairdo with streaks. The style element is added to the look with that cool bun on top while it's further elevated by the pink streaks on the sides. It's a perfect choice for a casual day.
Short Bob With Purple Hair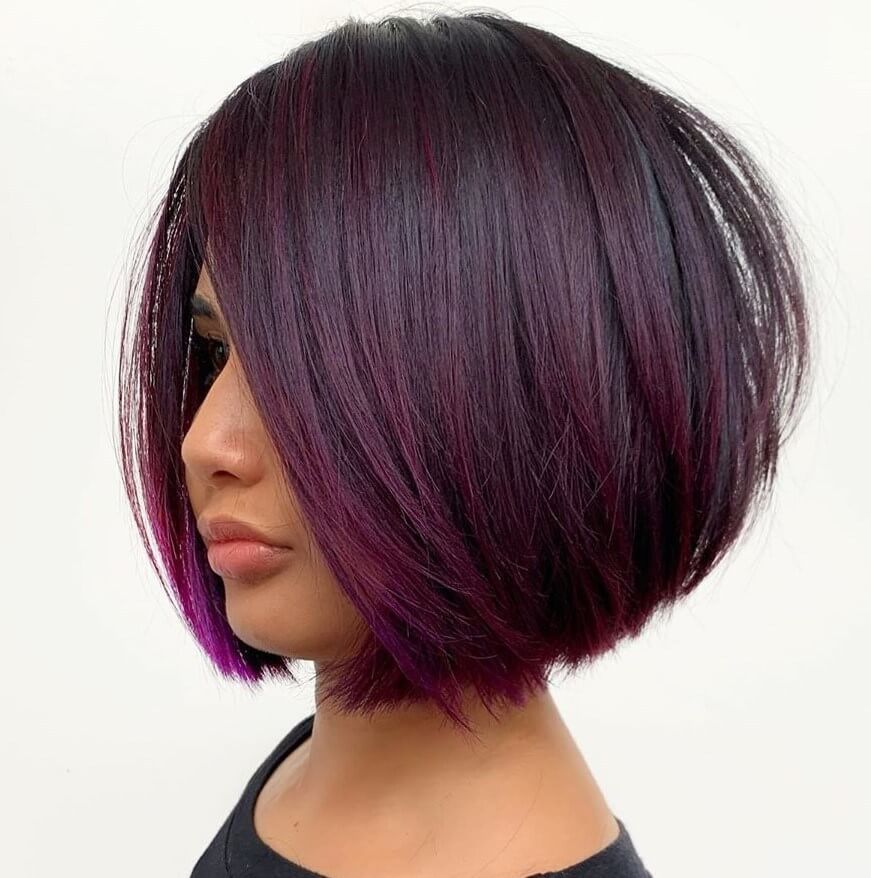 Get yourself a perfect short bob haircut and then give it a chic vibe with dark purple color added just the way in the picture above. It's stylish, elegant, and miraculous!
Purple Balayage Hairstyle With Wavy Back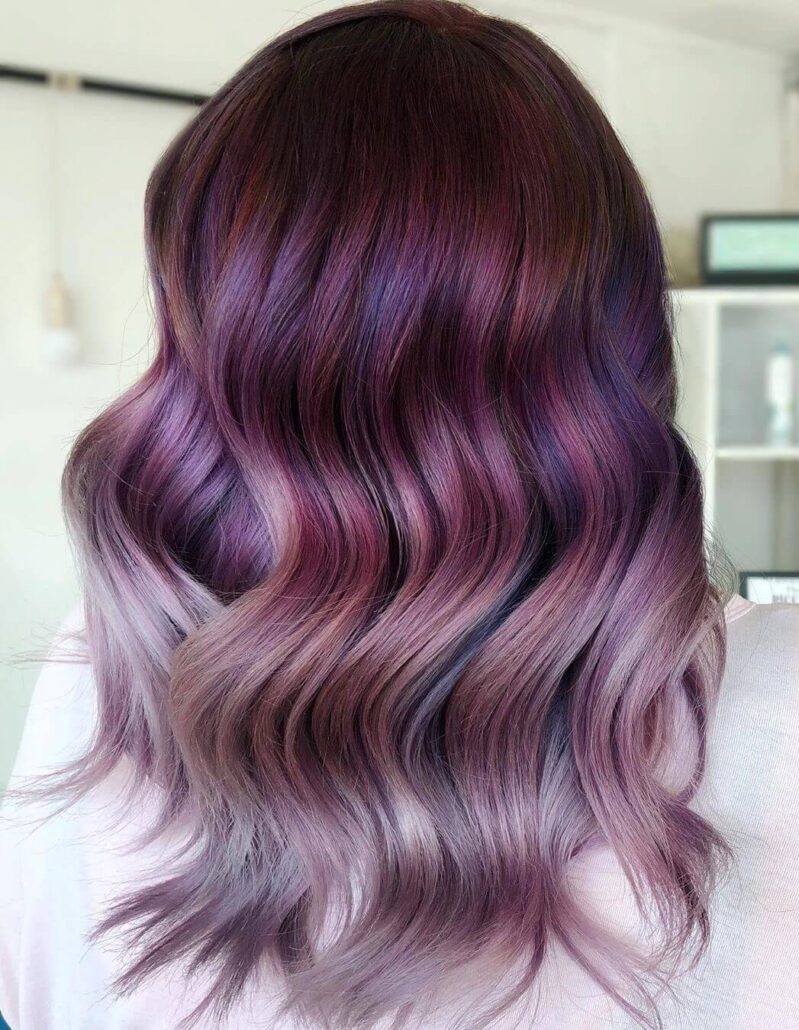 Add balayage to purple and give yourself a stylish look with beautiful waves running at the back. It creates a stunning vibe.
Jet Black Bob With Purple Flashes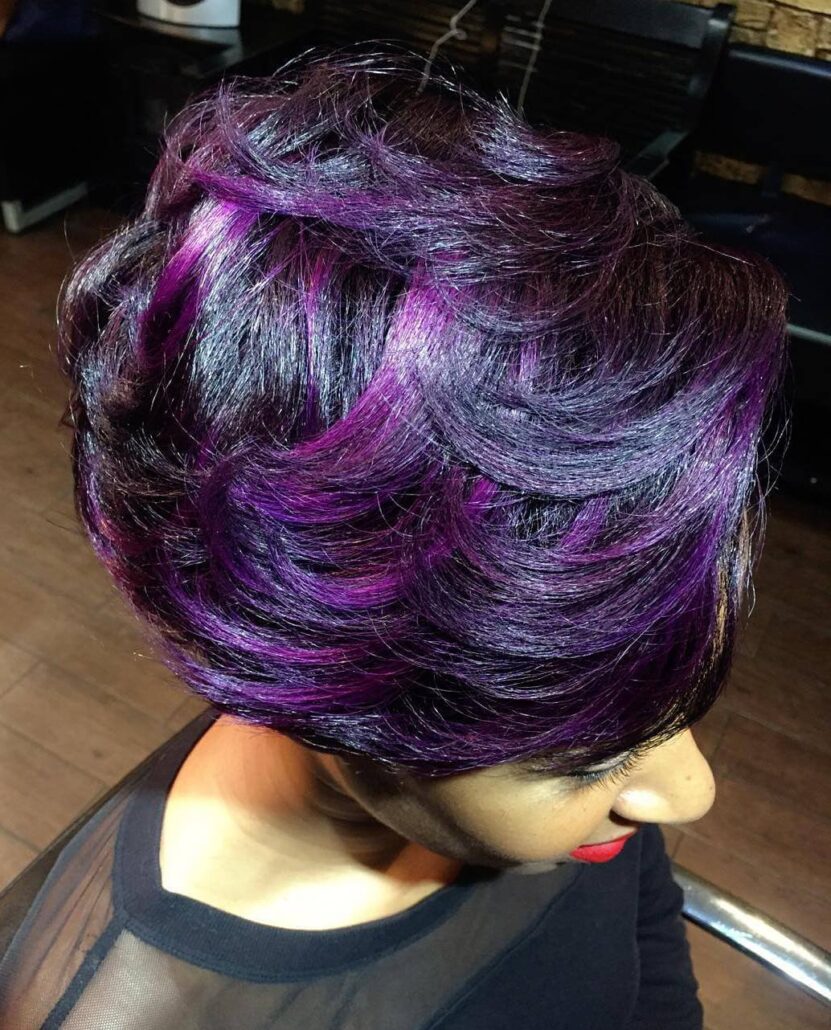 Purple color looks amazing on short girls hairstyles and here we have a perfect example. A short bob with jet black and purple flashes makes a perfect choice for any day.
Neon Purple-Pink Hairstyle With Waves
A full-on Neon, Purple, Pink hairdo with wavy bottom makes a perfect vibe on any day.
Short Wavy Hair With Purple Tinge
This cool hairstyle is about short and wavy look around the shoulders and side-swept bangs at the front. Overall, it looks gorgeous.
Rainbow Hairstyle With Braid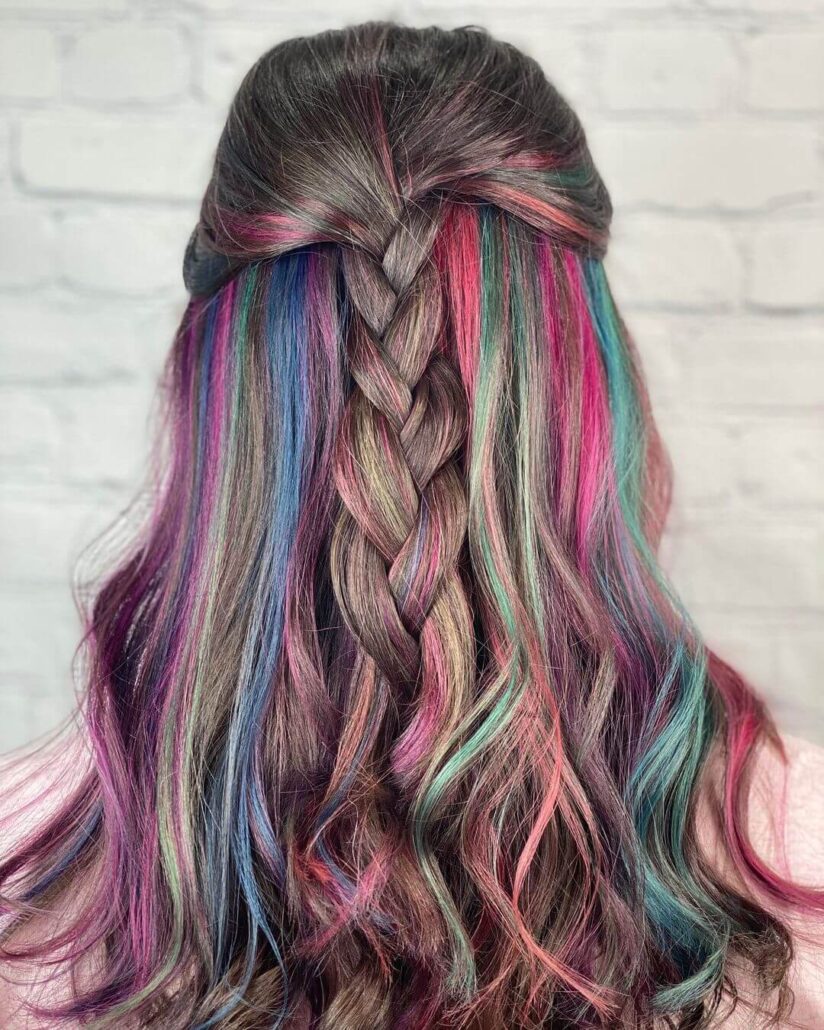 If you want something more than just purple hair, try this cool rainbow hairstyle with a center braid at the back.
Two-Toned Hairstyle With Ringlets
For a more extravagant look, try this cool pink-purple hairstyle with ringlets at the bottom.
Short Undercut With Purple Braid Design On Top
This is a cool look to achieve on any day. The low maintenance haircut has short undercut on the sides while length on top is braided into a purple braid design secured at the crown.
Angular Bob Haircut With Purple Highlights
This extravagant bob will make your day no matter where you're headed.
Colorful Wavy Hairstyle With A Center Part
This center parted look is just amazing and boasts of multiple color shades with purple taking the lead at the front.
Purple Kinky Hair
Hairstyles for black girls are very scarce due to the kinky nature of their hair. Try this unique buzz cut with a tinge of purple color.
Thick Braided Hairstyle With Purple Highlights
Another cool look for black girls, this thick braided hairstyle just has a touch of purple to it.
Purple Highlights With Braid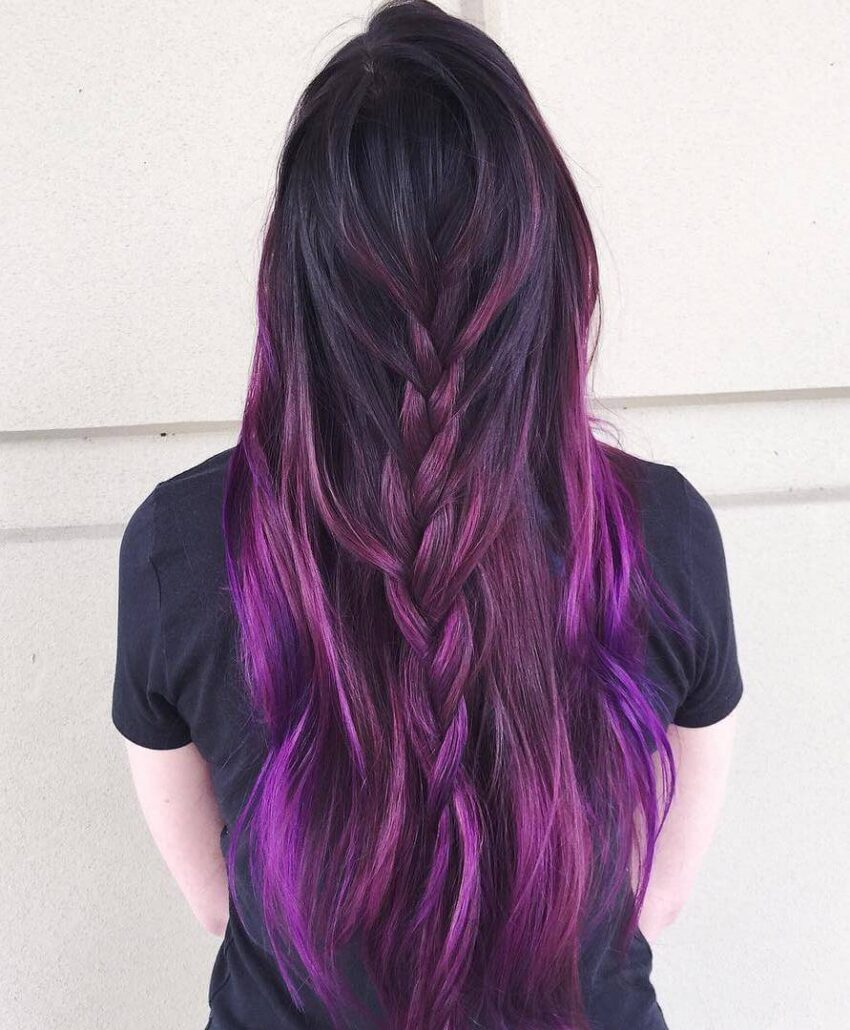 Side swept hairstyle with layers, this one boasts of a loose braid at the back and cool purple highlights.
Purple Black Hairstyle With Pigtails
This amazing hairstyle is all about purple color and nice wavy hair falling over the shoulders. Add to it the cool pigtails and it looks amazing.
Purple Curly Hairstyle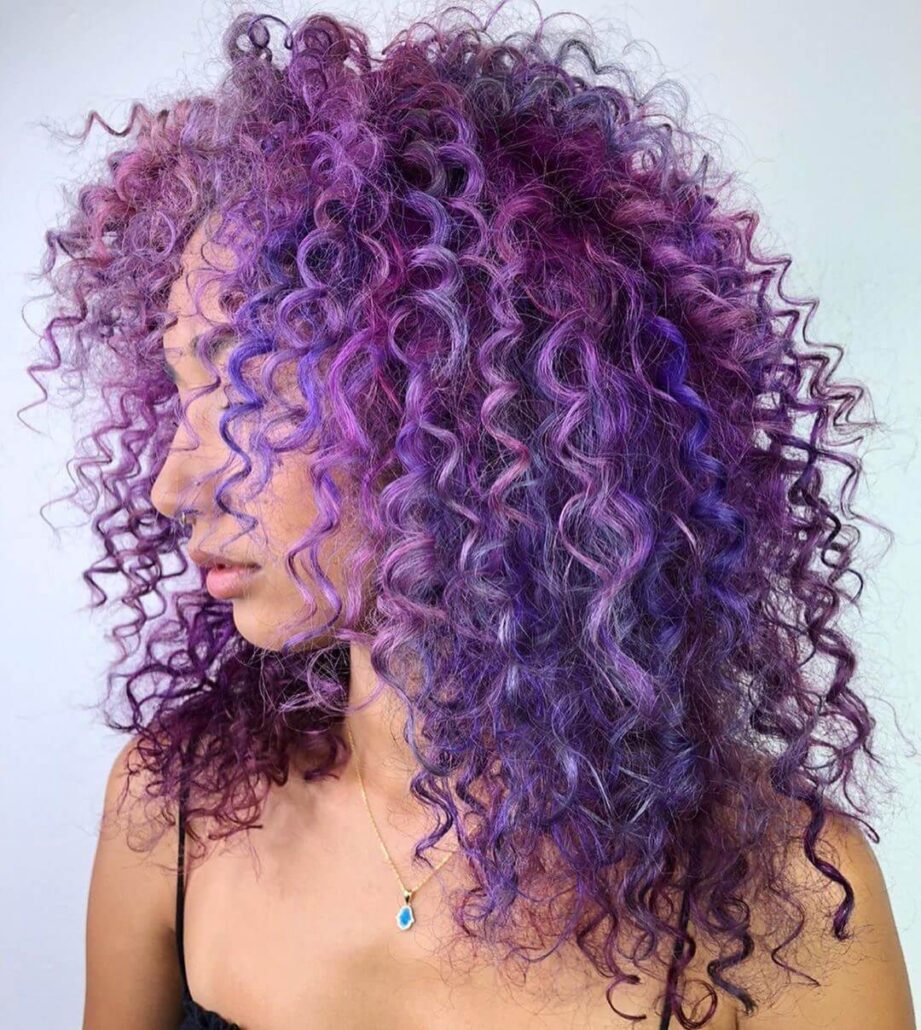 This cool look is about extravagant curls that's further elevated with a touch of color.
Purple-Blue Bob With Bangs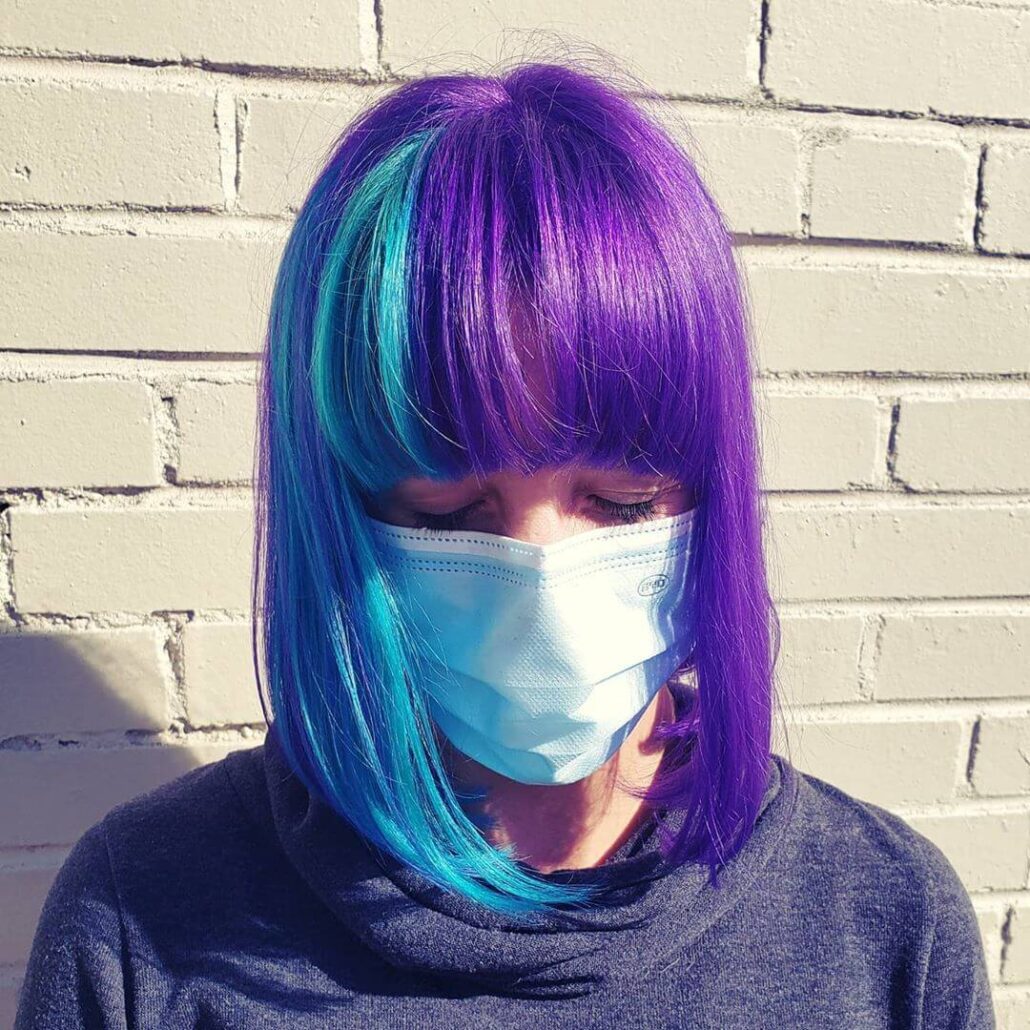 There aren't many hairstyles as chic as this one. The hairdo boasts of purple color mostly while there is a shade of blue towards one side. The bob with bangs is something you'd love.
Purple hair gives you lots of styling options. You have to be creative to figure out what implementation of purple would do for you. There are all sorts of amazing ideas on the list and you can pick and choose the best girls hairstyles depending on the occasion you want to wear them too. Make sure that you choose something that fits your face and overall looks.