Pinterest has become a popular source for hairstyle inspiration, as users can discover a wide range of hairstyles for different hair types, lengths, and occasions.
Well, there are plenty of Pinterest hairstyles that you might want to try out and they all have a different vibe to deliver for the event you are planning to attend. Without further ado, let's get straight into our hand-vetted options for you right here.
Pinterest Hairstyles For Girls
Whether you want the best Pinterest hairstyles for short hair or you are looking for something for your longer locks, you are certainly going to find something amazing on this list.
Flower Crown Braid
This hairstyle is trending in interest for a long time. Create a whimsical and enchanting look by weaving a crown braid adorned with delicate flowers. This romantic and feminine hairstyle adds a touch of fairy-tale charm to any little girl's appearance, perfect for special occasions or even everyday playtime.
Bubble Ponytail
Add a fun and playful twist to a classic ponytail by incorporating bubble sections. This hairstyle involves dividing the ponytail into sections with small elastics, creating the illusion of bubbles. The result is an adorable and bouncy hairstyle that little girls will love.
The Twisted Updo
Elevate your little girl's style with an elegant twisted updo. Gather the hair into a high or low bun and twist sections of hair around the base, securing them with pins. This sophisticated hairstyle is perfect for formal events or when your little one wants to feel like a princess.
Heart-Shaped Braids
This braid hairstyle from Pinterest is shaped like a heart. Part the hair down the middle and create two braids on each side, shaping them into hearts by looping the ends. This delightful hairstyle is sure to make her feel extra special and loved.
Side-Swept Waterfall Braid
Achieve a romantic and dreamy look with a side-swept waterfall braid. Start a traditional French braid at the crown of the head, gradually adding in sections of hair while leaving some strands loose. The cascading effect creates a beautiful and elegant hairstyle that's perfect for any occasion.
Bow Bun
Create a darling and eye-catching hairstyle with a bow bun. Gather the hair into a high or low bun and secure it with an elastic. Take a section of hair from the bun and wrap it around the base to form the center of the bow. Pin the ends in place, and voila! Your little girl will have a delightful bow-shaped bun that's both cute and stylish.
Rainbow Colored Hair
Unleash your little girl's vibrant personality with temporary rainbow-colored hair. Use non-toxic hair chalk or washable hair dye to add temporary streaks or highlights of various colors to her hair. This playful and colorful style allows her to express her creativity and individuality.
Curly Pigtails With Braided Bangs
One of the coolest looks among the pinterest hairstyles for black hair, this one really looks gorgeous with voluminous curly pigtails on the top.
The hairstyle also boasts of a center part at the front with hair on either side braided to make the bangs fall over to the front. It's stylish, and it looks cool on teenage girls!
Long Hair With Pattern Braided Side
This sleek and simple look gets all the style with a nice pattern braid starting at the top and going to a side. It really looks gorgeous!
Center Parted Hair With Wavy Lengths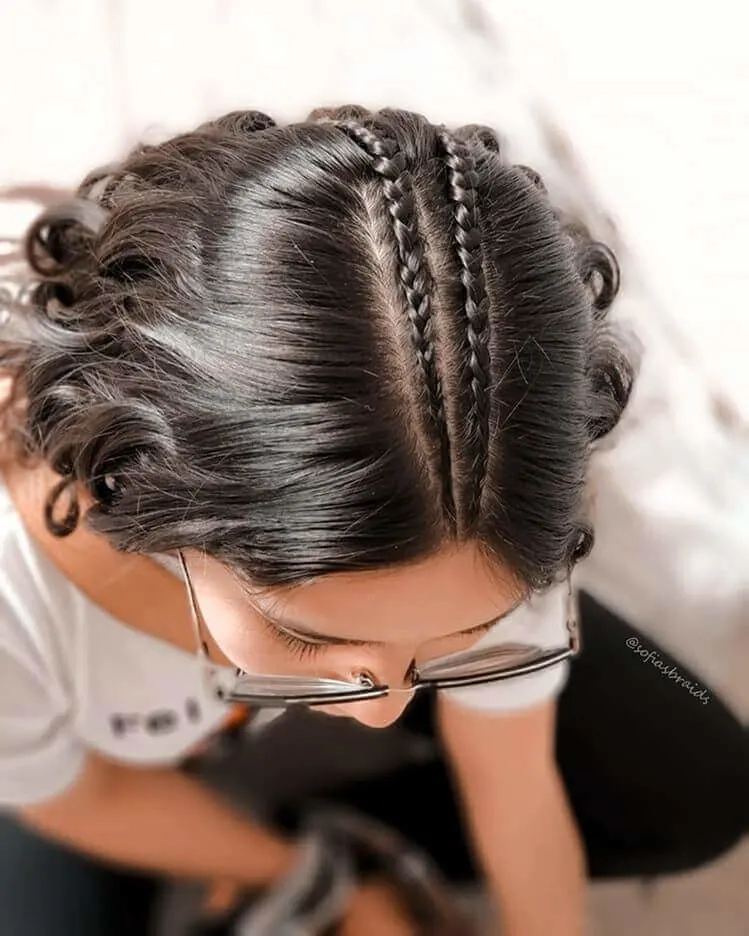 This center parted look not only boasts wavy lengths on the sides and the back but also has thin braids on either side of the part.
Loose Combed Back Hair With Patterned Bun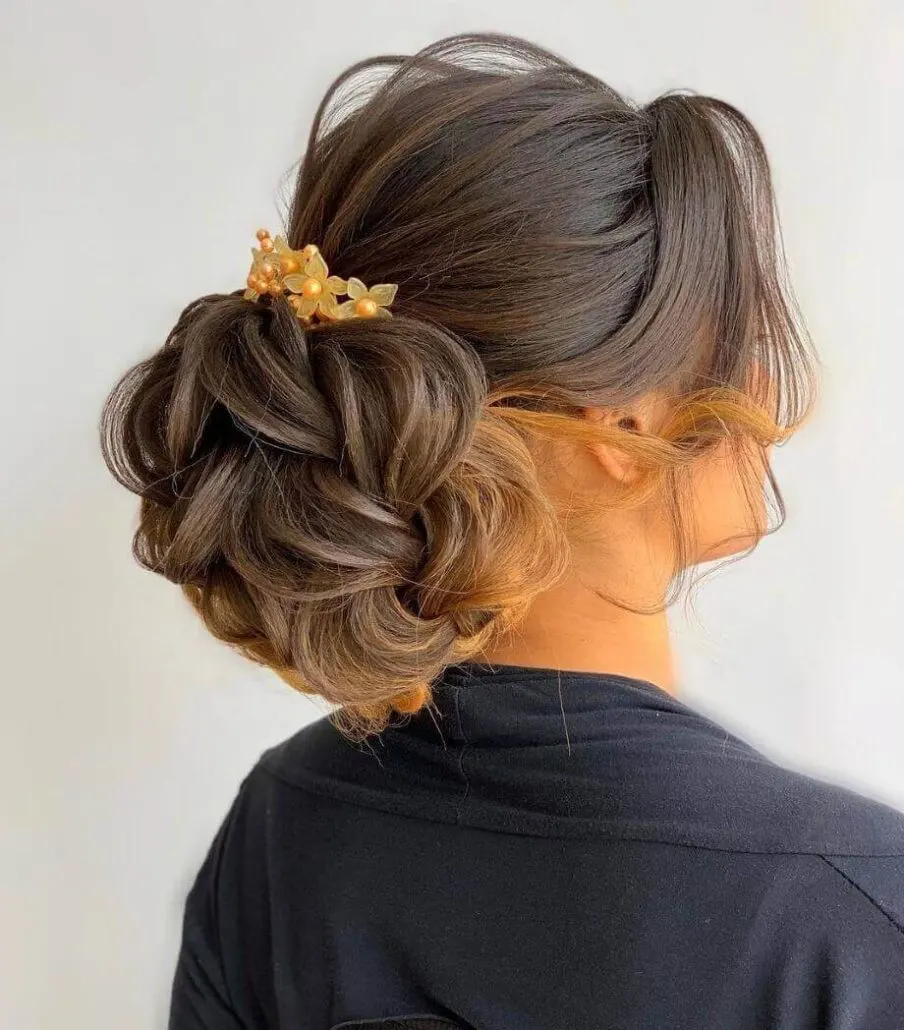 Long and loose hair looks stunning with a bit of color and a nice pattern given to the extravagant bun at the back.
Braided Halo Bang With Flower Pigtails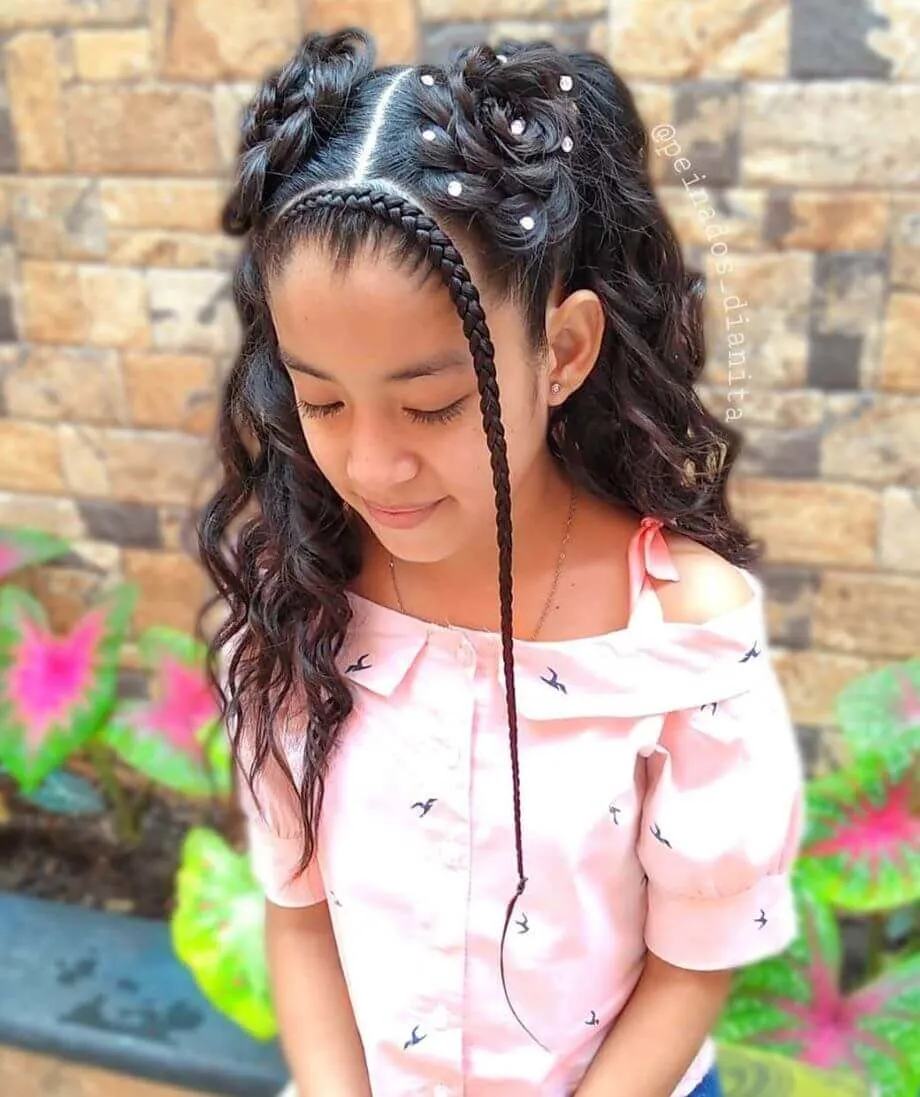 This really is a cool party look for the young girls with beautiful braided halo bangs falling over to a side.
The rest of the hair is parted into the center and formed into a nice flower pigtail. The casual wavy look towards the back makes it look even more stylish and elegant.
High Braided Ponytail With Color and Pattern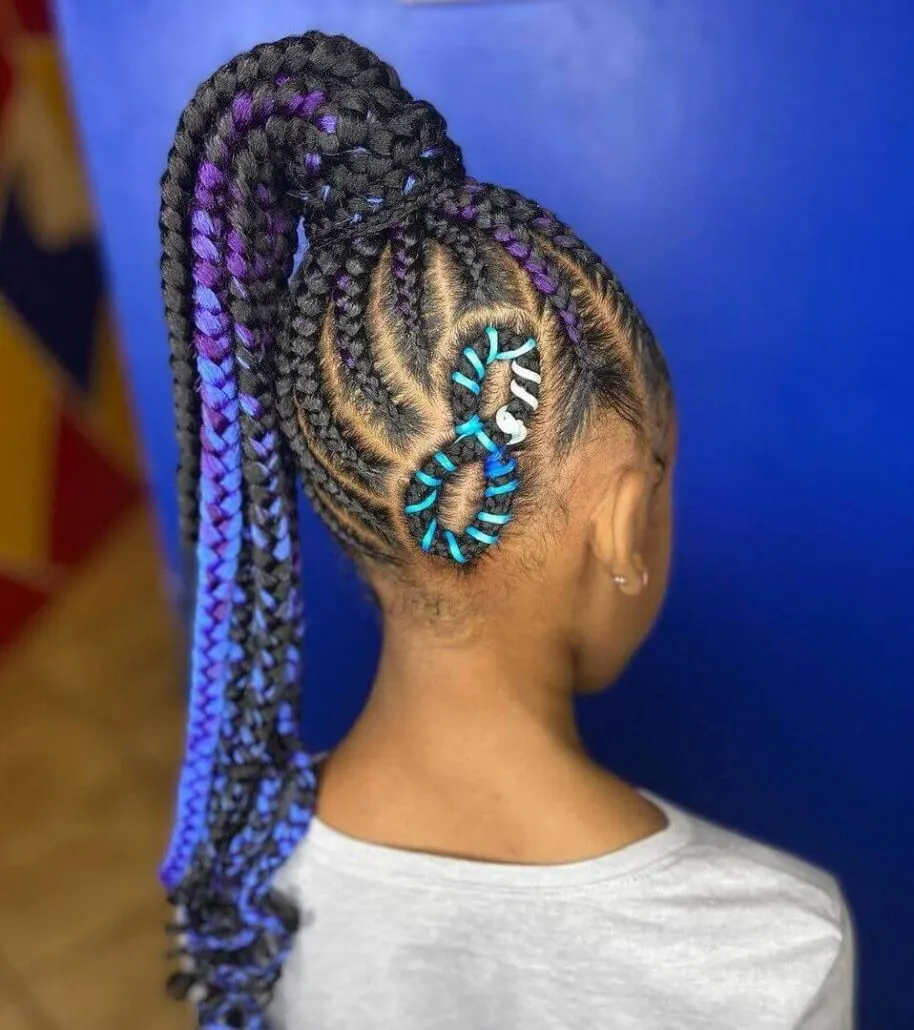 Want something extravagant, stylish, and eye-catching, this high braided ponytail is tailor made for you.
It's among the best pinterest hairstyles for black hair as well with some color added to it as the strands are knitted into the braids.
Simple Short Bob With Long Bangs
Bob hairstyle never goes out of fashion and this one with long bangs can make a statement on any day.
Combed Up With Center Braid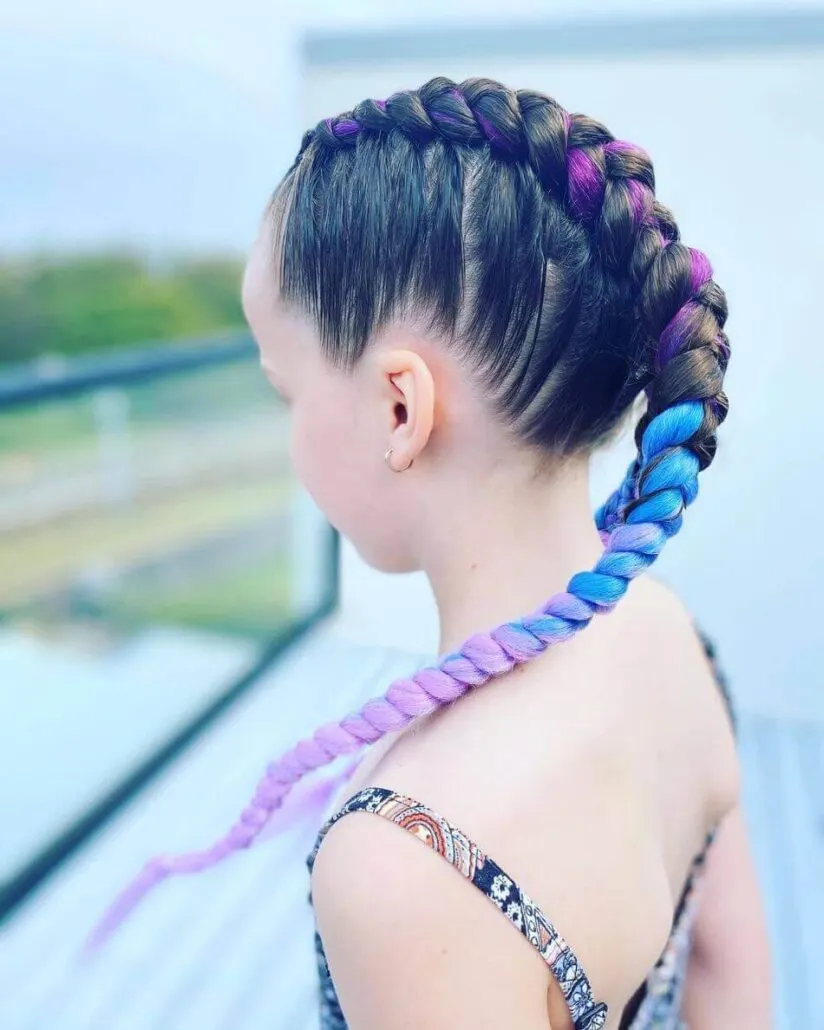 A new look at the braided hairstyles, this one is all-combed-up and braided into the center with color at the bottom of the braids.
Wavy And Messy With Vibrant Colors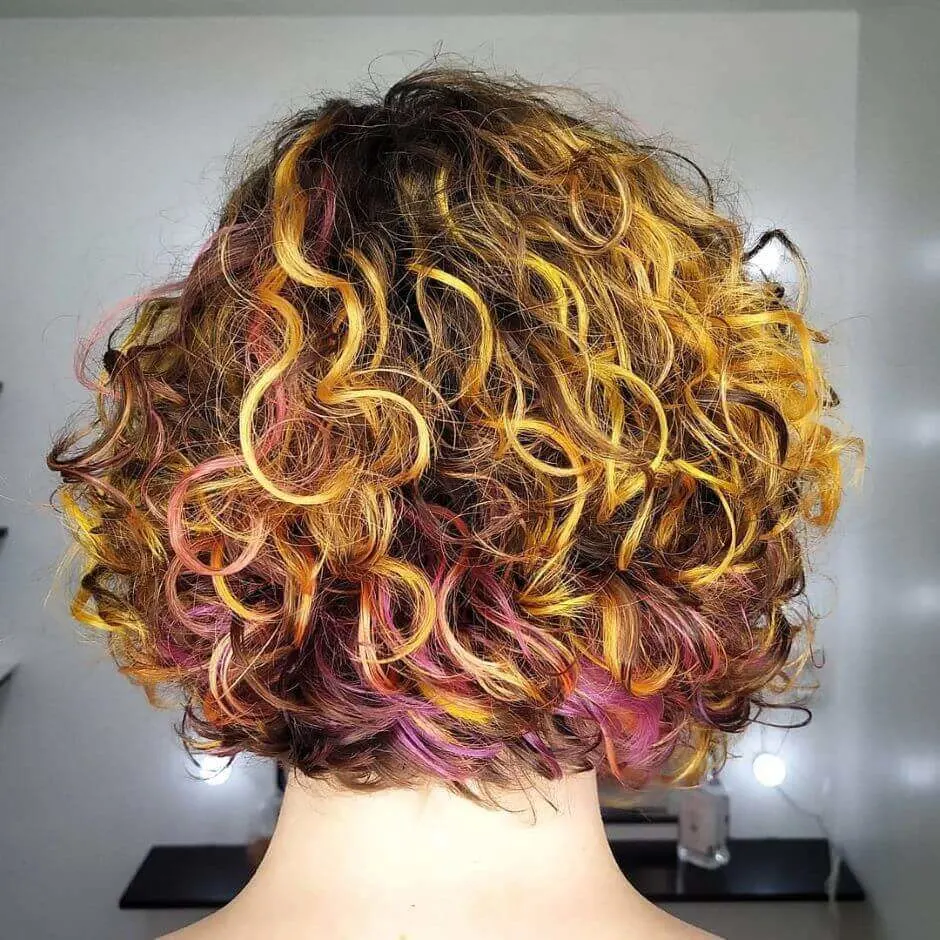 Spice it up with color and keep it hassle-free with nice wavy and messy look all over.
Combed Back With Waves
This cool look with waves and ringlets at the bottom makes a perfect party style.
Long Side-Swept Hair
Long and side-swept, this beautiful hairstyle looks simple and gorgeous at the same time.
Combed Back Else Braid
Combed back at the front and boasting a cool Elsa braid at the back, this hairstyle gives stunning vibes.
Fishtail Braided Crown With Low Bun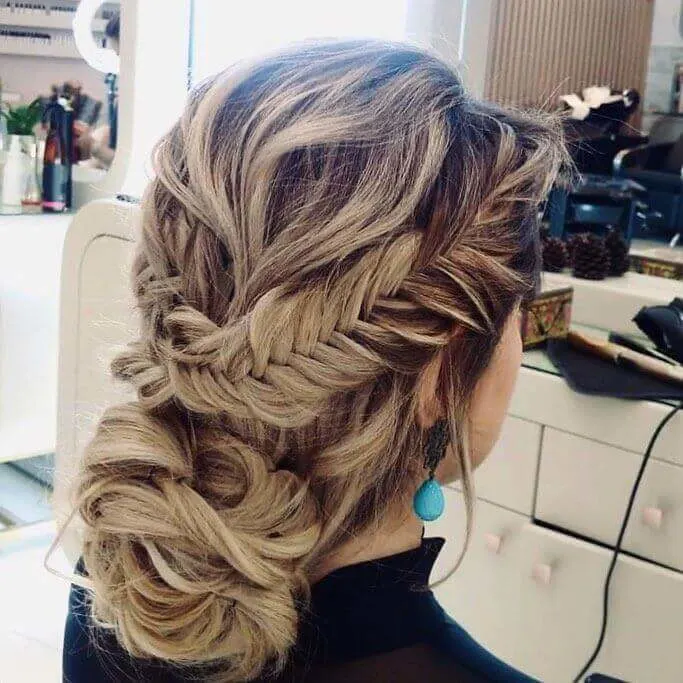 This casual hairstyle with multiple style elements can be your go-to hairstyle for parties this year.
Cornrows
Cornrows are still a trendy look and make one of the best pinterest hairstyles out there.
Center-Parted Sleek Bob
This beautiful center-parted bob hairstyle is pretty simple to style and maintain.
Naturally-Curly Combed Over Hairstyle
This beautiful look is amazing and requires the low maintenance. The naturally curly texture speaks volumes about this beautiful hairstyle.
Long, Center-Parted, Simple
Girls love long hair and this hairstyle with extra-long hair is just gorgeous to look at.
Cornrows With Long Braided Strands
This stylish look is unique in itself with beautiful cornrows at the top that quickly turn into nice, thin-braided strands long before you notice them. The hairstyle makes an ideal choice for a neat everyday look.
Have you always looked forward to the pinterest hairstyles for your styling needs? Every year, pinterest is bombarded with beautiful pinterest hairstyles for short hair and long hair, letting you choose some of the best trendy looks for yourself.
If you want the coolest pinterest hairstyles for black hair, you can pick a few from the list above. The variety is immense and you can surely find a perfect match for your hair type.