Bangs always add an adorable look to any hairstyle a girl would want to achieve. They have a unique vibe to deliver and different types of bangs can have a different impact on the overall look you get to achieve. So, it is really important that you understand what each type is all about and what kind of an impact your long fringes are going to have on the hairstyle overall. Let's explore things in detail.
Understanding Different Types Of Bangs 2023
Not sure which type of bangs would look perfect with your chosen hairstyle? Let's try to understand what they are all about.
Choppy Bangs
Generally, these bangs are meant to keep your silhouette softer. You can get them cut above the brow or even below it. They work nicely with long as well as short hairstyles for girls. If you prefer undone looks more often, then choppy fringes would fit in nicely for your 'do.
Blunt Cut Bangs
Blunt cut, bold bangs always remind us of Taylor Swift. Yes, she looks amazing in them. To achieve a similar vibe, ask your stylist to give you a thick-cut fringe that is cut right across your brow none. What's best about this bold look is that the fringe ends are kept almost the same length and it might need some styling everyday to perfect the look.
Curtain Bangs
This look is more of long and face-framing. This type of bangs are parted right in the center, and are often cut nose-length so that it could be layered to frame the face nicely.
French-Girl Fringe
Want more of a French vibe? Go for French-Girl fringe that requires you to have thick and long bangs which reaches the brow bone before being slightly parted in the center to achieve a perfect French-girl vibe.
Baby Bangs
Baby fringe always makes a unique statement as it falls above your eyebrow and creates more of a retro vibe. Typically, they follow your hairline going temple to temple for giving a more open and dramatic feel to your face. This hairstyle makes the brows to stand out. For achieving the look, ask your stylist to give you a blunt cut bang and keep it an inch above your brows to achieve a micro-bang look.
Wispy Bangs
It's a unique style of bangs that might need some serious effort to be explained to the stylist. Tell them you need a fringe cut at your brow while keeping it a little thicker around the roots and going thinner as you reach the bottom. It will give you a nice feathered down look that creates a wispy effect. If you don't want the hair to fall in your face, this is the look you want to go with.
Sideswept Bangs
Just as the name suggests, these bangs are just styled to a side and are the easiest to achieve. Typically, they're combined with the side-parted hairstyles and the best thing about them is that they can be paired flawlessly with a variety of hair accessories. Ask your stylist to give you a layered haircut by your cheek bones. They can have varying length and you should let your stylist decide what suits your face shape best.
Curly Bangs
They are in the latest Hairstyle trends as far as bangs are concerned and would work best for you if you like to go with the natural texture of your hair. Curly bangs could be a nice way of breaking up the curly hair and are normally cut similar to the blunt fringe. You might have to use some styling products with these, though.
Asymmetrical Bangs
These are the edgy bangs that are shorter in length on one side compared to the other. You can keep them subtle or extreme as per your styling needs. Discuss with the stylist as to what lengths would complement your face nicely on either side.
Cool Hairstyles With Bangs To Style This Year
Now that you understand the different types of bangs, let's run you through some popular hairstyle options that you can wear with bangs.
High Ponytail With Asymmetrical Bangs
This is a cool party look that boasts of asymmetrical bangs at the front and a long and high ponytail at the back. Frontal hair is styled by leaving the frontal bangs and combing the rest back into a ponytail. A cool look overall!
School Girl Hairstyle With Bangs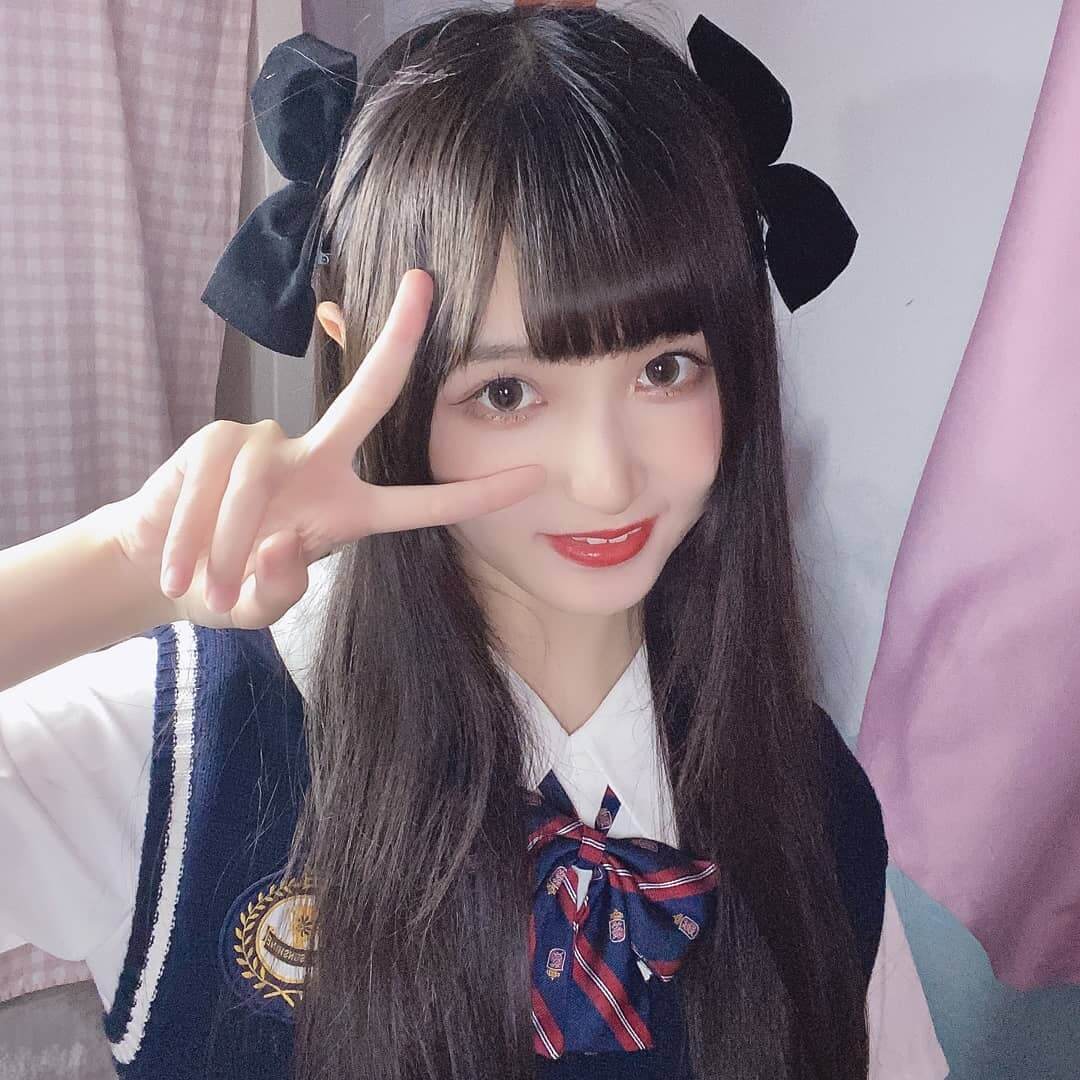 This cool hairdo works nicely for school girls and creates a stylish vibe. The bangs at the front are kept to the brows and are slightly parted from a side. Long hair falls over the shoulder on either side while styling accessories are used to create a pigtail style.
Cute Bob Haircut With Bangs
Girls look beautiful in Bob haircuts and this cool variation with bangs is just as good. It frames her face nicely while keeping the bob length shorter so that it reaches her chin.
French Braided Bangs Updo"
This unique style is brings the bangs into the French braid that forms a nice little updo for her securing the braid at the back. The hairstyle makes a perfect choice for parties and looks gorgeous.
Messy Bob With Bangs
Bobs look stylish, and messy bobs look even better. Add to it casually side-swept bangs and you have a look even better. It's an everyday hairstyle that delivers cool vibes.
Shoulder Length Hairstyle With Side-Swept Bangs'
This cute Asian look is what everyone adores. The hairstyle requires voluminous hair and it is kept to shoulder length. The bangs are kept long enough and swept to a side. Add a nice hair accessory on top and it looks gorgeous.
Pigtails With Bangs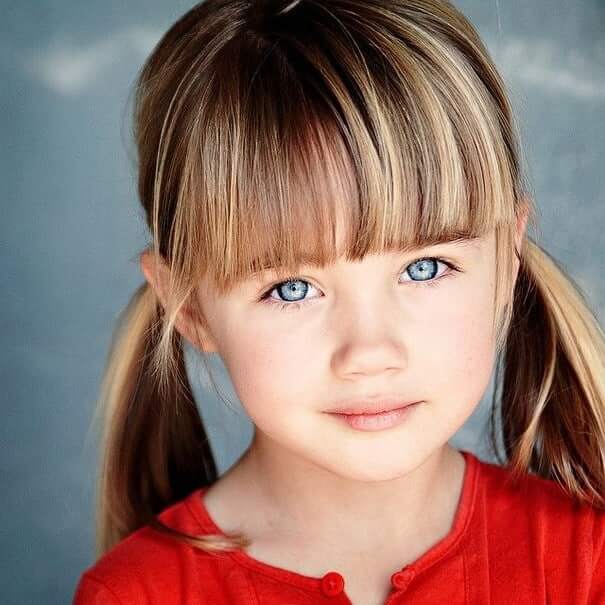 A perfect everyday look for little girls, this hairstyle makes a perfect choice for girls with straight hair. The bangs are kept to the brows while the pigtails are secured nicely around the nape of the neck. Some tinge of color and it makes a perfect choice overall.
Side-Swept Bangs
If your little girl loves to grow it out, this hairstyle is tailor made for her. Let her flaunt the length and make the bangs at the front go sweeping to the side. The side-parted look goes perfectly in the mix.
Wavy Hairstyle With Grown Out Bangs
For girls with wavy, messy hair, this beautiful hairstyle can make a perfect choice for a party look. It keeps the hair all around to shoulder length and requires the bangs to be grown out too and swept to a side where is tucked in nicely. Accessorize it a little and you have a perfect look to flaunt.
Short Bob With Bangs
This beautiful hairdo makes a perfect choice for girls with round faces. The hairstyle boasts of shorter length, just around the chin, and frames the face nicely. The bangs are kept short as well and swept forward.
Short Bob With Casual Layers And Bangs
Another cool, short bob hairstyle on the list, this one boasts of nice and casual layers all over making the bob stand out. The hairstyle features thick layers of bangs at the front and blends into the look naturally.
Braided Bang With Bangs
Doesn't this look remind you of a halo braid? It looks just gorgeous. Create a cool hair band using the braided tails and let the bangs casually fall over at the front. It really looks cool overall.
Old-Fashioned Updo With Rolled Bangs
Ever adored an old-fashioned hairstyle of the 90s? This beautiful hairstyle makes a perfect choice for you. Create an updo and accessorize it with a colorful bandanna. The most extravagant detail of the hairdo is the beautiful long grown bangs that are rolled over at a side to create a gorgeous vibe.
So, which of these beautiful types of bangs would you like to add to your new hairstyles? Many of these beautiful hairstyles with bangs are quite simple to achieve and carry. Just give your stylist a clear idea what you'd like to achieve and flaunt a unique, beautiful look.