Skin fade remains to be one of the most unique hairstyles out there because it gives you a look that really stands out among the rest. The way your shaved sides contrast with the full hair on top is just amazing and it's an instant attention-grabber. The low skin fade hairstyles is particularly trendy and contemporary and the best part is that it can be achieved ever so easily.
Whether you are considering a Low Fade or a high skin fade, you can achieve the look by trimming your hair shorter and continuously reducing the length as you move towards the neck. There are some hairstyles which require you to keep it all same length everywhere on the head, but with skin fade hairstyles it's necessary for you to trim it all at gradually decreasing lengths.
How To Get A Perfect Low Skin Fade Haircut?
When it comes to the skin fade hairstyles, all you have to do is to get the hair cut to perfection and no other styling would be required at all. If there is any styling you need to do, it's that of the hair you have on top. So, it is important that you get your hairstyle from an experienced stylist or barber who knows how to achieve a low skin fade or a high skin fade. Even if they know how similar haircuts are achieved, they might help you pull off an amazing look.
As far as the top hair is concerned, you must keep in mind that the type of fade you opt for on the sides is going to dictate the look you'd want to sport on top. Read on and you'll find some more important information related to different skin fade styles and its variations.
When it comes to the sides and the back, normally we have the same length in both these areas. All you have to do is to ask your stylist to give you your preferred fade haircut. Mention the point from where you would like it to start and then ask them that you're looking to get it fade into the skin.
Most of the times, you will find guys who have skin fades and their fade is way too short. On the contrary, there are other men who prefer to go with short clipper setting, such as number 3 or number 4 clipper, to trim down the top section of their fade haircut. Similarly, some prefer #2 clipper setting. Keep changing the clipper numbers and you will continue getting an all different look for the skin fade. Hence, it is really important that you know what clipper setting you would want for a perfect fade hairstyle.
Another important thing to consider is that how gradual the fade should be. If you are starting the fade at #5 taking it down to the skin level gradually, it may not look too standout. Instead, if you intend to have a subtle and classy look, you should think of starting with a higher number of the clipper.
Alternately, if you choose to start it with #2 clipper or maybe a #3 clipper, it's definitely going to pop out. The reason is that the fade is starting at low setting and it can't go much lower because there is no room for that. It will decrease by just 2/3 lengths before it fades into the skin.
Check out some of the examples of both these hairstyle options and imagine what you'd look like. It is recommended that you should have the picture of the haircut you want and you must show it to the stylist before you get the haircut.
Finally, remember that men who have slightly wavy or straight hair are going to make the most of this look and they should definitely try it out. It is usually a bit harder for one to get this look if they have curly hair. But, still they can get it done.
Top Skin Fade Haircut Options You Must Try Out
So, now that you know what skin fade hairstyles are all about, let's check out some of the best options around that will give you a perfect look overall. These hairstyles really stand out and create perfect vibes.
Skin Fade Haircut With Hard Part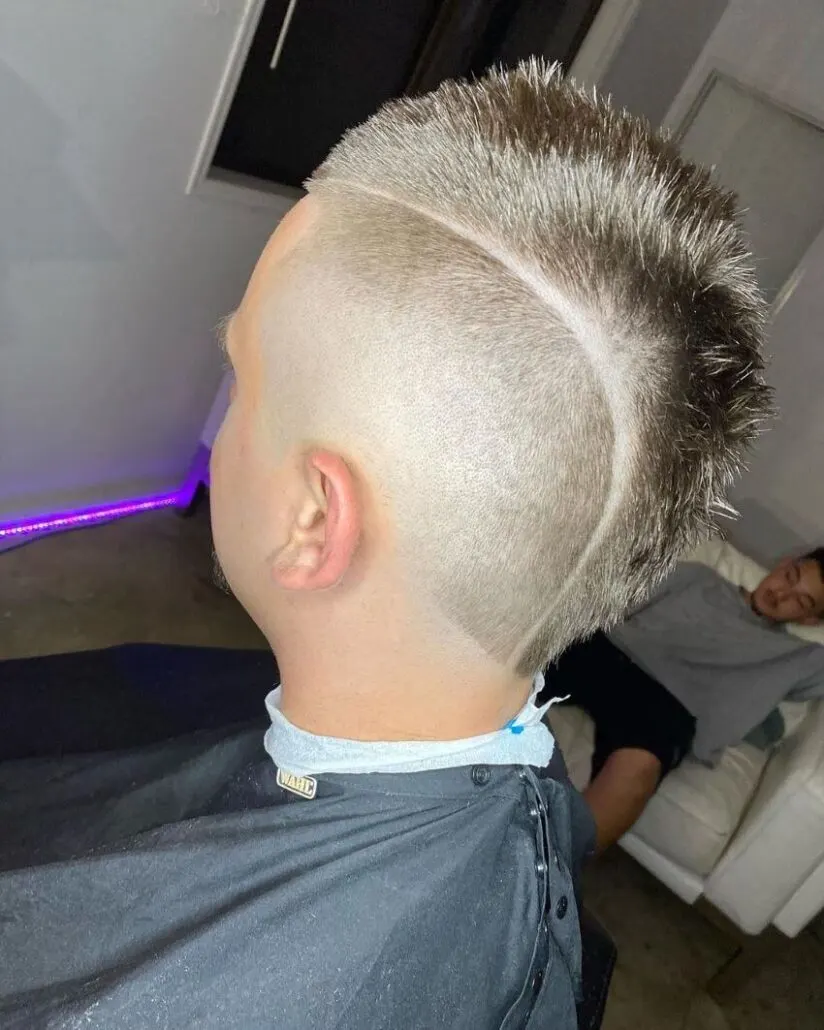 It's one of the most simple skin fade haircuts around and it is also among those most classic options out there too. You can always combine your modern skin fade with a retro, age-old side part to define a perfect style for yourself.
Once you know what type of hair you would want to have on top, get the desired fade on sides. Remember, you have to be specific with the clipper lengths so that you have a perfect haircut.
Pompadour Hairstyle With Skin Fade
It's been years since the Pompadour hairstyle has been popular, and more and more people are opting to embrace this hairstyle this year and beyond. It combines new with the old and adds some surprising versatility to the overall look.
Just like side part/skin fade combination, this beautiful hairstyle is all about a pomp combined with nice skin fade. In fact, that is all that you'd have to ask to achieve the look. And, once you have achieved it, it is simply about maintaining your pompadour regularly so that it remains as good as ever.
Quiff With Skin Fade
A close cousin to pompadour, Quiff hairstyles have really emerged to be one of the latest trends in men's hairstyles of late. And, as it appears, it's there to stay for years to come for sure. It's quite a lively look which requires you to achieve serious styling. However, if you are ready to take the challenge, it's for you.
The hairstyle would require you to have some length right there on top – a couple of inches would probably be the shortest that you would want to go with. Grow the hair longer and you will see your quiff getting taller. For styling purposes, you will have to apply some product to your damp hair and then brush it all up as you blow dry it simultaneously. The styling process seems quite similar to what it's like in case of pompadour.
Curls With Skin Fade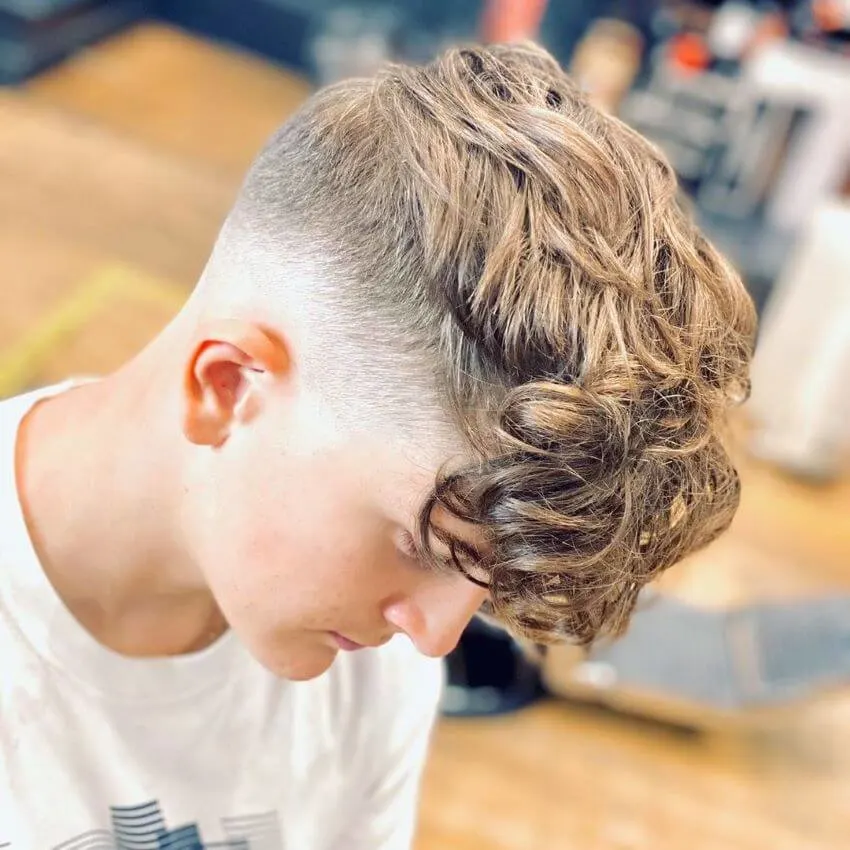 It is true that achieving skin fade hairstyles is often difficult for men with curly hair. Nevertheless, it's an option that's certainly going to prove handy for the curly-headed men.
For achieving the look, you must allow top hair to grow out long enough so that the natural curls can show up. Combine it with fade haircuts and you'll get a perfectly unique hairstyle that is going to beat all odds. The hairstyle looks quite similar to textured undercut achieved with curly hair.
Slicked Back Hairstyle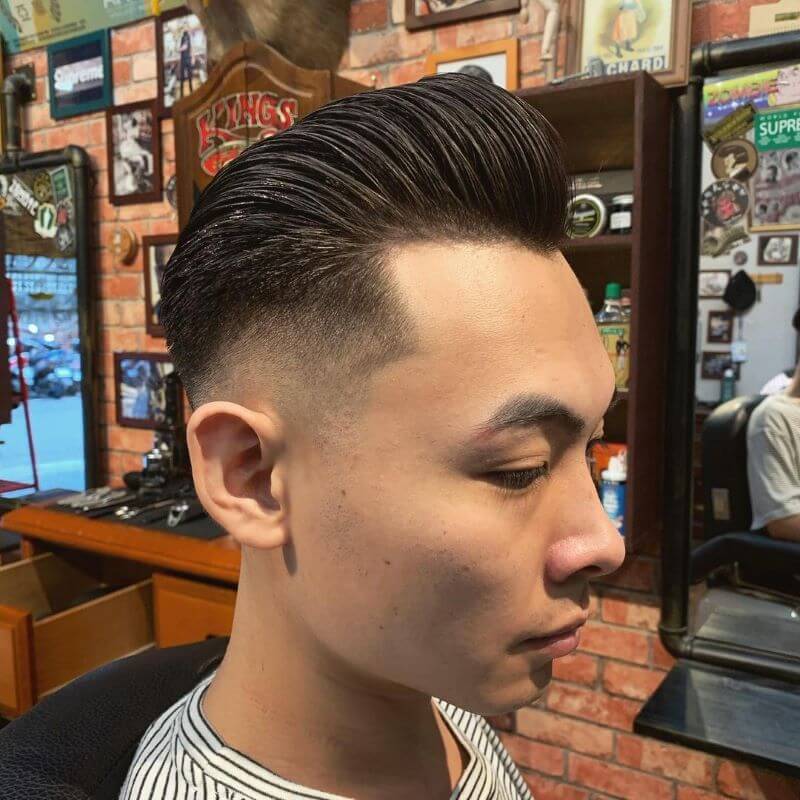 In case, if you are planning to have something insanely retro and dapper, this slicked back hairstyle is surely a must try for you. The hairstyle really is a great variation of the Low skin fade and gives men a perfectly classy look.
The look can be achieved in so many different ways and a great option for you would be to get a hairstyle that is ideal for side parted look. Obviously, you can slick it all back with the help of a cool water-based pomade. It will allow you to sport side part and slick the hair back at the same time.
Top Trendy Low Skin Fade Hairstyles
Forward Swept With Skin Fade
Side Swept Quiff With Fade
Textured Combed Back Hairstyle With Low Fade
Back Braided Hair With Color And Fade
Combover With Fade
Casual Side Swept Hairstyle

Faux Hawk With Skin Fade
Side Swept Hair with Fade
Textured Side Swept Hair With Surgical Part and Fade
Forward Swept Curly Fringe And Low Fade
Forward Swept Fringe With Side Fade
Textured Combover With Low Skin Fade
Forward Swept Layers
Messy Curls With Fade And Design
So, these are the options you have got, among many others, to style your Low skin fade hairstyle to perfection. The hairstyle has amazing variations that will make you look as stylish as ever and you will surely love it when you are going to sport the look. Remember, however, you have to be precise about the style that you would want to achieve because if it goes wrong ever so slightly, you'll end up ruining it completely. What are you waiting for then? Gear up for a perfect low skin fade haircut this year.