The holiday season is upon us and we're all busy preparing for the festive season. From food delights to decoration and from presents to kids hairstyles, you have to take care of a lot of things. And, when you talk about kids, they enjoy this season the most. So, why not let them enjoy the Christmas season in a unique style of their own. Besides dressing them up in their favorite Christmas costumes, you should also give them a unique and adorable hairstyle to complement their look too. There are many easy Christmas hairstyles for girls that can go with any theme you choose for their styling. Just make a perfect match with how they are dressed to let them enjoy the festivity in an all different and unique manner.
The Best Easy Christmas Hairstyles For Girls This Year 2023
Whether you want to carry the Christmas hairstyles for girls to the New Year's Eve or not, you are no short of options. In fact you can also find some of the best New Year hairstyles for girls too before it is too late for that. First things first, however, let's run you through our compilation of the best easy hairstyles for girls for the holiday season.
Holiday Bun
Christmas is the busiest time of the year and you don't have too much time to spend on styling your kids' hair. So, you must be looking for some of the easiest hairstyles that could be done within minutes. But you also want it to look delicate and intricate at the same time too. This beautiful holiday bun is a super-quick hairstyle that can be achieved without much of hassle and expertise. Yes, it's a DIY look and you need to follow a few simple steps only to complete this wonderful hairstyle on your little girl.
Some styling can be done by parting her hair half way through in the center and creating short little braids horizontally using the frontal section. Secure the hair at the back into a colorful, eclectic hair bun that just looks gorgeous for the holiday season. She will definitely enjoy this organized look of hers. Adding a Christmas accessory to the bun would do wonders to match the theme as well.
Crown Rope Twist
So, what really does this hairstyle for girls carries to be classified among the festive looks? Precisely, it looks like that halo you see on angles. A rope-like version is always preferable as compared to its braided counterpart because it can be achieved quickly and it looks much better too. It will definitely make your little girl look and feel like a little princess.
The look can be achieved by simply starting the rope structure at the front which also forms kind of a puffy look at the front. Just keep creating the rope twists with the entire length of her hair and secure it in the form of a nice halo on top of her head. If you can accessorize it with some Christmas-themed stuff, that's even better.
Tie It In A Bow
A bow is, probably, the cutest of hairstyling elements for little girls. Whether you add a bow accessory or you just style her hair into a bow, it will look gorgeous anyway. And, when it's Christmas, everyone loves presents which makes a knot added to the hairstyle a perfect choice to go with the theme of the Holiday season. You can top off her beautiful outfit using a nice, cool hair bow. The styling element was first made popular by the iconic Lady Gaga and then it was adopted as a top choice among girl hairstyles for Christmas.
This half-up hair bow style is a perfect demonstration of the look and it will make cool vibes for her in the holiday season too. Just comb it all back and leave it straight open at the back of her head. Take thick strands of hair around the crown area and form it into a nice little bow all equipped with stylishly dangling ribbons. It will surely make a unique statement for her.
Rudolph Bun
The Christmas season is all about unique, extravagant looks and this one is no different either. In fact, if you skip the Rudolph Bun, you can't simply refer to this as the Christmas hairstyles list at all. If your beautiful little girl is in love with the festive season, shed' also love to carry this Rudolph look around too. It is cute and it will make her look even cuter.
The hairstyle is achieved simply by slicking it all tight to the head and taking it backwards where a dough bun is achieved in just the same fashion as it is typically done. To make it even better, rope braids are created to swirl around the bun and a cool deer-face accessory is added on top of the bun with a red ribbon filled into the center. Nothing can be as unique and different as this beautiful look.
Twisted Half Up Halo
If you are interested in something more elegant and disheveled, you should definitely give this one a try. The twisted halo looks gorgeous and doesn't really require hours to achieve it either. It will also give your little girl the effect of an angelic halo just like the braided look discussed above. However, with this one, she is going to have a more boho/hippy feel. Besides, she doesn't need to have long hair for achieving this look to perfection.
For achieving the look, just leave her hair loose and take thick strands from either side at the front to take it backwards and form a nice little twisted halo shape. Let some hair fall over the shoulders while you can leave the rest at the back. Use bobby pins for securing the look into place and you're done.
Beautiful Braided Hairstyle With Nice Christmas Ribbons
Your girl's Christmas hairstyle should reflect a Christmas vibe for sure. In fact, that's something you must not compromise on no matter how simple a look you would want to achieve for her. So, when that's the order of the day, why not try this beautiful hairstyle with Christmas ribbons knitted through it? The hairstyle looks gorgeous and won't take too much time to achieve either.
Just part her hair in the center for achieving this look and start braiding a typical French braid on either side of the part. Start braiding at the front and take it all the way to the back where you have to combine both the braids to form a single, thick braided tail. While you do the braiding part, make sure that a colorful ribbon combination is knitted into the braid to make it perfect for the Christmas season.
Christmas Tree Braid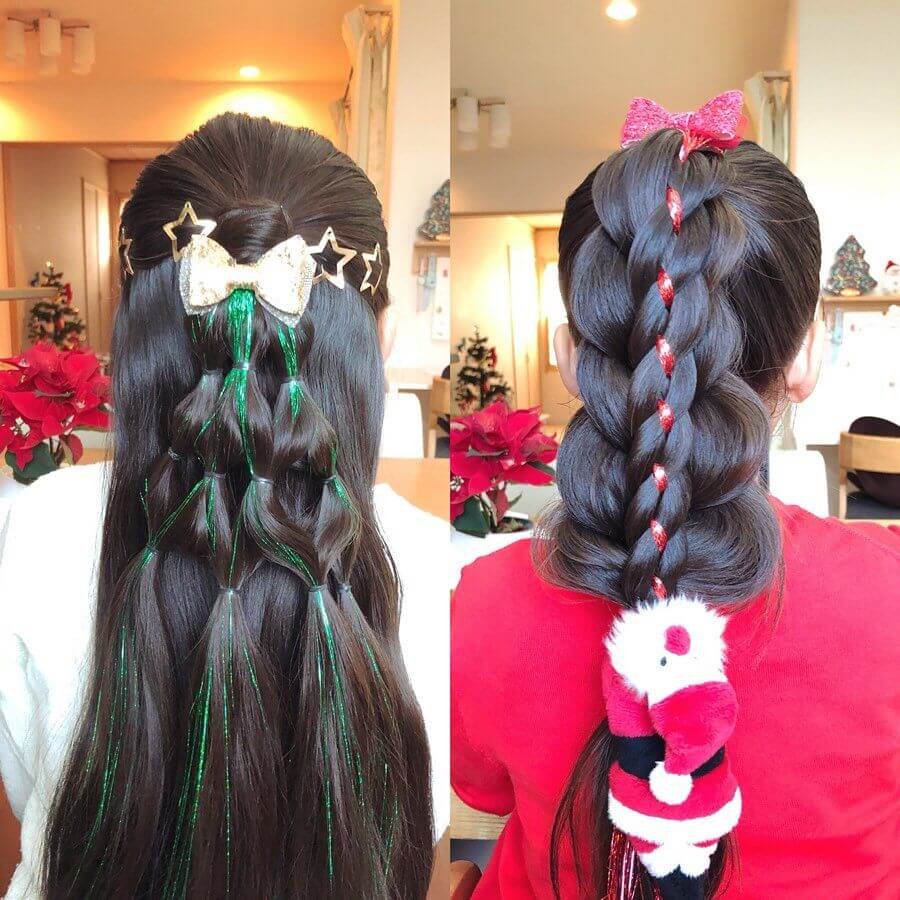 The Christmas tree makes one of the most popular accessories in the Holiday Season and you will find it in every home with colorful bright lights twinkling on it. You can add that type of touch to your girl's braided hair too. The hairstyle is a colorful variation of a pull through braid and it creates gorgeously amazing vibes. Here's how to achieve this wonderful look.
Start by combing her frontal hair back while keeping it nice and tight to her head. Bring all the hair from the sides as well to start braiding somewhere around the crown area. Make a typical pull through braid and use small colorful balls at each step of the braid while alternating the sides where you add them. Finally, secure it at the nape of her neck and form a straight ponytail. It will look gorgeous overall and make a wonderful girls hairstyle for the Christmas Eve.
Christmas Wreath Braid
Why not take that angelic halo to the next level and form it into a nice Christmas Wreath on top of her head? The hairstyle will create all the unique vibes and the colors added to the halo will make it go perfectly with the Christmas theme.
To achieve the look, pull all her hair up from every side and form sort of a crown around her head. Add red and green ribbons to the swirling hair on top and accentuate it with some red flower accessories to achieve a wonderful final look. The hairstyle has all the unique things about it and makes a perfect pick for the Christmas season.
Snowflake Braid
This is another cool look that we do not try normally with our girls' hair. The hairstyle needs a bit of effort to be put in for achieving it to perfection but the diamond-structured star looks just amazing. You can't imagine the vibes you'll get with the final looks of it.
To achieve the look, form three sections of hair at the front and take strands out of each of these three sections. Make sure that these strands aren't too thick and are just fine enough to create a perfect look. Roll a white ribbon around these thin short braids and form a cubic structure at the back of her head which resembles to a star shape and looks gorgeous. Secure it into a ponytail right there and let it run down to the bottom. The hairstyle really looks amazing and unique. Your girl is surely going to love it.
Twisted Braids with Butterfly Clip
Your search for easy Christmas hairstyles for girls shouldn't just end here. In fact, it's just the start and you can diversify these Christmas hairstyles in whatever way you like. From simple and sleek looks to more intricate ones, you have all sorts of options to consider for your little girl. And, once you are able to find something that she loves, she is going to rock her adorable looks throughout the holiday season. You can't imagine the happiness she'll get from her perfect hairstyle.