Hairstyles for black girls are always a challenging bit to do for the parents. The natural texture of hair is such that one can't do much about it and there aren't many ideas that could be incorporated nicely to give kids a wonderful new look. But there are some black baby hairstyles for short hair that make your kids' hair more manageable and allow them to look stylish, though.
Black Baby Hairstyles For Short Hair
Let's quickly run you through some of the best options in black girls hairstyles for short hair. You can style these hairdos regardless of the occasion you want to wear them to and they will certainly create amazing vibes for your black kids.
Bantu Knots, Puff Balls and Buns
All these cool variations of the black kids haircuts can be achieved fairly easily ad they really produce super-cute results. It is believed that the Bantu Knots first originated from the Zulu tribes from Southern Africa and they have been around for centuries.
With these knots, you can get two or three hairstyles combined into a single beautiful hairdo for black girls with short hair. The look can be achieved by sectioning off the hair in several parts all around the head before twisting the individual sections to create beautiful mini knots.
Once your kid has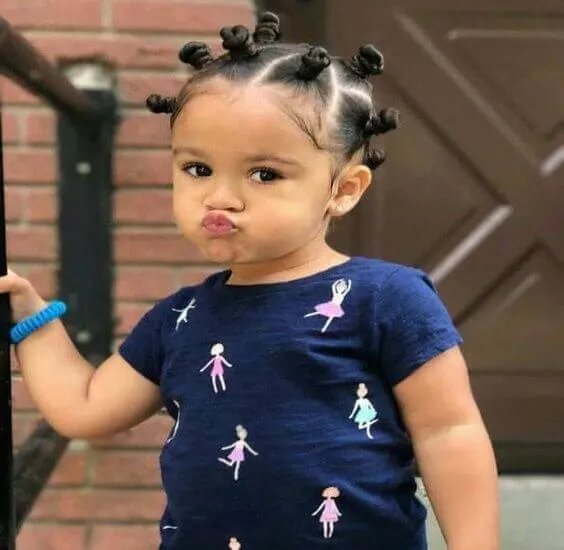 spent a few weeks wearing Bantu knots, the knots can be unraveled for having springy and bouncy curls. The new wavy look will create gorgeous vibes for sure.
The key here is to make sure that you do not wind her hair too tightly as you create these Bantu knots. Rather, it should be tight enough for creating a springy coil against her scalp which should then be secured using a rubber band or hair tie.
Twist Out
This beautiful look is one of the best black baby hairstyles for short hair that has become a popular choice among kids as well as their parents. The look is pretty easy to achieve and once you have styled your kids' hair this way, nothing can stop them from having a wonderful hair day.
It works for almost all types of hair and can even work with different hair lengths. Here is how you can achieve the best results with the twist out.
Use LOC Method to apply styling products to your kids' hair while it is still damp. It will help retain the moisture in their hair.
Once the products have been applied aptly, part their hair into various small sections.
Create simple two-strand twist in each of the sections you created.
Keep doing so until all their hair is twisted.
Cover your kids' hair with a satin scarf or bonnet and let it dry out completely overnight. Alternately, dry it out using a hair dryer for 20 to 30 minutes at a low heat setting.
Once dry, apply some oil to the finger tips and unravel those twists gently.
Undercuts/Shaved Sides
If your little girl is in love with singer/dancer Cassie, she'd like this shaved look on the sides. The hairstyle doesn't really work for everybody and may attract all eyes around, both negative and positive.
Besides, you should keep one thing in your mind that the girls sporting this look might be breaching the school policies as well. Nevertheless, if your kid wants to do a bit of experimentation, and you're onboard with them too, this undercut would make a perfect choice.
However, if you don't seem to be ready yet, a shaved look can be achieved by slicking down the hair on the sides using a styling product with super hold before pinning it down right where the slicking ends. It will create that nice shaved effect with no need to sacrifice her hair for achieving the look.
Getting the best black baby hairstyles for short hair may seem like a hassle, but if you have the right guidance then you can surely pick some amazing options. The hairstyles listed above give you a hassle-free option to give your girl a unique and charming look. Just make sure you have the expertise required for achieving these styles to perfection. You can try these low maintenance haircuts on any day and won't have to keep messing with her hair every now and then.