Kids always look adorable when they are given a perfect style. Whether it's the way they dress up or it is about the hairstyles they wear, when things are chosen wisely, it really helps them make a fashion statement. It can't be any truer for black kids. And, if you want your little ones to make a bold statement on the next special event they have to attend with you, you should consider some of the best black kids hairstyles out there. Yes, you are no short of options as there are plenty of hairstyles out there both for black guys and the gals. It's just the matter of picking the right one for the right occasion.
Let's have a look at some of the coolest hairstyles for black kids that you'd definitely want to try out.
Tight Side Swept Hair With Angle Part And Voluminous Ponytails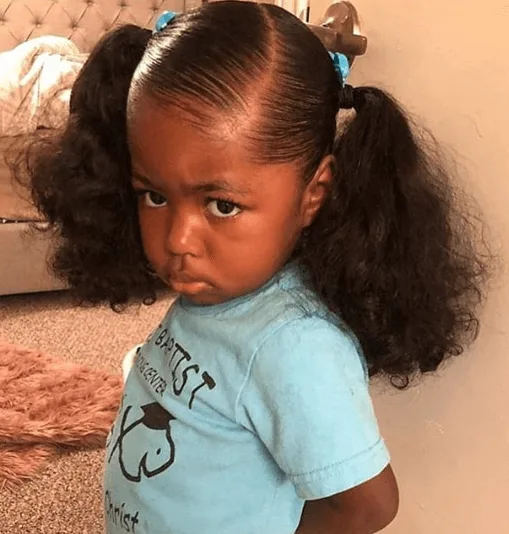 Source: Mane_therapy
This really is a cool everyday look that works perfectly for black girls. The hairstyle is very simple to achieve and all you have to do is to tightly sweep her hair to a side and with a part that angles going towards the crown. There is a voluminous ponytail on either side just like the pigtails. The difference here is that these are simply left open and not braided at all. There is nothing fancy, just secure them with colorful ribbons and you are good to go.
Cornrows With Braided Pigtails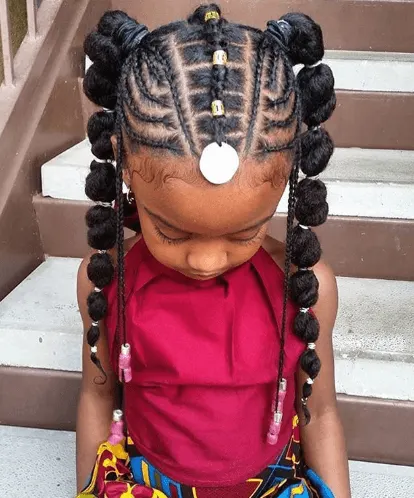 Source: Blackkidshairstyles
Cornrows remains to be one of the most stylish and creative hairstyles out there for black girls, and even boys, and it really makes a bold statement. The hairstyle has no limits and only your creativity is the limit to the kind of look you would like to achieve. For this one, there is a center braid that goes all the way to the crown and there a couple of thin angle braids on its either side which run parallel to it. The sides have thick braided pigtails which complement the hairstyle rather nicely. It's amazing overall.
Slicked Side Swept Hair With Braided Pigtails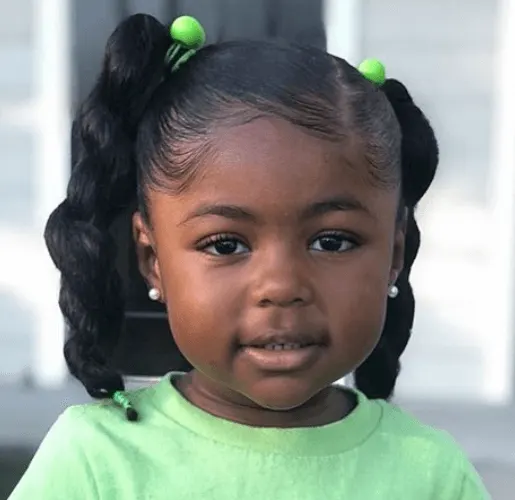 Source: Blackkidshairstyles
Yet another cool hairstyle for black girls, this one requires the hair to be slicked tightly and swept to a side with a gentle side part. The hairstyle ends up with thick braided pigtails that balance out the look to perfection. You can secure the pigtails with nice, colorful hair accessories.
Slicked Back Hairstyle With Braided Pigtails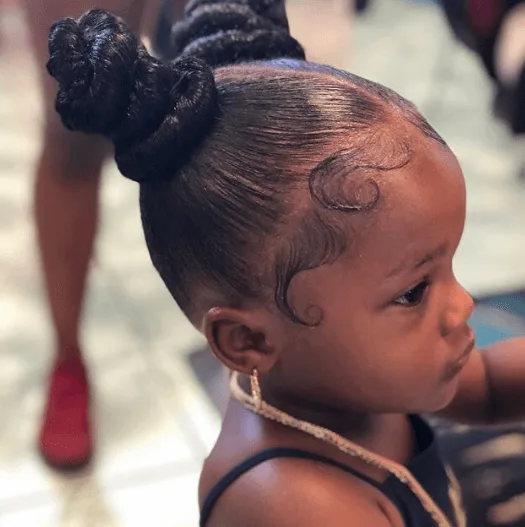 Source: Blackkidshairstyles
When it comes to black kids hairstyles, you'd mostly find some sort of use braids. This hairstyle is no different either. It features nice slicked back hair on top with a cool center part and there are thick braided pigtail buns on top that make it look elegant, unique and attractive. The hairstyle boasts of uniquely shaped buns that have sort of a longish appearance to them. A cool touch is given to the hairstyle by those curving frontal bangs which are also slicked but look just amazing.
Combed Back Hairstyle With Pigtail Buns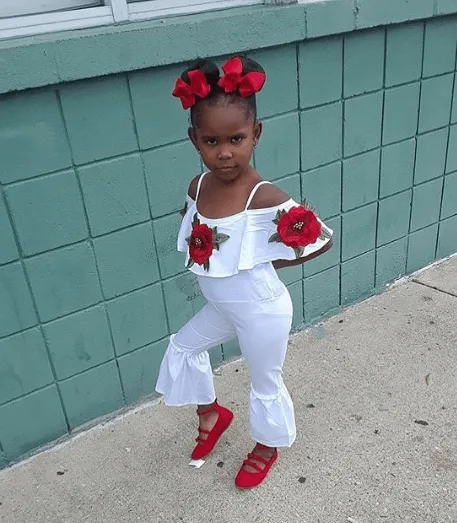 Source: Blackkidshairstyles
Another hairstyle for black girls with pigtail buns, this one is different in the sense that the hair at the front is all nicely combed back and the buns are shaped a bit differently too. They are more like doughnut buns that are achieved to perfection. A further sense of style is added to the look by the addition of colorful ribbon bows that cover the buns from the front and secure the look rather beautifully.
Long Scattered Braids With Dyed Tips
Source: This_sober_juicing_chick
This braided hairstyle for black girls takes a bit different approach but it really creates a perfect style overall. The hairstyle requires you to braid the hair in small sections all over the hair to get nice and thin braids that get even thinner going towards the tips. Just let these braided hair scatter all around and dye the tips in your favorite color to make a bold statement. The hairstyle works best for teenagers but you can do it for little kids as well while keeping the dye a bit subtle.
Long Braided Hairstyle With Bangs
Source: This_sober_juicing_chick
There are many cute hairstyles for girls with bangs out there but this one is a little unique. As, the hairstyle is all about braids that are made to scatter all around, just like the one above, it makes the bangs braided as well. Remember, however, that the braids open up going towards the tip and they become more like rolled hair. Another important thing to notice is that the braids are brought together and tied just where the crown is before they are allowed to scatter in all directions. A cool look, nevertheless.
Kinky Hairstyle With Hair Accessory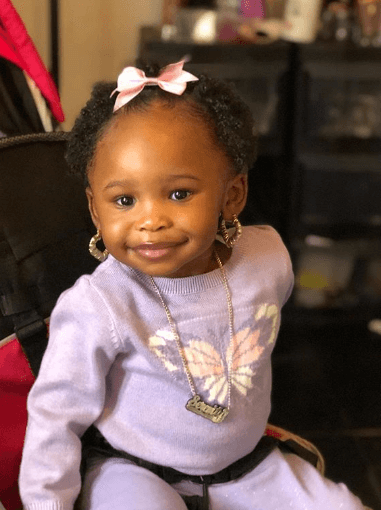 Source : Serenity847
If you have always hated kinky hair of black kids just because it's so hard to style, you don't really need to do that anymore. This one gives you a very simple solution that won't require you to do anything special and still make your little one look attractive. Just let her kinky hair grow a bit, as much as they still remain tight to the head, and secure the look with a nice bow clip right in the center of the head. It will look bold and amazing for sure.
Grown Out Kinky Hair
Source : Glamorous_women_only
Grown out or blown out? Call it whatever you like! Yes, the hairstyle is all about growing the naturally kinky hair long enough that they spread nicely in all directions. The natural kinky rolls will surely make a bold statement and everyone is going to love it. Make your girl wear the look with a nice dress and she'll be ready for any party or a major occasion.
Thick Rolled Braids
Source : Niya1niya
Have you ever seen such braids? Probably not! The hairstyle is a perfect choice for girls with heavily kinky hair. Just let her grow it long enough and keep rolling it into thick braids going all the way to the tips. Create as many such braids as you possible can all over her head and it will look amazing. Make a few parts on top for an added element of style.
Braided Hairstyle With Ponytail
Source: Uniquehandz
Braided hairstyles are always known to be among-st those which make a great fashion statement. This hairstyle is also among the coolest looks you could try. Simple and braided, the hairstyle requires you to create parallel braids starting at the front and all going towards the crown where you can join them together and roll a few around to secure a beautiful raised ponytail. Make sure that the braids keep getting thinner towards the tips and it will definitely make for a great vibe.
Thick Cornrows With Bangs
Source: Blackkidshairstyles
This cool hairstyle is all about thick and beautiful cornrows achieved all around the head. The hairdo is different in the sense that these cornrows all go to the top and make a nice pile of hair right there which sort of falls over towards the front. Other than that, there is frontal bangs that are also nicely braided and blend into the look rather nicely.
Kinky Buzz Cut With Low Fade
Source: Ticprice713
So, enough of black kids hairstyles for girls, let's check out some of the coolest options available for black boys. This one here is a great point to start. The look is just perfect for black boys with nice and kinky locks. Actually, it's more like a buzz cut on top that is achieved with a perfect hair length. The sides have a low taper fade which accentuates the look even further. Overall, the hairstyle is just amazing and you can't ask for anything better.
Grown Out Kinky Curls
This beautiful look doesn't take much of styling and it is achieved simply by growing out the naturally kinky locks that are common for black boys. The kinky curls make a great style statement and it's just about how you style them. For this hairstyle, all you have to take care of is that the grown out kinky locks is slightly trimmed to perfection so that it all remains in shape despite being so rough and presenting a blown out look. Enough volume on top, and you have a great hairstyle to flaunt.
Flat Top Hairstyle With Taper Fade
Source: Mjoroots
Though not so grown out on top, this flat top hairstyle still gives a perfect look. In fact, it resembles a typical buzz cut but is slightly grown out as far as top hair is concerned. Go for a taper fade on the sides and the combination will look deadly. Everyone will surely be praising your kid everywhere he goes. All you have to ensure is that the hairstyle is achieved to perfection.
Long Hairstyle For Black Boys With Dreadlocks
Source : Divaandsilas
If your kid loves to have long hair on top and it also suits him better than anything else, you can always allow him to grow it long and then create beautiful dreadlocks out of those grown out hair. Pointing in all directions, these dreadlocks will create a unique vibe and will surely look amazing. Just make sure that you do not go for a head full of dreadlocks and rather create only a few of them to make sure that it all looks and feels amazing.
Curly Top With High Fade
Source: Cuttingedgehairgallery
What could be better than a naturally curly look for black boys? Yes, they generally have kinky and curly hair and you can pull out an amazing look just by letting it stay what it is. Grow your boys' hair slightly so that the curls can be achieved naturally with a bit of volume on top. It will look amazing for sure. If you want to make it all look a bit dramatic, go for a nice taper fade on the sides and you have an amazing look ready for your little man.
Kinky Mohawk With Faded Sides And Surgical Design
Source: Cuttingedgehairgallery
Yet another dramatic look to achieve for little black boys, this one is actually about nice and tight kinky hair on top. The hairstyle is achieved in a typical Mohawk shape and it, literally, looks amazing. As for the sides, you have nice and cool high fade which is further accentuated with beautiful surgical designs. It is your choice as to which surgical design you'd want to go with, but if you choose to amp the look up with the one in the picture, it'd work great. It's a perfect look to pull out for special events and parties.
Kinky Mohawk With Taper Fade
Source: Antoinedjackson70
This kinky Mohawk is slightly different from the one above and is actually about nice and tight kinky hair on top that is trimmed in the shape of a typical Mohawk. The sides have a high taper fade and a beautiful surgical design that accentuates the look to perfection. The hairstyle is just perfect for teenagers but it will still work for the little men too.
Center Parted Dreadlocks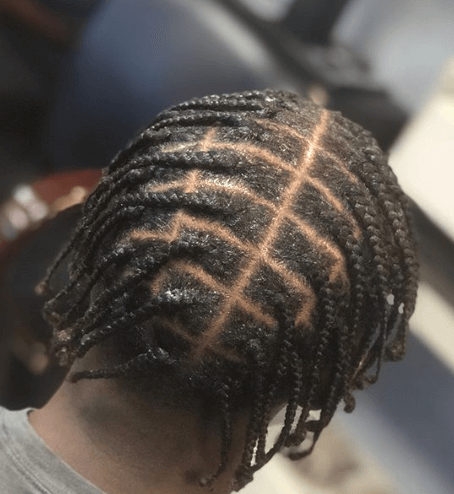 Yes, we know dreadlocks are too common among black boys. But, have you ever pulled out the look in this fashion as depicted in this picture here? Probably not! This look is quite unique and requires your little guy to grow his hair a bit longer before it could be transformed into nice and cool dreadlocks. To achieve the look, part the long kinky hair in the center and then start creating these cool dreadlocks all around the head. Even though it seems like a casual hairstyle, it would work equally well for special occasions too. A perfect look to pull out for black boys!
Stylish Cornrows With Hair Designs
Source: Oneofakind_creation
Cornrows can look so simple and they can look too intricate, it's all about how much time you are willing to spare for pulling out an amazing look altogether. So, if you have the luxury of time and are ready to put in all the effort it would require, this hairstyle is just perfect for your little boy.
The hairstyle requires you to achieve cornrows in variety of different shapes and at different angles to create a beautiful look on top. All you have to do is to look at this picture above and continue creating cornrows in different sections on top to achieve a perfect final look.
So, if you have been looking for the best black kids hairstyles out there, here we have some top picks both for boys and girls. Just see which of them attracts your fancy and which of them would suit your little guys the best and choose accordingly. You will find simplest to most complex hairstyles on this list and it's up to you how much time and effort you would want to put in for styling up your kids. Give them a perfect style and get praised for everything you do for your little ones.