You might have tried all the new and unique hairstyles for black hair and sported a wonderful look. But there comes a time when everything starts looking dull and boring.
If that's the case with you too, try highlights for black hair and give your hair a new touch of style and elegance. You can easily find natural hair highlights for black hair and there won't be any issues in figuring out the perfect tinge for your hair color.
Even blonde highlights on black hair work great, and it's just a matter of coming up with something that suits your individual style.
Highlights For Girls with Black Hair
Wondering how you should sport highlights on your black hair to get that added oomph? Here we have some of the coolest hairstyle options with highlights that would enliven your dull black hair for sure.
Side-Swept Wavy Hairstyle With Highlights
This beautiful hairstyle is a perfect example of natural hair highlights for black hair. The hairdo can be achieved both with a ponytail and an open wavy look. The highlights add a new vibrant touch to the hairstyle.
Long Wavy Black Hair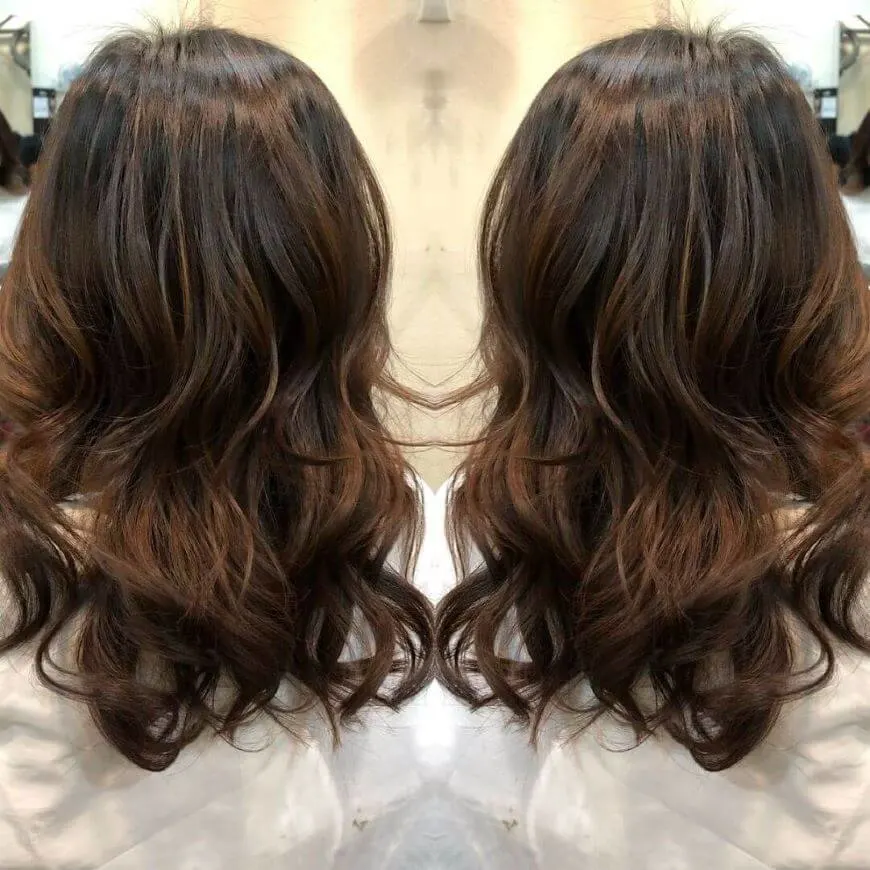 It's a simple hairstyle with long, wavy black hair that is given a stylish look with brown highlights.
Wavy Curls With Highlights
Curly hair is stylish in itself but you can take it to a whole new level by adding cool highlights to it sparingly.
Combed Back Look With Wavy Ringlets At The Bottom
A nice combed back look, this beautiful hairstyle is given a fresh look with beautiful ringlets at the back.
Subtle Chocolate Brown Highlights
These warm chocolate brown highlights add depth and dimension to black hair without creating a stark contrast. They blend seamlessly, adding a subtle hint of richness and sophistication to your little girl's hair.
Vibrant Red Streaks
For a bolder, more striking look, consider vibrant red highlights. They make a sassy and fiery statement, and can really bring out the warmth in your child's complexion. This option is perfect for a girl who likes to stand out from the crowd.
Caramel Balayage
Balayage is a highlighting technique that gives a natural, sun-kissed look to the hair. Caramel balayage on black hair creates a soft, warm glow that can enhance your child's youthful, radiant look.
Peekaboo Pastels
Peekaboo highlights are hidden beneath the top layer of hair, adding a playful pop of color that shows when the hair moves. Pastel colors like pink, blue, or lavender can look exceptionally cute and whimsical on black hair.
Classic Blonde Highlights
Light, honey-hued highlights can create a lovely contrast against black hair. They can add a fresh, youthful, and energetic vibe to your little girl's hairstyle, and can be easily adjusted in terms of brightness to match her personal style and preference.
Loose Combed Back Hair With Blonde Highlights
Blonde highlights on black hair look as good as it can ever get. And, when you combine it with loose elegance on top and stylish wavy hair at the back, that's even better.
Shoulder-Length Curly Hairstyle
This curly hairstyle is about natural ringlets trimmed to the shoulder length. You can elevate the look a little further with some brown highlights.
Long Wavy Back With Highlights
Here we have another cool hairstyle that boasts some length. Use a curling iron to add some waves lower down the bottom. A flower accessory can further elevate this style.
Round Bottom Hairstyle With Highlights
If you are interested in a haircut while keeping it simple, go for a round-bottom look like this one. For a touch of style, add brown highlights to the hair.
Long Kinky Curls
A kinky, curly hairstyle, this one is tailor-made for black girls. You can give a boost to the look with some highlights.
Center-Parted Hairstyle With Layers And Blonde Highlights
Another cool look with blonde highlights on black hair, this one boasts beautifully trimmed layers. Blonde highlights always take it to a whole new level.
Messy Curls With Brown Highlights
Messy, shoulder-length curls look amazing and adding brown highlights sparingly can define this style even better.
Messy Hair With Wavy Tips
Naturally-curly hair looks gorgeous in a messy look and this one is a perfect example of that. The hairstyle has messy and wavy tips that look cool as ever.
Layered Shoulder-Length Hairstyle
This beautiful layered hairstyle has a cool touch of style and the short bangs at the front make it look even better. Add some highlights, and you have a wonderful party look to flaunt.
Long Wavy Back With Highlights
Long, open and wavy hair looks amazing and this beautiful hairstyle is just that. The highlights add a touch of beauty to elevate the look even further.
Shoulder-Length Hair With Outward Curls
This shoulder-length hairstyle looks cool with the tips curling outwards. The hair looks amazing with some beautiful highlights.
Round Bob With Highlights For Black Hair
If you want to sport a short hairstyle, this round bob hairstyle will make a perfect choice. Slight brown highlights further add to this beautiful hairdo.
Highlights for black hair can be your go-to choice for party hairstyles. Highlights can always add a touch of uniqueness and style to an otherwise bland look.
There are plenty of hairstyle options that you can consider trying out with natural hair highlights for black hair. Even blonde highlights on black hair look amazing and you just need to find a perfect balance of style subtleness.
Trending Topics
Peekaboo Highlights for Little Girls