Being multiracial has its own challenges as a kid. You don't belong to a single race, and your mixed background haunts you everywhere you go. But it shouldn't really pose a major challenge when it comes to choosing a cool hairstyle that complements your mixed looks. There are plenty of mixed boy haircuts that you can try out and experiment with a new look every now and then.
Coolest Mixed Boy Haircuts (2023) To Sport This Year
Mixed boys have their own unique personalities, and the hairstyle they choose must complement it like nothing else. Here we have a trending collection of haircuts for mixed boys. Let's check it out!
Short Forward-Swept Hairstyle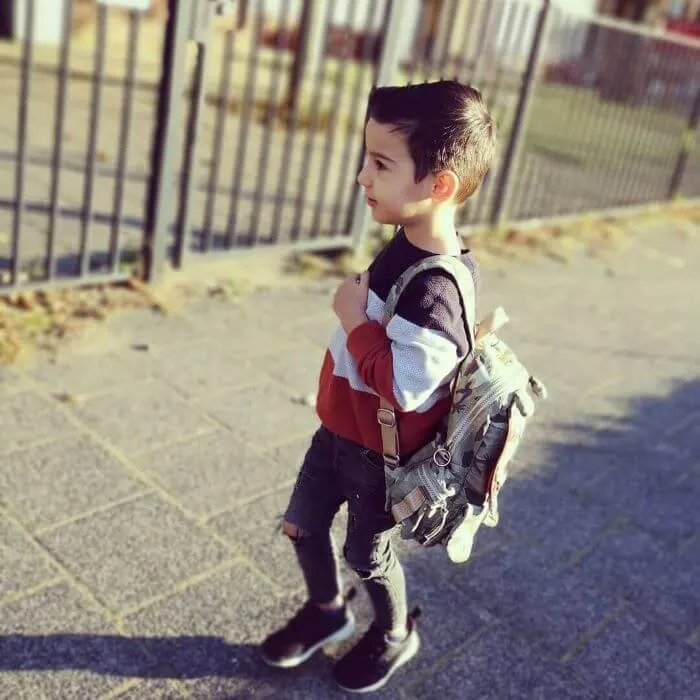 Short and simple, this cool look makes a perfect hairstyle for mixed boys. The hair is swept forward and slightly towards a side to achieve this cool look.
Buzz Cut With Fade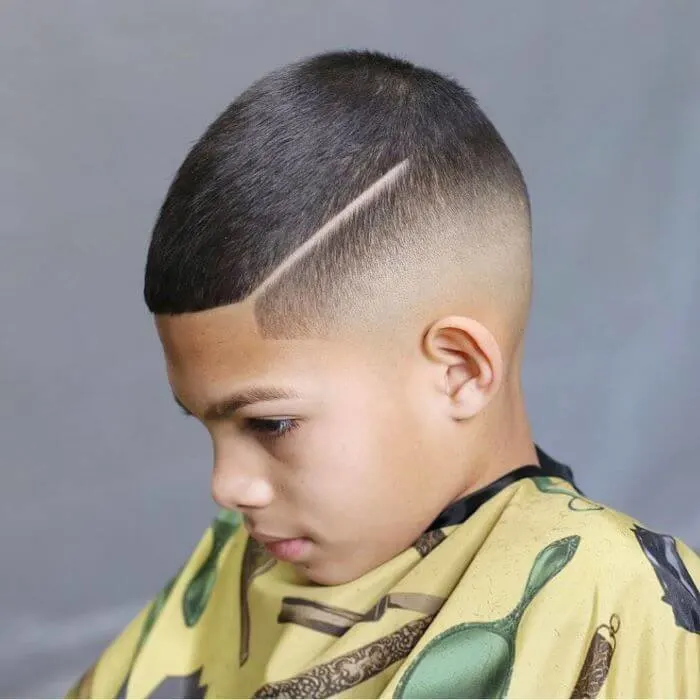 More suited to mixed boys with an Afro background, this cool buzz cut makes a perfect combo with a side fade. A surgical line on the side blends into the mix rather nicely.
Comb Over With Undercut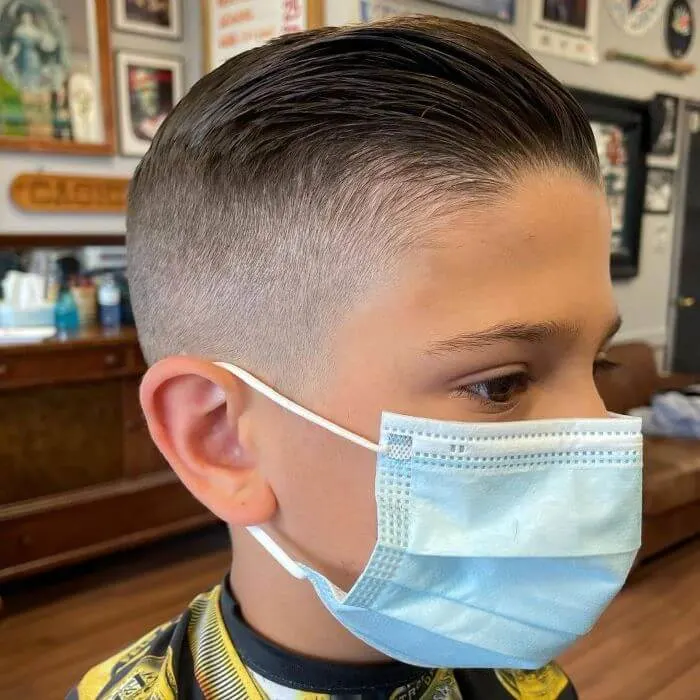 This stylish hairstyle works best both for a formal and a casual evening. It features long frontal hair that is combed back and secured with a styling product to achieve an elegant look.
Caesar Haircut With Long Combed Back Fringe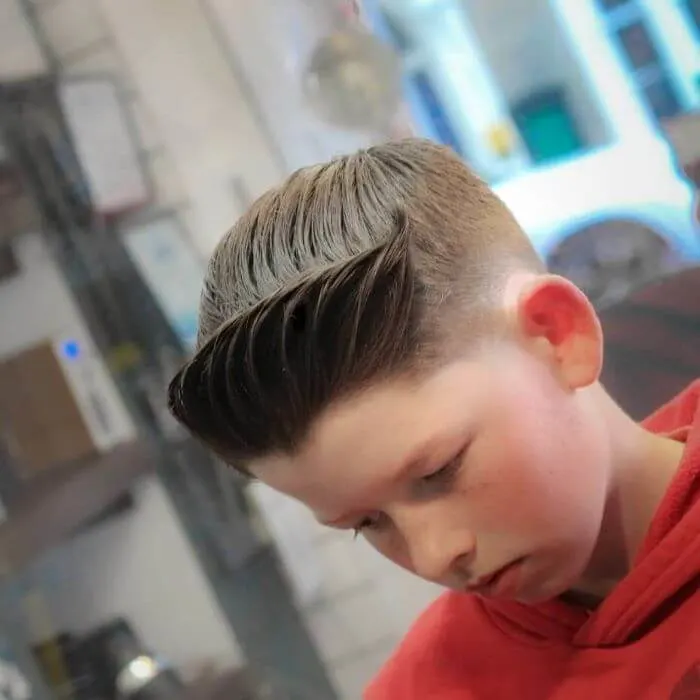 This redefined Caesar hairstyle is a perfect choice for mixed boys. It's a simple forward-swept hairdo with a touch of extravagance given to the long frontal bangs.
Messy Haircut With Curly Bangs
If you don't need a hairstyle that requires extra effort, this simple messy look would do for you. The curly bangs will make a unique style statement on any day.
Cornrows With Center Part And Undercut
This is a seriously cool look! Picture sleek cornrows styled in a perfect center part, and beneath that, you'll find a clean, precise undercut. It's a blend of classic and edgy, ideal for a boy who loves to stand out in the crowd.
Cornrows With A Small Knot
Here we have the cornrows again, but this time, with a fun twist – a small knot at the back. It gives a unique, creative flair to the hairstyle. Kind of like adding a cool bowtie to a suit, but for your hair.
Curly Buzz Cut With Surgical Design
It's as cool as it sounds! The curls are kept ultra-short, almost like a buzz cut, but the real showstopper is the surgical design. It's carved in like a piece of art, giving an unexpected edgy touch to the cut.
Curly Top With Undercut
This style lets those curls shine! The top is full of tightly wound curls while the sides are neatly undercut. The contrast here is fabulous – you have that natural curly texture up top, nicely balanced by the clean, sleek sides.
Green Mohawk
Woah, talk about making a statement! This Mohawk is all sorts of fun with its vibrant green shade. It's bold, it's wild, it's everything a punk-inspired hairdo should be!
Spikes With Faded Sides
Think of this as the classic 'bad boy' hairstyle. The top is filled with sharp, gel-styled spikes, while the sides are meticulously faded. This one's all about a fierce attitude.
Forward-Swept Curly Mess
This is effortlessly cool. The curls are kept long and styled forward, giving a messy yet attractive appeal. It's like the boy-next-door meets the lead singer of a rock band kind of vibe.
Side-swept Hairstyle With Low Fade
This one is polished and stylish. The hair is swept to one side, paired with a refined low fade on the other side. It gives off a laid-back, suave vibe, perfect for any occasion.
Long Hair With Shaved Sides
A unique take on long hair. The locks are kept long on the top while the sides are shaved. It's rebellious, yet also surprisingly elegant. It definitely screams individuality.
Long Twisted Dreadlocks
These are impressive! The hair is styled into long, twisted dreadlocks that cascade down the back. It's a proud celebration of cultural heritage and personal style – a hairstyle that commands attention and respect.
Comb Over With Disconnected Undercut
A stylish formal look, this comb over hairstyle features medium-length hair on the top and a disconnected undercut on the sides. A fancy look is given to it by creating surgical lines on a side.
Casual Hairstyle With Long Hair And Mid Fade
When you have some length on the top, you can style it the way you like. The same is the case with this hairdo which is casually swept over, and a long fringe falls over the forehead to make a statement. The sides have a nice mid fade.
Side Swept Hairstyle With Surgical Design
This simple hairstyle makes an ideal choice for silky straight hair. The sides are kept short, and a unique touch of style is given to it with a nice surgical design.
Loose Afro
The Loose Afro allows boys with mixed heritage to embrace their natural curls. It's low-maintenance and gives off a relaxed, cool vibe.
Curly Mohawk with Fade
A Curly Mohawk with Fade lets boys showcase their curls while keeping the sides short and neat. The fade creates a clean finish that contrasts well with the curly top.
Braided Bun
The Braided Bun is a stylish option that protects hair from damage. This hairstyle involves braiding the hair and tying it up into a bun for a neat yet fashionable look.
Curls with Side Part
Curls with a Side Part keeps the beautiful texture of natural curls intact while adding a touch of formality. A side part adds structure and style to this classic look.
Twists with High Top Fade
Twists with a High Top Fade combines short sides with long, twisted hair on top. This offers a stylish contrast that's both trendy and practical for mixed boys.
Long Loose Curls
Long Loose Curls allow mixed boys to embrace the natural beauty of their curly hair. This hairstyle requires minimal styling, making it perfect for boys who prefer a laid-back look.
Flat Top with Fade
The Flat Top with Fade is a modern twist on a classic style. The flat top showcases textured hair, while the fade adds a touch of modernity, making it an eye-catching choice for mixed boys.
Mixed boy haircuts don't need to be anything unusual. You just need to think of something a little creative, and you'll have a stylish look ready for your boy to flaunt. Use the hairstyles in our selection above as an inspiration and come up with a cool new look for your mixed boy.