We all are serious about the education of our kids and we want them to learn at the best educational institutes out there. And, no matter what school your kids are attending, there must be strict codes that they'll have to follow. This is, especially, true for the hairstyles that you would want to give to your little girls. Obviously, you would want simple hairstyles for school that you could easily put together within minutes. However, do you know any such hairstyles out there? Well, if you are not already aware, there are lots and lots of hairdos that would work perfectly with most school codes and they won't have any bland looks at all. Yes, these simple hairstyles for school don't take too much of your time when it comes to pulling them off and they have a uniquely elegant vibe to them as well that would attract all eyes towards your little girl for sure.
Now, if you are getting curious, let's have a look at some of the best hair-style options that you could try with your little girl before letting her ride that school van.
Center Parted Hairstyle With Thin Braided Pigtails
Source :
We all know that pigtails make for a very cool and organized look overall and there are many variations of the hairdo that you can try with your little girl. This one is pretty simple and easy hairstyle for girls that they can wear to school every day and that won't take an hour of styling either. Simply part her hair in the center and start braiding both the sides just near the crown. Secure the braids with hair accessories and it will look just awesome.
Combed Back Hair With Double Twisted Ponytail
Source: Girly_hairstyles28
Nothing can be more organized than tightly combed back hair on top and this hairstyle is a perfect representation of that. A simple yet elegant hairstyle, this one really gives a new perspective to school hairstyles for girls. You can always achieve a perfect look by creating two parallel twisting ponytails and then combining them into one going down towards the bottom. Secure them together with colorful rubber bands and you have a perfect style for your little girl to flaunt.
Kinky Braided Hair With Ponytail
Source: Baileylivingsisters
Girls with kinky hair often find it hard to choose a perfect hairstyle for themselves but they don't really have to worry at all about that. Kinky hair look great when you comb it back tightly and take a section from the front to braid all the way back right to the crown before turning it into a kinky ponytail. It will look amazing and those heavily kinky locks in the ponytail won't really cause too much of an issue for her either as far as the school code is concerned.
Combed Back Hair And Ponytail With Braided Half Crown
Source: Littleblondiesbraids
This is another stylish and simple look to achieve for little girls. And the best part is that it won't take whole lot of time to achieve it either. For most part, it is simply combed back hairstyle which ends up into a nice and long, sleek ponytail at the back. To add a bit of style to the look, a nice inverted braid starts at the front and goes curving around to join the ponytail at the back. Remember, you don't have to braid it around the entire head and it swirls around just half of it. Overall, it looks amazing.
Braided Crown With Loose Bun
Source: Littlegirl_hairstyles
Obviously, you want her hair to look more organized for school so that it may not breach the school code. However, you can still be creative to make the hairstyles look awesome and amazing with least possible effort. This hairstyle, for example, requires you to create nice side parted look with a couple of braids. One big braid starts at the front and goes swirling around the head towards the nape of the neck to join the loose and beautiful hair bun. On the other side a beautiful heart shape is achieved and the hair in the center of that heart shape is taken and twisted before being made to join that loose bun as well.
Combed Back Hairstyle With Zig-Zag Part And Braided Bun
Source: Pinkkiwi_hair
This one looks a bit intricate but it shouldn't actually take you too much of time to achieve the look. Just keep the hair tight to the head and create a zig-zag part on top. After that, you can achieve nice and thin braids while running a ribbon through it and eventually secure the braid in the form of a nice hair bun at the back. It will look amazing and it won't violate her school code either.
Triple Braided Hairstyle With Open Back
Source: Bobby_toddler_hair
Braided hairstyles look awesome and when you are able to experiment with them to perfection, things get even better. This cool hairstyle features three different braids which all join at the crown. The two thin braids from the sides form sort of a U shape while the third one is a bit thicker and is formed with the hair in the center of that U shape. The hair at the back is all left open and the nice wavy look it gets is just awesome. Overall, the style is just amazing.
Swirling Braid With Ponytail
Source: Littleblondiesbraids
Yet another braided hairstyle for school, this one also swirls all around the head starting from one side and going around the other before joining the long ponytail at the back. It features a thick braid on top and some colorful rubber bands that add a touch of elegance and style to the look which is otherwise not so extravagant. Believe it or not, everyone will certainly appraise the look.
Long Braided Ponytail With Colorful Ribbons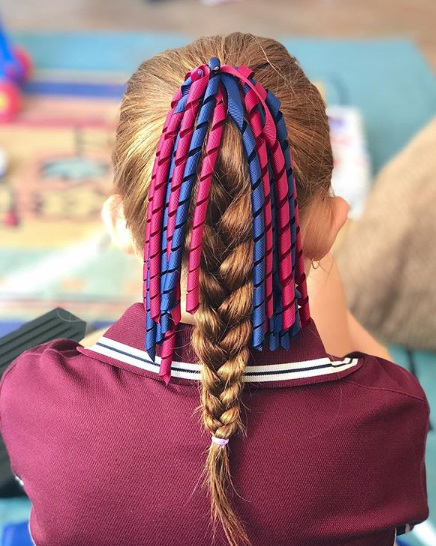 Source: Teamsupergrover
Just comb it all back tightly and start braiding a typical braided ponytail at the back, that's all the effort this cool hairstyle is going to take from you. And when you are good at braiding, you won't really have to spend more than 5 minutes in achieving the look to perfection. Add those colorful rolled ribbons just where the braids start and you have a wonderful look for your girl to flaunt. You will have both color and style added to the hairdo.
Top Bow With Cross Braided Back And Pigtails
Source: Mita_p_akbari
When it comes to simple hairstyles for school, you must not have seen many looks that even come closer to this one. The hairstyle boasts of a beautiful hair bow right on top which isn't too hard to achieve. Then, a few layers are taken from either side and they are braided towards the back in a cross braided pattern before they join the braided pigtails low down the nape. Yes, there are a few styling elements to this look but they are not too complex that they would eat up a lot of your time.
Center Parted Hairstyle With Braided Design At The Back
Source: Wildinspirationscreations
This really is the simplest of hairstyles out there for school going girls. All you have to do is to part it from the center and take layers of hair from either side of the crown to start braiding it in a V shape before creating a small heart bread with the same braided lengths and securing it into a small open ponytail. The rest of the hair at the back should be left all open and a wonderful look is achieved.
Braided Hairstyle With Ribbon Bow
Source: Livs_kindy_styles
This braided hairstyle works perfectly fine for school going girls and it will create nice vibes for sure. The hairstyle boasts of a thick braid right in the center that starts at the front and goes all the way back to form a braided ponytail. There is a blue-colored ribbon bow added at the crown to further accentuate the look. There are a couple of parallel braids at each side of that center braid that complement it rather nicely.
Braided Hairstyle With Ponytail
Source: Littleblondiesbraids
Another apparently intricate hairstyle to look at, this one isn't that complex either. Create a few braids in different sections on top just as depicted in the picture above and then join them all around the nape before starting the braided ponytail. Secure it with a colorful ribbon at the bottom and it will look just amazing.
Braided Pigtail Band
Source: Loulibells_lovlies_
How often do we see school girls wearing hair bands? Well, that's probably the most common thing we see in their hairstyles. How about creating a natural hair band with their own hair? Well, this beautiful hairstyle is about just that. You have center parted hair on top with each parted section forming braided pigtails starting around the nape area. Those pigtails are then brought to the top and made to look like a natural hair band and secured with the help of a hair accessory. You will also have to use ribbons right where you start braiding on either side as well.
Side Parted Hairstyle With A Heart Shape And Long Ponytail
Source: Mybabygirlhairstyles
This is another simplest of looks you can find in the school girls hairstyles. The hairdo doesn't have too many fancy details that you would have to spend hours on. Just part it from a side and take a layer to go diagonally towards the back before parting it in a couple of more layers to form a nice heart shape. Once you have created a heart shape, take it down directly to join the beautiful, long and voluminous ponytail to create a perfect vibe. The hairstyle looks clean and elegant and has volumes to speak about its beauty and attractive looks it can give your little girl.
Fishtail Braid With Long Open Ponytail
Source: Little_miss_locks
If you have always loved fishtail braids, you have the opportunity to style your little girl's hair in exact same manner for school as well. Just grab all the hair on top in the center and start braiding. Remember that you have to turn it into a short typical braid as you go past the crown to make it look like a conventional ponytail. Secure it with a nice bow clip and leave the rest of the hair open in the ponytail. If you want an extra touch of style, bring a couple of braids from either side as well and make them to join the central braid towards the end.
Combed Back Hair With Thick Inverted Braid
Source: Wildinspirationscreations
If you don't have much time to style her hair, comb it all back and grab thick layers of hair to form typical inverted braids. The braiding process remains the same as for a conventional inverted braid, but when you go for a thick one then it won't take much time to achieve. Secure with a rubber band at the bottom and your girl is ready for school. Give her a big hug before she leaves.
Combed Back Hairstyle With Triple Braided Ponytails
Source: Messygirlhairstyle
Don't like one simple braid? Why not go for three of them? Yes, you can always make your little girl look cute and beautiful by combing her hair all the way back before turning it into here parallel braided ponytails. Just make sure that you keep the one in the center a bit thicker while the other two can be slightly thinner. Secure the look with the help of a colorful bow clip at the crown and you will have something amazing for her to flaunt.
Braided Hair Band With Open Back
Source: Olya_zavadskaya
If you don't really want to go for an all-out braided hairstyle, you should definitely try this braided hairstyle that only requires one single, thick and horizontal braid in the center of the head. The frontal hair get a nice combed back look and the hair at the back remain open and can be made to fall over the shoulders. Overall, the hairstyle will have perfectly amazing vibe and it will look awesome for school.
Center Parted Hairstyle With Braids Crossing Over At Back
Source: Tashychaffe
Yet another simple hairstyle for school going girls, this one is parted in the center and braids are created nicely that cross over at the back. The hairstyle features typical thick braids that start at each side of the center part at the front and go all the way back crossing over each other to form nice pigtails. It looks simple but it is still quite stylish and works for school without any issues whatsoever.
So, these are some of the best simple hairstyles for school that won't require much of effort on your part to achieve the look. In fact, they all have some sort of stylish vibe to them as well and they are surely going to make your little girl look stand out among the rest. She won't also have to worry about getting fined for breaching the school code too.
Wondering where to find the coolest yet simple hairstyles for school? Check out this amazing list of options that will never put your girl under the radar and are simple to achieve too.