When in search of the best hairstyles for boys, especially teenagers, you are never going to run short of options. It depends on how creative you are and you will be able to achieve hundreds of beautiful looks that would suit your little man too. Even if you come up with something over-the-edge, there is nothing wrong in it. You will find a large number of hair style boys photos online to get all the inspiration you need.
Find The Best Hair Style Boys Photos Here
Do you want something crazy or truly mind-blowing? What if there are school regulations in place and are trying to restrict you from achieving the look you want? Don't worry, you can go short-to-medium with hair length and still find some amazing options to try out. To get you started, here we have a list of best boys hairstyles that will allow your kid to make a statement.
Sharp Side Parted Hairstyle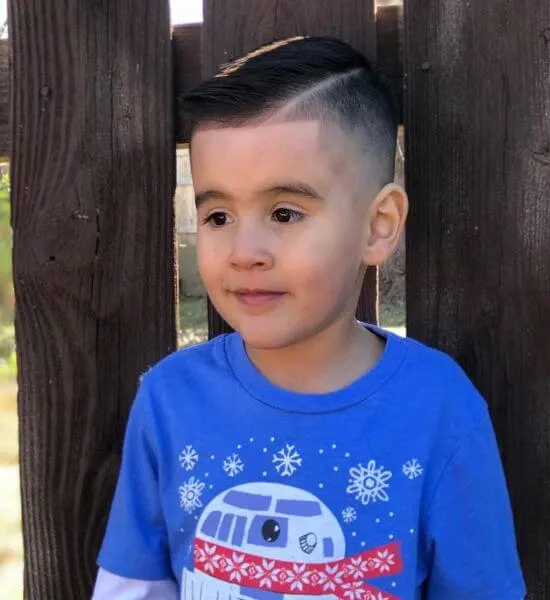 Source:Instagram
A sharp razor part on the side with nicely combed hair on top can completely transform your otherwise conventional hairstyle. Yes, that's a look many would adore to have. When you will ask the barber to style your hair like that, he will create a thick link shaving off the hair in the portion to make your side part pop. For all the remaining hair, you can either go very short or keep it to medium length.
Christiano Ronaldo-Inspired Look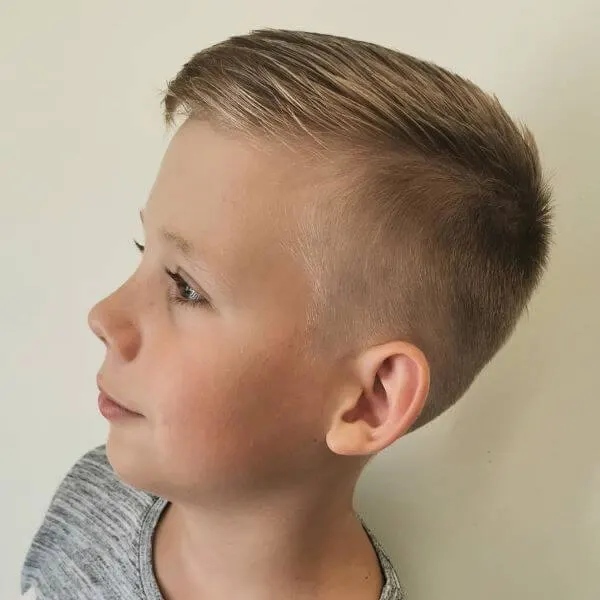 Source:Instagram
The popular soccer star has assumed quite a few unique and beautiful styles throughout his career and this one is another amazing look he sported. A short, jagged pompadour is what you call it and it really looks gorgeous on young boys. If you are looking for the clean boys haircuts, you should look no further and this is the style you should opt for right away.
Traditional Brush-Cut
A cool choice among the short kids haircuts, this one really pops out with those tapered sides combined with the textured front. It's, primarily, a classic haircut which is universally flattering. Even though it works for both men and boys, teenagers would look the best in this look. If your boy has fine-to-medium texture, then this is the hairstyle for him definitely.
Undercut for Teenagers
This is a beautiful look that mixes fun with business as it combines something more conservative and layered with shaved funky sides. The hairdo makes a perfect choice for anyone who loves testing out their looks before they could fully commit to something. So, if you want to create more of a "hipster" vibe, just gather those long strands and form a tiny "man-bun" or a ponytail.
Textured Hair With Soft Taper
Source:Instagram
As far as the trending hairstyles for boys are concerned, the focus has shifted more to the designs which combine texture with a polished and nice mane. You can always create that wavy look with the help of tools if it is something not natural to you. For a more dapper look, keep it brushed back on top and you will rock the look for sure.
Textured Top With Temple Undershave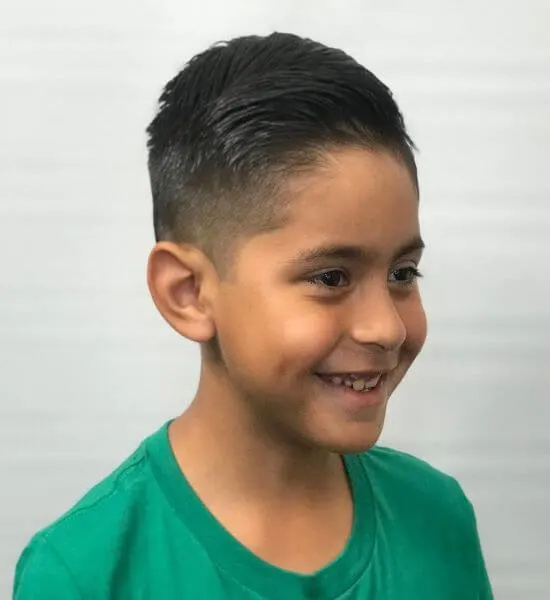 Source:Instagram
If you are after something modern and masculine, a cool and nice undercut is a perfect choice for you while keeping the top short and textured. For this beautiful look, you have to keep it to only a couple of inches at most and, therefore, make sure that you ask the barber to give you that exact length. You may even ask for their opinion on what will suit you best. Nevertheless, the temple undershave makes a statement here and you would love that for sure.
Slicked Hairstyle
Source:Instagram
When it comes to boys haircuts, they could be as stylish and beautiful as most of the options out there for men. So, you do not really need to wait until you are old enough to do some experiments with your looks. Look at this nice and formal look that features a shaved part on the side while the hair is slicked with some frontal spikes. It gets a super-clean vibe with that line up and overall it looks gorgeous.
Long Undercut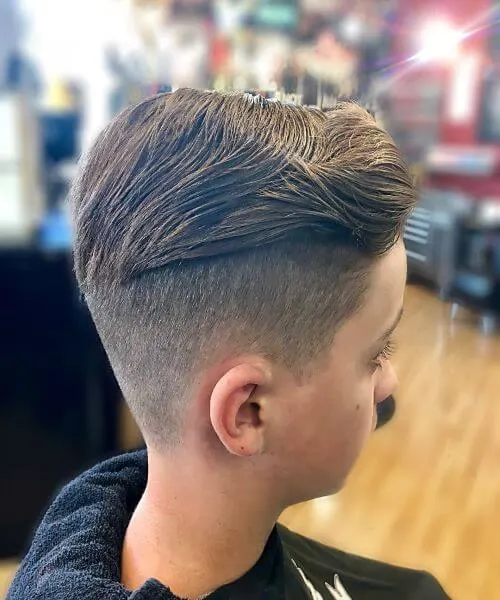 Source:Instagram
It's quite likely that you may not have tried this look before. It's a European hairstyle that is becoming popular nowadays all around the globe. And, there are obvious reasons for it getting so popular. The hairstyle gives you a cool mix of masculine buzzed up hair and those beautiful suave layers. For styling purposes, blow dry it straight up and then take it back while working in some texturizing pomade. The end result will be as immaculate as it can ever get.
Short Teenage Haircut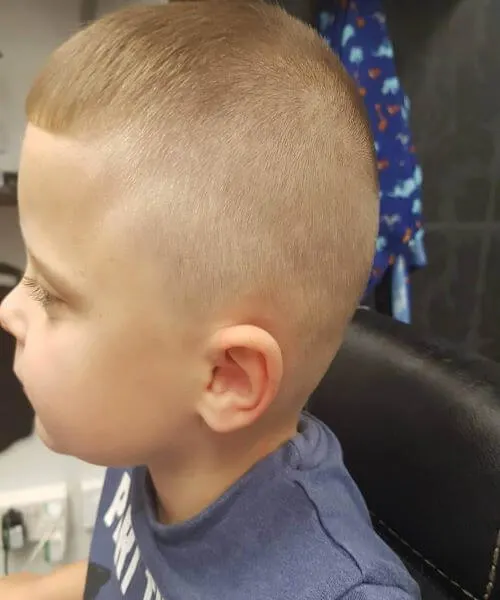 Source:Instagram
Just as the name suggests, it is short and it is perfect for teenagers. So, if you want to keep it all fuss-free, this is the hairstyle you should be after. This mid taper haircut for boys is actually brushed forward before being allowed to get air dry. While it works best for straight hair, kids with curly and wavy textures can also sport this look to perfection. The simple reason for that is the sides are cropped closely and a neat look is what you get any way. Just look at the hair style boys photos and take some inspiration from there.
Side Blown Undercut
Source:Instagram
When looking for the most stylish looks for boys, undercut can be a real inspiration. Keeping it long on top while trimming the sides short, you can get a trendier look than ever. What's best about this beautiful hairstyle is the fact that it is versatile and you can always experiment with the look you want to achieve on a day. Make it into a pompadour, blow it all back, or just create a simple side part and achieve a nice side blown look. The undercut makes a statement with this look nevertheless.
Short Fade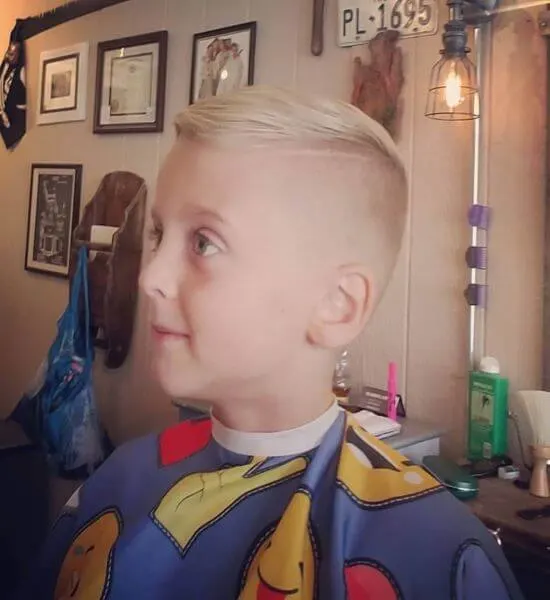 Source:Instagram
A fade haircut always gives you a fresh and clean style and makes a perfect option to show off those pretty curls that you may have. What allows you to really nail this beautiful look is a line up and a smooth fade. Make sure that your fade starts low to achieve the signature style. But if you don't like that too much, you can still go for a high one afterwards.
Cool and Curly
When you are looking for the best hairstyles for boys, you should never try to disturb the natural texture of your hair. If you have the luxury of natural waves and curls, just make sure that you don't get your locks trimmed too short because otherwise you'll end up losing them. Rather, rock a whole new look with something that's natural to your hair. You can, alternately, brush the hair forward rather than taking it back to cut down the volume and have a slicker style. The end result is what everyone would fall in love with for sure.
Textured Waves And Low Fade
If you're after easy to style boys haircuts, you must look for hairstyles that don't require you to blow it out or treat the hair with different hair products. This textured wavy look with low fade is just a perfect example. Make sure that the length is kept under two inches only because that's probably the safest way to try this look if you want something that's more like a 'wash n go' haircut.
Temple Fade For Thick and Wavy Hair
Teenagers love a temple fade and that's especially so for boys with naturally wavy hair. You can allow the fade to start low on the sides so that you can preserve that gorgeous texture as much as you possibly can. Turning it into a skin fade around the nape and ears gives it a clean and modern finish.
Ivy League Haircut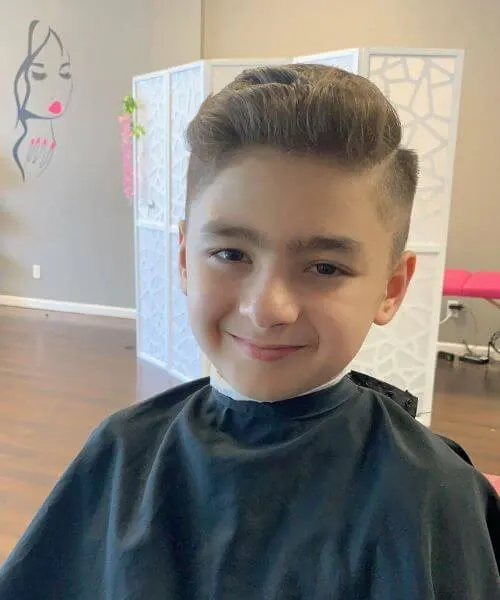 Source:Instagram
You must have known Ivy League for a long time for sure. Yes, it's among the few best kids haircuts for boys. The look is very stylish and can easily impress your mates and your family is also going to love it too. This beautiful version we have here looks particularly cool because it forms a nice little pompadour on top and can still be classified as a perfect Ivy League look. For more structured styling and making sure that it doesn't get too stiff, apply some mousse while heating the protectant before blow drying your hair. Make sure the products are skipped afterwards.
So, just have a look at these hair style boys photos and present these to your barber to get your favorite hairstyle. In fact, these are just a few options that literally make the best boys haircuts and you can easily find many more of them around the internet. The key here is to make sure that you settle for something that looks cool on you and gives you a unique style of your own. It only needs a bit of looking around and you will surely find something that is made 'just for you'. Practice the same if you're looking on behalf of your little boy too.