Fohawk kids haircut remain a top choice among cute little boys and increasing numbers of parents choose this slightly funky hairdo for their little kid.
The hairstyle comes with its own unique vibe and charm which makes it a hot favorite among kids of all ages. The rocking look it creates is second to none and no other kids haircuts out there can really bring the punk out of your little boy.
The unique look of this beautiful hairstyle brings all eyes towards your kid instantly and its unique appeal makes everyone fall in love with this beautiful hairdo.
From short to long, there are all sorts of variations of this cool hairstyle available today.
List of Fohawk Kids Haircut 2023
And, if you are planning to give your little boy this beautiful haircut, here we have a few variations of the look that you would want to try out this year.
Long Spiky Fohawk With Clean Undercut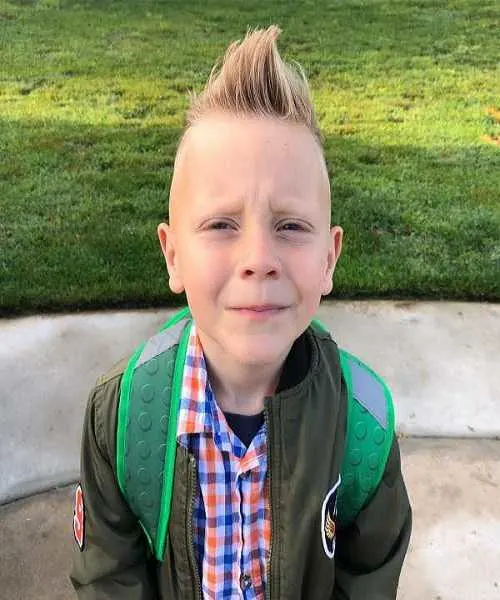 If you want to go with something that is all out funky, this is the hairstyle you should let your kid sport. The hairdo boasts of some length on top that is trimmed nicely into a central faux hawk hairstyle while the sides are almost shaven into a clean undercut.The contrasting hair lengths really balance things out to perfection and your kid won't look too out of place with his hairstyle for sure.
Messy Fohawk With Faded Sides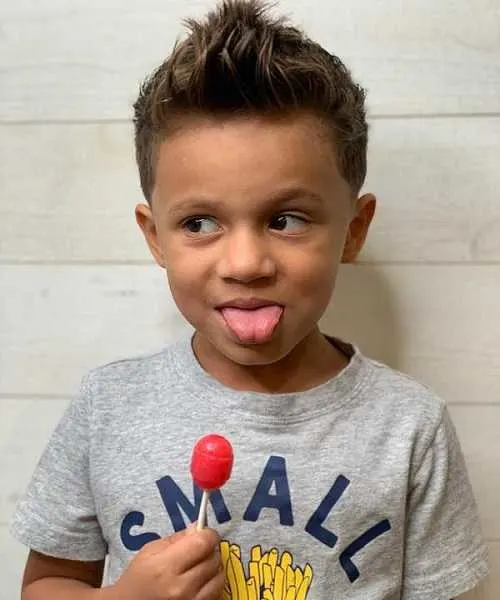 This one is completely different from the hairstyle variation discussed above. The hairstyle boasts of some length on the top and which is styled into a messy faux hawk style by bringing the hair into center and leaving the natural texture intact.The sides are given a high fade and they complement the top nicely to make for a wonderful style overall.
Long Faux Hawk With Short Sides
Another one with stark contrast of hair lengths on top and the sides, this hairstyle requires some gentle hold product to be applied to the top so that the hair is kept into place.
Obviously, the length will make the natural wavy look of the hair to come out evident but you don't have to worry about that as it's actually another style element you'd be adding to your kid's hair.
Keep the sides trimmed short for a cool and wonderful look overall. This hairstyle variation is particularly good for those casual days when your kid has to spend more time at home or with friends.
Curly Faux Hawk With Mid Fade
This style allows you to flaunt your kid's natural curls with a modern twist. The top of the hair is kept long and curled, while the sides receive a mid fade, giving a stylish contrast. To achieve this look, you simply need to trim the sides and keep the top curly.
Suitable for: This Fohawk haircut for your little boys is most suitable for kids aged 6-12 years. It is a style that combines both cuteness and trendiness.
Wavy Faux Hawk With Side Designs
For a little more flair, consider a wavy faux hawk with side designs. The wavy hair is styled upwards while the sides are trimmed and embellished with unique designs. You'll need a skilled barber who can create clean side designs to achieve this look.
Suitable for: The wavy faux hawk with side designs is a perfect Fohawk haircut for your little boys aged 7-13 years, especially if they're fond of unique and artistic designs.
Long Fohawk With Braided Sides
The long fohawk with braided sides is perfect for kids with longer hair. It involves braiding the hair on the sides and shaping the longer hair on top into a faux hawk. This style requires some skill with braiding and shaping long hair.
Suitable for: This Fohawk haircut is best suited for boys aged 8-14 years who have longer hair and a sense of adventurous style.
Thick Fohawk With Side Part
This fohawk haircut for kids involves keeping a thick, tall fohawk with a clean side part. It's achieved by keeping the top hair thick and adding a neat parting on the side.
Suitable for: This Fohawk haircut for your little boys is most suitable for kids aged 6-12 years with thick hair that can stand tall and hold its shape.
Fohawk With Side Swept Fringe
The fohawk with a side-swept fringe brings a softer edge to the traditional fohawk. It involves creating a fohawk with a fringe that sweeps to one side. This can be achieved by styling the fringe hair to one side while shaping the rest of the hair into a fohawk.
Suitable for: This is a charming Fohawk haircut for your little boys aged 5-10 years, and it works well with all hair types.
Disconnected Faux Hawk
This hairstyle offers an edgy contrast, with a sharp disconnect between the faux hawk and the sides. The sides are trimmed short, while the top hair is styled upwards into a faux hawk.
Suitable for: This Fohawk haircut for kids is suitable for boys aged 7-14 years who prefer a sharp and trendy look.
Layered Faux Hawk
This style involves layering the hair in the faux hawk, creating a voluminous and trendy look. It requires some skilled scissor work to create the layers while shaping the hair into a faux hawk.
Suitable for: This Fohawk haircut for your little boys is best for those aged 6-12 years with thicker hair, who enjoy a more dimensional look.
Fohawk With Long Back
This fohawk haircut with a long back offers a unique style by allowing the hair at the back to grow longer than traditional fohawks. To create this look, simply shape the hair into a fohawk while allowing the hair at the back to grow out.
Suitable for: This is a trendy Fohawk haircut for your little boys aged 7-13 years who prefer a longer, distinctive hairstyle.
Textured Fohawk With Razor Line
This style adds texture to the fohawk and includes a razor line for an extra cool effect. This look requires a skilled hand to add texture to the hair and create a sharp razor line.
Suitable for: This Fohawk haircut for kids is most suitable for boys aged 6-12 years, who like a stylish, textured look with a bit of edge.
Fohawk With Zigzag Design
For an extra dose of fun, this fohawk includes a zigzag design on the side. To achieve this style, a barber will create a fohawk and shave a zigzag design into the side.
Suitable for: This playful Fohawk haircut for your little boys is best suited for kids aged 7-13 years who love to express their playful personality through their hairstyles.
Blonde Faux Hawk With Undercut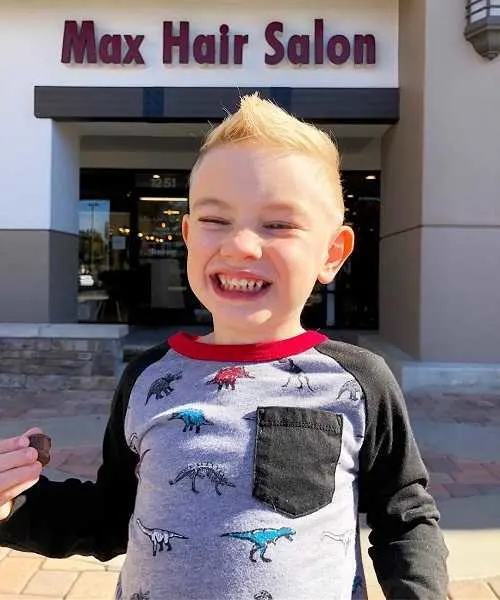 This is a more sophisticated and perfectly organized take at the typical fohawk haircut style. The hairdo is just perfect for the straight and fine blonde hair types and doesn't require too much of effort in achieving the look either.
Just cut his hair on top shorter and make a typical faux hawk look on top. The sides can be kept nicely trimmed and an undercut would do even better.
Spiky Faux Hawk With Surgical Line And Undercut
If you want to give your kid a perfect look for school or any event where he should look more organized with his haircut, this is the one you should go with.
The hairstyle boasts of short and spiky hair on top styled nicely into a beautiful fohawk. The undercut on the sides complements it nicely and that surgical line does it even better.
Tight Spikes With Undercut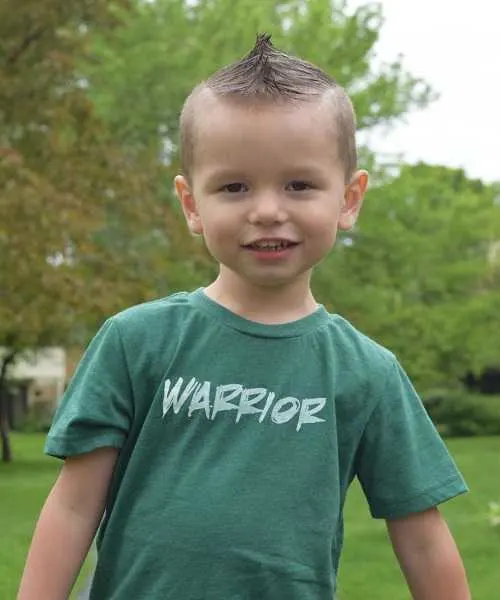 Tightly carved out spikes into the center really take this typical look up a notch and that's the hairstyle your boy would love to flaunt even on the more formal events as well.
Just create a casual part on either side to give it a more defining touch and go for an undercut on the sides to complete a wonderful hairstyle. Apply some strong hold styling product on top to keep everything in its place.
Short Fohawk With Undercut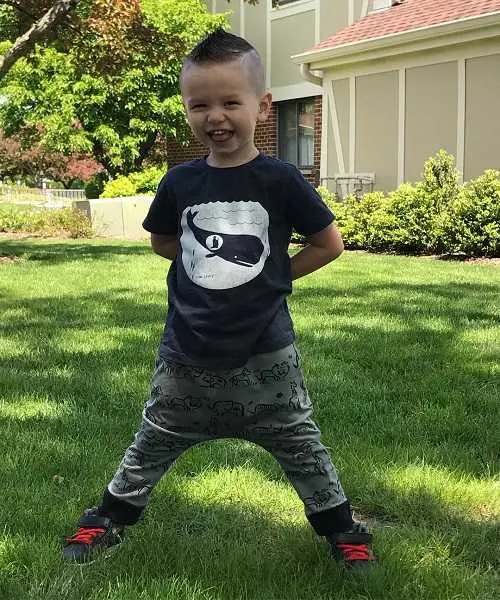 Short spiky fohawk always looks amazing on little kids and this one is going to spark your kid's style in a jiffy.
Get his hair cut short and apply some styling product on top to achieve a perfect look. Keep the sides shaven with a beautiful undercut and you have a really cool hairstyle ready for your little champ.
Fohawk With Blended Undercut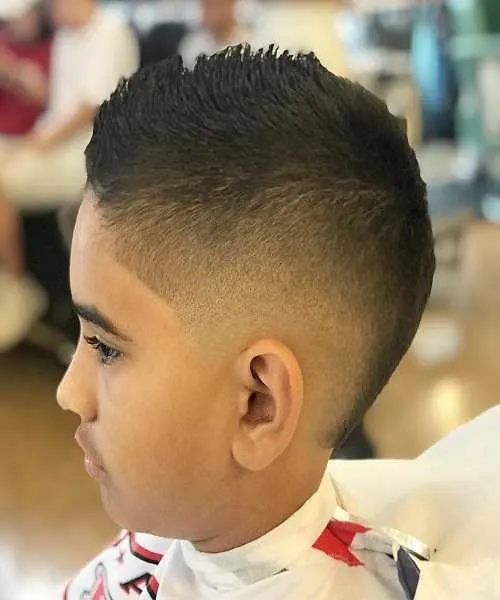 This beautiful hairstyle takes the typical haircut to the next level with its beautiful vibes.
Cut short on top and styled into the signature style on top, the hairstyle takes a different approach by seamlessly blending the undercut on the sides with the hair on top. It is something we don't see too often but it will really look amazing on your little kid.
Edgy Fohawk With Undercut Fade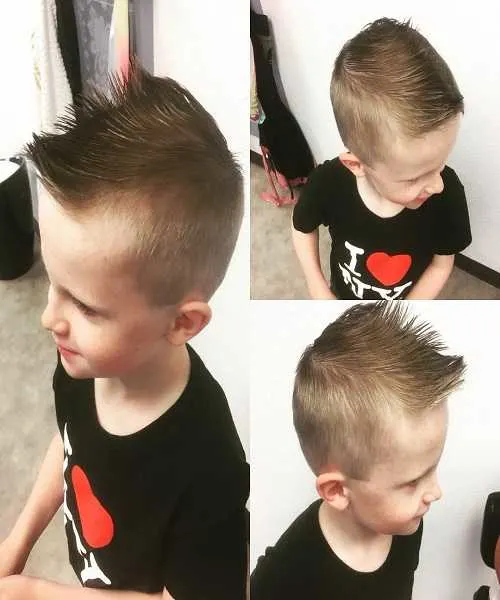 For extremely fine hair, this is a perfect choice to keep your kid looking stylish. The hairstyle boasts some length on top which is made into an edgy fohawk on top achieved with the help of a strong hold styling product.
The undercut fade on the sides looks perfect in the overall scheme and makes the hairstyle look chic and elegant overall.
Naturally Textured Faux Hawk With Fade
If you have been looking for a stylish fade haircut for your little boy, this is the hairdo you would definitely want to go with.
The hairstyle boasts of some length on top which is styled into a typical faux hawk look while still maintaining the natural texture of the hairstyle. The sides get a nice faded look which blends in rather nicely with the hairstyle overall.
Thin Gelled Faux Hawk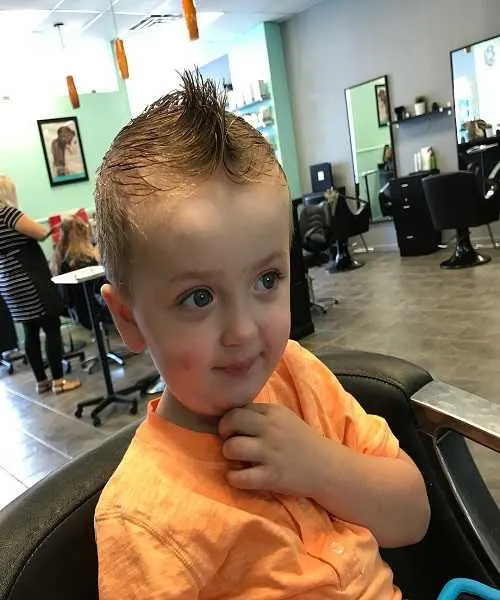 If your boy loves the gelled up hair, or if a product application is necessary for keeping his hairstyles intact, this is the look that would work best for your kid.
The hairstyle boasts of some length on top and everything is gelled together into a thin spike right in the center. The sides have a nicely trimmed and faded look which creates a perfect feel.
Short Spiky Fohawk With Undercut Fade
Short and spiky is the order of the day and this hairstyle works perfectly in such settings. Add a tinge of color and spike it up into the center casually to achieve a perfectly stylish look.
The sides give it a slightly cleaner touch with the help of a high fade which balances things out to perfection. Overall, it's a perfect hairstyle for any casual day out.
Fohawk With High Fade
Another typical Fohawk haircut, this one is achieved with blonde hair cut really short. The hair is spiked into the center starting around the crown area and it gets flatter moving forward.The sides have a high fade which really makes it stand out and creates a chic look overall. The hairstyle doesn't need much of maintenance and can be your kid's everyday hairdo.
If you have been looking for a versatile hairstyle for your kid, the Fohawk haircut make a wonderful choice.
From low maintenance haircut options to the most chic hairstyle variations, a faux hawk is never going to disappoint you. All you have to ensure is that you make the right pick for your kid so that it looks elegant on him.