For little girls with round faces, it's a never ending battle to come up with something stylish that makes a statement. You'd always want that your little girl's rounded face is somehow camouflaged and not highlighted.
Well, one thing you need to understand when looking for low maintenance haircuts for round faces is that you have to create illusion of some length and your chosen haircut should do that to perfection.
There are all sorts of wonderful hairstyles available for girls with round faces and, therefore, you have to make the right choice.
Remember that the shape of your girl's face isn't the single factor which should be taken into consideration when deciding on their next hairstyle. Her personality and hair texture are also important as well.
So, let's cut the debate short and get directly into the best low maintenance haircuts that you'd want to give to your little girl with round face.
Long And Straight Hair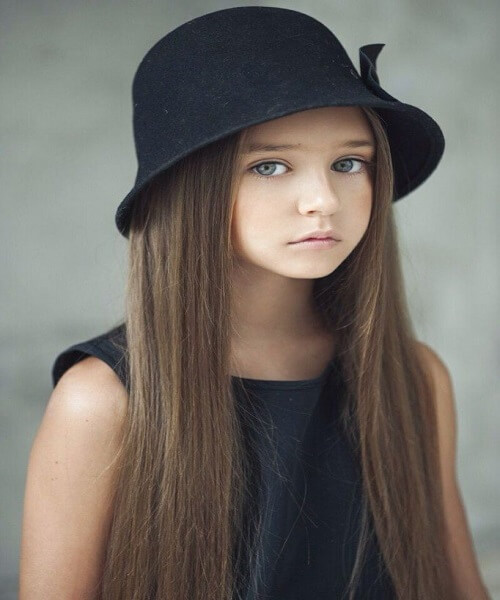 Longish hair always makes an obvious choice for round faces. The hairstyle looks flattering as the longer hair will mean that her face will seem longer as well while straight hair doesn't really add any body to sides. This makes for a curtain effect which can nicely slim down a roundish face.
Remember, however, that if you want your girl to wear the look with center part then you should keep the hair several inches past the shoulders and cut it down in layers hitting at her jaw.
Subtle angles can be created by cutting a little hair on sides. You can use flat iron for getting it all pin-straight.
Beautiful Long Waves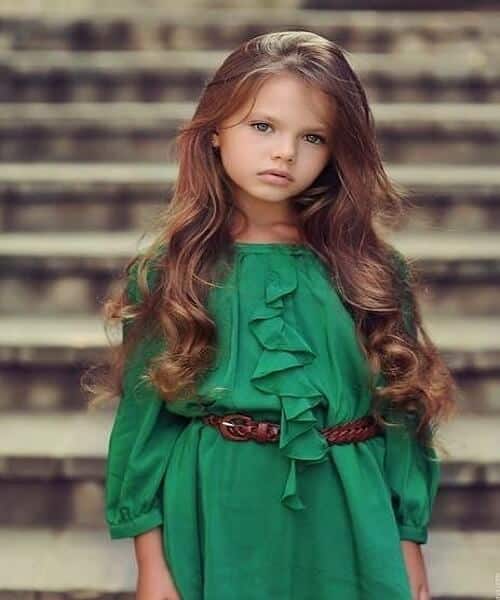 For girls with naturally wavy hair, the round face shape can be well taken care of by letting the natural waves come out and adding more in using curling iron.
To bring her natural wave out, first wash your girl's hair and then comb it through after applying some salt spray. Let the hair to air dry and, when it is drying, take the hair into the palm and try squeezing it.
For bringing a perfect wavy touch, it is advised that you use curling iron. Wind the hair around its barrel and leave the tips out before starting to take it all away from her face.
After drying the hair, you can do whatever you like. Pin it backwards, twist it, or even create small braids pinned at the back. Obviously, when you keep it long, you get all the versatility you want in the world.
Long Bangs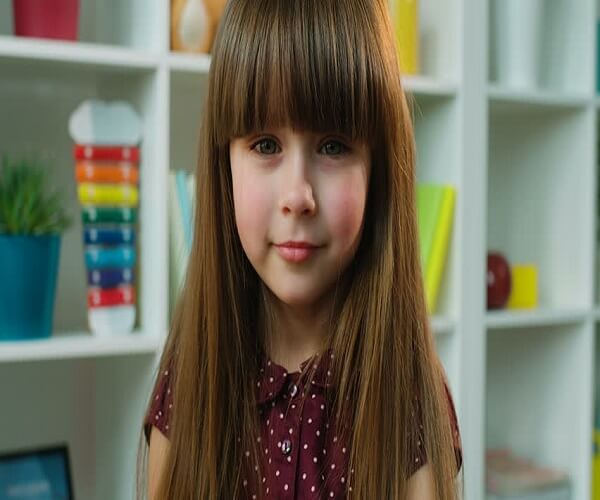 Long bangs can always work perfectly for complementing the delicate, feminine features of round faces. However, you have to make sure that it is cut perfectly. Get the stylist to cut it in a beautiful "graphic, curved shape".
Also make sure that the bangs are left thicker. It would be a great idea to keep the bangs longer on sides while shorter in the center.
Side Swept Bangs
Girls with round faces can style their hair with side swept bangs in a couple of ways.  These bangs can capture the eye in a way that it creates sort of angles on otherwise round and soft face. When swept to the side, bangs look at their best when hitting the cheekbone.
Long Hair With Center Part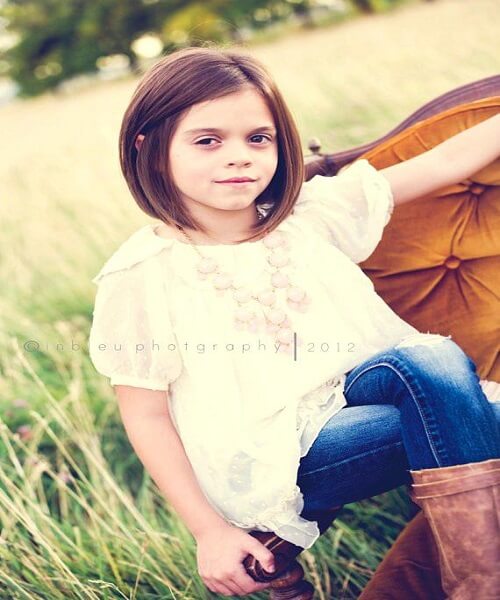 Girls with round faces can style their hair with center part to counter their round faces.
One of the best low maintenance haircuts for round faces, this one lets the hair fall over making a cool curtain on each side creating a thinning effect for the face. The hairstyle makes the best choice for girls who want to keep their hair longer than the chin.
Side Swept Bangs With Long Hair
For girls with a round face and straight hair, it is a wise choice to go with long and side-swept bangs. They'll serve to add length and angles to the round face shape.
You can always make her achieve a cool look by choosing to combine the length, layers beginning around the shoulder area, and some beautiful highlights that add volume.
So, which of these low maintenance haircuts for round faces seems more flattering to you? Why not let your girl decide which one she'd like to go with?