Planning on a new and special way for celebrating Christmas? We've got exactly what you've been looking for. Try to take things to the next level this Holiday season and ditch those old, standard tree hairstyles you've been doing for your kids year after year. It's time that you try some of the coolest Christmas hairstyles for boys and give your little boys something new to flaunt. From topknot to comb-over, there are all sorts of stylish options available with a new touch of style to them and they'll definitely give your kids a fresh, new look.
5 Christmas Hairstyles For Boys To Try This Year
This year, let's give a unique touch to your kid's hair and give them some of the kids haircuts that are not usually linked with typical Christmas tree shapes. Here we have shortlisted top 5 hairstyles that you must be considering to try out this year.
Undercut With A Topknot
This really is one of the most stylish looks a boy can ever flaunt. It can make a wonderful hairstyle for Christmas as well and will give your little one an iconic look to create some amazing vibes. If you love non-traditional and original hairstyles, this one has you covered for your little one this festive season. Just strip him off the bottom three quarters of the tree bare and leave the branches only. After that, leave a small-sized tuft on top and that's it, you have the trendy look ready for your little man. Just send the invitations over and let everybody praise the style your boy is wearing.
Rainbow Color
Yes, we know that the green color has become too mainstream for Christmas while the platinum may be a little boring for you too. So, why don't you try a rainbow of colors this time around? Yes, give him a chic new look with multiple colors added to his hairstyle. This will be a luxurious new look and everyone is going to adore it for sure. The more the color, the better it will look on him. Add red, green, yellow, orange, purple, blue; they'll all look wonderful on the Christmas tree he'd be wearing on top.
Get ready to answer the questions coming up from everyone around. They'd be curious how exactly you were able to pull off this amazing artwork on top of his head.
Short Dreadlocks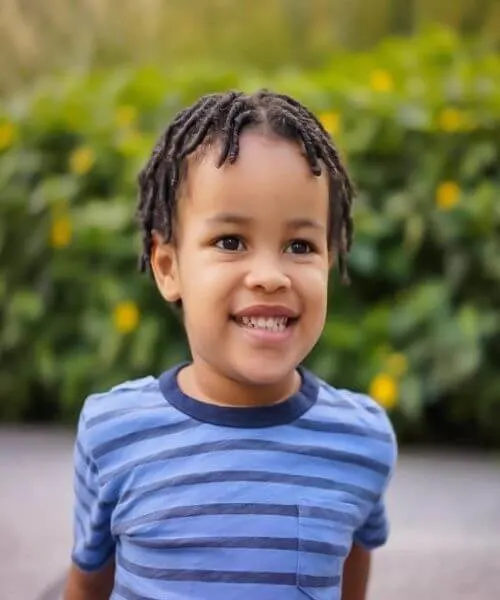 This one may look a pretty conventional choice among the Afro haircuts, but it still makes quite a practical choice for kids. Those black kids with short kinky hair on top, can't find a more stylish look to flaunt on the Christmas Eve. A short and nice haircut would also make sense for those living in a smaller space and just want to look fantastic on the Christmas with their short dreadlocked style. A nice and simple tree formed on top with wild branches coming out here and there always goes with the Christmas trend. You won't even need to twist things around or do a braid to achieve a perfect style overall.
Flat Top Hairstyle
Flat tops may not be the order of the day but they really are making a comeback this Christmas and will make your first-choice Christmas hairstyles this year for your boy. The hairstyle had long enjoyed a primary haircut status for men and now it will be a popular choice for little boys. The unique and stylish flat top makes this hairstyle look practical and impressive. The best part is that the hairdo is particularly easy to achieve which makes it a wonderful way of giving a surprise to the entire family. You can wait until they've all left home and then pick the handsaw to start chopping it all off. And, when everyone will be back, they'll be taken by surprise for sure. The looks on everyone's face would be incredible and you'll enjoy it for sure.
Comb-Over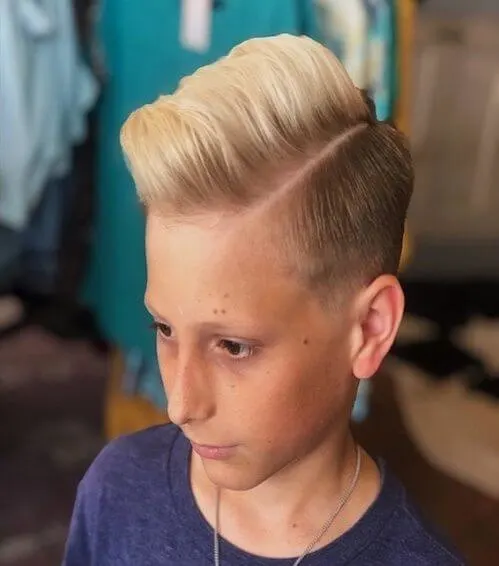 Source:Instagram
Ever tried a comb-over on Christmas? The curved top really makes a perfect style statement and you won't like to miss out on this as the festive season gets underway. If you want to nail this stylish look, trim it off on top to get more of a skinny vibe. After that, apply a few heavy ornaments for ensuring that it creates a perfect curve making a nice and cool comb-over style. And this is never going to look an outdated style from any perspective. Everyone is going to love this beautiful hairstyle and so is your little boy.
Finding the best Christmas hairstyles for boys can be a little challenging. However, if you have the right armory and you understand what it takes to create a stylish look, any of the above styles would do a great job for your little boy this Holiday season. Just give it a try.