Hairstyle options for men are aplenty and with little bit of research you can surely come across lots of beautiful hairstyles that you'd surely want to sport one day or another.
However, if you are planning to find out hairstyles that aren't too wild or boring, and which always remain trendy, you should definitely give a thought to classic taper haircut. It's one of the ever-popular choices out there and it is definitely going to stay right there for years to come.
What is Classic Taper Haircut
When you talk about taper haircut, it is among those high-performance, low-maintenance hairstyles which not just look chic and elegant but are timeless as well. You can easily achieve the look and modify it just the way you would like. You can't just go wrong with it ever.
The hairstyle just works to perfection no matter what type of hair or face shape you have. Furthermore, it gives you a perfect balance between a professional and casual look.
So, if you are looking for something tidy to wear to your workplace or just want a polished look, this taper haircut would be a perfect choice for you.
You Need To Achieve A Classic Taper Haircut?
Owing to the flexibility of taper haircut, you can simply tweak the hairstyle just the way you like. Due to that, you don't have to follow any specific hair length requirements.
With shorter hair, it will look more classic and professional and if you choose to grow it longer then you will have a contemporary look which appears more like quiff hairstyle to some extent.
So, how long you want it is completely your decision. Just check out some hairstyles out there and they would serve more like a reference to you.
How You Can Achieve Taper Haircut?
This hairstyle is very much similar to disconnected undercut in so many ways. The back and the sides have hair tapered really short while there is enough length left on top. When you talk about the classic haircut, however, it looks more formal and old-school.
So, before getting the haircut, you will have to guide the stylist about the length of hair you would want to keep. Even though it is completely your choice how long you would like it to be, keep it a couple of inches in length would be a great point to start.
For achieving a perfect look, you should start with a bit of tapering around the sides and back. Don't forget to tell the stylist exactly how gradual you'd like it to get.
It is likely for the stylist to use shears and hair clippers for achieving a perfectly tapered look. As for clipper setting, you'd be good to go with anything between number 2 and number 5 as per your own preference.
How You Can Modify Classic Taper Haircut?
It is also a good idea to mention exactly where you'd like this tapering to end. For those who prefer long tapers ending at the neck's nape, the desired results would be achieved easily with clippers.
But if you prefer having shorter tapers which end close to your ears' bottom, you should ask your stylist to ensure that it ends right there.
It is quite possible that your stylist would use razors for eliminating all your hair that fall below the point where you want the taper to end. In case, if a clean-cut style is preferred, ensure that you ask for razor trim too.
Furthermore, ask your stylist to do a bit of trimming on top and get desired length there as well. You may choose to keep it between half and four inches there. Scissors will likely be used for this purpose.
How You Can Style Your Classic Taper Haircut?
There are lots of different ways in which you can style your taper haircut and, therefore, you should choose one that perfectly suits you. With that being said, you should be careful about a few elements which work perfectly with such taper haircuts no matter when you choose to sport the look.
There should be a perfect side part and you can't simply go wrong about it. When you combine a part with such a classic haircut, it will give you a deadly duo – particularly when you have a dramatic part.
It is also a good idea to rely on some top quality products for hair and keep the taper looking its best. When you have kept the hair shorter, however, any common wax or pomade would do a great job for you.
But, in case of longer locks, you should definitely opt for something with stronger hold. Pomades make a great choice for those looking to add some glossy shine to their hair.
The Best Taper Haircuts Ideas of 2023
Now, if you are ready to take the plunge, here we have some of the best taper haircuts listed out for you. Have a look and see which of them would work the best in your case.
Broken Quiff With Brush Back
You might be familiar with quiff hairstyle already but this broken quiff is certainly going to surprise you.
Well, the hair is trimmed and styled in exactly the same manner as you do with a quiff and the sides are tapered to perfection as well. Just break the quiff half way through and brush it all back to pull out a perfect look.
Layered Quiff
This is another amazing taper haircut that has a cool and unique vibe to it. The hair on top is trimmed in layers and all combed back to form a nice quiff on top.
As usual, the sides have a taper haircut which blends into the look to perfection. Just ask your stylist to keep the length exactly where you want it.
Side Pushed Quiff
Just as the name suggests, this one has the quiff pushed to a side. The length, however, is kept a bit more than what we have with the hairstyles above. However, it blends in perfectly with the long and falling hair on top to make a perfect style statement.
Layered Pushed Back Hair With A Temple Fade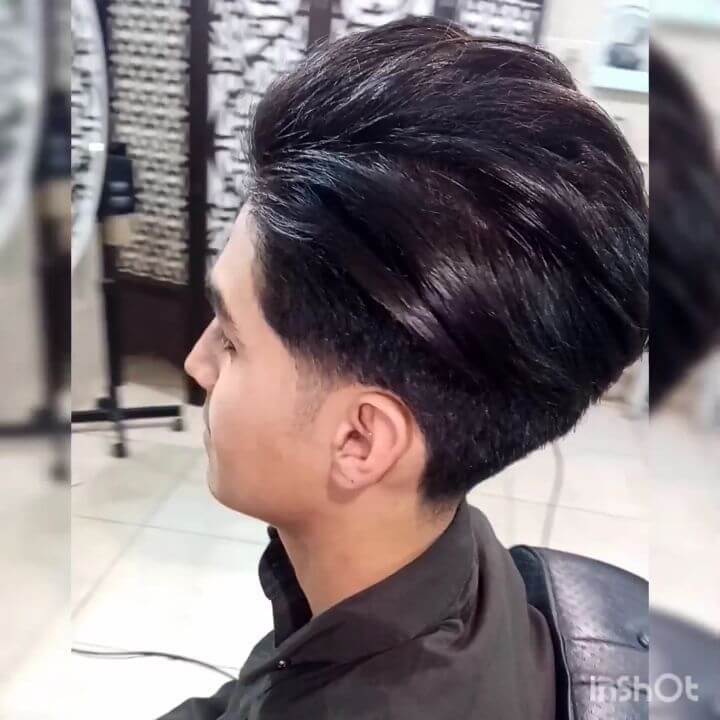 The temple fade remains to be one of the most popular fade haircuts around and it's different in the fact that the fade exists just where the temple is.
The hair on top is trimmed in layers and has a bit of pushed back appearance to it. Overall, it makes for a deadly combination and you get a timeless look.
Brushed Up Hairstyle With Layered Taper
As mentioned earlier, the variation in this timeless taper haircut comes from the way the hair is tapered and how the hair on top is styled.
This one has a nice tapered and combed back look on the sides while the hair at the front is brushed up to perfection. It makes for an amazing look and you can't ask for anything better when it comes to taper haircuts.
Classic Taper With Part
A classic taper with part is actually more like a combover hairstyle that is achieved with tapered sides.
Yes, the hair on the sides is tapered to perfection and you have all the hair on top combed over nicely to create a textured look. The part adds an element of style as well making this look stand out among the rest.
Textured Taper Haircut
If you have always preferred to have a textured hairstyle on top, this is the look you would definitely want to sport.
The hairstyle boasts of a casual and forward swept hair on top that is nicely finger combed to achieve the desired texture. The sides have a classic taper that is slightly short in length and makes great vibes.
If you have been on the lookout for one of the best taper haircut around, these top taper hairstyles are certainly going to rock you away. You would love the way you'll get into style and how simple these hairstyles are to achieve. So, what are you waiting for then?
Just decide which of these hairstyles you're going to sport next and get it done from your hairstylist. You'll love the end result for sure.