At times, life can actually become a lot hectic. Whether you're in college or you're in high school, you have a lot on your plate every day and you'd never want to spend hours every day while standing in front of a mirror trying to achieve a perfect hairstyle for yourself. Even if you're a busy mom looking for some quick hairstyles for school, you would never want to mess up your morning routine just for giving your little girl a new hairstyle.
The idea behind coming up with a simple and cool hairstyle is to make sure that your girl gets a absolutely perfect look for school while not messing up with your daily routine. Of course, you have a lot of other important chores to attend to and you'd want the best of both worlds when it comes to styling your girl's hair. Don't worry; you have a lot of such options in simple girl hairstyles that won't occupy your schedule. It's just the matter of coming up with the right ones for your little girl.
10 Best Quick Hairstyles For School
Whether you choose to go with a braided look or you want something as simple as a high ponytail, you can choose a variety of hairstyles for your little one. In fact, there are so many of them that won't even take more than a few minutes. Just equip yourself up with the right accessories and start styling her hair.
Here we have a list of some of the best hairstyles that you could try out.
Waterfall Braid for Curly Hair
Source:Instagram
The number one challenge that you might face often is to deal with her curly hair. Well, you don't need to get into the hassle of straightening it all. You can use some creativity and come up with an oh-so-adorable look for her. Combine her beautiful curly locks with a cool waterfall braid and you'll be able to give her a perfect style to flaunt in less than 5 minutes only.
The hairstyle will leave everyone in awe and they'd so adore your girl. The procedure to achieve this hairstyle is pretty simple as well and you don't need to be a professional stylist to do it on your own.
Infinity Braid Tieback
Source:Instagram
Everyone considers their beautiful daughter from a gift from heavens above. So, you should not shy away from styling her hair with a gorgeous and unique hairstyle. What about adding a cute little bow at the back? It won't just make her look adorable, cute and stunning, her classmates will be impressed with her amazing style too. And, if you can add a cool little braid to it, things will go up a notch with that too. This infinity braid tieback hairstyle is definitely going to give her a beautiful presence and she's definitely going to rock this look.
Rope Braid With Twists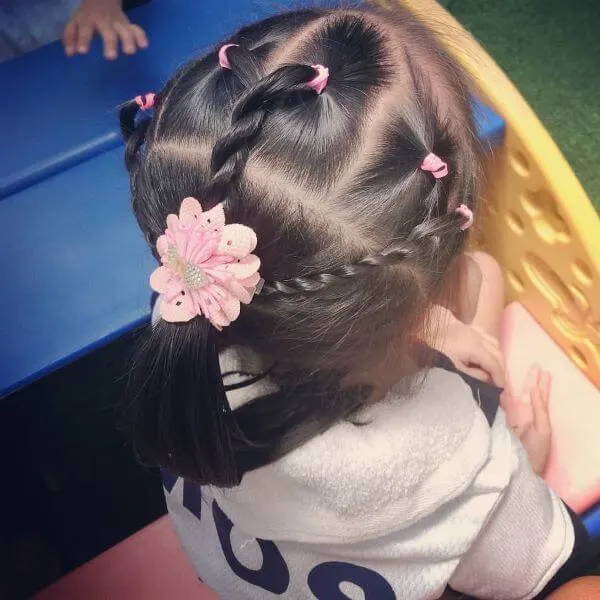 Source:Instagram
Twisted braids have always made a statement and this rope braid isn't really going to lag behind either. You won't need an hour to braid it in this fashion and that's why you should prefer it as one of the best easy hairstyles to do yourself for school . The hairstyle really delivers a cute and chic vibe and it looks so pretty as well. She is going to impress everyone in the class with this cute style and you don't need to sweat at all while achieving this perfect look.
Elastic-Style Hot Braid
Source:Instagram
If you want something that looks the cutest on her, this is the hairstyle you should try out this time. It's going to look ravishing on her for sure. This elastic-style hot braid will make her look standout and she'll pop out of the crowd for sure. That's probably the reason why this beautiful hairstyle has become so popular. A couple of parallel braids on top and a beautiful statement bow at the crown really make a deadly combination. Those mellow back-ends are quite noticeable and they make it look stunning overall.
Simple Sporty Double Braid
Source:Instagram
Want to try out something sporty, simple, and stylish? This beautiful hairstyle with a cool double braid is a perfect answer for you. The hairstyle works better than anything else on special occasions she might have to attend at school, be it a school dance or a class party. The double braid can be achieved pretty easily as you Dutch braid on either side and secure it with a simple accessory at the ends. It's super-pretty and it's going to accentuate her gorgeous looks even further. In fact, you don't need to put in a whole lot of effort either for achieving the style to perfection.
Messy Bun Hairstyle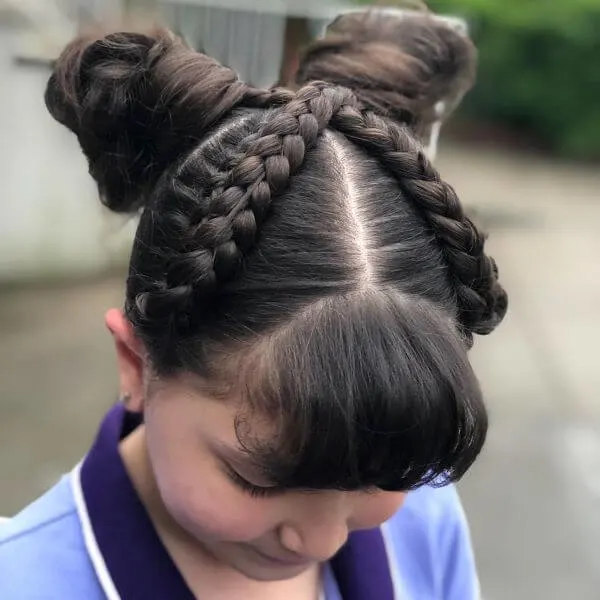 Source:Instagram
Buns look gorgeous, beautiful, and organized. But what about if you're told you can style them up messy? Quite often, the styles that don't take more than a couple of minutes to style are the fanciest ones.
Despite being messy, this bun hairstyle will keep her hair stay put and they won't fall into her face. It's best if you can do this hairstyle on her 2nd or 3rd day hair. If you're looking for some of the finest styles, this one is ideal and it won't need too much of maintenance. A cute and messy hair bun looks nice always and everyone is going to love it for sure.
Top Knot With Braids
Source:Instagram
If you're not looking forward to a bun hairstyle, you can try out this cool alternative without any concerns whatsoever. A top knot with braids turns out to be one of most sought-after hairstyles for school girls. A low maintenance haircut, this statement hairstyle delivers a perfectly flattering shape. The strands end close to shoulder length while the frontal length is kept really short. The braid is created around the crown area where the top knot is secured and it goes swirling around the knot to make it look awesome. The hairstyle looks amazing on girls with blonde medium hair and for them it should be the preferred choice.
Single Long Ponytail
Source:Instagram
What could be simpler than a typical long ponytail style? In fact, you have mastered it all these years that you have lived and it won't take you more than a couple of minutes to style it to perfection. When it comes to straight medium blonde hair, it's not only good-looking, it also helps make your girl look standout.
This straight and long blonde hairstyle leaves your girl with a polished, smooth look. Keep the length to shoulders or, maybe, a little longer just as you find fit. You can create a simple straight ponytail or a high ponytail as you like. This hairstyle is definitely going to give her a bold expression.
Top knot Ballerina Bun
Source:Instagram
You may have liked the top knot style that we just discussed above, here is another beautiful alternative with a topknot element to it. The hairstyle is perfect for days when you don't have any time left to style her hair and the school bus is buzzing at your door.
So, this precise look is what you need to achieve at the time and you can get it quite easily. Just brush through her hair and roll all the volume to the top of her head before securing it right there in the form of a cool Ballerina Bun. Just bring back the frontal hair tight and close to the head before you do so. She is definitely going to look extremely cute in this hairstyle. In fact, it's the latest trend as well and everyone will appreciate this style on her.
Half Ponytail Style With Frontal Twists
Source:Instagram
Kids are often seen complaining about really tight ponytails and that they give them more of a headache. But here we have this simple hack that you can try on any day to get the problem sorted. It really adds that cute twist to something that's pretty ordinary otherwise. You just need a few bobby pins for perfecting this gorgeous look. This half ponytail style with frontal twists looks amazing and it's going to take the cuteness of your little girl to the next level for sure. And, it's not going to breach her school code either.
Coming up with a simple hairstyle for school girl may not be the hardest of things to do on the planet. You just need the resolve to find one that seems to fit her looks the best. There are plenty of them around that are quite simple and yet look stylish. What do you make of the top 10 best quick hairstyles for school listed above? Most of these won't even take more than a couple of minutes to style. Just master the art of creating these hairstyles to perfection and you have a wonderful gift to present to your little one every morning.