School days are always tough for the kids and they don't really love those piling assignments, schoolwork, and projects. The routine is more chaotic than anything else and they never want to get into the fuss of styling their hair in a chic look that would take some time to achieve. But school girl hairstyles don't always have to be time consuming and annoying. There are lots of amazing quick and easy hairstyles for school out there that present stunningly gorgeous looks.
If you're looking for the best hairstyles for girls on behalf of your little as you have to do the hard work every morning, these easy hairstyles for girls are the answer to your woes too. You just need to figure out exactly what look goes with their school's dress code and their own unique facial features so that you can come up with something that's personalized to your little one.
Quick and Easy Hairstyles for School
So, let's not just keep you waiting! Here we have the list of some of the best simple hairstyles that would work wonders for your little girl. Try these out and give her a completely astonishing look.
Criss-Cross
Source: Instagram
One thing that sets this hairstyle apart, in terms of styling, from various others on the list is that you will need some cool small elastics for this one. If you don't have any issues there, this one is going to be the fastest and the easiest of the lot.
All you need to do is to take one thick strand of hair on both the temples and simply tie them both together. After that, grab another strand of hair from bottom side and tie it in a way that it falls a little on the top of that first strand and is still lower. It's up to you whether you want to continue in that same pattern or just keep it to these two strands. Use bobby pins or hairclips to secure it to perfection.
What's best about this particular hairstyle for girls is that all those loose strands will be kept out of her face and she won't be irritated at all. And, you don't have to spend too much time for that either.
Half-Up Rope Braided Hairstyle
Source: Instagram
Another option among the best quick and easy hairstyles, this one really is an elegant hairdo that you must give a try. All it requires from you is to take a couple of hair sections from both the sides and loosely braid them. Eventually, you have to twist these sections together at the back. Use elastic to secure the hairstyle or you can also use your preferred clips.
Twisted Double Braids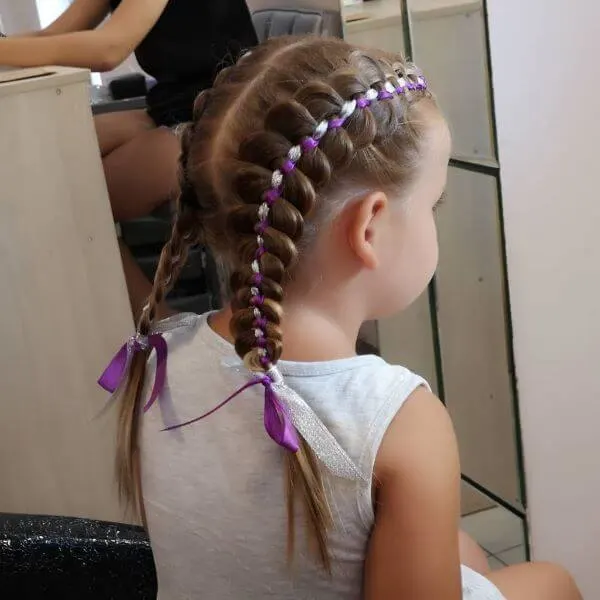 Source: Instagram
You might have always thought of braids as a difficult and time consuming hairstyling option, but they actually aren't. Try this simple and easy braid hairstyle for your little girl and it won't mess up your morning routine either.
Simply, create a couple of even and low braids towards the back of her head and twist them right till the very end. Use a cool hair tie for tying it together. Add your desired accessories and clips to finish off the look in style. Also, pull some strands out gently to make it look voluminous and messy at the same time.
Braided Headband
Source: Instagram
Braids can be given all sorts of shapes and styles and there are so many of them that your little girl can wear to school without any trouble whatsoever. This one is something that can be done in a jiffy, particularly if you have mastered the art of braiding.
If you can braid like a pro, first part her hair and select a strand on either side of the part that you'd like to braid. Yes, that's same like what you do with half-up rope braided style and a criss-cross hairstyle. Once the braiding part is done, grab the strand from one side taking it to the other. Repeat the same on other side and secure these two strands in the form of a beautiful braided headband.
The best thing for you to do here is to begin braiding only few inches apart from tip of her face and the hair. It will make sure that you can use frontal hair to create sort of a frame on either edge.
Rope Braided Ponytail
Source: Instagram
There can be a lot of contemporary options that you can try to have a perfect ponytail style and rope braids are a perfect choice here. If you want that unique twist into her ponytail, you should actually twist it. Create two sections of her ponytail and twist these both sections right to the bottom. Now, twist these twisted sections with one another.
If you've done the twisting tight enough, the hairstyle might last throughout a day with no need for you do it again once she gets back home from school. So, it is a perfect choice if your girl loves being active throughout the day.
Dutch Braid Hair Bun
Source: Instagram
We all know Dutch Braid for all the good reasons. But if you want to have a different take at it, go for a braided bun style that won't require you to bother about her style throughout the day. For a perfect twist to a typical braided style and a hair bun, add braids right through the center of her hair. Divide the hair in the center to create dutch braided look and once you're halfway through it, simply tie it all together into a ponytail before forming it into a nice bun shape secured at the crown. It's definitely going to make her look gorgeous.
Braided Double Bun
Source: Instagram
If your girl has thick hair, you'd know how troublesome it is to gather it all up into a single hair bun. You find it falling down gradually and securing the hair bun for long is probably the hardest thing to do for you here.
But, how about a double buns! Yes, they really make a perfect solution for you. Just gather her hair and form a couple of pigtails before braiding it all down to the tips. Twist the braided hair up and form a beautiful hair bun with each pigtail. The hairstyle is quite easy and simple to achieve and you'll definitely love it.
Double Flip
Source: Cutegirlshairstyles
It's a classic hairstyle that is all about giving a new twist to a typical ponytail. You will be transforming it into something really and practical for your school going girl. It will add to her appeal and she will look awesome for sure.
To achieve the look, tie her hair low somewhere around the nape area. Use the index finger and the thumb to create a bit of space right above her hair tie. Flip her ponytail up and take it through that gap you have just created. To have an added effect and to secure it to perfection, flip her hair through another time. That's it, the hairstyle is ready.
Cross-Over Braids
Source: instazu
Little girls really love this beautiful hairstyle that comes with a unique touch to it. This one is going to keep the strands away from her face and it really looks cool as well.
Just part a hair section on top into a couple of sections on either side of her head before tying it back. It is probably easier for you to tie a couple of more sections of remaining hair, just the way you do with pigtails. Start braiding one of these top sections and when you are about to end it just lay that braid diagonally across her head before tying it into that lower band. Repeat the same steps on other side and you're done.
High Side Ponytail
Source: Instagram
High ponytail style is pretty simple and it has received great appreciation among little girl hairstyles over the years. Even though it may give somewhat of a retro look, it is a trend which has lately been revived. So, you should not really have any issues styling your girl's hair this way. She is definitely going to rock this look at school.
For achieving the look to perfection, grab her hair to a side and brush or comb it through to get rid of the flyaways. Create a cool side ponytail positioning the tie high on a side. How much height you want to achieve here is completely your choice. You can add a cool looking bow to further accentuate the look and she is definitely going to end up with a trendy look style.
These simple, quick and easy hairstyles for school can really spice things up amidst your girl's strenuous life at school. So, you can always rely on these unique hairdos to live the atmosphere up a little. They will surely turn some heads around and everyone will be welcoming towards your little one. Not to mention, these beautiful hairstyles are definitely going to take a whole lot of stress off you because your morning routine will become as simple as it could ever get. You won't have to spend an hour or so just styling her hair every morning. So, which of these hairstyles are you going to try out with your little girl? Do share with us and don't forget to tell us about your experience with the chosen hairdo!