Always adored the Asian hairstyles and wanted to have a beautiful look this year? Why not try some of the coolest Korean short hairstyles if you have round face.
Yes, Korean hairstyles do have a unique vibe to offer and they make you look gorgeous if you pick the right hairdo for your face shape and hair texture.
Want to check out some cool looks that you'd like to wear this year? Let's run you through some of the coolest options out there.
Top Korean Short Hairstyles for Round Faces

If you have always preferred a clean, unique look with Korean short hairstyles, here we have a few for you. Let's run you through your options.
Forward Swept Hairstyle With Edgy Bangs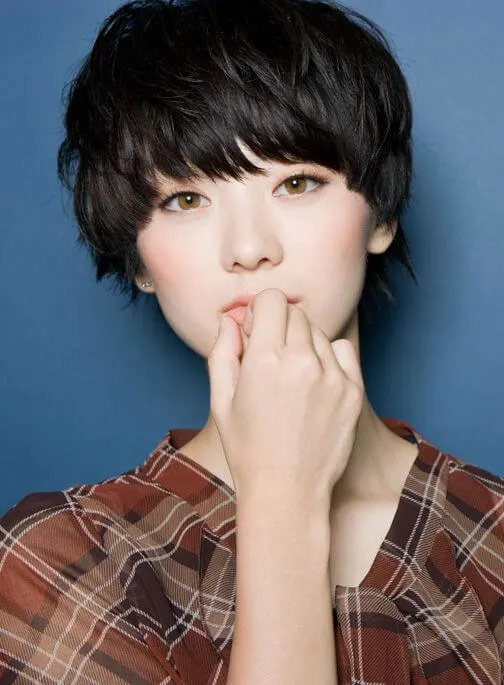 It's a stylish look with very short hair and looks perfectly Korean. If you are a fan of short hairstyles with edgy vibes, this is the one for you.
The hair is cut in layers and forward swept on all sides. The edgy bangs falling over the forehead really make a killer look to have on any day.
Short Bob Haircut
Bob haircuts always look stylish no matter what variation of the hairstyle you want to adopt.
This hairdo also makes perfect sense for the Asian girls and gives a cool, unique, and clean look on any day. Just let the layers fall over to the sides and curve into the face, and you have a perfect look to flaunt on any day.
Short Pixie Cut
This is a delightful hairstyle for Korean girls with round faces. The haircut is tailored to reach just to the ears. The bangs are softly layered to frame the face, giving a chic and youthful appearance.
How to: You'll need to trim the hair short, leaving the bangs slightly longer and layer them softly to create a frame around the face.
Suitable for: This style suits young and middle-aged adults who prefer a low maintenance yet stylish haircut.
Curly Bob
This style enhances volume and texture to the hair, which in turn makes the face appear slimmer. It's a particularly trendy choice among Korean short hairstyles for round faces.
How to: Cut your hair in a bob and use a curling iron or rollers to add curls, giving your hairstyle an extra dose of personality.
Suitable for: This style is suitable for young adults and teenagers who love a fun and fresh look.
Inverted Bob
A shorter back and a longer front characterize the Inverted Bob. This style can draw away the fullness of a round face.
How to: The hair is cut short at the back and gradually increases in length towards the front.
Suitable for: This style fits women of all ages, from young adults to older women, as it gives a classic and elegant look.
Korean Shaggy Hairstyle
This style uses layers to create a fun and edgy look, a trendy choice for short hairstyles for round faces for Korean girls.
How to: Add layers to your hair to create a shaggy effect. It might require a bit of styling in the morning, but it's worth the look.
Suitable for: This style suits younger women and teenagers who are looking to express their vibrant personality.
Blonde Bob with Undercut
A sleek blonde bob combined with a bold undercut offers a modern twist.
How to: Cut your hair into a bob, and then shave or trim one side (or both) very short to create an undercut.
Suitable for: This style suits young and daring adults who aren't afraid to make a bold fashion statement.
Layered Pixie with Side Bangs
This hairstyle brings attention to the eyes and cheekbones, providing a slimming effect to round faces.
How to: Cut your hair into a pixie style, layering it on the sides and keeping the bangs longer.
Suitable for: This style is perfect for both young and middle-aged women who enjoy a trendy, face-flattering look.
Wavy Lob (Long Bob)
This versatile cut allows for the styling of waves in various ways to complement a round face.
How to: Maintain your hair at shoulder length, and use a curling iron or hair rollers to create waves.
Suitable for: Women of all ages who enjoy a versatile and stylish look would love this hairstyle.
Messy Pixie Cut
This carefree style creates a trendy and laid-back look, which is suitable for round faces.
How to: Get your hair cut into a pixie cut and style it in a messy fashion to achieve this look.
Suitable for: It is suitable for young women and teenagers who appreciate a casual and easy-going style.
Feathered Pixie Cut
This short style brings a touch of sophistication, making it an excellent choice for round faces.
How to: Cut your hair into a pixie style and add feathered layers for an elegant touch.
Suitable for: This style suits middle-aged and older women, offering a classy and refined appearance.
Bob with Middle Part
This timeless style can help elongate the appearance of a round face, creating a balanced look.
How to: Keep your hair at bob length and part it in the middle to create a symmetry that elongates the face.
Suitable for: This hairstyle fits women of all ages due to its timeless appeal and simplicity.
Messy Short A-line Bob
Another cool variation of the Bob hairstyles, this beautiful hairdo boasts of some messy volume on top.
Given a slightly side-swept look on top, it's finger-combed to achieve that perfect Asian vibe. The frontal bangs and the layers on the sides look gorgeous.
Bob Haircut With Bangs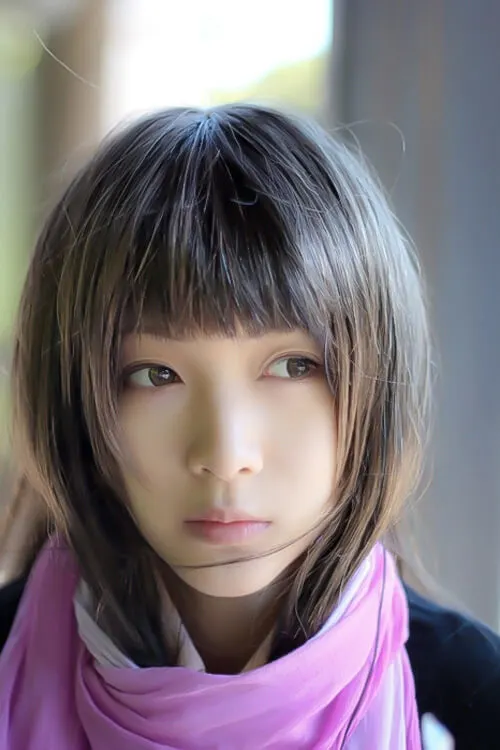 Another cool variation of the bob haircut, this one looks more like an A-line bob on the sides with slightly longer lengths.
However, the strands at the front are chopped short into beautiful frontal bangs to lend her a cool new look. The hair on top is given the impression of a center part but it's quite vague actually.
Korean Hairstyle With Bangs and Pigtails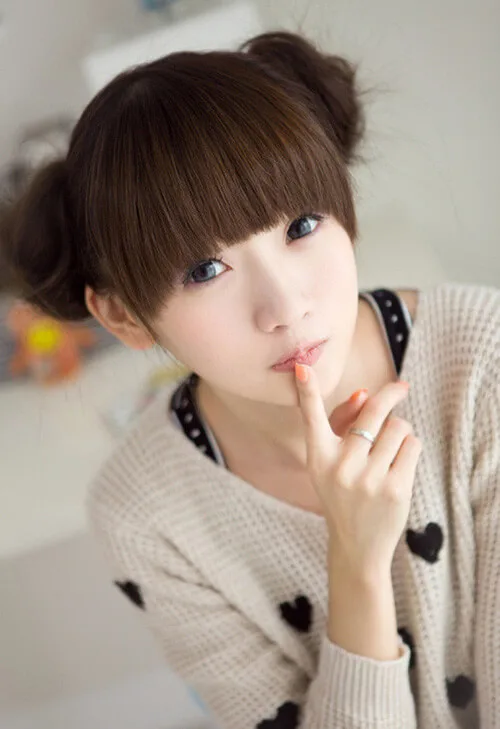 If you want to keep your girlish looks intact, this is the hairstyle you should be after. The beautiful hairdo is all about short cropped, forward-swept lengths at the front while beautiful pigtails are at the back.
It looks amazing on any day and gives you quite a unique look as well.
Short Bob Veil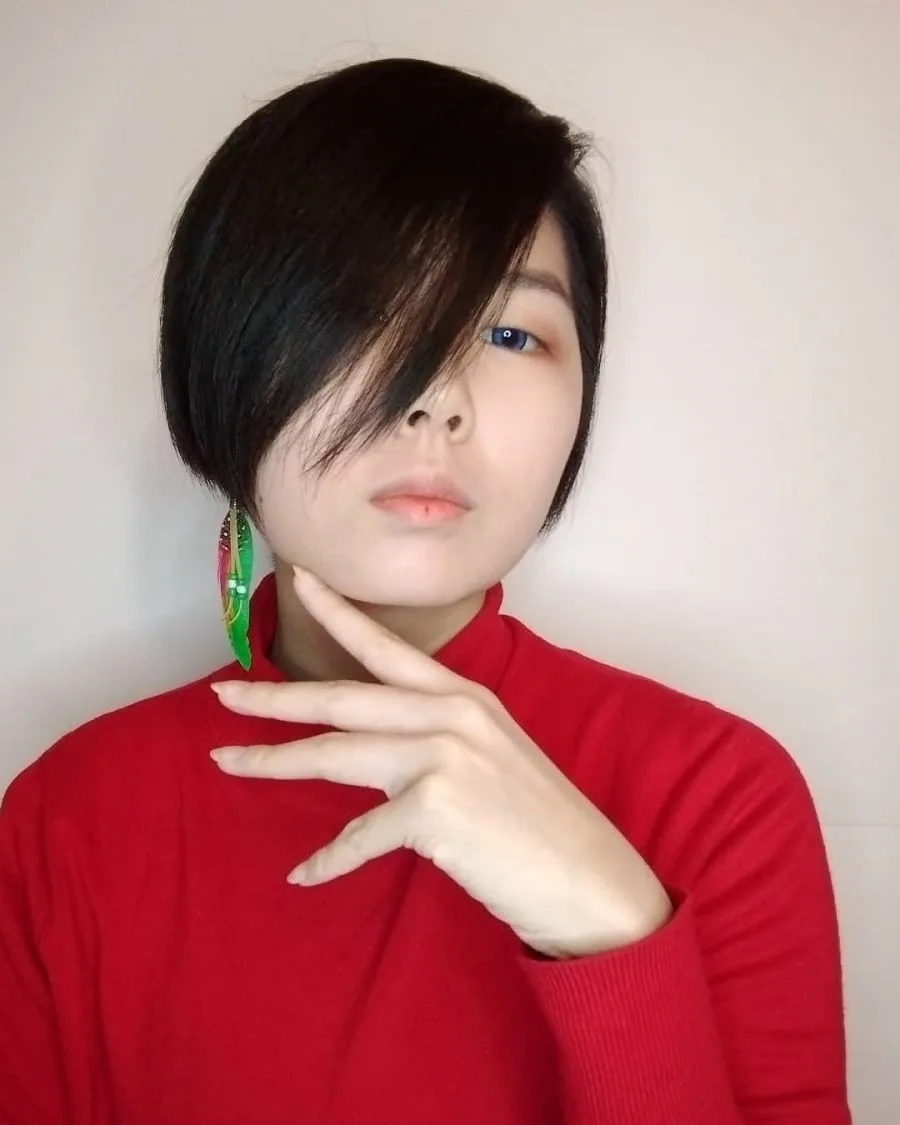 A short bob can be completely transformed by adjusting the length of bangs. This enables you to experiment with your hair and create new looks. Create a side part and comb your hair forward at an angle. Let the long layers fall on your face creating a veil effect. Use hair spray to fix your bangs in place.
Greyish Blue Messy Hair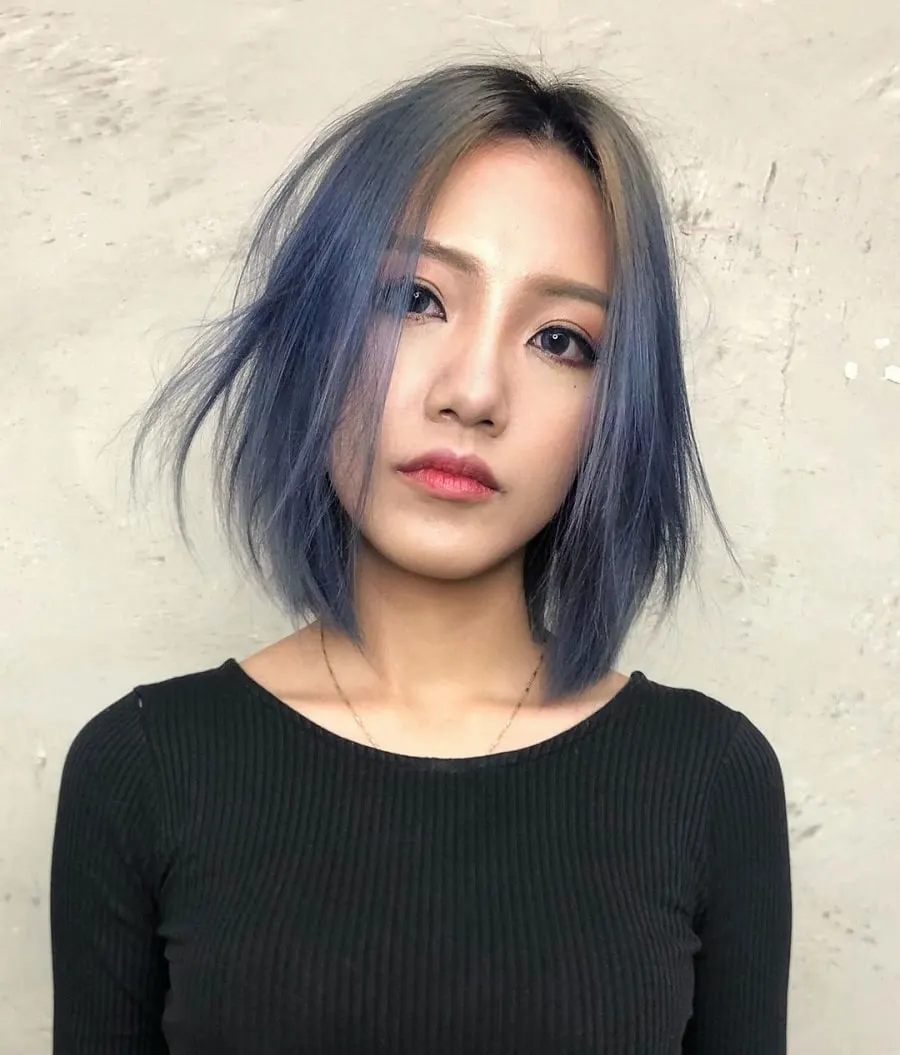 Fill your with layers and choppy ends to create a messy hairstyle perfect for a night out. Part your hair a little off the center to create a difference in volume among the two sections giving a further push a messy appearance. The grayish-blue hair matches the winter mood.
Short Blunt Bob
A short cheek-length bob hairstyle is styled with blunt ends. Face framing locks are flicked inwards to cover the cheeks. They take away width from a round face and give a sender look. Brush over the short layers at the top of your forehead to create short windblown fringes.
White Bob Haircut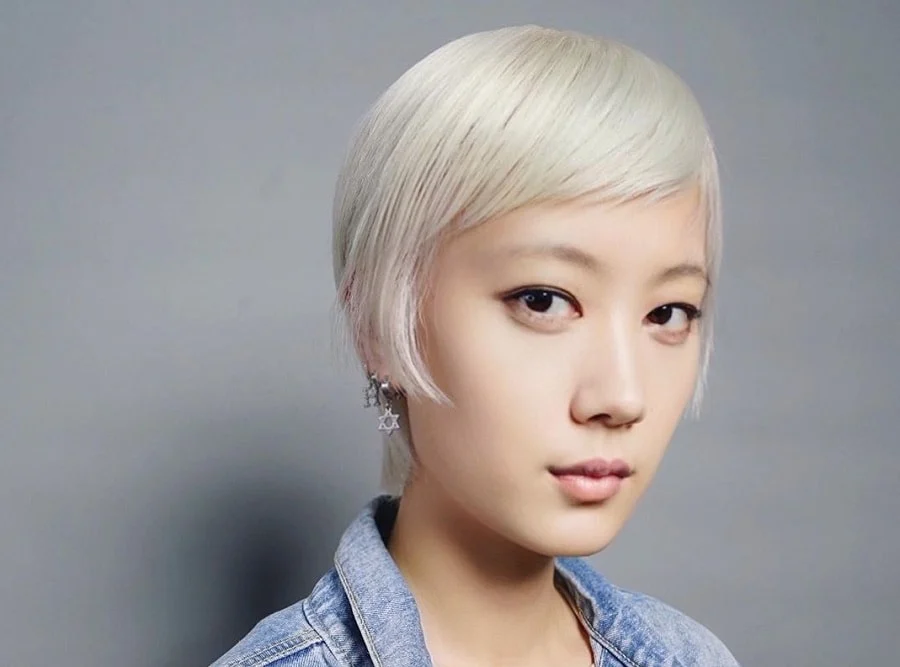 Cool white hair color is full of vitality. Keep your hair short up to cheek length and create a side part. Comb your hair at the front forward and let them fall on the forehead. Give your bangs a slight slant to create the mushroom effect. Use a hair cream for a sleek finish.
Mullet Hair
A mullet involves chopped short hair at the top and the sides and long hair at the back. The short hair at the top is convenient and gives a tomboy look but allows you to maintain the length of your hair, which gives curves to a round face. You can highlight your long strands for adding feminine elements.
K-Pop Colored Hair
K-Pop has made pastel hair colors a trend that has become popular globally. This short bob hair is inspired by the same trend. We see various shades of red, orange, green, and even white, creating a beautiful rainbow effect. Make your statement with this bold hairstyle.
Chin Length Waves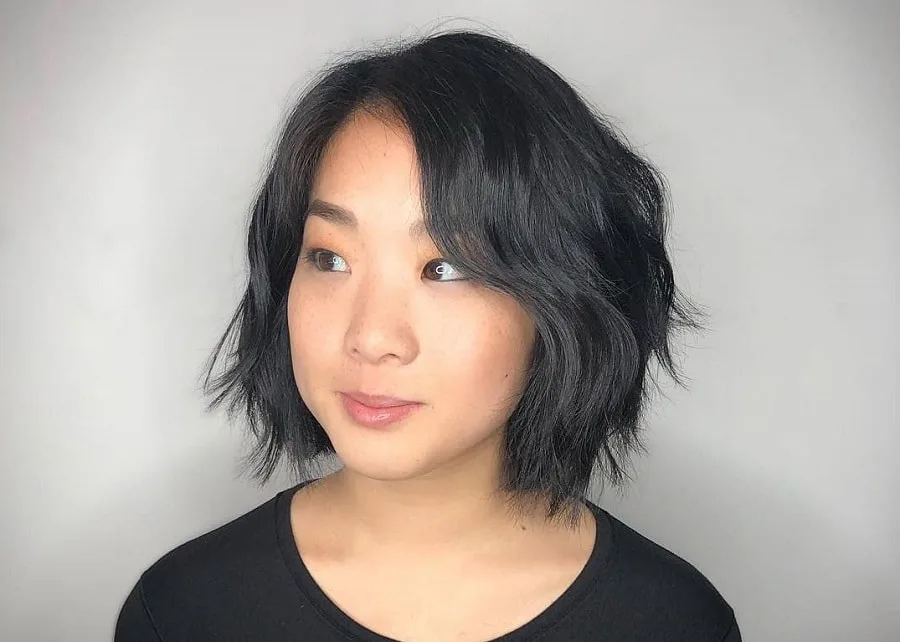 A wavy hairstyle is perfect for a chin-length bob hairstyle. Side-part your hair and comb-over. The natural waves gently frame your face to minimize roundness. Wavy hair with choppy layers maximizes the texture of your hair. This hairstyle is easy and hassle-free.
Asymmetrical Hairstyle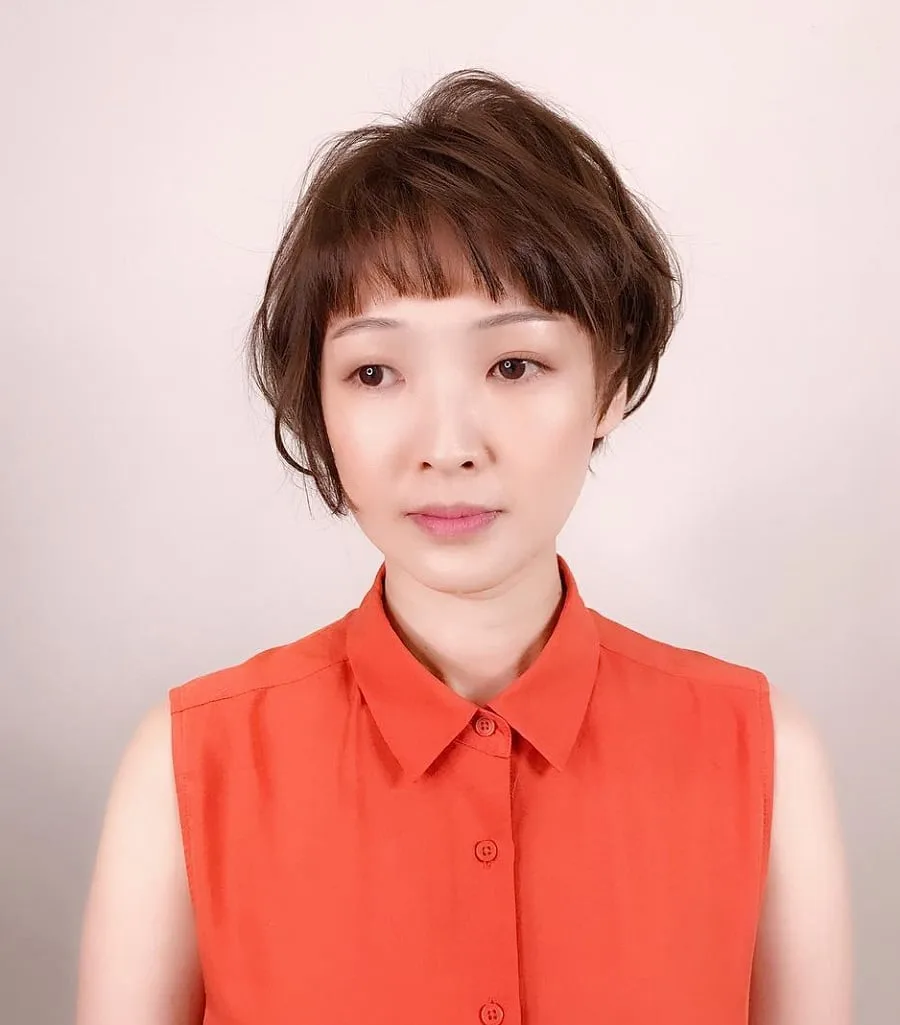 Asymmetrical hairstyles are unique and peppy. An easy way to give a fun twist to any hairstyle is to create asymmetry. Use a blow dryer to give your hair a lift at roots and brush them down. The lifted hair at the top gives height to a round face. A Warm chestnut hair hue adds a glow to your pale skin color.
Tousled Side Bangs
Give a lift to your hair using a blow-dryer and use a sea salt spray to maximize the volume of your short hair. Add layers to your hair and tousle them over your forehead. Tousled blunt bangs resting on the cheeks make a round face appear sharper.
Bob With Short Blunt Bangs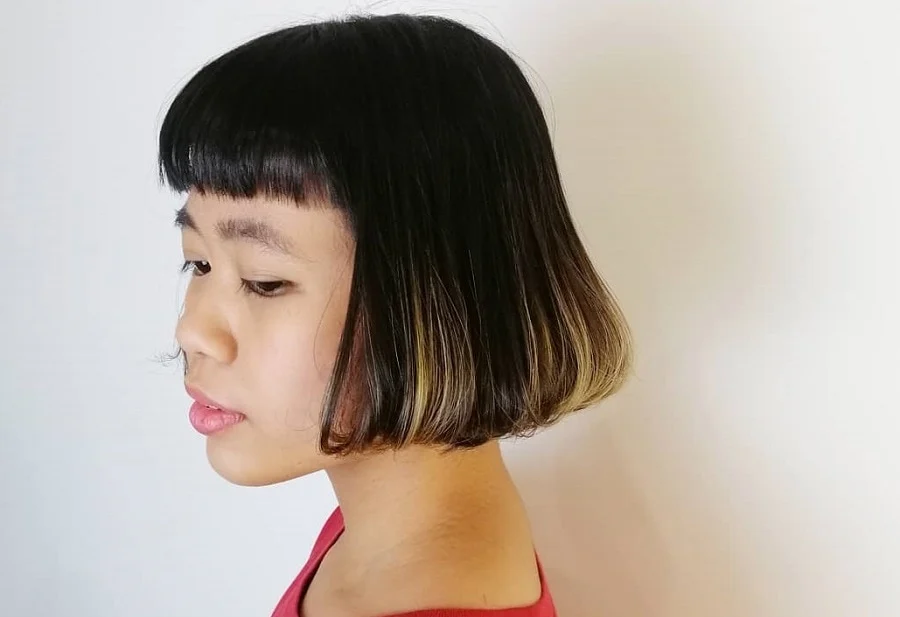 Blunt bangs are timeless and get straight to the point. They will look good even as they grow and won't distort your hairstyle. Dark hair colors with blunt bangs look sophisticated and classic. Easy to create and effortless, you can add highlights or opt for pastel colors.
Shaggy Shoulder-Length Cut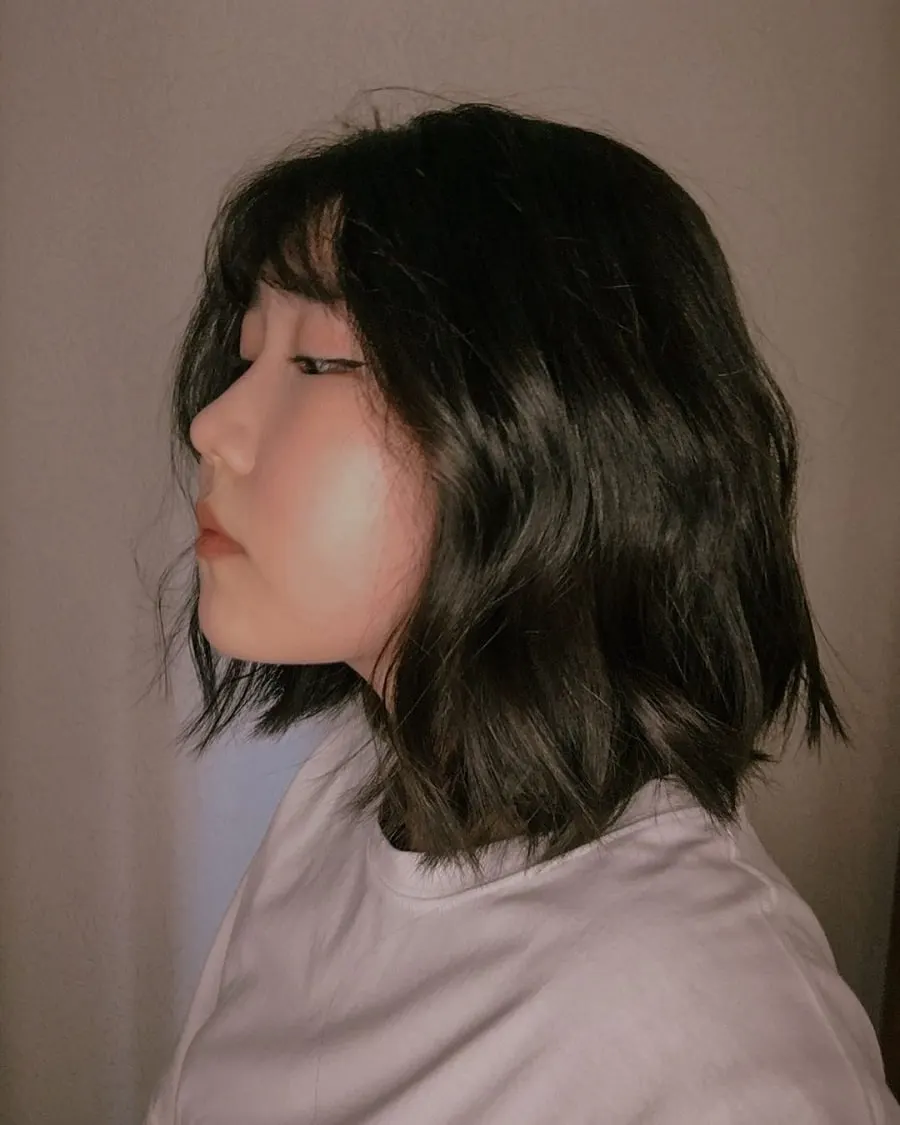 A shaggy shoulder-length cut is a great Korean short hairstyle for round faces. Shaggy hair adds height at the top, and the thick shaggy locks frame your face and play with volume to make your face appear slim and oval.
The Boy Cut
Very short hair gives you a boyish look. Short hair gives you a strong appearance which makes your round facial structure advantage for you. A practical Korean short hairstyle for round faces if you have no time for hair care.
Bob Hairstyle With Side-Swept Bangs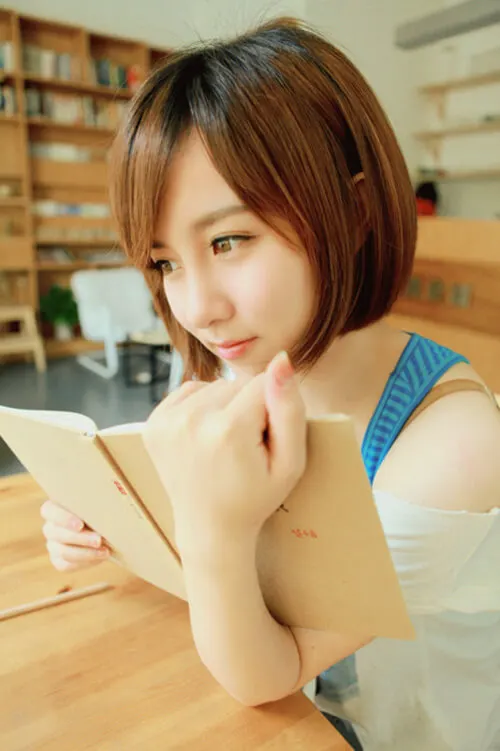 Bob with bangs is a perfect combo for a day at school and it lends an authentic Korean vibe as well.
The hairstyle boasts bangs that are swept slightly towards a side while the frontal layers on the sides are drawn forward to frame the face. Overall, it looks fantastic.
Casual Side-Swept Hairstyle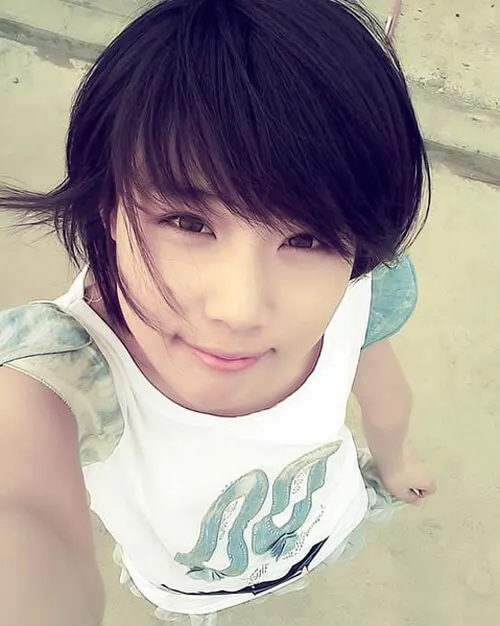 This certainly is a cool look for girls with naturally rough hair. The hairstyle boasts of short hair all around while it is casually swept to a side for a perfect look. The carefree hairstyle makes an everyday hairdo with the Asian signature.
Side-Swept Short Bob with Color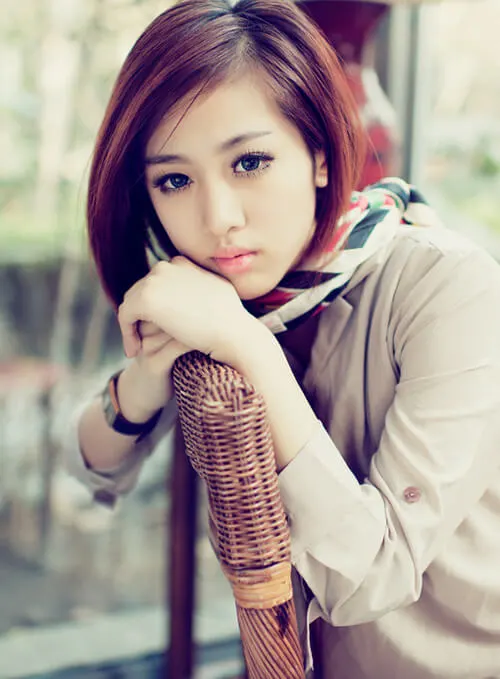 Another short bob on the list, this one is more about shorter lengths swept to a side and highlighted with a tinge of color.
The hairstyle looks more professional that any of the Korean short hairstyles on the list. Just tuck a few strands from one side behind the year and it will look even better.
These beautiful Korean short hairstyles for round faces will certainly give you a unique, clean look for any event that you might want to attend.
The hairstyles require you to get a perfect haircut from a seasoned hairstylist and then flaunt your favorite look in style. There are many that won't even need much styling and still give you a gorgeous everyday look. Try out now!