It's time to leave behind the realm of childish haircuts and step into the world of sophisticated hairstyles for grown-ups! Prepare to elevate your style game with stunning and mature looks that truly reflect your personality.
Whether you're a guy seeking a refined and polished appearance or a girl looking for a chic and contemporary hairstyle, this guide has got you covered.
We've curated a collection of captivating cuts and styles that will empower you to embrace your adulthood with confidence and flair. It's time to bid farewell to juvenile haircuts and unlock the door to a new era of grown-up style.
Let's embark on this exciting journey and discover the perfect hairstyle that will set you apart from the crowd!
Cool Hairstyles for Grown Ups
In this roundup, we have included some of the coolest hairstyles for just about everyone. From little girls and boys to the grownups, everyone can find something tailor made for them right here. Let's explore.
1. Classic Taper
This timeless and versatile cut is perfect for grown-up boys. It features shorter sides and back that gradually blend into slightly longer hair on top, creating a polished and mature look. Achieve this style by visiting a professional barber who will skillfully taper the hair using clippers and scissors, ensuring a clean and sharp finish.
2. Sleek Bob
For grown-up girls, the sleek bob exudes sophistication and confidence. This chic hairstyle is characterized by a jaw-length cut with straight, sleek lines that frame the face elegantly. To achieve this style, consult with a hairstylist who will carefully trim the hair to the desired length, ensuring smooth and precise lines.
3. Pompadour
A pompadour is an excellent choice for grown-up boys who want a stylish and bold look. This hairstyle involves sweeping the hair upwards and back, creating height and volume at the front. To achieve a pompadour, start by applying a styling product such as pomade or wax to damp hair. Then, use a comb and blow dryer to lift the hair upwards while shaping it into the desired pompadour shape.
4. Messy Bun
Grown-up girls can effortlessly achieve a trendy and casual look with a messy bun. This hairstyle involves loosely gathering the hair at the back or top of the head, creating an undone yet stylish appearance. To achieve a messy bun, gather the hair into a ponytail and twist it into a bun shape. Secure with bobby pins, leaving some loose strands for a relaxed and effortless vibe.
5. Textured Crop
For grown-up boys who prefer a modern and low-maintenance style, the textured crop is an excellent choice. This haircut features short, textured hair on top with tapered sides for a clean and stylish look. Ask your barber for a textured crop cut, which involves using scissors to add texture and dimension to the hair on top while keeping the sides and back short.
6. Long Layers
Grown-up girls with longer hair can embrace a versatile and feminine look with long layers. This style adds movement and dimension to the hair, giving it a sophisticated and youthful appearance. To achieve long layers, visit a hairstylist who will carefully trim the hair, adding layers that frame the face and enhance the natural texture of the hair.
7. Undercut
For a bold and edgy style, both grown-up boys and girls can opt for an undercut. This hairstyle involves shaving or closely cropping the sides and back while leaving longer hair on top. The contrast between the shaved sections and longer hair creates a striking and fashion-forward look. Visit a skilled barber or hairstylist to achieve the perfect undercut, ensuring the desired length and style on top.
8. Pixie Cut
The pixie cut is a short and sassy hairstyle for grown-up girls who want to make a statement. This cut is typically cropped close to the head and styled with texture and volume, showcasing confidence and individuality. To achieve a pixie cut, consult with a hairstylist who will carefully trim the hair, considering your face shape and desired level of shortness, and add texture to enhance the style.
9. Side Part
A classic choice for grown-up boys, the side part exudes sophistication and maturity. This hairstyle involves styling the hair with a deep side part, creating a polished and refined look. Achieve a side part by combing the hair to one side and using a styling product to hold it in place. For a more formal appearance, use a comb to create a distinct parting line.
10. Beach Waves
Grown-up girls can embrace a natural and effortless look with beach waves, reminiscent of carefree days by the ocean. This style involves creating loose and tousled waves that add texture and movement to the hair. Achieve beach waves by using a curling iron or wand to curl sections of the hair away from the face. Then, gently tousle the curls with your fingers for a relaxed and beachy finish.
11. Flaming Curls
Little boys look stunningly gorgeous in grown up curly hair and this one is just a perfect example of that. The hairstyle is for anyone with some red curly volume on top and it creates amazing vibes. It's a perfect casual hairdo that your kid can sport in their everyday routine and it doesn't need much maintenance either. So, if you want low maintenance haircuts for your boy, this one is just perfect for you.
12. Pixie Hairstyle With Nape Undercut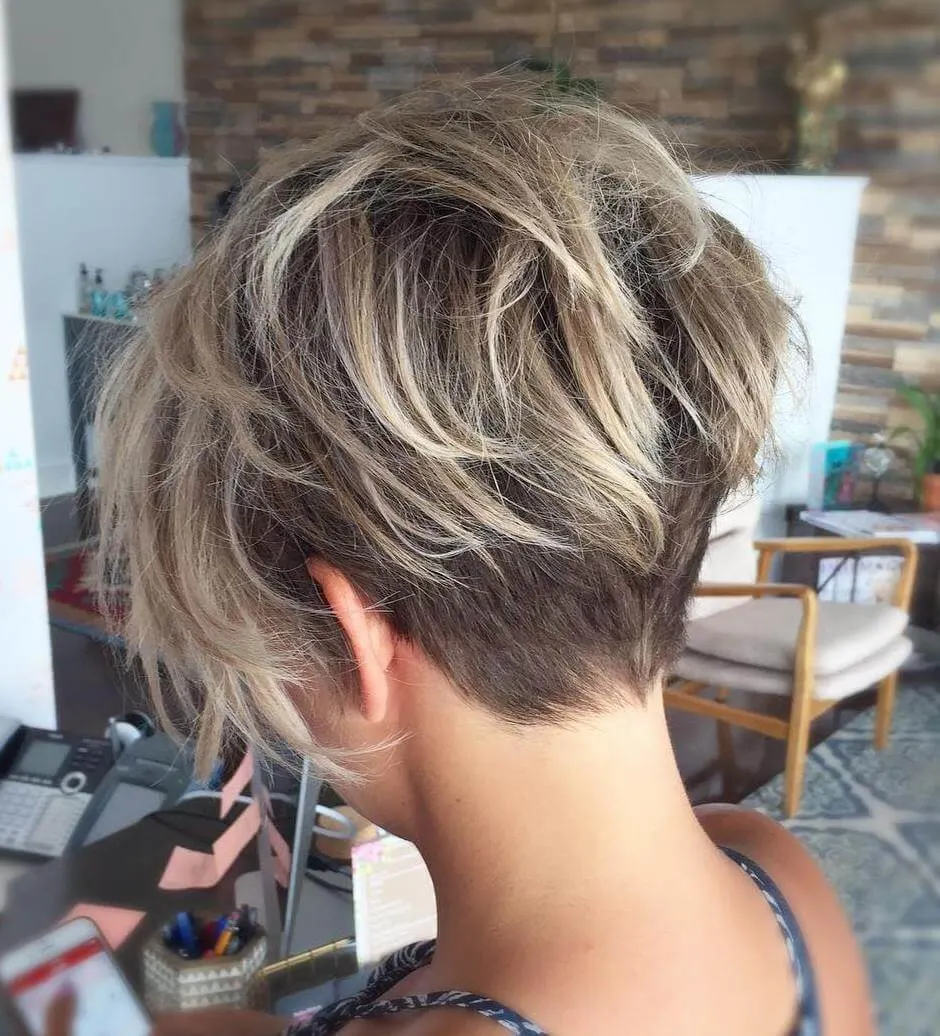 By Michele Sanford
A Pixie haircut remains one of the coolest options around when it comes to hairstyles for girls. This beautiful hairstyle is a typical pixie cut that is styled roughly to create a carefree vibe. A perfect look on a casual day, this one boasts of a nape undercut to make it look unique and different.
13. Surfer Haircut
A long and beautiful surfer haircut for boys is always in trend and here we have a perfect example for this year. The hairstyle boasts of long, layered, and ruffled hair on top that covers everything on top, even the ears. The cool carefree vibe makes it a perfect choice for a summer day out, especially on the beach. The hairstyle looks amazing overall.
14. Long Side Swept Hairstyle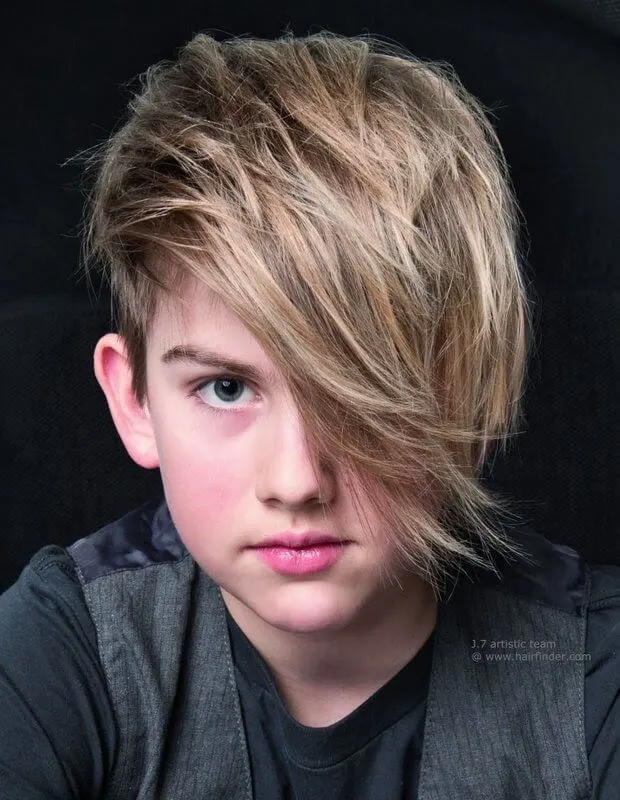 If you have always adored long and beautiful hair but you still want to keep your boyish look intact, this cool hairdo makes a perfect choice for you. The hairstyle boasts of some cool, long hair on top while the sides and back are trimmed shorter to maintain the boyish looks. Keep in mind that the hair on top is grown extra-long and swept nicely to a side.
15. Inverted Braid Hairstyle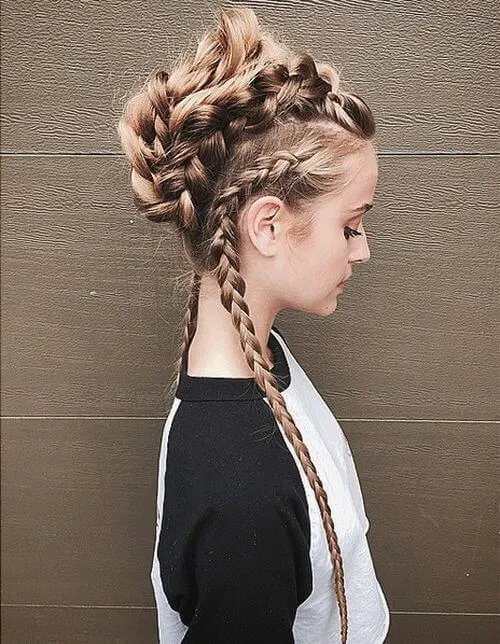 How many cool implementations of a braided hairstyle have you come across this year? This one is probably the coolest of the lot. The hairdo boasts of braids all around with a big central braid inverted at the nape and secured on top. It looks gorgeous on any day.
16. Side Parted Haircut
A classic side part hairstyle, this beautiful look can be a perfect choice for any day. The hairstyle boasts of some volume on top and is nicely swept to a side. Gorgeous in every sense of the word it is. A slightly messy look is achieved by giving the hairdo a carefree vibe.
17. Super Spidey Hairdo
Is your boy a super-fan of the spiderman character? This beautiful hairstyle is just perfect for him. One of the best black boys haircuts, this cool hairstyle is about keeping the kinky locks all-buzzed up and adding an oomph to the hairdo with a hard part on the side and a classic spider web right at the nape of the neck. What else you'd want for a spiderman fan?
18. Short Stratified Strands
This cool hairstyle for girls is all about beautiful straight layers of hair all over the head. It looks gorgeous at the back where the layers fall over one another and create a wonderful style. It's a perfect party hairstyle for girls.
19. Layered Boys Hairstyles With Side Part
If you are after cool layered hairstyles for boys, this one really makes a perfect choice for you. The hairstyle boasts of long hair with a feathered look and is styled perfectly with a side part.
20. Side Braided Mohawk
Mohawk is often considered a hairstyle for boys. But what about this cool Mohawk look for girls? Yes, it imitates the typical Mohawk style by securing all the volume on top right in the center and creating cool, thin and beautiful braids on the sides. A perfect implementation, indeed!
21. Layered Haircut With Long Hair
If you are looking for casual layered hairstyles, this one makes a perfect choice for you. The hairstyle boasts of some volume on top and it really looks gorgeous. A casual, carefree vibe is created by leaving it all messy on top.
So, what do you make of these amazing hairstyles for grown-ups? You must have found something tailor made for you. If you have any ideas you want to share, get in touch through the comments box below.