Parenting is a tough job and you have a lot of responsibilities on you as a parent. With so much on your plate already, you would want to save some time with your kids. When it comes to your little ones, most of the time is probably spent styling their hair. But if you have some hairstyling inspiration, you can easily come up with the best baby hairstyles for curly hairs that will be easy to style and won't require too much of your time and effort. It's just about making the right picks and you can do that with a bit of looking around.
Baby Hairstyles For Curly Hairs
So, what kind of baby hairstyles for curly hairs you like the most on your little girl? Would you like to have something special for her? Here are a few options that you'd like to consider.
Headband Puff
Source: Instagram
For girls with hair that is not too long, you might want to leave it open and cover it up with a nice headband. A big, iconic headband is definitely going to do a great job for her. Pull it back to form a cool puff and it will look adorable overall.
Afro Puffs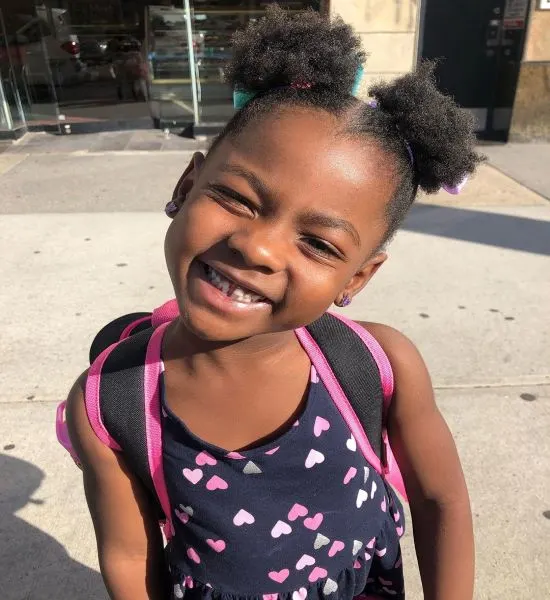 Source: Instagram
Yet another amazing and adorable hairstyle for girls with curly hair, the hairdo makes a perfect choice for Afro kids. It will create the vibes of a Minnie Mouse for your little one. The hairstyle is best achieved with a day old hair and can be styled by parting her hair down in the middle before creating high ponytails on either side. A pick can be used for fluffing out each of these ponytails.
Banded Half-Updo
This beautiful hairstyle is achieved with mini elastics and kid-friendly edge control. You will also need a simple sectioning comb in the process as well. Wash her hair off before you start styling it. Apply stylers and then part it horizontally on top halfway through. Clip it up towards the bottom and start working on top of her head. Create the vertical sections as needed and make small ponytails which are vertically pulled into one another. If there are any flyaways, smooth them up with the help of edge control.
Half-Up Braided Hair Bun With Nice Charmed Braids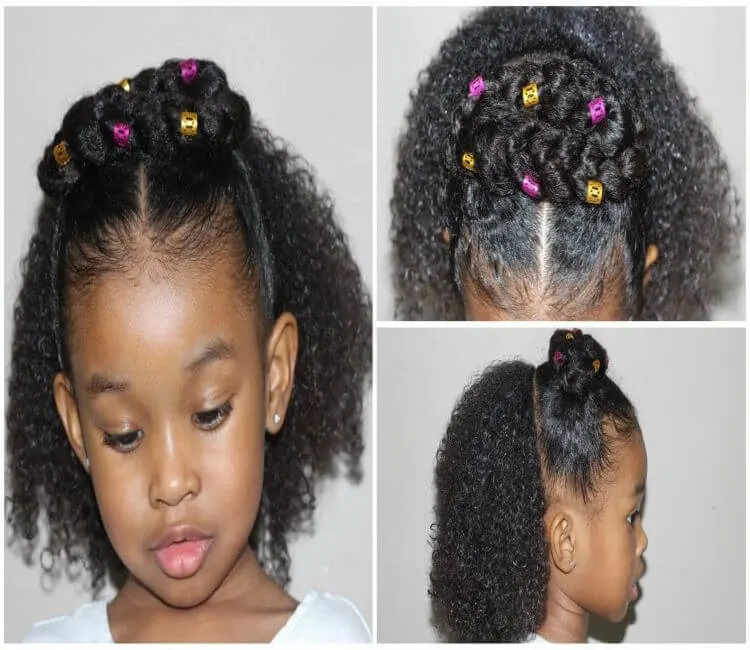 It's a cool half updo which is known to add a new stylish twist to girls' hair with a couple of cornrows created close to the ears. The beads and gold cuffs used to embellish these cornrows really do a great job. A nice golden wire wraps around the braided hair bun which sits nicely high on top of her head.
Wispy Curly Bob Haircut
Even though it's simple, it is a cute and adorable look that would give your baby girl some gorgeous vibes. A bob haircut with light and wispy curls will enhance the cherubic face of your little girl for sure. If you haven't thought of this style before, rest assured that this curly bob hairdo is a nice, easy, and hassle-free look to achieve. You can always combine this look with her simple summer dress to make her look cuter than ever.
Dense Cornrows With Ponytail
The hairstyle works perfectly fine on naturally dense hair. For girls with richly textured, voluminous hair, the hairstyle can be achieved easily with cornrows. The hairdo is fun and preppy and will definitely help your little one make their unique style statement. So, it is among the best styling options for black baby girls.
Sectioned Rope Braided Hair
This is the perfect hairstyle for your little goofball. The funky rope braided hair will certainly make a unique style for your little one. It will also help her develop a signature style of her own with some individuality to it. You won't have to face a lot of trouble for achieving this wonderful look and it is going to be a hassle-free experience. It is worth trying for sure.
Swirling Cornrows Pigtails
This is another cool and funky look to achieve. The hairstyle is fun and looks awesome on casual outings. The hair goes swirling around her head and will look awesome as they form nice pigtails.
Side Parted Long Curls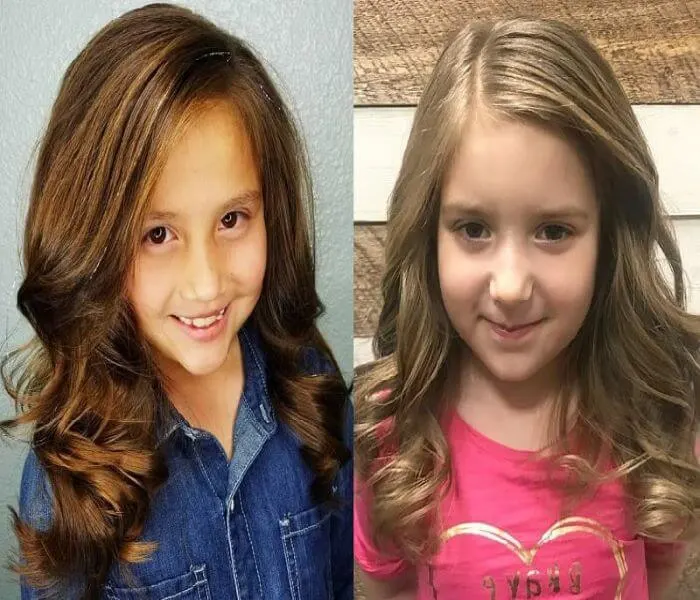 This carefree look is what your princess is going to rock. Everybody loves those luscious, dense curls. It would be a good idea to try a blown-out and slightly disheveled look as that creates a unique statement for your little one. Nevertheless, your girl needs to have long and dense hair for this hairstyle to work.
Ringlets With A Floral Headband
Stylish at its core and very pretty to look at, this hairstyle is surely going to get your little one some limelight. It is much more than an offbeat look and it makes a perfect party style for your little one. The coiled ringlets have some statement to make while that massive floral headband will definitely take it to the next level. Your girl will surely get the eyeballs to move with this look.
If you don't find many options for baby hairstyles for curly hairs, you'd be better off picking up a few from the above list. These styles do have something special about them and you should go for one if you are looking for an X-factor in your girl's style. Whether it is for a special occasion or a casual routine day, choosing the right hairstyle for her is going to make a special statement. You can also give your girl a punch of confidence with an appropriately chosen hairstyle. Above all, it is going to make your morning routine as hassle-free as you would like.