Looking for cute, stylish haircuts for your little one? You've landed in the right place. We've got a line-up of the most charming and trend-setting hairstyles for your baby boy.
Parents, particularly mothers, are obsessed with their kids' looks and that's where picking the best baby boy hairstyles becomes really important.
Whether it's about snipping off some strands in the first haircut of his or some heavy designing for his first day at school, everyone would remember the haircut of your child.
Boy Baby Hairstyles
It is always a good idea to replicate some of the adult haircuts when you are looking for boy hairstyles for babies. They really look cute on little boys and you can consider all the options from Mohawks, shaved designs, undercuts, quiffs, and combovers.
And, when you give your boy one of these beautiful looks, you're really up for an incredibly fun look. Let's not keep you waiting and check out these top picks for you.
Buzz Cut
A buzz cut is an excellent choice for those who value simplicity and ease of maintenance. It's an adorable and neat look for baby boys, and it involves using clippers to give a uniformly short length all around. This haircut is also practical for hot summer months, keeping your little one cool and comfortable.
Crew Cut
A crew cut is a slightly more stylish upgrade from a buzz cut. This haircut features longer hair at the front that gradually shortens towards the back, giving a cute and smart look. It's low-maintenance, making it a popular choice among parents for their baby boys.
Undercut
The undercut style adds a touch of modern fashion to your baby boy's look. In this style, the hair on top is kept long, and the sides are cut short or shaved. Despite being a fashionable haircut, the undercut remains simple and doesn't require much maintenance.
Classic Bob
The classic bob is a timeless and elegant style, perfect for babies with medium to long hair lengths. The hair is trimmed evenly all around, typically up to the earlobe length. This style frames your baby's face beautifully and is ideal for babies with straight hair.
Long Layers
Long layers are a wonderful choice for adding texture and volume to your baby's hair, especially if it's thin or fine. The hair is cut into varying lengths, with the top layers shorter than the bottom ones. This haircut gives a lively, bouncy look to your baby's hair.
Fade Cut
For a more trendy and contemporary look, a fade cut is an excellent option. This haircut involves gradually fading the hair from a longer length at the top to a shorter length at the sides and back. It's a cool, stylish look for your little trendsetter.
Surfer Haircut
The surfer haircut screams 'cool and laid back'. It's typically longer than usual boy's haircuts, making it perfect for babies with naturally wavy or curly hair. This hairstyle gives your baby a beach-ready look, and the best part? It's super easy to maintain.
Spiky Hair
Spiky hair is all about fun and playfulness. It's cut short and styled upwards to create a "spiky" look. Using a little bit of baby-safe styling product can help hold the spikes in place. This style is guaranteed to add an extra dose of cuteness to your baby boy!
Textured Crop
The textured crop involves cutting the hair into different lengths, which adds texture and volume. This style works well for babies with thick hair. The varied lengths give a more full-bodied look to the hair and can help manage the thickness by reducing weight and bulk.
Caesar Cut
The Caesar cut is named after Julius Caesar, who popularized this haircut. It involves cutting the hair to the same length all around the head, usually about an inch long. It's a classic, straightforward style that's low-maintenance and easy to keep neat, making it a great choice for energetic baby boys.
Punk Rot Tot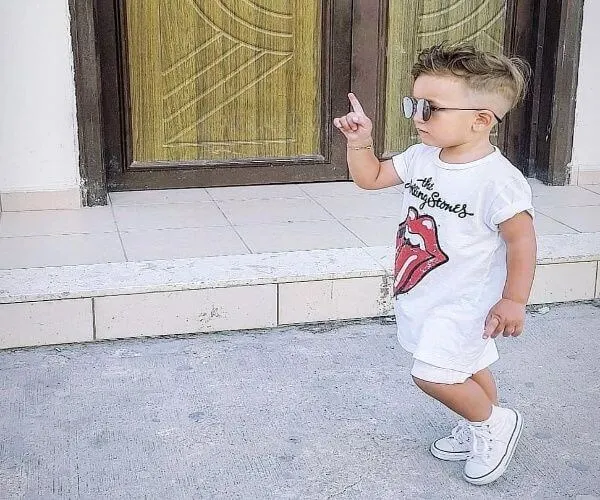 Source: Instagram
For those rebellious kids, you should look for a haircut that matches their personality too. And, nothing can make a better choice for them than this beautiful punk rot tot. Pair a long bang swept to the side with skin shaved sides to create a perfect edgy look. Slicking it down would also be a good choice but you can also spike his hair up if you like to. In fact, the styling possibilities here are endless and you can create a variety of amazing looks at the end of the day.
Cute Little Mohawk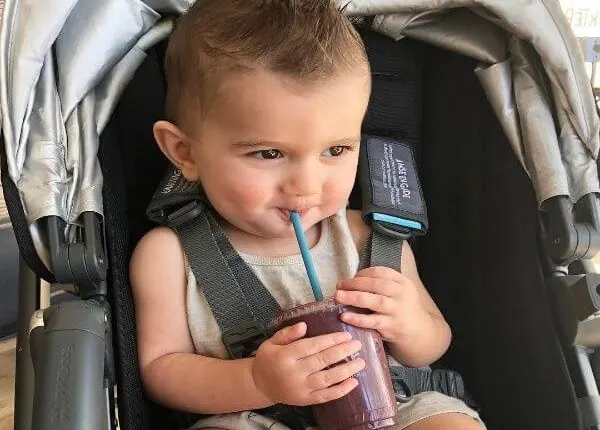 Source: Instagram
Nothing would look cuter than a little boy of yours styled in a cool little Mohawk and a nice bowtie. The look may feel like a cliché on somebody older, it really looks adorable on little boys. It creates the vibes of cleanness and neatness. Nicely shaved sides combine perfectly with some spiky volume on top to help your boy pull off a perfect hairstyle.
Short Haircut With Cool Shaved Waves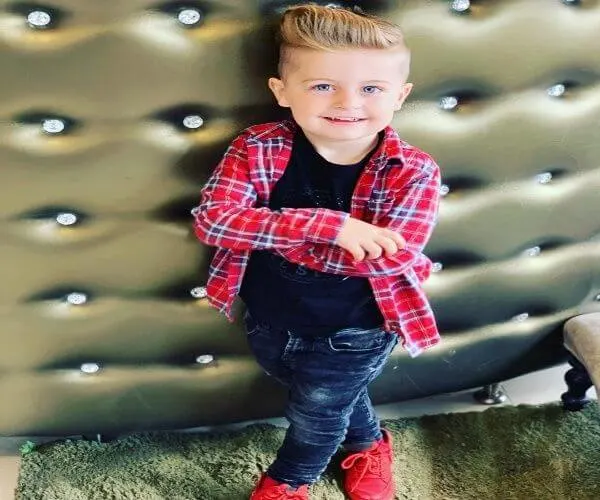 Source: Instagram
Etched designs can work with a variety of beautiful hairstyles and also with different hair types. This one is a beautiful hairstyle that combines disconnected undercut with a nice shaved wavy pattern to achieve a cool look overall. The hair on top is also kept not-so-long and is styled to a side with some styling product. The hairdo really looks gorgeous.
Cute Baby Quiff
Source: Instagram
Quiff hairstyle has also been a popular choice among hairstyles for boys. And, it works perfectly fine for cute little boys too. If you want your son to look standout, this baby quiff is a perfect choice for him. Give it a unique touch with the help of flipped bangs and this edgy design will work for your little boy better than anything else.
Modern Mullet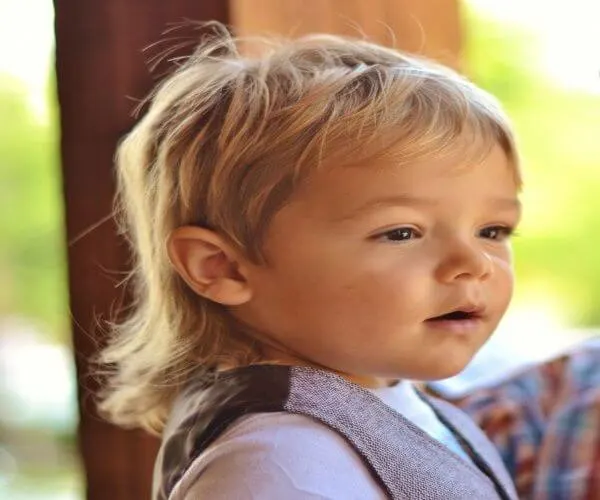 Mullet haircuts have long been adopted as a mix of professional and casual looks. However, what once used to be an unfashionable choice has turned into something super-popular nowadays as it gets a modern vibe with those undercuts on the sides. So, if you have a crazy little guy who wants a new haircut, this hairstyle is definitely going to make a perfect choice for him.
Sweet & Spiky Haircut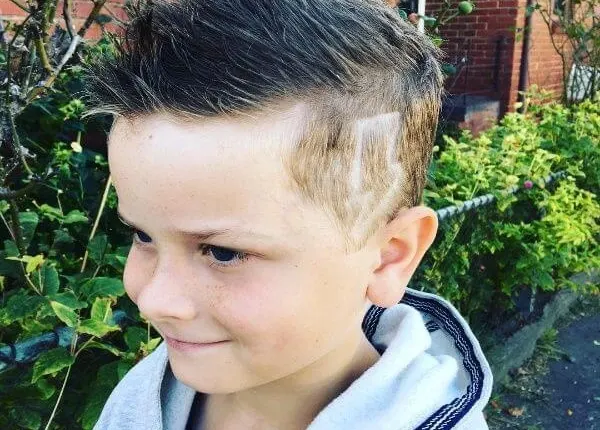 Source: Instagram
If you don't want to commit your kid to those full-on Mohawks, why don't you try something with a nice long bang which you can style in whatever way you like? This sweet and spiky look gives you just that. Apply some good gel for spiking it up and achieve a fun look for your little man. You can always smooth his hair down for special events.
Long Wavy Top With Short Sides
Source: Instagram
If your kid has got naturally wavy hair, just let his hair texture make a cool statement by letting him grow those soft curls so it flows freely. When it comes to styling, you can give it a nice shape simply by closely clipping the sides and it will add some nice personality to his look.
Rocking & Retro Hairstyle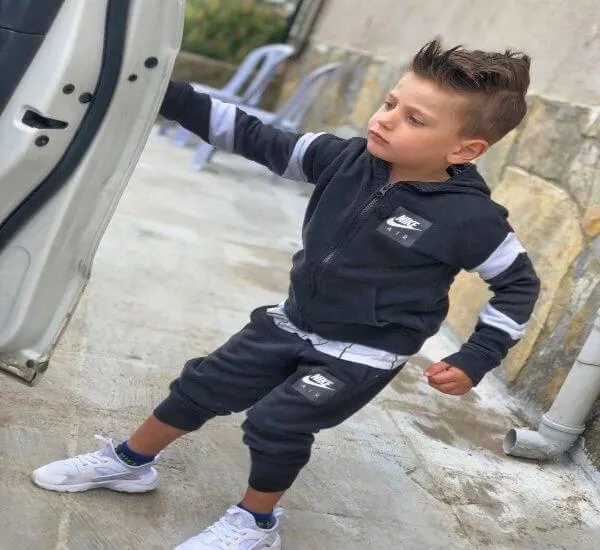 Source: Instagram
This slicked back hairstyle used to be extremely popular back in the 1950s. And, it's picking up now as well among those who love to have something classy on top. Overall, it is quite a simple look that can be made more current simply by adding cool shaved details on the sides. The mix of rocking and retro looks is just amazing and you can't expect this from most other hairstyles out there.
Skin Fade Haircut
Source: Instagram
A nice skin fade would be a great choice for ensuring that your kid's haircut lasts for some time in a perfect shape. It makes sure you do not have to take multiple trips to the barbershop. What's even better is that it allows you to leave the hair on top longer as you like and achieve something fun like this beautiful sleek look.
Rocking Stripes
Source: Instagram
If you are not so sure as to which hairstyle would work the best for your little boy, try this stylish look that boasts of rocking stripes. You can call it an extension to a typical skin fade undercut style which is short on the sides and has some volume on top. The hair on top is slicked nicely to a side and is kept into place longer than you might imagine. A couple of shaved strips replacing the part make a statement for this rocking new look of your boy.
The baby hairstyles can be as versatile as you would want them to be. Just figure out how much effort you want to put into achieving a perfect style for your little guy. Just pick him a nice haircut that would make him look even more gorgeous and stylish and let him rock his new look. Pick from the styles listed above and you are surely going to help him flaunt a stylish look.