Black girls often lack innovative ideas and ways to style their hair. The monotonous look they flaunt starts looking drab and dreary over time. Fortunately, however, they can opt for one of the weave hairstyles variations to make them look different on any day. The hairstyle is quite a versatile one and there can be so many different implementations of the look that you can wear it any day. From short weave hairstyles to the longer alternatives, you can try it all depending on the occasion and the particular impression you want to make.
Black Weave Hairstyles Pictures And Ideas
If you want to take a look at some of the best black weave hairstyles pictures to get some inspiration for achieving a wonderful look, here we have a few you might want to look at.
Center-Parted Long Weave Hairstyles
If you have the luxury of long hair, this stylish look is just tailor made for you. The hair on top is parted in the center and slicked to each side of the part. As it leaves the head, the long and wavy locks become evident and they really look gorgeous.
Blonde Bob Weave
This beautiful hairdo is a perfect variation of the Bob hairstyle and gives blonde girls a gorgeous new look to flaunt. The hair is trimmed in more of an A-Line bob style and then given a nice weaved look towards the tips. It's all made to fall over and creates a gorgeous look. It really is one perfect example of short hairstyles.
Messy Weave Hairstyle
This messy look is perfect for black girls who want to flaunt some length on a casual day. Leave the natural curls intact all over and create casual side part on top. The weaved bangs fall over the forehead to create a unique vibe.
Extravagant Bangs With High Ponytail
source
This is quite a unique look that's been weaved with a lot of effort to create that final effect. The hairstyle boasts of a high ponytail at the back. The hair on the sides is also combed back tight into the ponytail while the lengths starting around the crown are made to come forward and form into cool bangs that fall over nicely.
Wavy Ombre Weave Hairstyle
INSTAGRAM @HAIRBYWHIT_
This really is one gorgeous look for a party night. The long strands are dyed in ombre half way through and a nice wavy look is created just where the color starts. It's center-parted on the top and looks cool overall.
Long Layered Weave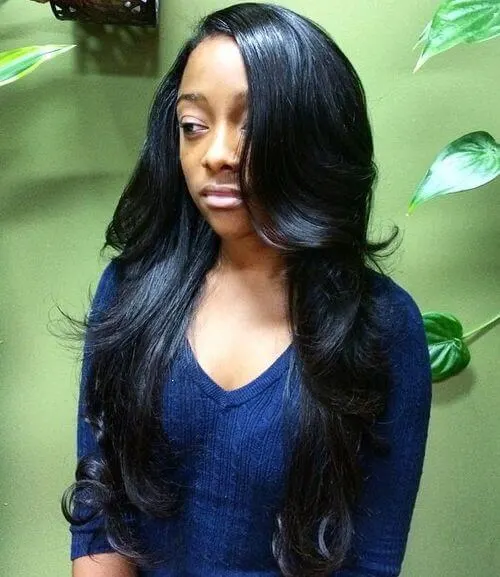 If you have the luxury of straighter hair that can be trimmed into layers, this beautiful hairstyle is certainly what you should try out. It's a side-parted hairstyle that boasts of a big layered weave on a side. You can wear it both in everyday routine and also on special occasions.
Chich Braided Weave
INSTAGRAM @HOUSTONHAIR_BYELON
This nice braided weave is a hairstyle just tailor made for black girls. It is kind of a dreadlocks style look that is grown out towards the back. You can also add some beads or accessories to the weaves if you like that type of look.
Voluminous Side-Parted Weave
This is a gorgeous party hairstyle that boasts of some volume and a nice weave all around. The frontal layer is so massive that it covers almost half of the face and really looks adorable.
Kinky Wavy Hairstyle With Combed Back Front
This is another cool look for black girls. One of the best weave hairstyles on the list, this one actually boasts of long, open locks. The frontal hair is, however, combed back to the center of the head and formed into a knot.
Combed Back With High Ponytail
This simple hairstyle is all about tightly combed back hair on top and creating that high, wrapped ponytail around the crown. It can be your cool everyday look and doesn't need too much of time in styling.
Weaved Braid With High Ponytail
What's unique about this beautiful hairstyle is that weaved braid that goes horizontally from the side and meets the high ponytail at the crown. The hair at the front is combed back nice and tight.
Red Headed Weave Hairstyle
This is the coolest look for the red heads. The hairstyle boasts of a nice side swept look on the top while the weaved look is achieved towards the tips. It nicely falls over the shoulders to complete the style.
Braided Pattern
This is another cool and unique look that creates a different type of pattern using thick and thin braids all over the head. Even the center part is created with thin parallel layers of braids. The thickest braids are formed on the sections just adjacent to the part. It looks cool and pretty organized.
Weave hairstyles for girls are quite a unique type of look and make a perfect choice for black girls. There are some amazing variations of the hairstyle that you can try out for different occasions. Just make sure you go with something that suits you better.